With office parties, holiday school events & shopping to be done, there can be very little time to put a delicious meal on the table. But before you surrender to a carry out dinner, try one of these quick & easy dinner ideas!
December is here and the struggle is real! Around this time of year we spend a lot of time focusing on our holiday baking and holiday meals, but what do we cook on those busy nights leading up to the big event?! We want the perfect Holiday main dish, spectacular side dish recipes, and the best cookies, however, we still gotta eat in between all of that.
Avoid your fave pizza delivery place, or the fast food restaurant around the corner, and choose to make one of these top-rated recipes. We have pulled together a selection of our best sheet pan suppers, foil pack dinners, and one-pot meals to help you fix a quick and easy dinner for your family.

DELICIOUS Steak and potatoes seasoned with garlic and herbs and cooked inside foil packets.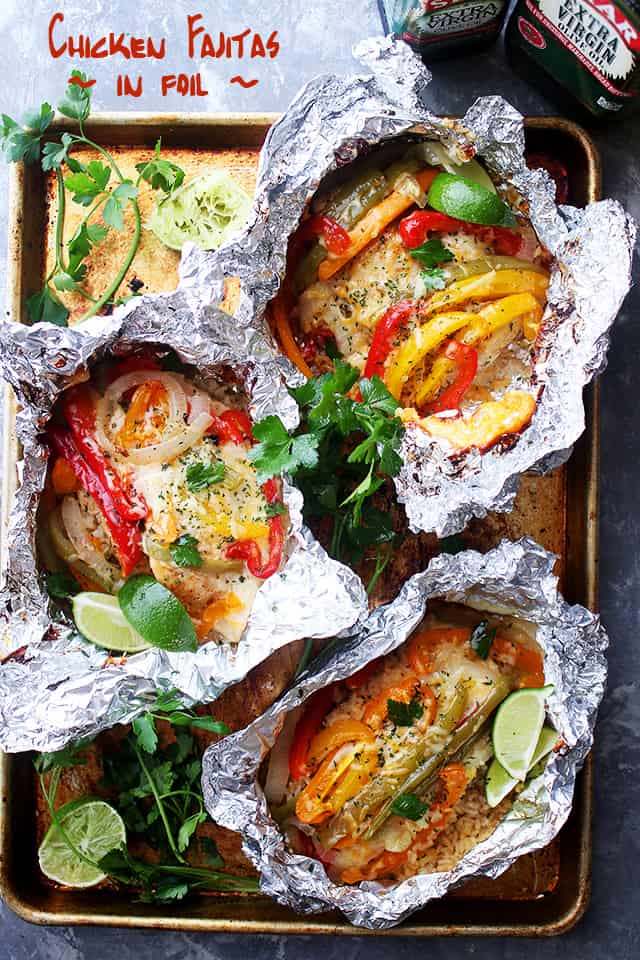 Incredibly delicious and easy to prepare fajitas with chicken, peppers, onions and rice all cooked in foil packets. Easy, quick and SO GOOD!
One-Skillet dinner ready in 30-minutes, combining all your favorite Mexican flavors! A perfect weeknight dinner for the busy Holiday Season!

This easy skillet steak recipe involves tender strips of sirloin steak and cubed potatoes tossed with colorful veggies and Citrus Soy Sauce.

Sizzling hot fajitas with juicy shrimp, flavorful bell peppers and onions, all tossed in a homemade fajitas seasoning mix.

The delicious Southwestern flavors of a taco are made quick and easy in this one-skillet recipe!

Delicious, tender, and juicy thick-cut steak grilled in the oven!

Simple and easy method for how to make perfectly juicy and deliciously seasoned oven baked chicken breasts. This is the recipe I always recommend when someone asks me how to bake chicken breasts in the oven!

Incredibly tender and super juicy pork chops coated in a sticky honey garlic sauce and baked to a delicious perfection.

This super easy, amazingly flavored dish with lemon chicken, veggies, and potatoes is a complete meal made all in one pot!

Quick and easy skillet seared chicken recipe topped with a creamy garlic and onions white wine sauce that's sure to please any crowd!

Easy to make, delicious creamy pasta! Throw all of your ingredients into one pot and dinner will be ready in just 20 minutes!
Stove top, one pot Mac 'n Cheese covered in a creamy feta cheese sauce, tomatoes and fresh spinach. Easy and quick weeknight dinner ready in 30 minutes!

Quick, easy, and deliciously creamy soup packed with cheesy tortellini and fresh spinach.

Spicy chorizo sausage adds amazing flavor to this easy, warm and comforting Bean Soup.

Loaded with flavors and texture, this is a super delicious and very easy one pot chicken recipe that everyone will love!

Just one pan and 30 minutes is all you will need to make this amazing meal! Skip the wok and make this quick and healthy chicken stir fry dinner in the oven!

The classic Surf and Turf dinner prepared with melt-in-your-mouth tender steak and garlicky shrimp on just one sheet pan.

Tender and juicy salmon brushed with an incredible garlic butter sauce and baked on a sheet pan with your favorite veggies. This delicious salmon makes for a perfect easy and quick weeknight dinner for the busy Holiday Season.

Quick, delicious, bright and creamy salmon dinner prepared in just one skillet and served with an incredible lemon garlic cream sauce!
CLICK ON THE LINKS AND/OR PHOTOS TO GET THE RECIPES