Chorizo, Rice and Bean Soup – Spicy chorizo sausage adds amazing flavor to this easy, warm and comforting Bean Soup.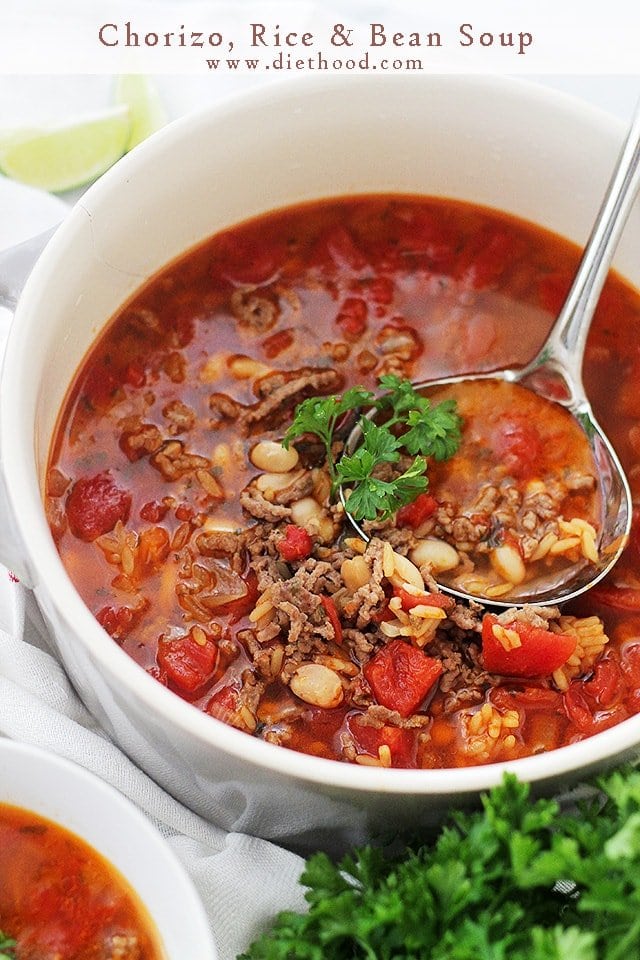 Hey, there, Monday! Nice to see you, again!
Hey, there, Friends! I loooove seeing YOU, again!
How was your weekend? Ours was cold. Like, literally, almost freezing kind of cold. We turned on the heat.
It was 52 degrees on Saturday. What the hell is that?
"Technically", it's still Summer. Therefore, this 50-degree weather needs to find another State to chill in for at least one more week.
Also? Every time that I use quotations around a word, I think of Joey.
Um. What do you mean Joey who??
Joey Tribbiani!
Remember that episode when he didn't know how to use "quotes"? Remember?! Hi-larious, right? I LOVED IT!
I miss that show!
Well, not really. I mean, I watch reruns just about every night.
But, how about that one time when Joey referred to his Adam's Apple as Joey's Apple. HAHAHA
Or that other time when he thought that the name "Ross" was short for Rosstepher. LOL!!
OKAY! I'll stop.
Last week I greeted you with Cinnamon Roll Coffee Cake, but today we're kicking it off with a bowl of delicious, freakin' amazing soup.
Since it was so cold over the weekend, this soup-talk seems very fitting.
I bought some ground Spanish chorizo about two weeks ago. It was practically calling my name even though I'm not really into spicy sausages. I like a little kick, but I hate when my throat's on fire and a gallon of water won't help me out.
So, there I am in my kitchen, trying to figure out what to do with the chorizo, AND without putting too much thought into THAT, I pulled my hair back, chopped up some garlic, cut up some onions, aaaand whoomp! There it is. I cooked it all in my dutch oven and made you this soup.
Hearty, warm, comforting.
Mmmm. Hmmmm. Cook it. Eat it. Love it.
ENJOY!
Chorizo, Rice and Bean Soup
Spicy chorizo sausage adds amazing flavor to this easy, warm and comforting Bean Soup.
Ingredients
2

tablespoons

butter

1

yellow onion

, diced

2

garlic cloves

, chopped

1-

pound

ground chorizo

(you can also use the chorizo sausage sold in casings - remove from casings when cooking)

salt and fresh ground pepper

, to taste

1

can

(15-ounces) diced tomatoes

1

can

(15-ounces) beans, rinsed and drained (you can use pinto beans, great northern, kidney... whatever you have on hand)

2

teaspoons

dried parsley

2

cups

beef stock

2

cups

water

1/2

cup

uncooked rice

(feel free to use white, brown, wild, etc...)

chopped fresh parsley or cilantro

lime wedges

(optional)
Instructions
Melt butter in a dutch oven or a soup pot.

Add diced onion and cook for 1 minute.

Stir in garlic; continue to cook for 30 seconds, stirring occasionally.

Add chorizo; season with salt and pepper and cook over medium-high heat for 4 to 5 minutes, or until browned, stirring to break up and crumble the meat.

Stir in diced tomatoes and beans.

Season with dried parsley and continue to cook for 2 minutes.

Add beef stock and water; bring to a boil, stirring occasionally.

Stir in rice and reduce heat to a simmer.

Cover and continue to cook for 12 to 15 minutes, or until rice is thoroughly cooked.

Remove from heat.

Ladle soup into bowls; add fresh lime juice from one small wedge, sprinkle with parsley or cilantro and serve.
Nutrition
Calories:
453
kcal
|
Carbohydrates:
16
g
|
Protein:
21
g
|
Fat:
32
g
|
Saturated Fat:
13
g
|
Cholesterol:
76
mg
|
Sodium:
1131
mg
|
Potassium:
493
mg
|
Fiber:
0
g
|
Sugar:
1
g
|
Vitamin A:
115
IU
|
Vitamin C:
1.7
mg
|
Calcium:
25
mg
|
Iron:
1.6
mg
|
Net Carbs:
16
g
Nutritional info is an estimate and provided as courtesy. Values may vary according to the ingredients and tools used. Please use your preferred nutritional calculator for more detailed info.
Categories: