Made with meatballs, soffrito, and lots of pasta, this Italian wedding soup is what your chilly-night menu was missing. Topped with shredded parmesan, every spoonful will transport you back to Naples, Italy.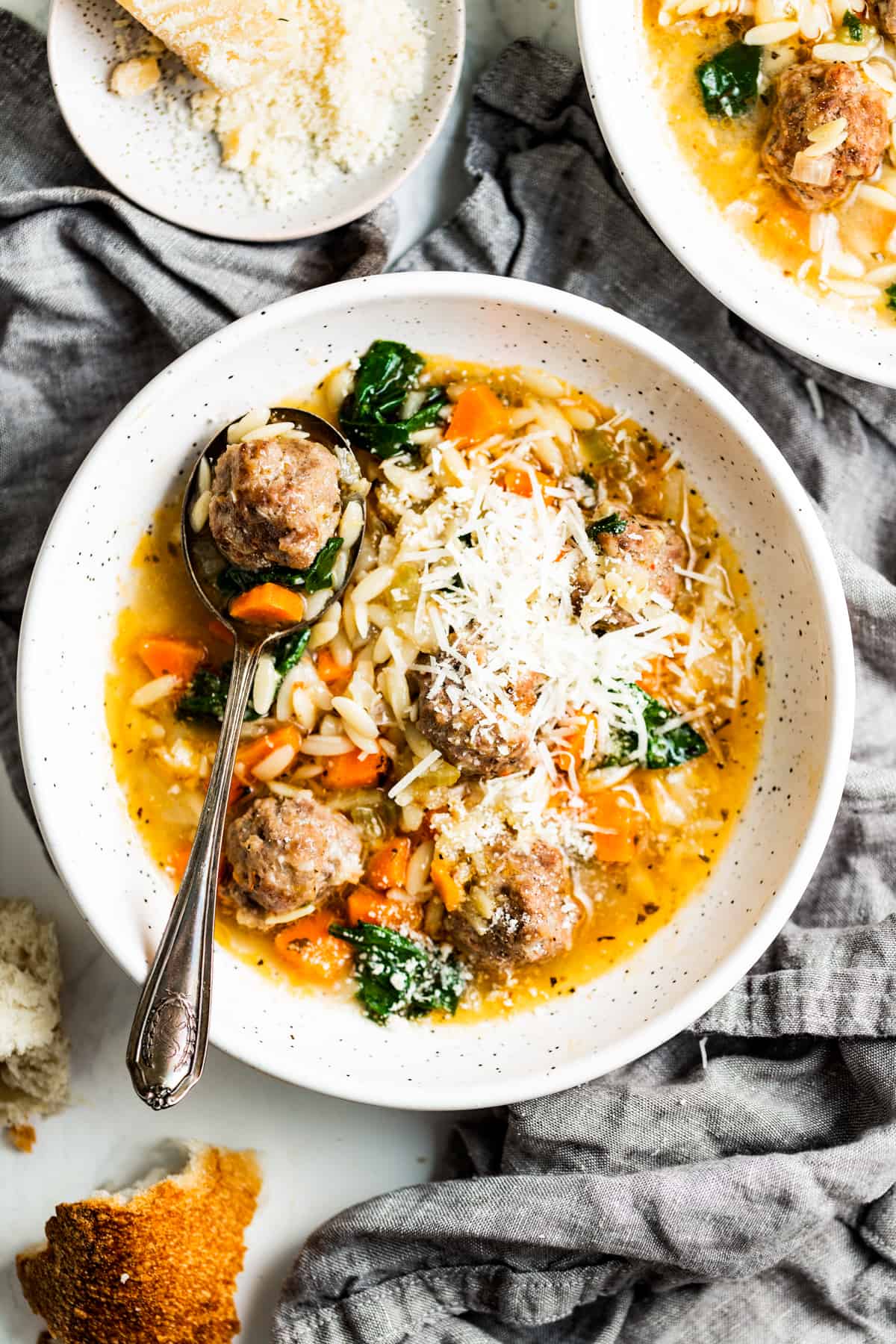 The Best Italian Wedding Soup Recipe
Simmered in a comforting broth, this Italian wedding soup is an even better love story than Romeo and Juliet. ❤️ With lots of meatballs, veggies, and acini di Pepe, it's a delicate soup packed with Neapolitan flavor from the soffrito and parmesan to the leafy greens.
Although this wedding soup is already proof that true love exists, a splash of white wine and a handful of spinach take this soup to the next level. Frozen meatballs or not, this easy recipe will impress anyone sitting around the kitchen table.
Best of all, no one needs to get married in order to enjoy it through the winter. However, once you get a taste of its deep richness, you might start drafting your wedding vows to this soup. 👰‍♀️
What Is Italian Wedding Soup?
Italian wedding soup, or minestra maritata in Italian, is a typical soup with its origins in ancient Naples. Although it looks quite elegant, the original recipe was never intended to be pretentious or fancy. In fact, it was a very humble soup made from leftover meats, veggies, and pasta.
Its three main components include meatballs, soffrito, a mixture of carrots, celery, and onions as the flavor base, and acini de Pepe. Simmered until the meatballs are cooked through, it's a light and comforting soup that's every bit as filling.
Why Do They Call It Wedding Soup?
It's not actually called "wedding soup" because it's served at weddings. This soup gets its name from a more symbolic perspective in which the entire recipe is a "marriage" or a perfect union of ingredients. The balance of flavors is considered a masterpiece, which is where the name derives from.
Recipe Ingredients
Don't stray too far from these ingredients or substitutes for the most authentic soup. Check the recipe card at the bottom of the post for full ingredient amounts and directions.
For the Meatballs
Italian pork sausage
Ground beef
Plain panko crumbs – Breadcrumbs work too.
Garlic – I prefer fresh garlic but you can also substitute it for 1 teaspoon of garlic powder.
Egg
Parmesan – Try to use the real thing, not the crumbled one in a bottle.
Salt and black pepper
For the Soup
Butter – I prefer unsalted butter, but salted butter is also okay.
Olive oil – Vegetable, corn, and canola oil work too.
Yellow onion – This is the best one because of its sweetness, but white onion will also do.
Carrots
Celery
Salt and pepper
Garlic – Swap it for 2 teaspoons of garlic powder if needed.
Italian seasoning
Chicken broth – I always use the low-sodium kind, but choose whichever you prefer. Beef broth is a good alternative, as well.
Acini di Pepe – Or use orzo pasta.
Baby spinach – Regular spinach works, too, if you chop it into smaller pieces.
Parmesan, for serving
Can I Use Frozen Meatballs?
Yes! Use frozen Italian meatballs if possible. If you can't find them, regular meatballs will do, too. Don't worry about thawing them first, just add them to the pot.
I love the flavor of my Italian meatballs, so I recommend making a batch and freezing them for later. That way, they're technically "frozen" meatballs you can use the next time you're pressed for time.
If you decide to freeze these homemade meatballs, all you have to do is set them on a lined baking sheet and freeze them for 30 minutes. Transfer them to a freezer-friendly bag or container and freeze them for up to 3 months.
Other Substitutions & Variations
With these variations, this simple wedding soup recipe will turn into several.
Use kale. Adding a bit of kale or entirely substituting the spinach for it is a nice way of using up whatever leafy greens you have on hand.
Make it spicy. Add red pepper flakes to taste when cooking the veggies to give your soup a bit of heat.
Add cannellini beans. These will add a slightly creamy element to the soup and lots of protein. Or, just grab my favorite recipe for Italian Sausage Soup with Kale and Beans. 👍
Add lemon. Add lemon zest and juice to taste for a bit of citrusy brightness.
Use ground pork. I love the combination of Italian sausage and ground beef for the meatballs, but it's also not the end of the world if you don't make them that way. Using ground pork will yield equally tasty meatballs.
Use small shell pasta. If you can't find acini or orzo, use small shell pasta instead.
Make it gluten-free. Using gluten-free breadcrumbs and pasta means you can transform this soup into a GF recipe in seconds.
How to Make Italian Wedding Soup
All you have to do is make the meatballs, cook the veggies, and let the soup simmer. That's it!
Make the meatball mixture. In a large bowl, combine the Italian pork sausage, ground beef, panko, garlic, egg, parmesan, salt, and pepper. Stir to combine.
Roll the meatballs. Lightly grease your hands with cooking oil to prevent sticking. Grab enough of the meatball mixture to make 1 inch meatballs. Transfer them to a large plate.
Cook the veggies. Melt the butter and add the olive oil to a large pot over medium-high heat. Add the onion, carrots, and celery. Cook them for 3 to 4 minutes or until just softened. Season with salt and pepper to taste.
Add the garlic. Sprinkle the Italian seasoning in. Add the garlic and stir well. Let everything cook for 20 to 30 seconds.
Add the broth. Pour in the chicken broth and gently use a wooden spoon to scrape the bottom of the pot for any browned bits.
Add the meatballs. Add the pasta and meatballs to the pot. Bring the mixture to a boil.
Let it simmer. Reduce the heat to medium and let the soup simmer for 10 to 15 minutes or until the meatballs are fully cooked. Add the spinach, stir it in, and let it cook for 1 to 2 minutes or until wilted.
Serve. Remove the pot from the heat. Season with more salt and pepper to taste. Top with parmesan cheese and serve.
Tips for Success
These tips will take your Italian wedding soup to the next level and quite possibly make it the most "authentic" recipe on the block.
Store the pasta separately. To avoid constantly having to thin down your soup because the pasta absorbs all the broth, boil the pasta in a separate pot of water. Strain it and add it to each bowl of soup as needed. This will help you save the broth from thirsty, soup-soaking pasta.
Sear the meatballs. Doing so for 6 minutes or until golden brown, will give your soup a much more concentrated flavor.
Make smaller meatballs. If you're thinking about serving it as a starter, making smaller meatballs will help your guests leave room for the rest of the meal.
Add a splash of wine. Pouring 1/4 cup of dry white wine into the pot when you're cooking the carrots, onion, and celery will give your wedding soup a much more authentic Italian flavor.
Serving Suggestions
Italian wedding soup is excellent with salads, veggie sides, and many veggie mains. The soup is already quite hearty, so I like to keep things light when it comes to the other dishes I pair it with.
For salads, I love my Cranberry Chicken Salad with Light Dijon Parmesan Dressing, Spring Vegetable Potato Salad with Lemon Dijon Vinaigrette, and Lime Cumin Chicken Salad with Tomatoes, Olives, and Queso Fresco.
As sides, I often serve the soup with Garlicky & Cheesy Quinoa Zucchini Fritters or Baked Garlic Parmesan Zucchini Chips.
Finally, I also like to pair it with my Zucchini Lasagna Roll Ups as the main dish.
How to Store & Reheat Leftovers
Refrigerate any cooled leftovers in the fridge for up to 5 days.
To reheat it, place it in the microwave for up to 2 minutes or until warm. You can also heat it in a small pot over medium heat for 3 to 5 minutes.
Can I Freeze Italian Wedding Soup?
Absolutely! If possible, for best results, freeze it without the pasta.
Transfer fully cooled soup to a freezer-friendly bag or container and freeze it for up to 3 months.
To thaw it, pop it into the fridge a day before serving. Heat it on the stove and add the pasta as usual.
More Easy Soup Recipes
Italian Wedding Soup
Loaded with meatballs, veggies, and pasta, this Italian wedding soup is a marriage of comforting flavors.
Ingredients
For the Meatballs
8

ounces

Italian pork sausage,

casings removed

8

ounces

ground beef

2

cloves

garlic,

minced

1

large

egg,

lightly beaten

½

cup

grated parmesan

salt and fresh ground black pepper,

to taste
Instructions
In a large bowl combine Italian pork sausage, ground beef, breadcrumbs, garlic, egg, grated parmesan, salt, and pepper. Stir until well combined.

Roll the mixture into 1-inch meatballs and transfer to a large plate.

Melt the butter and heat the olive oil in a Dutch oven or soup pot, set over medium-high heat.

To the melted butter, add the onion, carrots, and celery; season with salt and pepper and cook for 4 minutes or until just softened. Stir frequently.

Stir in the garlic and Italian seasoning, and continue to cook for 15 seconds, or until fragrant.

Pour in the broth, stirring and scraping the bottom of the pot to pick up all the browned bits.

Add in the pasta and meatballs, and bring to a boil.

Reduce heat to a steady simmer and cook for about 10 to 12 minutes, until meatballs are cooked through.

Stir in the spinach and cook for 1 minute, or until just wilted.

Taste the soup for salt and pepper and adjust accordingly.

Garnish with shredded parmesan.
Notes
Pasta: Italian Wedding Soup is prepared with small pasta like Acini di Pepe, and you can use any other small-shaped pasta that you have on hand. Orzo, ditalini, and couscous are good options.
Cook the pasta separately if you plan to have leftovers. The pasta will soak up a lot of the liquid; therefore, if you want to serve this soup later, make the pasta on the side and add it to the soup when serving.
Meatballs: I prepared the meatballs with Italian pork sausage and ground beef, but you can use any other combination of ground meats or sausages. I suggest searing the meatballs for a few minutes for deeper flavor before adding them to the soup.
Wine: To add more flavor, add about 1/4 cup of dry white wine when cooking the carrots, onions, and celery.
Nutrition
Serving:
8
people
|
Calories:
329
kcal
|
Carbohydrates:
25
g
|
Protein:
22
g
|
Fat:
17
g
|
Saturated Fat:
6
g
|
Polyunsaturated Fat:
2
g
|
Monounsaturated Fat:
7
g
|
Trans Fat:
0.2
g
|
Cholesterol:
70
mg
|
Sodium:
592
mg
|
Potassium:
589
mg
|
Fiber:
2
g
|
Sugar:
3
g
|
Vitamin A:
4617
IU
|
Vitamin C:
7
mg
|
Calcium:
113
mg
|
Iron:
3
mg
Nutritional info is an estimate and provided as courtesy. Values may vary according to the ingredients and tools used. Please use your preferred nutritional calculator for more detailed info.
Categories: