Feta cheese is a popular ingredient that you might find in salads, appetizers, and lots of Mediterranean food. It's a unique cheese and one of my favorites. Here we will learn all about feta cheese + explore 16 easy ways to cook with feta!
If you're anything like me, then you love cheese. And feta cheese is absolutely one of my go-to's because that is what I grew up with. I always have some feta in my fridge because it has such a fantastic flavor and is affordable.
But not everyone is familiar with feta cheese and how good it is for cooking and eating. I get a lot of questions about what it is and how to cook with it. So it seemed like a good idea to answer all of the pressing questions about feta and share some of my favorite recipes to make with this briny cheese. If you're not already cooking with feta, then hopefully, you'll start now!
Is Feta Goat Cheese?
No, feta is not a type of goat cheese. Feta cheese is traditionally made out of sheep's milk, though some creameries use a combination of sheep's, cow's, and goat's milk. Feta does have a lot of similarities to goat cheese, and they can often be used interchangeably in recipes.
What is Feta Cheese?
Feta is a type of cheese that has been brined. It's very crumbly, so it's commonly used as a topping for salads. But it also is a fairly soft cheese. Feta is usually sold in squares and is often sold in the brine.
How is it Made?
The process of making feta is very similar to other cheeses. Rennet is added to milk, which causes the milk to separate into solids and liquids. The milk solids are then hung by cloth or placed in a mold so that excess liquid can be drained from them. Once the liquid has been drained, the cheese is seasoned with salt. What makes feta unique is what happens next. The cheese is then placed in a brine, where it usually stays for a few months before being packaged and sold.
Is Feta Cheese Good For You?
Feta is one of the healthiest cheeses that you can buy. It's loaded with important vitamins and minerals, such as calcium, phosphorous, vitamins B12 and B6, and zinc. And it has a lower amount of fat and far fewer calories than most cheeses. However, feta is also one of the saltiest cheeses, so you should watch your sodium intake if you're eating a lot of feta.
What Does it Taste Like?
Because feta is brined for so long, it has a very salty flavor. It's also very tangy, and it almost tastes a little bit sour. It's a very smooth-tasting cheese, and it's a lot lighter than many other types of cheese.
How to Store Feta Cheese
It's important to store feta the right way. If you're going to eat it shortly after opening it, you can simply store it in an airtight container or bag in the fridge for up to a week. But if you're going to store the cheese for longer than that, you'll want to keep it in a brine in the fridge. Place the feta in an airtight container, cover it in water, and add a lot of salt, and the feta will last in the fridge for 1 month.
16 Feta Cheese Recipes to Try
Now that you know all about feta, let's get to making some recipes. All of these dishes are healthy, easy to make, and super delicious.
This super-rich pasta dish has all of your favorite buffalo chicken ingredients. It's full of rotisserie chicken, wing sauce, and even ranch dressing. And it's also packed with whipping cream and mozzarella cheese, so it's very rich. But the star just might be the crumbled feta cheese on top, which really ties the dish together and gives it a tangy zing.
Get the Recipe
One of my favorite foods to eat with feta is spinach. The two ingredients just go together perfectly. This decadent chicken bake is full of cheese, as it also has mozzarella and cream cheese. The cheeses melt together in the oven, and the end result is magical.
Get the Recipe
Eggplant Rollatini
This recipe feels like something you'd order at a fancy Italian restaurant. Slices of eggplant are filled with garlic and four types of cheese: feta, parmesan, mozzarella, and ricotta. They're placed on top of marinara sauce and baked until the cheese is melty. What's not to love?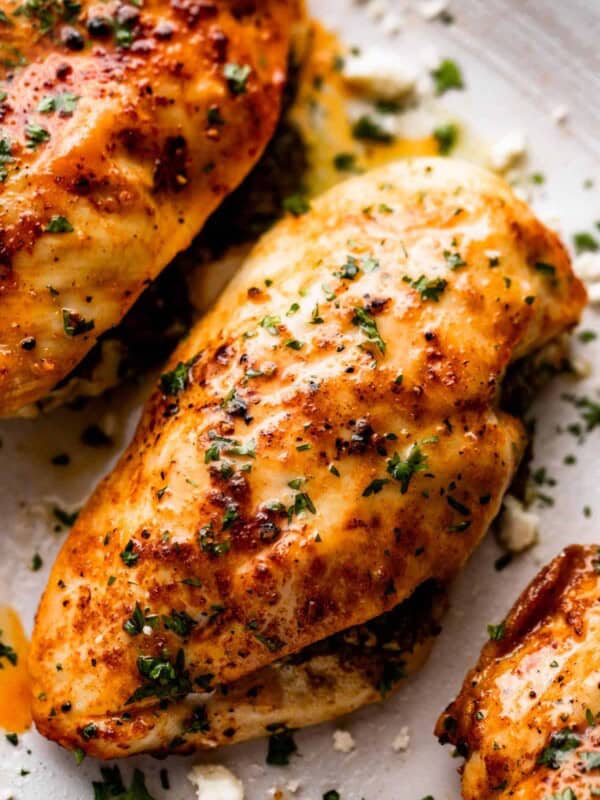 I love cooking chicken in the air fryer. It's a hassle-free way to have perfectly-cooked chicken every single time. This chicken is stuffed with three ingredients that go perfectly together: feta cheese, basil, and garlic. It's as good as it sounds!
Get the Recipe
You don't usually think of fish and cheese going together, but it works so well in this recipe. Feta is so briny that it pairs perfectly with the buttery cod, while other strong flavors like white wine, apple cider vinegar, garlic, and oregano make the seafood shine.
Get the Recipe
I almost always put feta cheese in my frittatas. The tangy flavor of the cheese cuts right through the richness of the eggs. This recipe also has a lot of bacon, so the brine from the cheese is extra important. It's one of my go-to breakfast recipes because it has so much flavor in it.
Get the Recipe
My favorite way to use feta cheese is to put it on top of a salad. And this steak salad is one of the best salads I've ever made. The salad is full of flavorful ingredients like tomatoes, onions, and cucumbers, but the star is the vinaigrette. It's packed with herbs, lemon juice, balsamic vinegar, and dijon mustard, and the flavors really pop.
Get the Recipe
This recipe has a lot of earthy flavors in it, like bulgur, chickpeas, and pistachios. The bright tanginess from the feta really balances those flavors out and makes this dish taste light and refreshing. Plus, it's so easy to make!
Get the Recipe
This is such a simple and easy-to-make salad, but the flavors are dynamic. The salad is just garbanzo beans, feta cheese, and a few fresh veggies, and the dressing is lemon juice, parsley, cumin, pepper, and oil. Recipes don't get much more simple than that, but I bet you'll make this salad all the time.
Get the Recipe
Hard-boiled eggs and feta cheese is another combination that I really love. Something about the richness of the egg and the tanginess of the cheese just works brilliantly. But the secret to this recipe is a little bit of fresh jalapeño, which takes the salad to the next level. It works great as a side salad, or as a complete meal.
Get the Recipe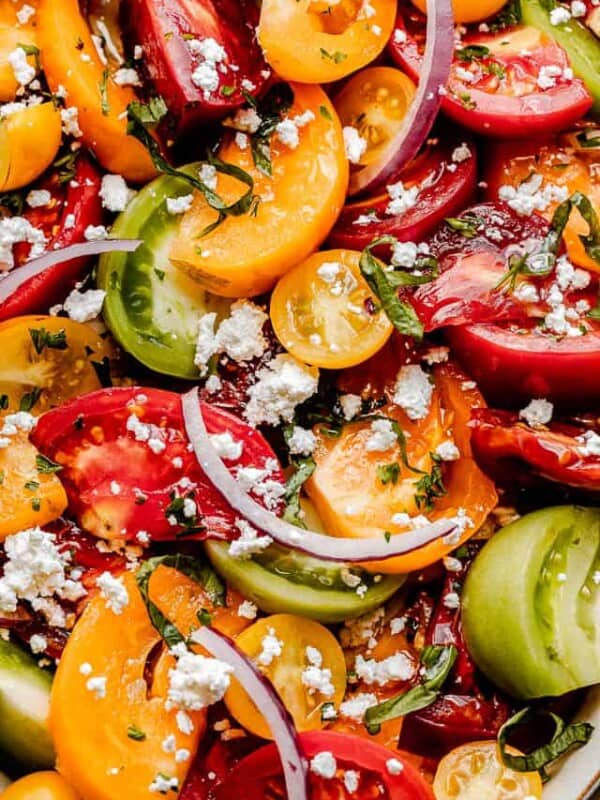 Tomatoes with cheese is one of the most classic food pairings ever and for good reason. It just works so well. This recipe is very similar to a caprese salad, except with feta instead of fresh mozzarella. The result is a salad that's tangier, lighter, and I think a lot better.
Get the Recipe
Feta is a staple ingredient in the Mediterranean, so it's no surprise that it's a big part of this recipe. This salad is bursting with Mediterranean flavors, like olives, tomatoes, and a super tangy salad dressing. It's perfect for a hot summer day.
Get the Recipe
This recipe is the definition of cheesy. The spicy peppers are packed with not one, not two, but three types of cheese: cream cheese, cheddar, and of course, feta. But the thing that really makes this recipe special is that it uses pork rinds in place of bread crumbs for breading and frying the poppers. It's delicious!
Get the Recipe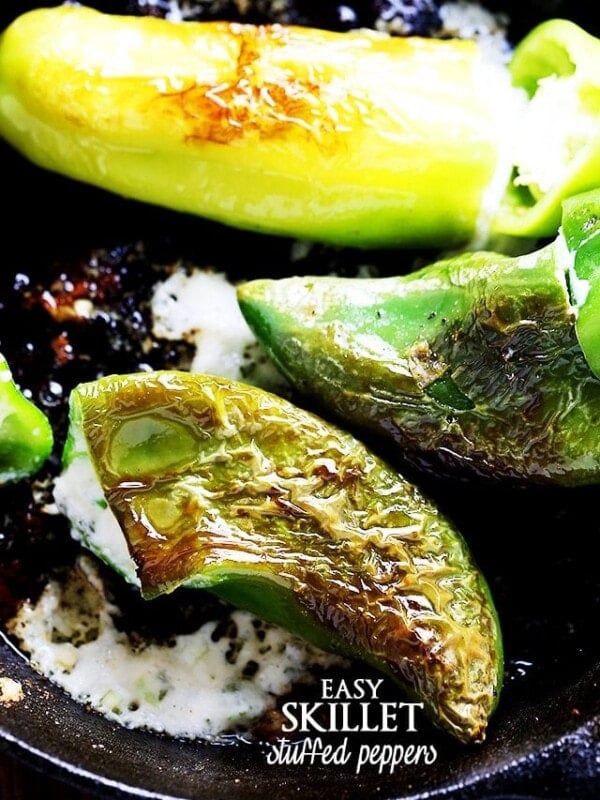 Usually, when we think of peppers stuffed with cheese, we think of jalapeños. But banana and cubanelle peppers are just as good! They're stuffed with feta, parmesan, and ricotta, which makes for a creamy but tangy filling. The peppers are also loaded with herbs and aromatics, which go so well with the feta.
Get the Recipe
Oven-Baked Feta Cheese Dip
In most of these recipes, the feta is a garnish or a relatively small ingredient. But it's the star of the show in this recipe. The feta is covered completely in tomato sauce and garlic, and then with two more kinds of cheese for some extra richness and meltiness. Then it's baked and served as a dip for chips and flatbreads. How good does that sound?
This is a gourmet recipe, but it's surprisingly easy to make. Tomatoes, peppers, and feta are layered on a homemade pie crust, and the results are amazing. The flavors work incredibly well together, and it tastes like it came out of a fancy restaurant. You've definitely got to try this one.
Get the Recipe
Need More Easy Recipes?
If you need more recipes to try after making these feta dishes, then check out my recipe finder. You'll be able to find whatever you're craving there!