You're going to love this beautiful Chopped Egg, Cucumber and Tomato Salad! It's amped up with bright cherry tomatoes, diced avocado, jalapenos, curly slices of fresh red onion, English cucumber and a tangy homemade Dijon vinaigrette.
Fresh & Healthy Chopped Egg, Cucumber and Tomato Salad
It's the time of year for beautiful food, you guys! I don't know about you, but spring just makes me want to make big, colorful dishes full of fresh fruits and vegetables. This egg salad is one of my faves! It packs in plenty of protein thanks to the hard boiled eggs, and the colorful array of delicious veggies really kicks it up a notch.
Plus. The dressing. Let's talk about the dressing, because I literally cannot say enough about how delicious it is! This tangy vinaigrette is so mouthwatering, you'll want to drizzle it over everything! It brings out the very best in these crisp and creamy, oh-so-fresh ingredients.
This is a fun dish to make with a friend or with a child. Just about everything needs to be washed and chopped, so it's a great dish for teaching some basic kitchen safety and knife skills. Make sure you're using knives that are a good fit for your helper's hands! Knives that are too large, heavy, or dull are not safe for anyone, especially beginners!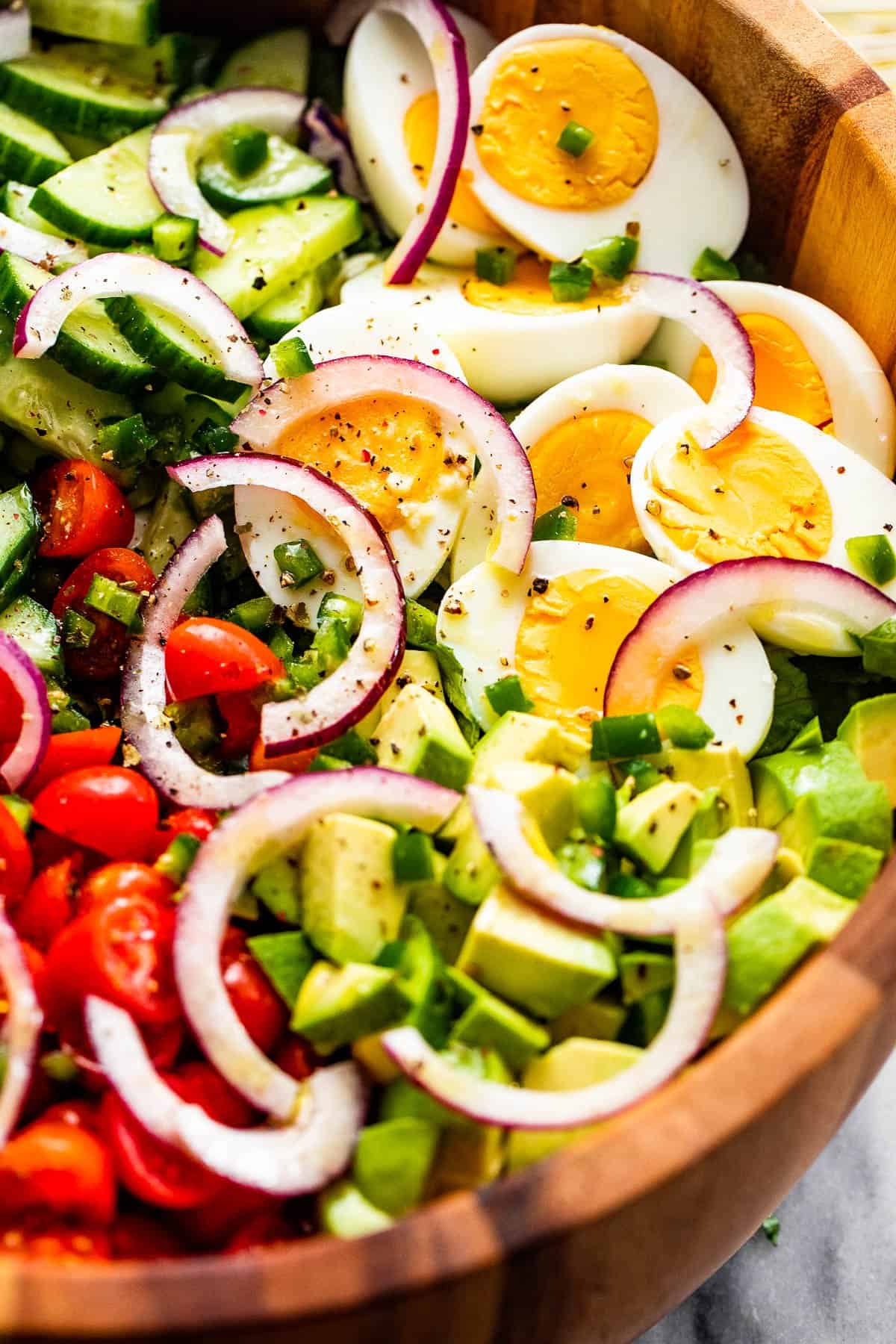 What You'll Need
The ingredients here are super fresh and so good for you! This is truly an eat-the-rainbow dish, with bright cherry tomatoes, creamy green avocado, fresh cucumber slices, and dark red onions.
For the Chopped Egg, Cucumber and Tomato Salad
Tomatoes: You'll need two cups of fresh, ripe cherry tomatoes, halved.
Avocado: Dicing couple of avocados brings a creamy indulgence to this salad.
Cucumber: Slice up an English cucumber. I cut mine down the middle first, and then slice the two halves into half-moons.
Jalapeño: Add a spicy kick with a fresh, de-seeded and diced jalapeño.
Onion: Very thinly slice some red onion, enough to make half a cup.
Hard Boiled Eggs: For this salad, I use 4 to 6 hard boiled eggs, depending on their size. Either way, give them a rough chop or dice them up.
Feta Cheese: Feta makes everything betta!
Parsley: I use chopped fresh parsley for a garnish.
For the Lemon Dijon Vinaigrette
Olive Oil: The base of this vinaigrette is 3 tablespoons of extra virgin olive oil. For the best flavor, look for "first cold press" on the label.
Lemon Juice: You'll need 2 tablespoons of lemon juice; fresh-squeezed is best, but you can also use juice from concentrate.
Mustard: I use Dijon mustard for my vinaigrette, but you can definitely experiment here! Any kind of mustard will bring its own unique flavor.
Lemon Zest: Another good reason to use fresh juice! I like to add half a teaspoon of fresh lemon zest to the vinaigrette.
Garlic: Mince or press 1 clove of garlic.
Salt & Pepper: To taste.
For the Garnish
Feta Cheese: Optional
Fresh Chopped Parsley: Optional.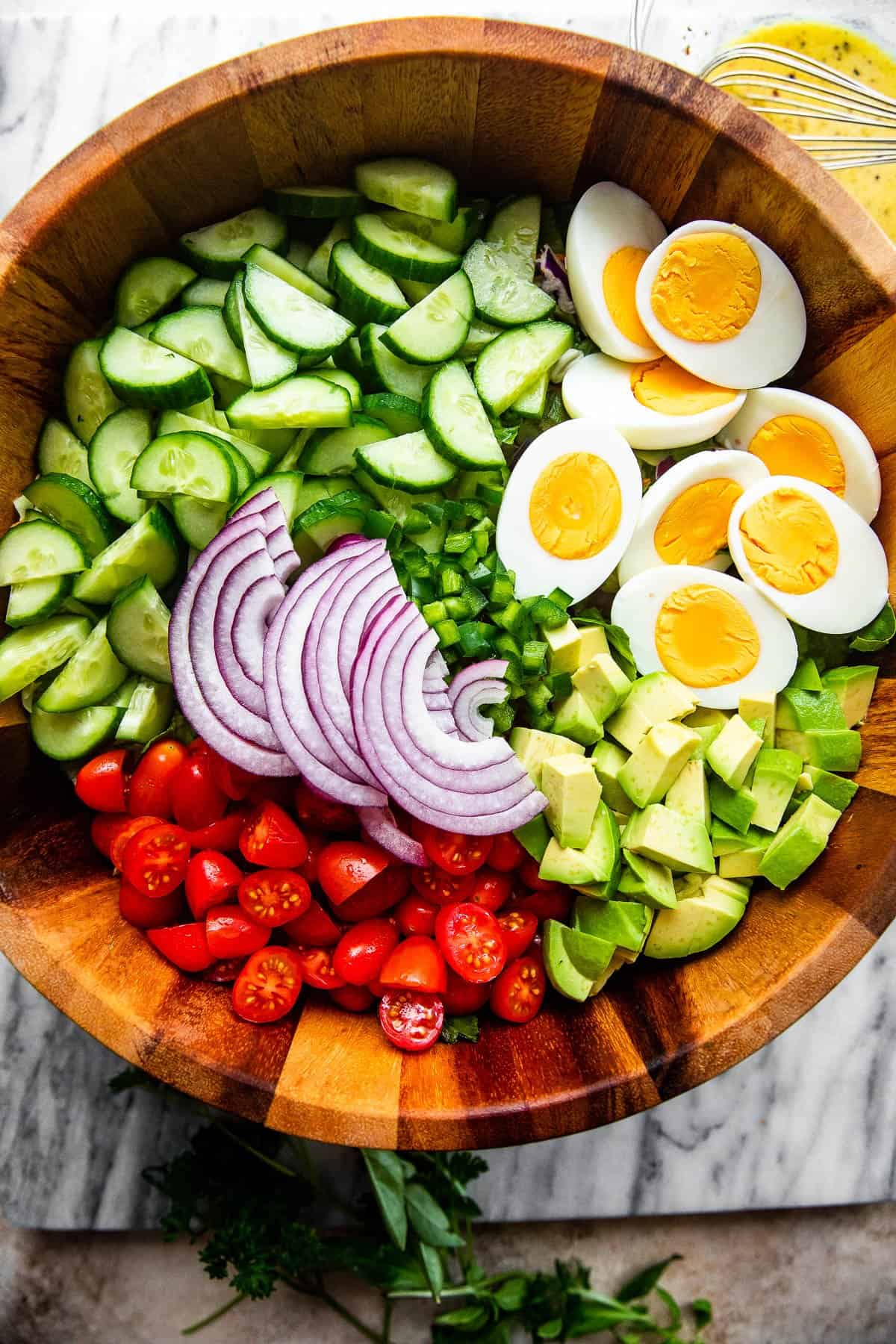 How to Make Chopped Egg Cucumber Tomato Salad
This dish is so simple to make! The most time-consuming part is the knife-work, chopping and slicing the delicious fresh ingredients. So be sure to have a good sharp knife and a clean cutting board handy. From there, all you gotta do is combine it all into one delicious salad.
Combine Main Ingredients: In a large salad bowl, combine the tomatoes, avocado, cucumbers, jalapeno, onions, eggs and parsley.
Make Vinaigrette. In a small mixing bowl, whisk together the oil, lemon juice, mustard, lemon zest, garlic, salt and pepper. Taste for salt and adjust as needed.
Dress Salad. Add the dressing to the salad and gently toss to combine. Top with crumbled feta and parsley, if you're using those.
Taste, adjust, and Enjoy!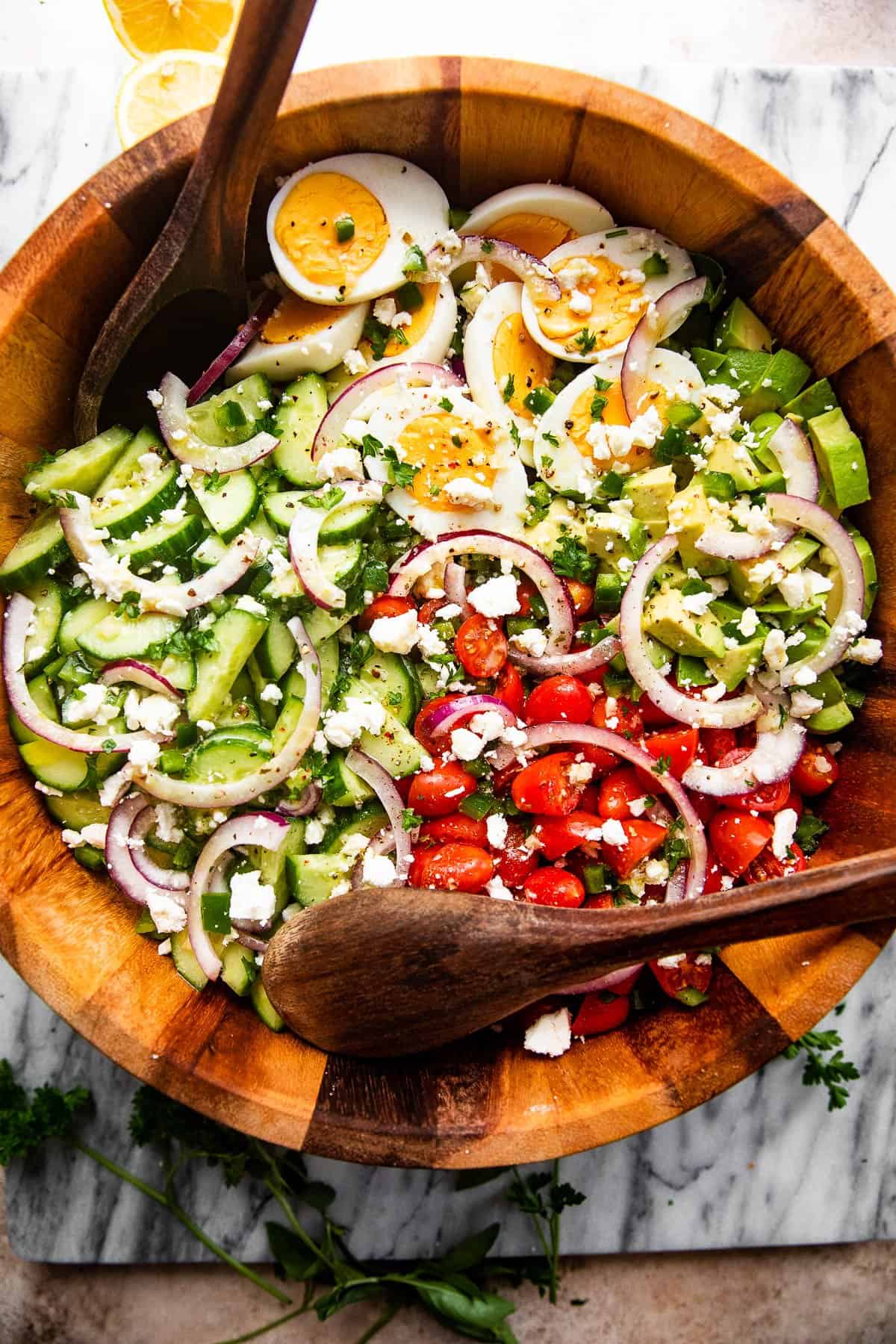 Tips for Success
To make the best possible egg salad, try one or more of these helpful tips and tricks! Bon appetit!
The Best Hard Boiled Eggs: A lot of times, boiling eggs is kind of a game of roulette! Will they turn out fully cooked, undercooked, or overcooked? Will they be easy to peel? That's why I'm happy to share this method for making Perfect Instant Pot Hard Boiled Eggs. They always come out perfectly cooked and easy to peel, thanks to the pressure cooker!
Make It Vegan: You can make an easy vegan version of this delicious salad by using cubed baked tofu or steamed cauliflower florets in place of the eggs.
Add Bacon: Or, to take it in the opposite direction, try adding crumbled bacon (or chopped ham) to the egg salad for an extra boost of drool-worthy flavor.
Serving Suggestions
There are so many amazing ways to enjoy this cucumber tomato salad! One of my go-to's is just to scoop some into a bowl and use celery-stick dippers. So easy, and also low-carb! Here are a few more ideas that I'm sure you'll love.
Crackers: Egg salads and crackers are a classic, you know? Try my amazing Homemade Cheese Crackers for a crispy, crunchy, downright addictive dipper.
Cloud Bread: Have you tried Keto Cloud Bread, yet? It's absolutely heavenly: light, fluffy, and deliciously low-carb. I love it alongside this creamy egg salad.
Chips: Oh, man. Any and every kind of chip goes perfectly with egg salad! From classic Air Fryer Potato Chips to Garlic Parmesan Zucchini Chips, you can't go wrong!
How to Store Leftover Egg Cucumber Tomato Salad
You can store leftover salad in airtight containers in the refrigerator. Egg salad will stay safe to eat for 3 to 5 days. However, keep in mind that avocado quickly loses its color, so if you'll be storing leftovers, you might want to omit the avocado.
Can I Make this Ahead?
Definitely! Since it stays good in the fridge for 3-5 days, you can assemble the entire salad, minus the avocado and garnish, several days in advance.
Add the avocado, dressing, and garnishes just before serving, so that they look their best.
Chopped Egg, Cucumber and Tomato Salad
Fresh, healthy and absolutely delicious! This amazing egg and avocado salad is perfect for spring and summer parties!
Ingredients
For the Salad
2

cups

cherry tomatoes,

halved

2

avocados,

diced

1

English cucumber,

sliced and cut into half-moons

1

jalapeno,

deseeded and finely diced

½

cup

thinly sliced red onions

4 to 6

hard boiled eggs,

coarsely chopped or diced
Instructions
In a large salad bowl combine chopped tomatoes, avocado, cucumbers, jalapeno, onions, and eggs. Set aside.

In a small mixing bowl whisk together the oil, lemon juice, mustard, lemon zest, garlic, salt, and pepper; taste and adjust accordingly.

Add dressing to the salad and gently toss to combine. Taste for salt and/or dressing, and adjust.

Top with crumbled feta and parsley; serve.
Notes
WW POINTS: Take off 4 points by omitting the Feta Cheese, and use ONE avocado instead of two.
Nutrition
Calories:
418
kcal
|
Carbohydrates:
19
g
|
Protein:
13
g
|
Fat:
35
g
|
Saturated Fat:
8
g
|
Cholesterol:
203
mg
|
Sodium:
304
mg
|
Potassium:
886
mg
|
Fiber:
8
g
|
Sugar:
6
g
|
Vitamin A:
969
IU
|
Vitamin C:
38
mg
|
Calcium:
158
mg
|
Iron:
2
mg
|
Net Carbs:
11
g
Nutritional info is an estimate and provided as courtesy. Values may vary according to the ingredients and tools used. Please use your preferred nutritional calculator for more detailed info.
Categories:
More Healthy Salad Recipes
Summer is the season of fresh salads, and I've got tons of delicious ones to help you celebrate!