These delicious steak and potatoes foil packets are made with juicy sirloin steak bites and tender potatoes seasoned with garlic and herbs. It's an easy foil packet recipe that you can cook on the grill (or in the oven!) for a flavorful family dinner.
Garlic and Herb Steak and Potatoes Foil Packets
What can I say? When it comes to foil packet dinners, I'm a fan. Just in time for grilling season, my garlicky skillet steak bites and potatoes inspired this foil packet version. These garlic steak and potatoes foil packets are an easy dinner to make on the grill, over a campfire, or even in the oven on a rainy day. It's a flavorful, hearty meal with juicy hunks of sirloin steak and tender seasoned potatoes, cooked all at once, ready to pair with your favorite summer sides.
Why You'll Love This Foil Packet Dinner
Quick. Cooking your meat and potatoes together in foil is fast and easy. Have dinner ready in a flash with next to no cleanup (my favorite part!).
Flavor-packed. The garlic and herb marinade in this recipe is next-level delicious and brings out the savory flavors of the steak.
Customizable. There are endless ways to turn your steak bites and potatoes into a well-balanced meal. Change up the marinade, add some veggies, or serve your foil packs with your favorite sides. See later on for ideas.
Cook anywhere. Make your steak and potato foil packets ahead and take them to go. You can cook them over a grill in the Great Outdoors, or in the oven. This "hobo dinner" is convenient and packed with flavor!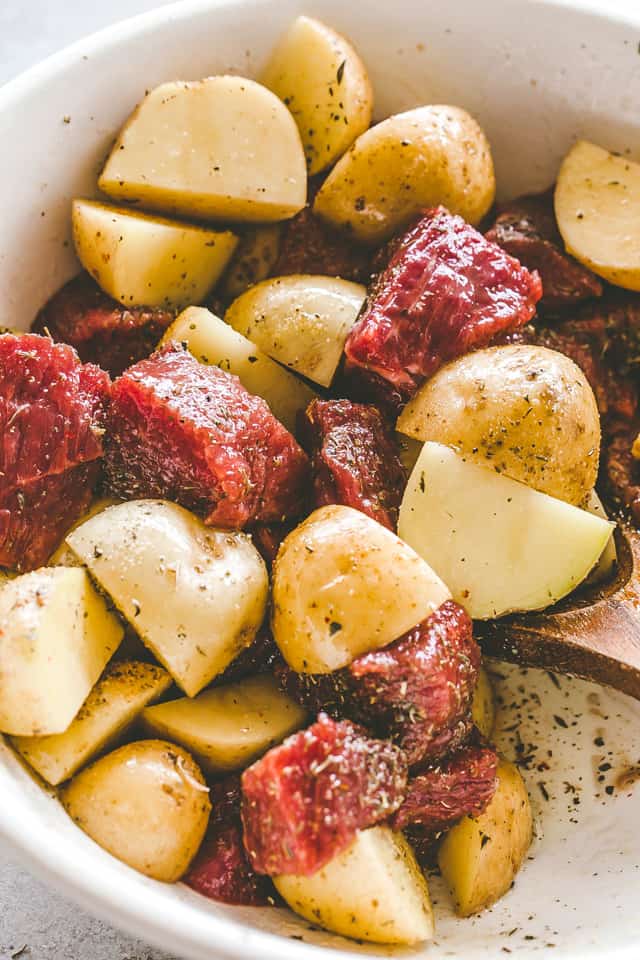 Ingredients You'll Need
You don't need a ton of ingredients to make these tasty steak and potatoes foil packs. Just a few essential fridge and pantry items, that I outline below. Be sure to scroll down to the recipe card for a full ingredient list and detailed instructions.
Steak: I tested this steak and potato foil pack recipe with flank steak, ribeye, and top sirloin. While this recipe worked with all of them, top sirloin is my first choice for foil packets. It's lean, flavorful, and stays tender when cooked using this method.
Potatoes: Baby Yukon gold potatoes are my favorite because you don't need to peel them. Another waxy potato, like red potatoes or fingerling potatoes, will also work.
Garlic and Herbs: We season the meat and potatoes with freshly minced garlic and a combination of dried thyme, rosemary, salt, and pepper. Feel free to substitute fresh versions of the herbs instead.
Do I Have to Parboil the Potatoes?
Potatoes take longer to cook than steak. This leaves two options: the first is to cut your potatoes up small enough to cook through in the suggested cooking time. The second option is to precook or parboil your potatoes. If you're not pressed for time, parboiling is the recommended option.
Parboiling is easy to do by boiling your whole potatoes in water for about 5 minutes, then draining them and cutting them up as directed. See the recipe card notes for details.
How to Grill Steak and Potatoes In Foil
Before we take these foils to the grill, you'll need to chop up the steak and potatoes and get those babies marinating. Here's how easily these foil packets come together:
Marinate the steak and potatoes. Combine the steak bites and chopped potatoes in a bowl with the garlic, herbs, and a couple of generous glugs of olive oil. If time allows, let the meat and potatoes marinate in the fridge for 30 minutes. Remember to take the steak and taters out about 15 minutes before you grill them, to take the chill off.
Assemble the foil packets. Cut four large sheets of foil from your roll. Add the marinated steak and potatoes to the center of each foil sheet. To make your foil packs, bring two sides together, wrap the foil up tightly, and finally roll up the ends to seal.
Grill. Grill the foil packets on high for 10 minutes per side. Remember to flip! Once your potatoes and steak are tender, you're ready to serve. See below for some of my favorite serving suggestions.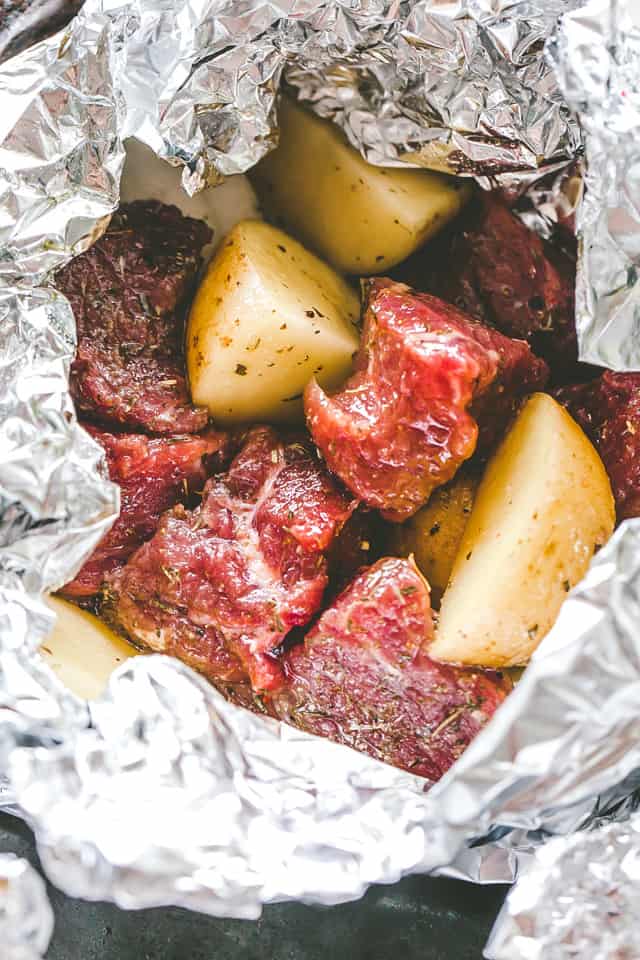 Can You Bake Steak and Potatoes Foil Packs in the Oven?
Yes! This outdoorsy dinner is easy to take indoors if the weather is uncooperative, or if you don't feel like grilling. To make this recipe in the oven instead, bake your foil packets at 450ºF for 15-20 minutes. I include detailed instructions in the recipe card.
Tips for Success
It can be hard to monitor the doneness of steak and potatoes when they're wrapped up tightly inside the foil. With a few helpful tips, though, you can have these steak and potatoes foil packets cooked to your liking every time:
If you prefer your steak rare or medium-rare, cut the steak into larger chunks. The larger the pieces, the rarer your meat will be. This way the steak is also less likely to be done before the potatoes. If you prefer your steak well-done, cut it into 1-inch cubes.
Use sturdy foil. We've found that heavy-duty foil holds up best when cooking foil packet dinners on the grill or over an open fire. You can also use a double layer of regular foil if needed.
When baking these foil packets in the oven, once the steak and potatoes are cooked, open up the foil and place the packets under the broiler to char the steak a bit. Make sure that you don't leave them unattended, as the tops can burn easily!
If your steak cooks way faster than your potatoes, not to worry. This can sometimes happen depending on the type/size of potatoes, or whether you parboil them or not. To fix this, carefully open the packets and transfer the steak to a plate to rest (you can cover the steak with a new sheet of foil to keep it warm). Close the foil packets and return the potatoes to the grill until they're done.
Be careful when opening the foil packets. A lot of steam builds up inside the foil in the heat, which we love, because it keeps things juicy. But this also means there are a lot of hot liquids in there. For this reason, never open or eat a foil packet in your lap. Make sure it's on a level surface.
Variation Ideas
Try out these tasty ways to make this recipe your own:
Marinade. Change things up and borrow the soy and citrus marinade from my steak and potatoes skillet with vegetables.
Add-Ins. Crumbled bacon is an easy way to add flavor to steak and potatoes. Or, grate on some fresh cheddar, Pepper Jack, or parmesan cheese to melt inside the packets.
Seasonings. You can season your foil packets however you'd like. Try Cajun spice or Jamaican jerk seasoning for a spicy kick, or another herb blend. Homemade fajita seasoning would also be delicious.
Vegetables. Choose veggies with similar cooking times to cook inside your steak and potatoes foil packets. Chopped bell peppers, onions, green beans, or broccoli are all great options.
What to Serve With Steak and Potatoes Foil Packets
Savory steak and potato foil packets were made for summer dinners. They're wonderful to prepare for backyard barbecues, camping, or just an easy weeknight meal. No matter where we crack open our foil packs, these are some of our favorite sides:
Can I Prepare Foil Packs Ahead?
Absolutely. It's easy to get a head start on this recipe. Marinate the potatoes and steak bites in advance, or you can assemble the foil packs up to 6 hours ahead of grilling (or baking). Keep the packets refrigerated or chilled in the cooler until you're ready to cook them.
Storing and Reheating Leftovers
Once cooled, discard the foil and store any leftover steak and potatoes in an airtight container. Leftovers can be kept in the fridge for up to 5 days, or in the freezer for up to 3 months. Thaw the steak and potatoes in the fridge before reheating.
The best way to reheat leftover steak and potatoes is in a covered skillet over medium-low heat until everything is warmed through.
ENJOY!
More Foil Packet Dinners to Try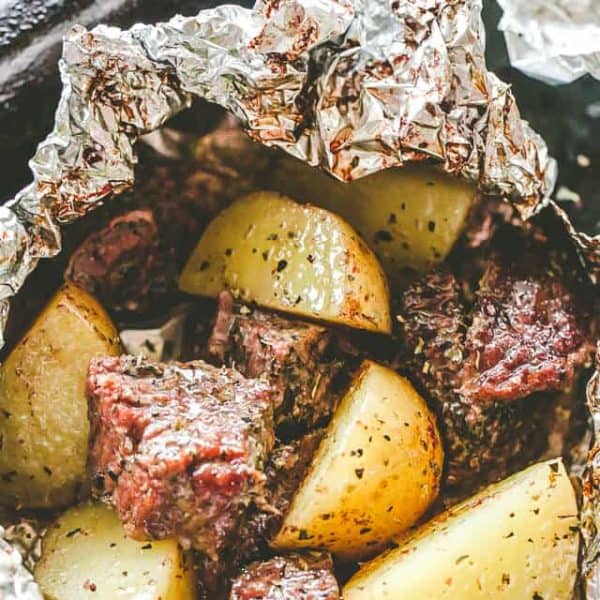 Steak and Potato Foil Packets
These savory steak and potatoes foil packets are made with juicy sirloin steak bites and tender potatoes seasoned with garlic and herbs. It's an easy family dinner that's perfect for grilling, camping, or the oven!
Ingredients
1.5 to 2

pounds

top sirloin steak,

cut into 2-inch pieces

1

pound

mini Yukon gold potatoes,

cut into 1-inch pieces

3

tablespoons

extra virgin olive oil

3

cloves

garlic,

minced

1

teaspoon

dried thyme

1

teaspoon

dried rosemary

1

teaspoon

salt

¼

teaspoon

fresh ground pepper
Instructions
In a large bowl combine steak, potatoes, oil, garlic, thyme, rosemary, salt and pepper.

Cover and set in the fridge for 30 minutes.

Take out from fridge and set on the counter for 15 minutes.

Cut out 4 large foil sheets, about 12×12 in size.

Divide steak and potatoes between the sheets of foil.
TO GRILL
Preheat grill to HIGH.

Wrap foils tightly around the steak and potatoes and seal it all together.

Transfer foil packets to the grill and grill over high heat for 10 minutes PER SIDE.
OVEN
Wrap foils tightly around the steak and potatoes and seal it all together.

Cook for 15 to 20 minutes, or until internal temperature of steak reaches about 135˚F and potatoes are tender.

If you want a nice char on the steak, open up the packets and pop them under the broiler for a couple minutes, then serve.
Notes
FOR THE POTATOES
Potatoes take longer to cook than steak. For that reason, I have a couple of suggestions:
Precook or parboil the potatoes. To parboil small potatoes, you'll need to place the potatoes in a pot with cold water and bring to a boil. Turn down heat to a simmer and cook for about 5 minutes. Drain and let cool for a minute or two, then cut and continue with the recipe.
OR, don't precook the potatoes, but cut them up to about 1-inch cubes. Also try using mini Yukon gold potatoes because they work best with the cooking time.
FOR THE STEAK
For a rare or medium-rare steak, I suggest cutting the steak into larger pieces because, as stated before, the potatoes need more time to cook. If you like a well done steak, cut the steak into 1-inch pieces.
Nutrition
Serving:
1
Foil Pack
|
Calories:
400
kcal
|
Carbohydrates:
20
g
|
Protein:
40
g
|
Fat:
16
g
|
Saturated Fat:
3
g
|
Cholesterol:
100
mg
|
Sodium:
684
mg
|
Potassium:
1093
mg
|
Fiber:
2
g
|
Sugar:
0
g
|
Vitamin C:
23
mg
|
Calcium:
60
mg
|
Iron:
4
mg
Nutritional info is an estimate and provided as courtesy. Values may vary according to the ingredients and tools used. Please use your preferred nutritional calculator for more detailed info.