Chicken Fajitas in Foil are incredibly delicious and quickly prepared with chicken, peppers, onions and rice all cooked in foil packets. Easy, quick, and so, so GOOD!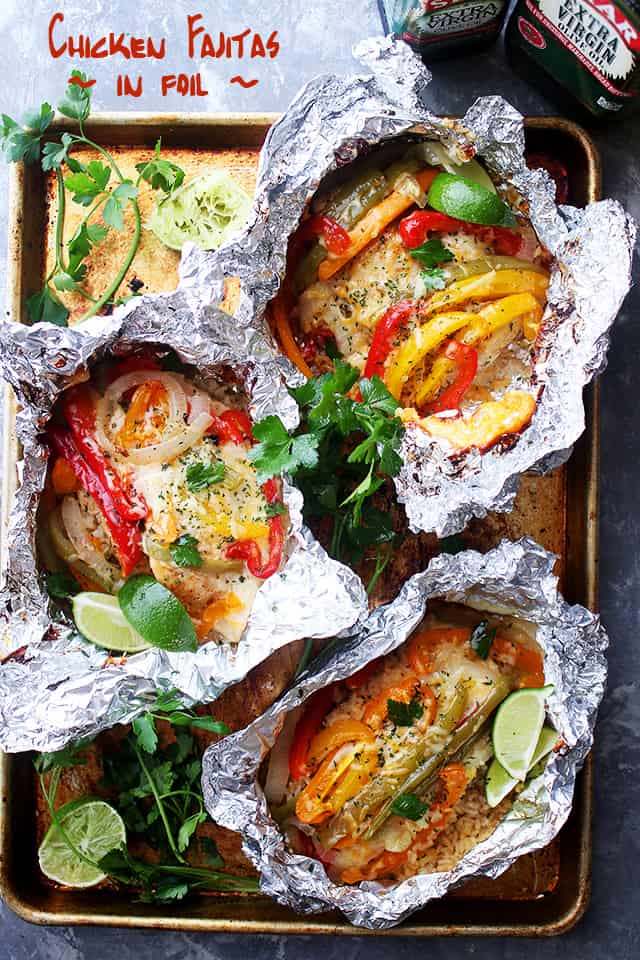 Chicken Fajitas In Foil Packs
Dive into these fantastic chicken fajitas featuring chicken, peppers, onions, and rice, all conveniently cooked in foil packs. This recipe is super simple, speedy, and irresistibly tasty!
Discover the magic of combining chicken, bell peppers, onions, and rice, then cooking everything perfectly in convenient foil packets. This method isn't just for the ease of cooking but also for an amazing blend of flavors. Think of this as your go-to meal when you want something delectable without the fuss. The special touch? Our Homemade Fajitas Seasoning Mix brings all the elements to life. If you're short on time, a store-bought taco seasoning will do the trick.
Our love for foil-cooked meals isn't new. Remember the Tomato Pesto Salmon and Rice we did last year? Today, we're turning up the heat with these tantalizing Chicken and Rice Fajitas. If you've been with me a while, you know my adoration for foil-cooked dishes – it combines flavor, health, and the "joy" of easy cleanup.
Why You'll Love This Chicken Fajitas Recipe
Convenience: Cooking in foil packets simplifies the process and minimizes cleanup.
Versatility: Easily adaptable, you can switch up the veggies or seasoning as you like.
Healthy: It's a balanced dish with protein, grains, and veggies all in one.
Cheesy: The blend of mozzarella and cheddar adds a creamy, melt-in-the-mouth texture.
Efficient: Quick prep and cooking time makes it perfect for busy weekdays.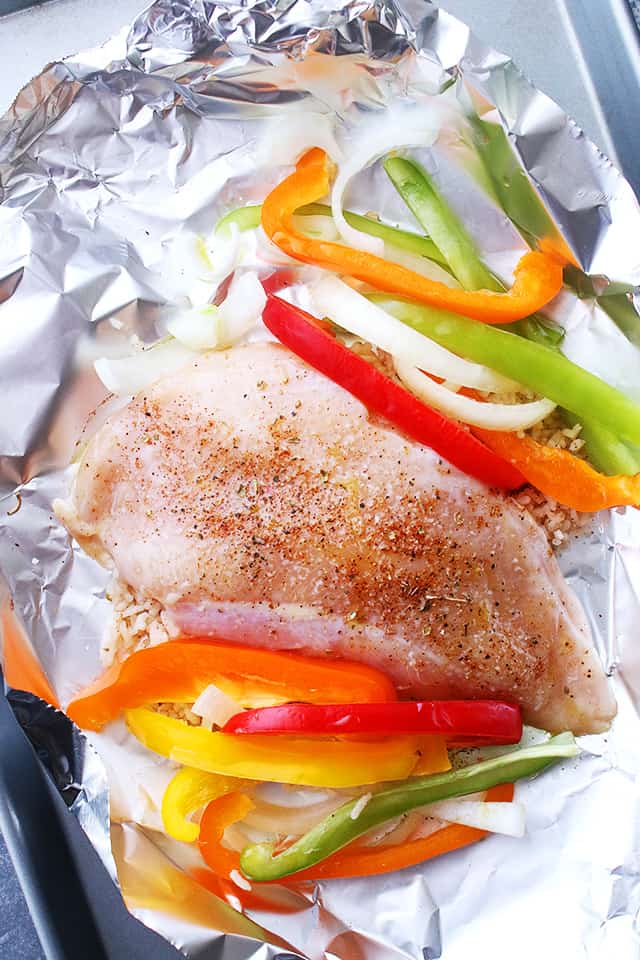 How To Make Chicken Fajitas in Foil Packs
Surprisingly, the real star in this Chicken Fajitas recipe is the rice. Cooking it alongside the chicken, infused with all those wonderful flavors? It's culinary wizardry. 🧙‍♀️
Ingredients
Foil sheets: To create individual serving packets.
Fajitas Seasoning Mix: Imparts a rich, authentic flavor to the chicken and rice.
White minute rice: A quick-cooking rice variety.
Boneless, Skinless Chicken Breasts
Salt & Pepper
Red, green, and orange bell peppers: They add sweetness, crunch, and color to the dish.
Onion
Olive Oil: Drizzled over ingredients to keep them moist and enhance flavor.
Shredded Cheddar and Mozzarella Cheese
Lime juice: A spritz at the end to add a tangy brightness to the dish.
Directions
Preheat your oven to 400˚F.
Prep the foil sheets: Spray each sheet with cooking spray so the food doesn't stick.
Rice preparation: In a bowl, combine the rice, water, and some of the fajitas seasoning. Using a slotted spoon, evenly portion the rice mixture onto each prepared foil sheet.
Season the chicken with salt, pepper, and a good rub of the fajitas seasoning mix. Place the chicken over the rice on the foil.
Vegetable assembly: Arrange the bell pepper slices and onion slices around each chicken breast.
Drizzle the oil: Evenly drizzle olive oil over all the ingredients.
Cheese: Mix both shredded cheeses together and then sprinkle them evenly over each chicken breast.
Seal the deal: Fold the foil sides over the ingredients to create a sealed packet.
Bake away: Place the sealed foil packets onto a large baking sheet. Slide them into the oven and bake for about 30 minutes or until the chicken reaches an internal temperature of 165˚F.
Broiler magic: Once baked, carefully open up the foil packets and place them under the broiler for an additional 3 minutes to get a nice golden finish.
How To Grill Chicken Fajitas In Foil
Preheat the grill to medium-high heat.
Transfer the foil packets to the preheated grill rack and cook for 20 to 25 minutes or until done, turning once halfway through cooking. Chicken is done when the thermometer reads 165˚F.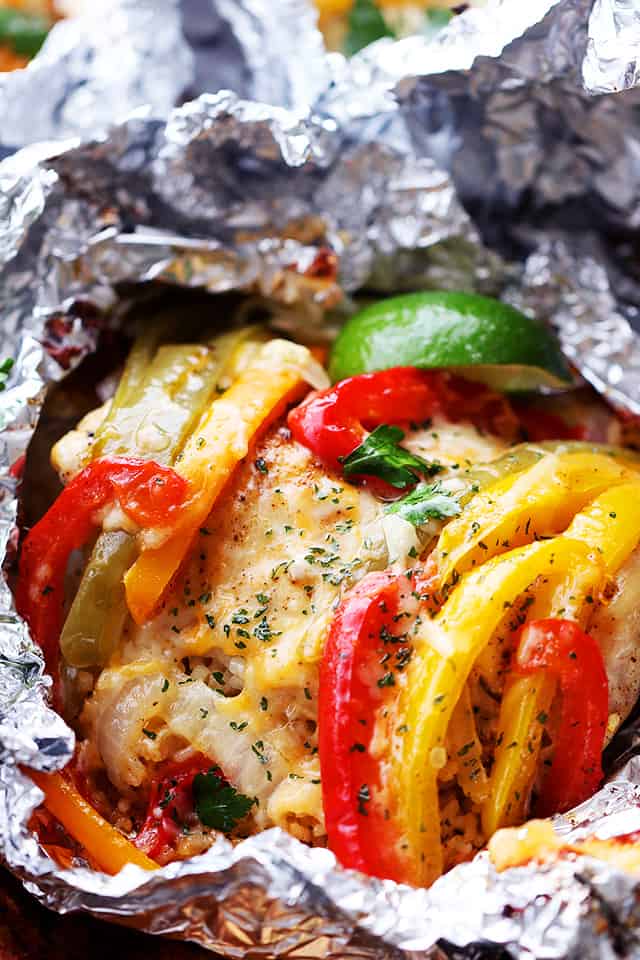 Tips For The Best Chicken Fajitas In Foil
Choosing Foil: Opt for heavy-duty aluminum foil to prevent tearing and spilling of ingredients while baking.
Chicken Cut: If you find whole chicken breasts too thick, consider slicing them horizontally into thinner filets. This ensures even cooking and can shorten cooking time.
Spice It Up: If you like a bit more heat, consider adding sliced jalapeños to the foil or sprinkling in some red pepper flakes with the other seasonings.
Additional Seasonings: Consider marinating the chicken for a couple of hours in the fridge with the fajita seasoning mix for deeper flavor.
Temperature Check: Invest in a meat thermometer to check the internal temperature of the chicken.
Vegetable Variations: Feel free to add other veggies like zucchini slices, black beans, or corn kernels.
Cheese Choices: If you do not like cheddar or mozzarella, consider using Monterey Jack or pepper jack.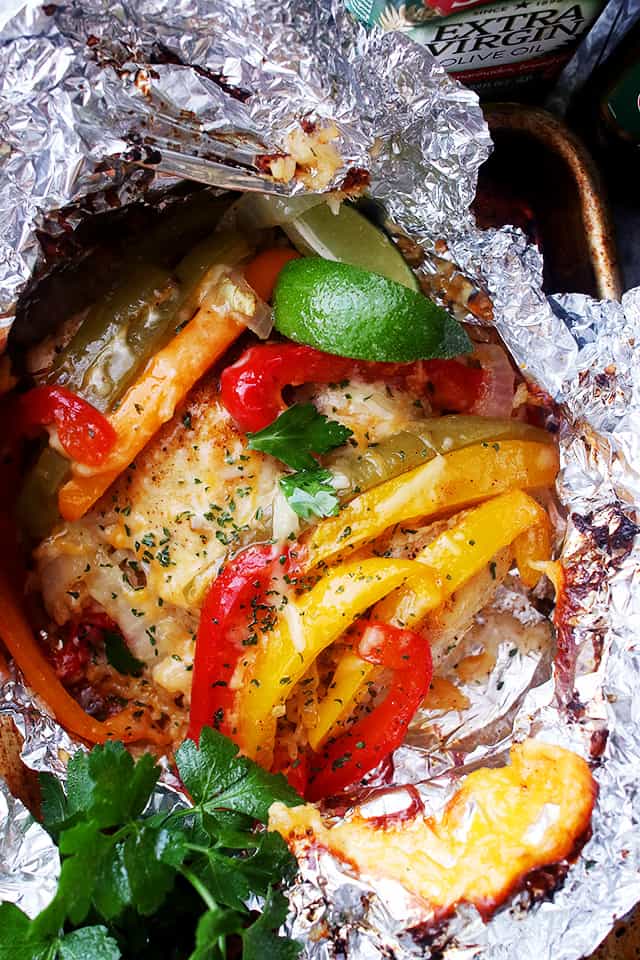 How To Serve Chicken Fajitas
Tortillas: Serve the chicken and veggies in warmed flour or corn tortillas for a traditional fajita experience.
Guacamole: This creamy avocado-based dip adds a richness that pairs well with the spices of the fajitas.
Beans: A side of refried beans, baked beans, or bean salad can round out the meal.
Mexican Corn Chicken Salad: Made with fresh or grilled corn, lime juice, and some chili powder.
Beer Margaritas: Classic or flavored like strawberry or mango, margaritas go perfectly with fajitas.
Storage
Allow the chicken fajitas to cool down to room temperature, then transfer to airtight containers and keep refrigerated for 3 to 4 days.
ENJOY!
More Fajitas Recipes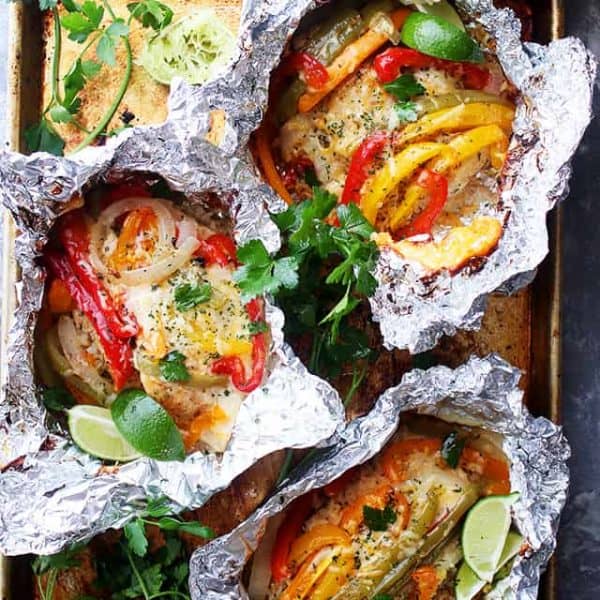 Chicken Fajitas in Foil Packs
Incredibly delicious and easy to make chicken fajitas featuring juicy chicken breasts, peppers, onions, and rice, all cooked together in foil packets.
Ingredients
4

large sheets of foil

cooking spray

1

cup

white minute rice

1

cup

warm water

4

boneless, skinless chicken breasts

salt and fresh ground black pepper,

to taste

1

red bell pepper,

sliced

1

green bell pepper,

sliced

1

orange bell pepper,

sliced

1

yellow

onion,

sliced

1

tablespoons

olive oil

¼

cup

shredded mild cheddar cheese

¼

cup

shredded part skim mozzarella cheese

lime juice
Optional Garnishes
sliced avocados

sour cream

cilantro
Instructions
Preheat oven to 400˚F. Spray the foil sheets with cooking spray and set aside.

Prepare the Fajitas Seasoning Mix.

Combine rice, water, and 1 tablespoons fajitas seasoning mix in a bowl; stir until well incorporated. Using a slotted spoon, divide the rice mixture evenly over each foil sheet.

Season the chicken breasts with salt, pepper, and rub with some of the fajitas seasoning mix. Place the chicken breasts over the rice.

Arrange the peppers and onions on the sides of each chicken breast. Drizzle olive oil over all the ingredients.

Combine the shredded cheeses and divide the cheese mixture evenly over each chicken breast.

Fold the sides of the foil over the chicken, covering it completely, and seal the packets closed. Transfer the foil packets to a large baking sheet.

Bake for 30 to 33 minutes or until the chicken's internal temperature registers at 165˚F.

Remove from the oven and carefully open up the foils away from your face. Put the packets under the broiler for 3 to 4 minutes, or until browned.

Remove from the broiler and squeeze lime juice over the food.

Garnish with sliced avocados, sour cream, and cilantro, and serve.
Notes
Cooking Chicken: Make sure not to overcook the chicken. Using a meat thermometer will ensure your chicken reaches the ideal internal temperature of 165°F.
Make It Your Own: You can easily customize this recipe by adding other favorite fajita ingredients, such as black beans or corn.
Rice: For this recipe, please use quick-cooking Minute Rice. Any other rice should be cooked before adding it to the foils.
Fajita Seasoning Mix: If you don't want to make your own, use store-bought fajita mix or taco seasoning.
Grill the foil packets on a preheated grill for about 25 minutes, or until done.
Foils: Use heavy-duty foils and ensure your foil is sealed tightly to prevent steam from escaping.
Nutrition
Calories:
310
kcal
|
Carbohydrates:
23
g
|
Protein:
30
g
|
Fat:
10
g
|
Saturated Fat:
3
g
|
Polyunsaturated Fat:
1
g
|
Monounsaturated Fat:
4
g
|
Trans Fat:
0.01
g
|
Cholesterol:
84
mg
|
Sodium:
229
mg
|
Potassium:
613
mg
|
Fiber:
2
g
|
Sugar:
3
g
|
Vitamin A:
2111
IU
|
Vitamin C:
101
mg
|
Calcium:
124
mg
|
Iron:
2
mg
Nutritional info is an estimate and provided as courtesy. Values may vary according to the ingredients and tools used. Please use your preferred nutritional calculator for more detailed info.