Tender, juicy, flavorful chicken is way easier to make than you might think! This collection of the 26 Best Chicken Thigh Recipes will show you all kinds of ways to make it. From down-home chicken in gravy, to succulent Asian glazed goodness, you'll find it all here!
All of the Ways to Cook Chicken, in One Place!
Chicken is always a staple on my weekly menu rotation, including chicken thighs. Whether boneless or bone-in, you can count on this affordable cut to stay tender and juicy, with less effort than ultra-lean chicken breast, and more versatility than drumsticks.
That's why I'm eager to share this collection of easy, bold, and healthy chicken recipes. Each one is made with ingredients you can feel good about (and pronounce), and they're guaranteed to turn out perfectly, even for less experienced cooks. Oh, and if you've ever thought that chicken was boring… well, be prepared for some surprises! These mouthwatering favorites are anything but that.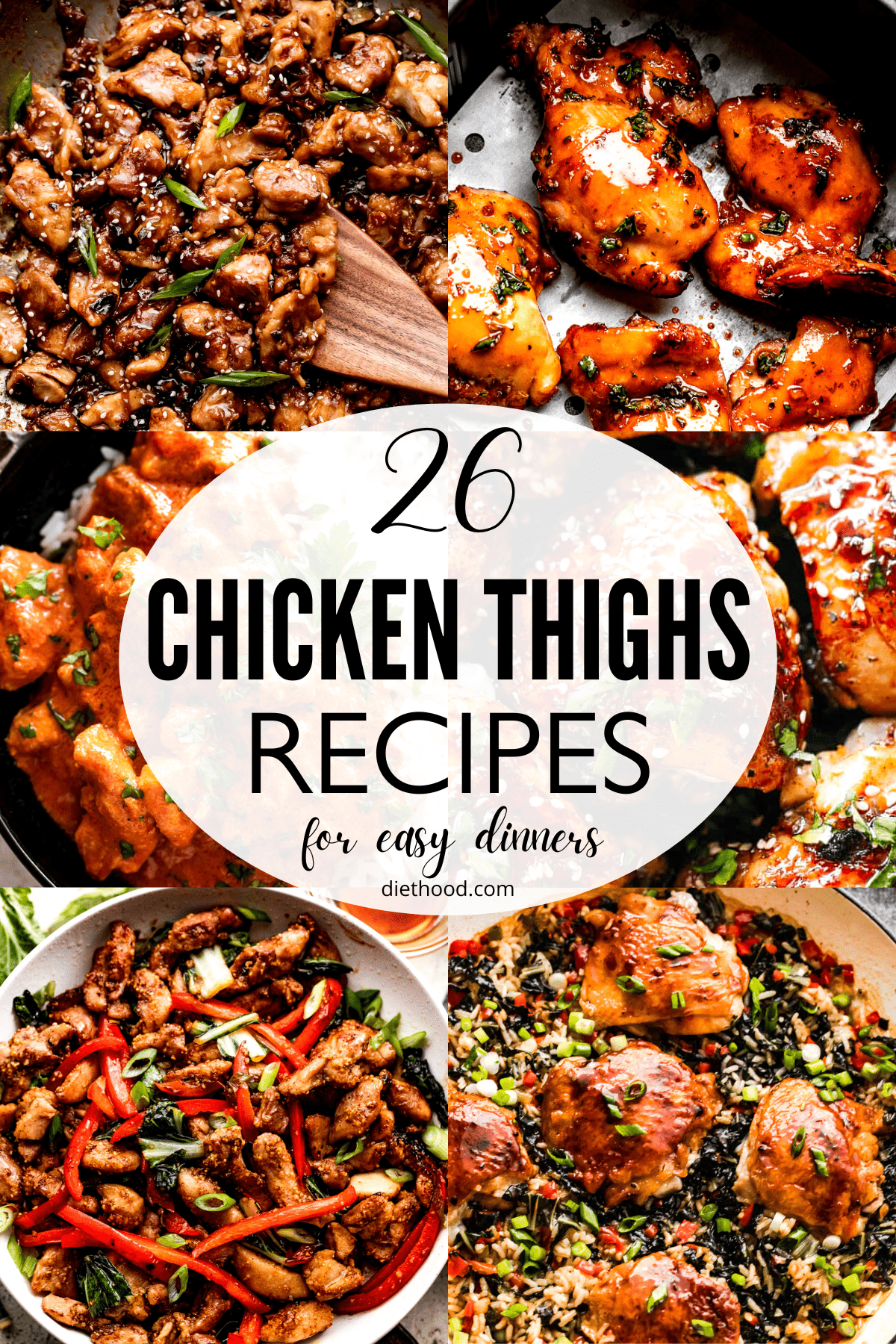 What Cooking Method Is Best for Chicken Thighs?
While some cuts of meat need a specific cooking style to shine, chicken thighs can be cooked in almost any way you can think of, and still turn out amazing. Whether you want to grill, bake, simmer, slow cook, pressure cook, or air fry, chicken thighs will work! This super unfussy ingredient is truly a busy cook's best friend.
26 of the Best Chicken Thigh Recipes
Okay, let's take a look at the recipes! If you see something that you like, be sure to click the link to check it out in more detail. You'll find helpful tips and ingredient substitutions, and photo tutorials as well. Let's do this! 💪
Storing and Reheating
While each recipe will have its own specific guidelines, in general, leftover chicken thighs store easily. Just cool them down, place them in airtight containers or food storage bags, and refrigerate for around 3 – 4 days.
Reheating is simple, too. Chicken thighs are much harder to dry out than other cuts of meat, so you can usually reheat them in a covered skillet, or in a 350°F oven until completely warmed through. Keep in mind that bone-in chicken will take longer to heat than boneless.
Do Chicken Thighs Freeze Well?
For the most part, yes! While some creamy sauces and tender veggies can turn watery in the freezer, you can usually take the chicken meat itself and freeze it for 3 months or so. For the best results, cool the chicken thighs down and then take the meat off of the bones. Pack it into airtight containers or freezer bags, mark with the date, and use within 3 months.