This Slow Cooker Cajun Jambalaya recipe is a total showstopper! Comforting, warming, and delicious, this combination of chicken, sausage, shrimp, and aromatics will blow your mind. It tastes like you spent all day in the kitchen! But, just between us, it's actually a super-easy recipe that lets your slow-cooker do all the work!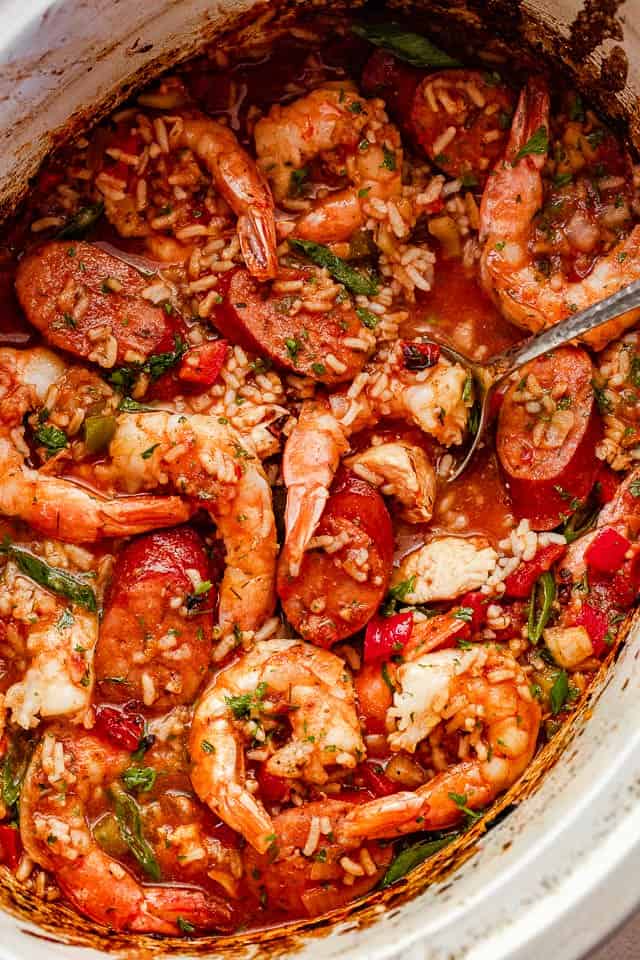 A FLAVOR PACKED SLOW-COOKER JAMBALAYA RECIPE
I absolutely love Jambalaya! The complex tomato sauce is enriched with onion, bell pepper, celery, and garlic, plus an amazing blend of spices. And, by prepping this authentic recipe in your slow-cooker, most of the work is done for you, so all you have to do is sit back and enjoy.
Plus, while my jambalaya recipe calls for the traditional mix of chicken, sausage, and shrimp, you can definitely leave out the sausage, shrimp, or both, and substitute more chicken!
WHAT'S THE DIFFERENCE BETWEEN GUMBO AND JAMBALAYA?
Gumbo and Jambalaya are both well-known staples of Cajun and Creole cooking. They are very similar dishes, but in general, gumbo is more of a stew, served with a side of hot white rice, while jambalaya is a thick casserole with the rice stirred into (and usually cooked in) the sauce itself.
Gumbo is also thickened with a roux and usually some okra, while jambalaya contains neither.
WHAT MAKES THIS JAMBALAYA RECIPE CAJUN?
Some would say that the tomatoes make this a Creole dish, and I'm not arguing there! It's definitely a "red" jambalaya rather than a "brown" jambalaya, using both diced tomatoes and tomato paste. But, for most people, this Jambalaya recipe tastes Cajun because of its spices and herbs, savory sausage and shrimp, and the flavor-packed "holy trinity" of onion, celery, and bell pepper.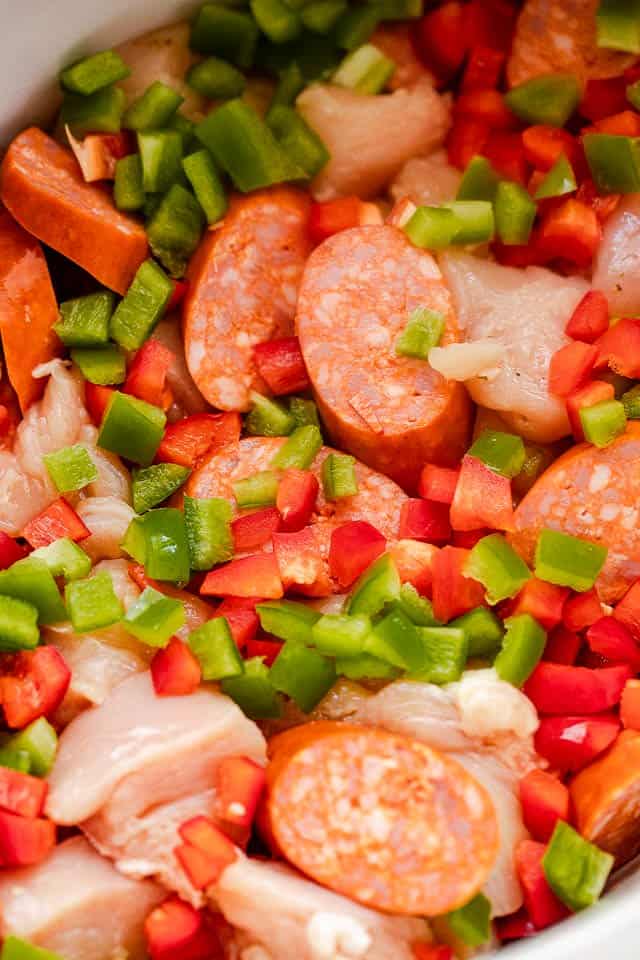 INGREDIENTS
Boneless, skinless chicken thighs: Cut these into 1-inch cubes.
Andouille sausage: Kielbasa makes a good substitute. Add a pinch of cayenne if you use kielbasa.
Canned Diced Tomatoes
Yellow Onion
Green and Red Bell Peppers
Celery
Fresh Garlic
Low-Sodium Chicken Broth
Tomato Paste
Oregano, Paprika, Cayenne, Thyme, Bay Leaf, and Cajun Seasoning
Frozen Shrimp
Rice: I like long-grain white rice, but you can also use Jasmine rice or whatever cooked rice you have on hand.
Parsley: Chop finely for garnish.
HOW TO MAKE JAMBALAYA IN YOUR SLOW COOKER
This jambalaya recipe is super easy to prepare in your slow cooker or crockpot. Here's how to do it:
Prepare the Ingredients: Cube the chicken and slice the sausage into ½ inch rounds. Dice the onion, celery, and bell pepper. Finely chop the garlic or put it through a garlic press.
Add Ingredients to the Slow Cooker: Add all of the ingredients, in the order listed on the recipe, to the slow cooker except rice and shrimp. Cover and cook on Low for 3 to 3 ½ hours, or until the chicken reaches and internal temperature of 165°F. Please use an Instant Read Food Thermometer.
Add Shrimp and Prepare Rice: Add the frozen shrimp to the slow cooker and stir to combine. Cook for 20 to 30 minutes longer, until the shrimp are cooked through. In the meantime, prepare rice according to package directions.
Stir rice in the Jambalaya. Serve and Enjoy!
TIPS FOR THE BEST JAMBALAYA
Check your spices: Check the dates on all herbs and spices. Spices last for one year, while dried herbs last for up to three. If yours are getting old, replace them. Your jambalaya will taste much more flavorful.
Cut chicken evenly: Try to keep the sizes of your chicken cubes and sausage slices consistent so that they cook evenly and don't dry out.
Use white wine if you like: Replace ½ a cup of the chicken broth with white wine for even more depth of flavor.
WHAT GOES WITH JAMBALAYA?
Jambalaya pairs really well with corn. Try sweet corn kernels seasoned with butter and salt, fresh corn on the cob, or even a side of skillet cornbread!
A refreshing salad makes a good contrast to the hearty, rich texture of jambalaya. Try a classic green salad like Caesar, or this refreshing Cucumber Salad.
Serve with cut veggies like cucumber slices gently tossed in homemade ranch dressing.
HOW TO STORE AND REHEAT LEFTOVERS
This jambalaya recipe stores well in the refrigerator or freezer, and the leftovers taste amazing!
To store in the freezer: Place in a ziploc bag and push all excess air out before sealing. Vacuum-sealing the leftover jambalaya works even better. Watch out for freezer burn, however.
To store in the refrigerator: Place in a food storage bag or container and keep up to 3 days.
To reheat on the stovetop: Thaw frozen jambalaya in the refrigerator (if frozen). Reheat slowly over low heat, in a covered skillet, until just heated through.
To reheat in the microwave: Thaw frozen jambalaya in the refrigerator (if frozen). Place in a large microwave-safe dish and cover with a paper towel. Heat on medium for 1-2 minutes at a time, stirring the jambalaya between cooking times, until just heated through.
More Cajun Recipes
ENJOY!
Slow-Cooker Cajun Jambalaya Recipe
An authentic and easy slow-cooker version of the Cajun classic. Chicken, shrimp, and andouille sausage in a spicy, tomato-based Cajun sauce with rice.
Ingredients
1

pound

boneless, skinless chicken thighs,

cut into 1-inch cubes (you can also use chicken breasts, but check for doneness a bit sooner)

12

ounces

andouille sausage,

cut into 1/2-inch slices

1

can (28 ounces)

diced tomatoes,

undrained

2

celery ribs,

diced

1

small green bell pepper,

diced

1

small red bell pepper,

diced

1

yellow onion,

diced

4

cloves

garlic,

finely chopped

1 1/2

cups

low-sodium chicken broth

2 1/2

tablespoons

tomato paste

2

teaspoons

dried oregano

2

teaspoons

Cajun seasoning

1

teaspoon

paprika

1/2

teaspoon

cayenne pepper,

(if you like your food spicier, use 1 teaspoon cayenne)

1/2

teaspoon

dried thyme

1

bay leaf

1

pound

raw frozen shrimp,

peeled and deveined

4

cups

cooked rice

chopped fresh parsley,

for garnish

sliced green onions,

for garnish
Instructions
Add all ingredients, except shrimp and rice, to a slow cooker, in the order listed.

Cover and cook on LOW for 3 hours to 3 ½ hours, or until chicken is cooked through.

Remove cover and stir in the shrimp; continue to cook for 20 to 30 minutes, or until shrimp is cooked through.

Add cooked rice and stir through.

Garnish jambalaya with parsley and green onions.
Nutrition
Calories:
421
kcal
|
Carbohydrates:
32
g
|
Protein:
36
g
|
Fat:
16
g
|
Saturated Fat:
5
g
|
Cholesterol:
232
mg
|
Sodium:
941
mg
|
Potassium:
794
mg
|
Fiber:
3
g
|
Sugar:
5
g
|
Vitamin A:
1929
IU
|
Vitamin C:
50
mg
|
Calcium:
134
mg
|
Iron:
3
mg
Nutritional info is an estimate and provided as courtesy. Values may vary according to the ingredients and tools used. Please use your preferred nutritional calculator for more detailed info.