Garlic Sauce Chicken – Pan-Seared Chicken Thighs prepared with an amazing garlic sauce.
Happy, Happy Sunday! How goes it? Did you go to any Christmas Parties this weeekend?
Here at Diethood Headquarters our Christmas Party was a huge hit!
Me, myself and I were the only people invited – makes sense since we are the only "3" that work here – and we got smashed. If it wasn't Savory Sundays, I'd share the cocktail recipe that brought down da hauz!
I also served some of those Feta Cheese Covered Olives, Spinach and Artichoke Dip Pizza, aaaaand Roasted Chestnuts. I LOVE those things!
My husband helped with eating most of it. AND he was not invited…
But, I couldn't eat all that much even if I wanted to. OR could I??
In other news, we had some wonderful dinner guests couple of weeks ago and I fed them chicken and cake!
Truth be told, I wasn't sure what I was going to serve until 2 hours before dinner time. It was a toss up between my Garlic Yogurt Baked Chicken and this, Garlic (no-yogurt) Sauce Chicken. I went with the latter.
This dish is at the top of our favorites, but I only serve it when we have company. That's not to say that it's hard to make. In fact, it's very easy to make, however, if you want to make an impression, you gotta serve it to yo' friends!
I mean, what good is it if only you and your husband get to brag about how good it was? Right?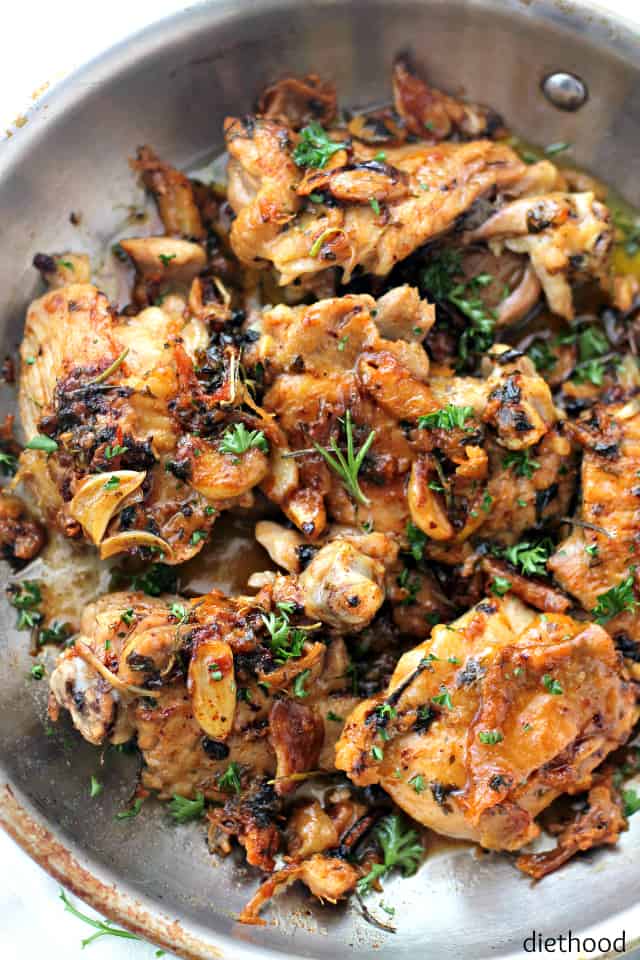 Which brings me to my next point. If you are looking to wow some friends and family, or even serve something different on Christmas Day, THIS is it! YES, IT is! Would I lie to YOU? No.
Feel free to use more garlic if you want, but not less than what I've recommended. Also, bring out the best white wine that you got because this chicken is all about the garlic and the wine. They go hand in hand. It's like garlic-infused-wine-chicken-something. It's delicious. That's all we need to know.
Have a great rest of the weekend!
XO
ENJOY!
Garlic Sauce Chicken
Pan-Seared Chicken Thighs prepared with an amazing garlic sauce.
Ingredients
3

tablespoons

olive oil

4

chicken thighs

(about 2-pounds)

salt and fresh ground pepper

, to taste

1

whole bulb of garlic

, peeled, cloves separated

1

cup

white wine

(use a wine that you like)

3

tablespoons

chopped fresh parsley

1

sprig fresh rosemary
Instructions
Heat olive oil in a large skillet.

Add chicken and season with salt and pepper.

Cooking over medium heat, brown the chicken on both sides; about 4 minutes per side.

Remove chicken from skillet and set aside.

Add garlic cloves to the skillet and cook, stirring frequently, until golden; about 3 minutes. DO NOT BURN the garlic.

Carefully add wine to the skillet.

Stir in parsley and add rosemary.

Transfer chicken back to skillet.

Cover and continue to cook over medium-low heat for 20 minutes, turning the chicken over half way through cooking. Add 1/4-cup more wine if it looks too dry when you go to turn over the chicken.

Remove from heat.

Transfer chicken to serving dish and spoon the garlic sauce over the chicken.

Serve.
Recipe Notes
Serve with a side of vegetables and/or pasta.
ROAST CHICKEN STUFFED WITH GARLIC AND ROSEMARY CREAM CHEESE