What's for dinner? How about a Quick Coq Au Vin made with tender chicken in a sauce of wine, mushrooms, and bacon? It's a rustic classic made easy and quick, but still loaded with authentic French flavor.
The Best Easy Recipe for Chicken in Wine
Winter is upon us, friends, and it's time for stick-to-your-ribs cooking. For me, that means all kinds of soups, stews, and gravied dishes! I love making rustic dishes like coq au vin on crisp, cold winter days, and this one is one of my very favorites.
For this recipe, I take boneless, skinless chicken thighs and use them as the base for an incredible meal made with dry red wine, sweet carrots, dainty pearl onions, and baby bellas. Throw a little bacon in there, and it's an incredible feast that will delight your tastebuds, especially if you serve it with hearty potatoes, egg noodles, or some other starchy treat. Because let me tell you, the sauce in this dish is out of this world.
What Is So Special about Coq Au Vin?
This rustic stew, like Beef Bourguignon, is legendary for its satisfying, robust flavor and texture. It's a "fancy" French recipe that conjures up life in a provincial village, a la Beauty and the Beast, complete with charming cottages and a romantic castle in the background! Or, well, maybe that's just me. Sidenote: It's my all-time favorite Disney Princess movie. 🌹
Anyway, the special thing about Coq au Vin is really about making the most of humble ingredients. Coq means a rooster, and unlike tender chickens, roosters typically need to be cooked low and slow for hours (even overnight) to offset the toughness of the meat. Cook up that rooster in good red wine, with a smorgasbord of tasty additions like bacon, mushrooms, and pearl onions, and you've got yourself one special meal, but also an easy, comforting, affordable meal. No wonder it's famous to this day!
For this recipe, I'm assuming most of you guys are probably going to the supermarket, rather than a rustic French farmyard, for your chicken, and that you are indeed using chicken thighs and not rooster. 🙃 Which is perfect, because chicken is what makes this dish so easy! Using boneless, skinless chicken thighs, you can make a beautiful weeknight version of coq au vin that doesn't require hours to be tender, juicy, and perfect.
The Ingredients
You might be wondering just what goes into this classic French dish, so let's get into that! The list is a little bit long, but each item adds a ton of flavor and texture to the finished dish. And, since it all cooks up simply in one pan, it's really easy to do!
Flour: To dredge the chicken pieces, you'll need a little bit of all-purpose flour, or for a gluten-free version, you can use cornstarch.
Dried Herbs: Dried thyme and dried parsley add a certain earthy sharpness and sweetness to the recipe. They bring a lot of flavor to the table, literally.
Salt and Pepper: Freshly ground black pepper gives the best result.
Chicken: I use boneless, skinless chicken thighs in my quick coq au vin, but if you'd like to use white meat and/or bone-in, skin-on chicken, see the "Tips" section below.
Olive Oil: A little bit of olive oil is used for frying the chicken.
Bacon: You can also use pancetta, if you have it, or prosciutto.
Butter: A small amount of butter adds richness to the sauce.
Pearl Onions: Pearl onions are a traditional element in coq au vin, but if you'd prefer to use chopped or quartered yellow onions (or red onions, or white onions), go for it! Chopped leeks are also a nice choice. If you do use pearl onions, peel them first. Pro tip: Cut off the root ends, and then blanch them in boiling water for 2 minutes to make peeling as easy as pie.
Mushrooms: My favorite are baby bella, but you could use any kind of mushroom here. Cut them into quarters if they are large, so that they're about the size of pearl onions.
Carrots: Cut two washed and peeled carrots into 1/8-inch coins.
Tomato Paste: Tomato paste is my secret ingredient for full-flavored soups, stews, and sauces! It's just so good. If you buy it in a tube, rather than a can, it's easy to refrigerate the leftover paste for another use.
Chicken Broth: A bit of broth helps to give the sauce the right strength. Vegetable broth is also fine, and in a pinch, water will do.
Wine: You'll need a dry red wine, not sweet. Burgundy wines are traditional here, but any decent drinking wine will do. It doesn't have to be expensive! Do avoid the "wine products" and "cooking wines" that are not meant for drinking, since they often contain salts and preservatives that can affect the flavor of the dish.
Fresh Herbs: Chopped fresh thyme and parsley make a beautiful optional garnish.
How to Make Coq Au Vin
So how do you make this easy version of the classic? It's super simple! All you need to do is brown the chicken, bacon, and veggies, and then make the sauce in the same pan before cooking it all together. Let's take a closer look!
Dredge and Brown the Chicken Pieces. Mix the flour (or cornstarch), herbs, salt, and pepper together on a shallow plate. Coat the chicken pieces in the seasoned flour mixture on all sides. Shake off any excess, and then fry the chicken pieces in olive oil over medium-high heat. Brown them on all sides, and then set them aside on a plate.
Cook the Bacon and Vegetables. To the hot grease in the pan, add the bacon. Cook the bacon until it just starts to get crispy. Add the butter to the pan and let it melt. Then add the onions, mushrooms, and carrots. Cook for about 5 minutes, stirring frequently.
Add the Sauce Ingredients to the Pan. Stir the tomato paste into the vegetable mixture and cook for one minute, stirring. Then pour in the chicken broth and the wine, and bring the mixture to a boil.
Finish Cooking the Chicken. Return the chicken thighs to the pan, along with any juices on the plate, and reduce the heat to medium-low. You want the sauce gently simmering. Simmer the chicken thighs for 10 minutes and then check for doneness. If the chicken is not done, continue cooking a few minutes more, until the chicken is cooked through and the carrots are tender.
Enjoy! Remove the pan from the heat, and garnish the dish with fresh chopped herbs. Serve with your favorite sides.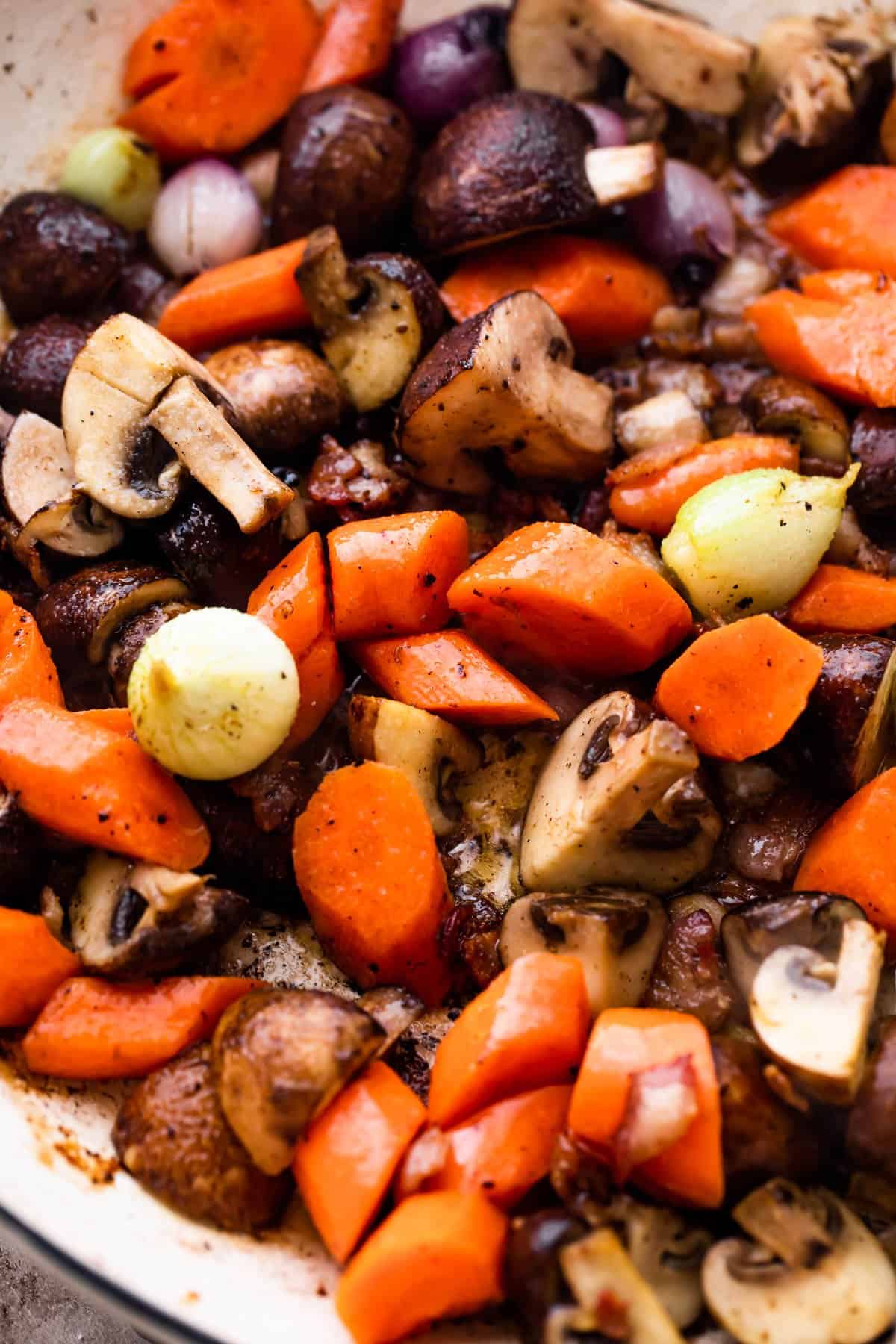 My Favorite Tips & Tricks
To make your coq au vin really special, have a look at the following easy tips! They're my best advice for crafting the perfect dish.
Add Complexity: Butter, bacon, onions, red wine, tomato paste, herbs… what more could you need? Well, if you'd like to add just one more layer of flavor to your recipe, you can't go wrong with a minced shallot or a splash of brandy. I recommend Courvoisier, if you go that route!
White Meat: While making this recipe with thighs is easiest (they're hard to overcook, and braise up beautifully) you can also use white meat!
Bone-In, Skin-On: For even more flavor, use bone-in, skin-on chicken. Be prepared to cook it in the sauce for as long as 40 minutes, though, to get it fully done. An instant-read thermometer is helpful to make sure the chicken is done without overcooking it. Chicken is cooked through when internal temperature registers at 165˚F.
Which Wine? What wine is best for coq au vin? Whatever you like to drink! This easy and rustic dish doesn't require an expensive wine; any affordable drinking wine with a good flavor is just fine. Merlot, cabernet sauvignon, and pinot noir would all work well.
White Coq Au Vin: Speaking of wine, did you know that using white wine is becoming popular, too? You can make a white wine version of this dish with your favorite dry white wine. Pinot grigio, sauvignon blanc, and dry Riesling are all good choices.
Marinade Magic: If you have time, try placing your raw chicken pieces in a zip-top bag with some wine while you prepare the vegetables and measure out the other ingredients. Even a short marinade time can really boost the flavor of the dish! From there, take the chicken out of the wine (discard it and use fresh wine to make the sauce), pat dry with paper towels, and follow the recipe as written.
What Is Traditionally Served with Coq Au Vin?
Coq au vin is traditionally served with something starchy like potatoes, rice, or noodles – perfect for soaking up the complex, full-bodied sauce. You could also do a crusty French bread or some homemade garlic bread. 🥖 Green veggies also go well with coq au vin, to contrast the richness of the dish.
How to Store and Reheat Your Leftovers
To refrigerate your leftovers, just allow the coq au vin to cool for an hour and then place it in the fridge, covered well. It will keep for 3 to 4 days.
To freeze, cool the coq au vin for an hour, and then place in the fridge until it is cool to room temperature or cooler. Pack into freezer containers or bags with the sauce, leaving about one inch of room for the liquid to expand as it freezes. Freeze the coq au vin for up to 3 months. Thaw overnight in the refrigerator before reheating.
To reheat, place the chicken, veggies, and sauce in a heavy-bottomed covered pot over low heat. Cook until the chicken is fully heated through, but do not overcook or the chicken may become tough.
Can I Make Coq au Vin Ahead?
Coq au vin is one of those recipes that actually gets better after it has had a chance to sit for a bit in the fridge (hello, beef stew!). You can make this up to two days in advance, cool it down, and refrigerate it until you're ready to reheat and serve.
Alternatively, freeze as directed above for up to 3 months. Thaw the coq au vin in the fridge overnight, and reheat on low the next day until the chicken is fully heated through.
ENJOY!
Quick and Easy Coq Au Vin
Quick Coq Au Vin made with tender chicken in a sauce of wine, mushrooms, and bacon. It's a rustic classic made easy and quick, but still loaded with authentic French flavor.
Ingredients
¼

cup

cornstarch,

or all-purpose flour

1

teaspoon

dried thyme

1

teaspoon

dried parsley

1

teaspoon

salt,

divided

¼

teaspoon

fresh ground black pepper

2

tablespoons

olive oil

4

slices

thick cut bacon,

diced

1

tablespoon

butter

8 to 10

pearl onions

8

ounces

baby bella mushrooms,

quartered

2

carrots,

cut into coins

2

tablespoons

tomato paste

1

cup

dry red wine,

use your favorite dry red wine, like, Merlot, Cabernet, Pinot Noir, etc…

Chopped fresh thyme,

for garnish

Chopped fresh parsley,

for garnish
Instructions
In a shallow plate, combine cornstarch or flour, thyme, parsley, ½ teaspoon salt, and black pepper; mix until incorporated.

Dip the chicken into the cornstarch mixture to coat on both sides; shake off any excess.

Heat olive oil in a large high-sided skillet, or a 4 quart braiser, set over medium-high heat.

Add chicken thighs to the hot oil and cook for 3 to 4 minutes per side, or until browned.

Remove chicken from pan and set aside.

Return pan to the burner and add the diced bacon; cook for 2 minutes, or until just starting to crisp up.

Add butter.

Stir in the onions, mushrooms, and carrots; add remaining salt and cook for 4 minutes, stirring frequently.

Stir in the tomato paste and cook for 1 minute.

Add chicken broth and wine; bring to a boil.

Return chicken thighs to the pan and reduce heat to medium-low.

Continue to cook for 10 to 12 minutes, or until chicken is cooked through and carrots are tender. Chicken is cooked through when internal temperature registers at 165˚F.

Remove from heat. Taste for salt and pepper; adjust accordingly.

Garnish with thyme and parsley.

Serve.
Nutrition
Calories:
390
kcal
|
Carbohydrates:
15
g
|
Protein:
27
g
|
Fat:
21
g
|
Saturated Fat:
6
g
|
Polyunsaturated Fat:
3
g
|
Monounsaturated Fat:
10
g
|
Trans Fat:
1
g
|
Cholesterol:
128
mg
|
Sodium:
736
mg
|
Potassium:
709
mg
|
Fiber:
2
g
|
Sugar:
4
g
|
Vitamin A:
3580
IU
|
Vitamin C:
5
mg
|
Calcium:
42
mg
|
Iron:
2
mg
|
Net Carbs:
13
g
Nutritional info is an estimate and provided as courtesy. Values may vary according to the ingredients and tools used. Please use your preferred nutritional calculator for more detailed info.
More Chicken Recipes to Try