Smoked sausage, sautéed chicken, and white beans combine in this easy take on traditional French cassoulet! With the flavors of white wine, tomato, and thyme, this Easy Chicken Cassoulet is sure to become a savory family favorite.
A Meaty, Traditional Stew with Chicken, Sausage, and White Beans
Pork and beans. Baked beans. Beans and rice. Pasta e fagioli. When it comes to hearty, rustic bean dishes, I just love them ALL! There's something so nourishing and comforting about slow-simmered beans, cooked down with flavorful meats, herbs, and spices.
And, cassoulet? Well. It has to be right up there in the top five best bean recipes ever!
This one is an easy cassoulet you can make at home. With basic ingredients like boneless, skinless chicken breast and canned beans, it's easy to make this low-hassle, big-payoff dish that tastes like you let it simmer away all day in a Provençal oven.
The flavors of wine, chicken, sausage, and thyme mingle with tender white beans for a dinner that will stick to your ribs and make you feel comforted.
What Is Cassoulet?
If you're wondering just what cassoulet (pronounced cass-oo-LAY) actually is, you're not alone! Like many old (and in this case, we're talking medieval!) recipes, cassoulet has been argued about for many years, and will probably continue to be argued about for many years to come!
Cassoulet experts debate about whether a "genuine" or "authentic" cassoulet should have goose or duck, this kind of sausage or that kind of sausage, pork, mutton, etc. 🤷‍♀️
But, whatever regional chefs across France, and even the world may say, the origins of cassoulet are simple: French medieval peasants created this thick, hearty bean soup dish using what they had on hand. This usually included white beans, some kind of sausage, poultry, and perhaps other scraps or joints of meat.
Today, cassoulet can be as simple as beans and sausage in a can. On the other hand, it can be a gourmet concoction, with all kinds of unique ingredients, at a fancy restaurant!
This version is a flavorful, homestyle version that uses easy-to-find ingredients. You'll love how easily this savory, satisfying dinner comes together!
Recipe Ingredients
There are two main components to this version of cassoulet: the chicken pieces, and the sausage and bean mixture. Each component is simple, rustic, and loaded with flavor. Here's the rundown:
For the Chicken
Olive Oil: For sauteing the chicken pieces. You can use any cooking oil you prefer.
Chicken: For this recipe, I use boneless, skinless chicken breasts, cut into 1-inch cubes. If you would rather use thighs, that's fine, too!
Paprika: Made of dried, ground peppers, paprika adds a sweet, earthy taste and beautiful color to the chicken.
Salt and Pepper
For the Sausage and Beans
Olive Oil: For sauteing.
Onion: Chop up one yellow onion (white, red, and sweet onions are all fine, too).
Sausage: There are lots of different sausages that would work in this dish. Kielbasa, andouille, and even Italian sausage are all possibilities. If you can, go for a hearty smoked sausage for depth. Cut it into half-inch slices.
Garlic: Mince up several cloves of fresh garlic, or put them through a garlic press.
Thyme: Dried thyme goes wonderfully with both beans and sausage, adding a pungent, fragrant note.
Salt and Pepper
Wine: Any dry white wine suitable for drinking is fine. Steer clear of salted, treated cooking wines, which don't taste as fresh and complex.
Tomato Paste: Tomato paste (not tomato sauce!) adds a concentrated blast of savory, saucy tomato flavor.
Beans: Canned beans make this recipe so easy! Either Great Northern beans or cannellini are perfect in this dish. Drain and rinse them before using.
Chicken Broth: You'll need a little bit of chicken broth to thin the cassoulet to the right consistency for baking. Low sodium is my go-to, but any kind will work. You can also use vegetable broth, or even just water.
Parsley: Chopped fresh parsley makes a fresh optional garnish.
How to Make Cassoulet
Making this easy cassoulet is all about building layers of flavor, so we'll be cooking and browning the ingredients one after the other. From there, everything will bake together into a gorgeous, complex dish.
Prep the Oven and Baking Dish. Before you start cooking, set your oven to preheat to 375˚F. Grease a large 9×13 inch baking dish with butter or oil, and set it aside while you make the filling ingredients. (Note: you can use Dutch oven, or a Braiser, instead of a skillet and baking dish, if you prefer. A Dutch oven can be used on the stove and then put straight in the oven.)
Brown the Chicken. Set a large, high-sided skillet set over medium-high heat. Add a swirl of olive oil, and allow it to heat up. Meanwhile, season your chicken with paprika, salt, and pepper. Lay the chicken in the hot skillet, and cook for about 6 minutes, or until cooked through, stirring frequently.
Cook the Sausage and Veggies. Take the chicken out of the skillet, and set it aside on a plate. Add a little more olive oil to the skillet, and cook the onions in it for a couple of minutes. Stir in the sausage, and cook for five minutes; and follow with the garlic, cooking just until fragrant (about 20 seconds).
Add the Wine, Tomato Paste, and Seasonings. Season the sausage and onions with thyme, salt, and pepper. Pour in the wine and add the tomato paste. Use a wooden spoon to stir the mixture and scrape any browned bits up from the bottom of the pot. Bring it to a simmer, and let it cook for about two minutes.
Add the Beans, Broth, and Chicken. To the simmering mixture, add your drained canned beans, the chicken broth, and the cooked chicken pieces (along with any juices from the plate). Bring the cassoulet back to a simmer, and then pour it into your prepared baking dish.
Bake. Bake the cassoulet for 20 to 22 minutes, or until it is hot and bubbly. Take it out of the oven, and let it stand for a few minutes before garnishing with parsley and serving.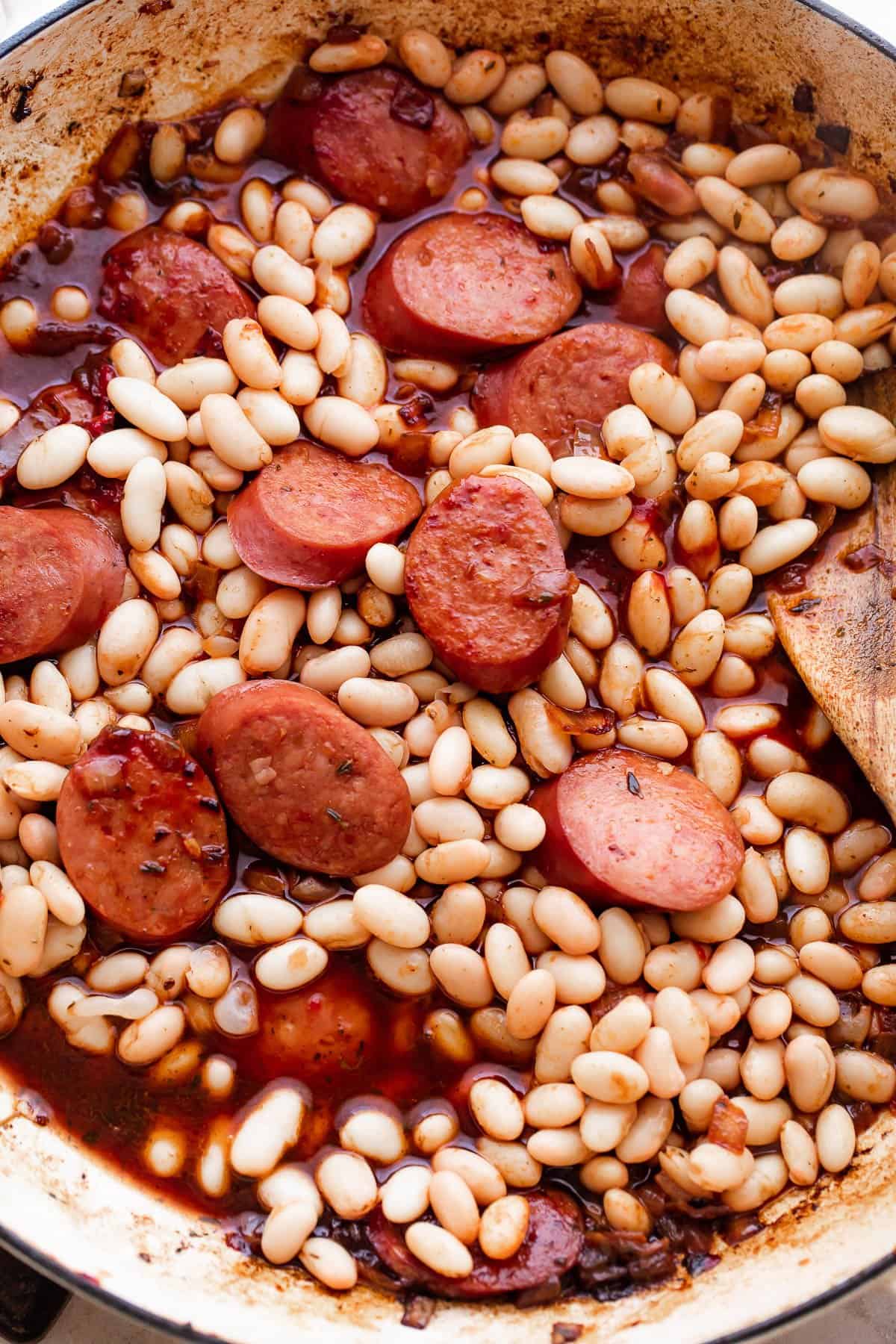 My Favorite Tips and Variations
So there you have it! My easy, home-cook version of simple chicken cassoulet. If you'd like to try making it yourself, take a look at these easy tips for success, and then go for it!
Add Greens: Just like your favorite Italian bean soup, this easy chicken cassoulet is great with added greens! They play well with sausage, white beans, and of course, chicken. Try kale, mustard greens, or any other hearty cooking green for the best results.
Use Leftovers: Cassoulet is a great way to clean out the fridge! If you like making beans from scratch, but find that you typically have leftovers, use them in cassoulet! Same with the chicken—you can definitely make it fresh, according to the recipe, but you can also use leftover cubed or shredded chicken if you prefer.
Use Duck Fat: While true cassoulet usually includes duck, this easy version does not. But, if you'd like that classic flavor while still using convenient, widely-available chicken, order or pick up a small container of duck fat. Use it in place of the olive oil for browning the chicken. Easy!
Don't Skimp the Browning: Make sure to brown the chicken well, not just cook it! The key to browning is to avoid crowding the pan, and to be patient before turning the chicken pieces. The browned bits that form and stick to the bottom of the pan will give your dish a lovely flavor.
What Should I Serve with Chicken Cassoulet?
This one-dish meal honestly doesn't need much as far as side dishes! But, if you would like to make a side or two, you can't go wrong with one of these:
Shopska Salad: This crisp and tangy chopped salad is the perfect contrast to thick, savory chicken cassoulet. Also, Shopska Salad is easy to make and full of nutrients!
No-Knead Bread: Bread is perfect for mopping up the sauce from this classic dish. Try Rosemary and Garlic No-Knead Bread for a perfectly easy, mouthwateringly flavorful bread that everyone will devour.
Roasted Veggies: Easy Oven Roasted Vegetables are a flavorful low-carb side that goes with everything. Pro tip: make double, and save some for meal prep!
Storing and Reheating Leftovers
You can store this chicken cassoulet in the refrigerator, for up to 4 days.
Just wrap it well in plastic wrap, or place leftovers in airtight containers or bags.
Then refrigerate away from raw meats for food safety.
Alternatively, store cassoulet (again, wrapped well or stored in airtight containers) in the freezer for up to 3 months. Before reheating, thaw your cassoulet overnight in the fridge.
Reheat in a covered, ovenproof dish at 350˚F, until heated through. Always be sure to test several places in the casserole to make sure it's fully reheated.
ENJOY!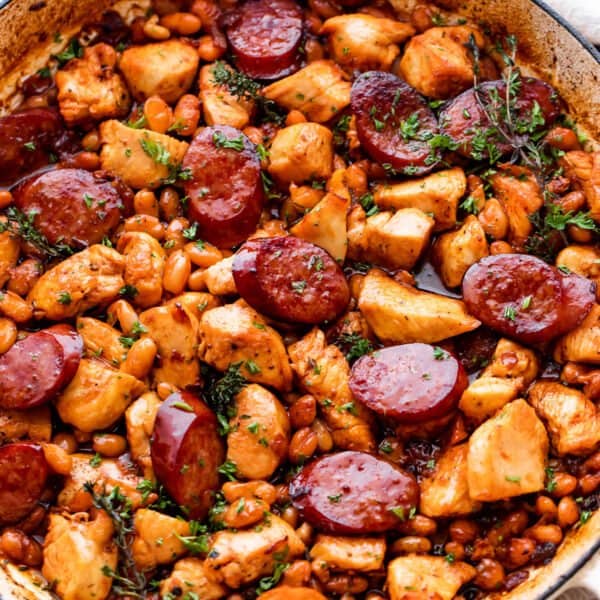 Easy Chicken Cassoulet
Smoked sausage, sautéed chicken, and white beans combine in this easy take on traditional French cassoulet!
Ingredients
For the Chicken:
2

tablespoons

olive oil

2

pounds

boneless skinless chicken breasts,

cut into 1-inch cubes

½

teaspoon

sweet paprika

Salt and fresh ground black pepper,

to taste
For the Sausage and Beans:
Instructions
Preheat oven to 375˚F.

Lightly grease a 9×13 baking dish and set aside.

Heat 2 tablespoons olive oil in a high-sided skillet set over medium-high heat.

Season chicken pieces with paprika, salt, and pepper.

Add chicken to the hot oil and cook for 6 minutes, or until cooked through, stirring frequently.

Remove chicken from skillet and set aside on a plate.

Return skillet and set it over medium heat.

Add 1 tablespoon oil.

Add in the onions and cook for 2 minutes.

Stir in the sausage and cook for 5 minutes.

Add garlic; continue to cook for 20 seconds.

Season with thyme, salt, and pepper.

Add wine and stir in the tomato paste. Stir until well combined.

Bring mixture to a simmer and cook for 2 minutes.

Add the beans and chicken broth.

Stir in the previously cooked chicken pieces; bring mixture to a simmer.

Transfer mixture to previously prepared baking dish.

Bake for 20 to 22 minutes, or until hot and bubbly.

Remove from oven and let stand a few minutes.

Garnish with parsley.

Serve.
Nutrition
Calories:
390
kcal
|
Carbohydrates:
26
g
|
Protein:
37
g
|
Fat:
15
g
|
Saturated Fat:
4
g
|
Polyunsaturated Fat:
2
g
|
Monounsaturated Fat:
7
g
|
Trans Fat:
1
g
|
Cholesterol:
88
mg
|
Sodium:
578
mg
|
Potassium:
991
mg
|
Fiber:
8
g
|
Sugar:
1
g
|
Vitamin A:
163
IU
|
Vitamin C:
5
mg
|
Calcium:
93
mg
|
Iron:
3
mg
|
Net Carbs:
18
g
Nutritional info is an estimate and provided as courtesy. Values may vary according to the ingredients and tools used. Please use your preferred nutritional calculator for more detailed info.
Categories:
More Satisfying Dinner Recipes