Parmesan Garlic Roasted Carrots tossed with the most flavorful garlicky and buttery parmesan cheese coating. The carrots come out sweet, tender, and really delicious. One of my family's favorite ways to enjoy carrots!
Delicious Garlic Roasted Carrots With Parmesan
Garlicky roasted carrots are completely transformed with the introduction of Parmesan. All it takes is a quick mix of a few basic ingredients — butter, garlic, Parmesan cheese, salt, and pepper, and you'll have Parmesan roasted carrots ready for your table in no time. These roasted carrots are a fantastic vegetable side dish that complements nearly any meal. Whether you're serving up a feast featuring Honey Mustard Glazed Ham or whipping up a quick weeknight dinner like Creamy Lemon Parmesan Chicken, these garlicky Parmesan Roasted Carrots fit right in.
The combination of butter and salt works magic on the carrots, enhancing their natural sweetness. But when you introduce garlic and Parmesan cheese into the equation, you elevate these roasted carrots to a whole new level of deliciousness. Trust me, if you're looking to get everyone at the table excited about their veggies, just toss them with some garlic and butter and roast them – you'll have a new favorite side dish in no time!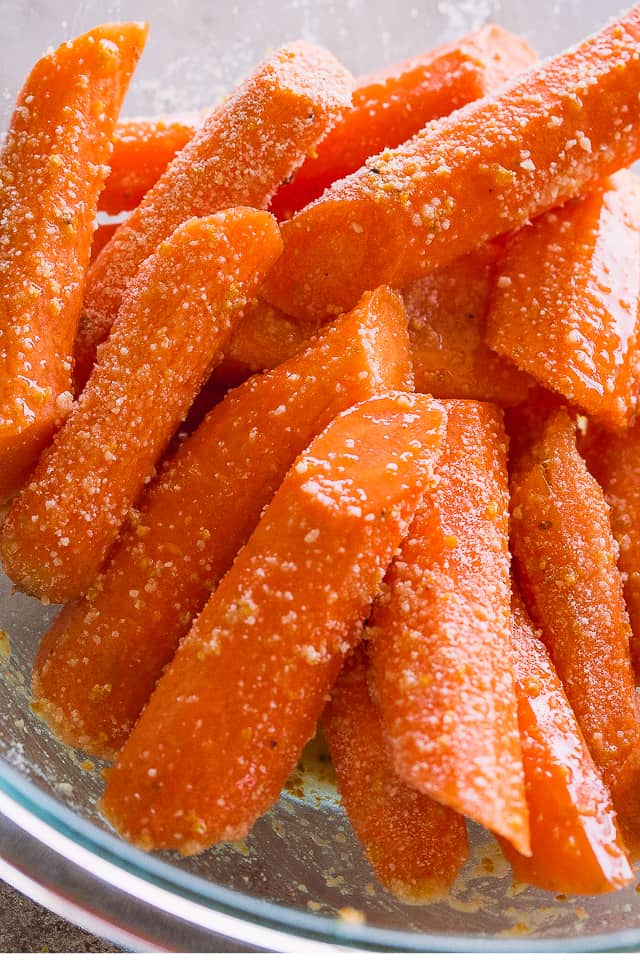 How To Roast Carrots
Roasted to a sweet and tender deliciousness, these garlic parmesan carrots are an easy-to-make side dish and they take only 5 minutes to prep.
Ingredients
Carrots: The carrots should be washed, scrubbed, and diagonally cut into about 3-inch pieces
Butter: The melted butter adds flavor and texture, amplifying the carrots' natural taste.
Garlic: Garlic adds a big bold taste to the butter sauce, adding a savory twist that pairs just right with the sweet carrots.
Italian Seasoning: This mix provides a fragrant flavor that can transform a simple dish into something that tastes gourmet, giving it a warm, earthy, and slightly sweet taste.
Salt & Pepper
Grated Parmesan Cheese: Grated Parmesan cheese adds a rich, sharp, and salty flavor to the carrots.
Chopped Fresh Parsley
Directions
Preparation: Start by washing and scrubbing the carrots clean. Cut them into halves or thirds, depending on their size, and place them in a large bowl.
Butter Mixture: While preparing the carrots, melt 4 tablespoons of butter in the microwave. Then, whisk the Italian seasoning, salt, pepper, and garlic into the butter.
Coating: Pour the butter mixture over the carrots and toss them until they're well coated. Feel free to use your hands to get the job done right.
Adding Cheese: Sprinkle in some grated parmesan cheese and give everything another good toss to mix it all together.
Roasting: Once everything's ready, transfer the carrots to a baking sheet. Roast them in a preheated oven at 425˚F for 20 to 25 minutes or until they're tender and cooked to your liking.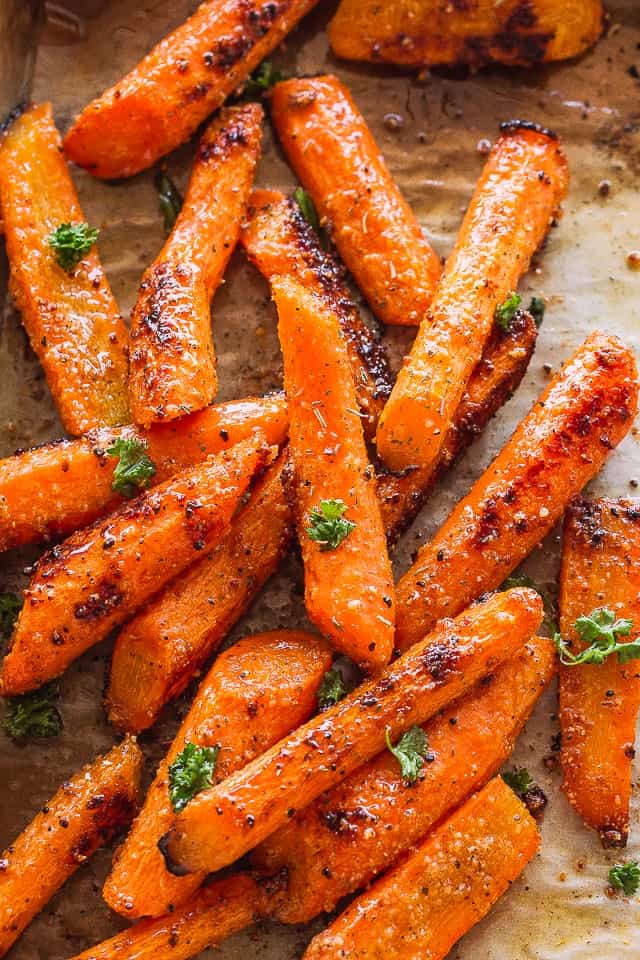 How Long Does It Take To Cook Carrots In The Oven?
Spread carrots on a rimmed baking sheet and cook in a 425˚F oven for 20 to 25 minutes or until tender. Mix carrots around halfway through cooking.
Do You Need To Peel Carrots Before Roasting?
The short answer is NO. So long as they are washed and scrubbed, you do not need to peel the carrots before cooking. It's a personal preference; sometimes I do, other times I don't.
Tips For Garlic Roasted Carrots
Size of Carrots: Try to cut the carrots into uniform sizes so they cook evenly. Consistent sizing will help ensure they all reach the perfect level of tenderness at the same time.
Don't Skimp on Coating: Be generous with the garlic, butter, and parmesan coating. Make sure the carrots are well coated to infuse them with flavor.
Space Them Out: On the baking sheet, give the carrots some space. If they're too close together, they may steam rather than roast.
Watch the Timing: Keep an eye on the carrots as they roast, as cooking times may vary depending on the size and thickness of the cuts.
Season to Taste: Feel free to adjust the seasonings to your taste preferences. You can add herbs like thyme or rosemary or sprinkle extra cheese on top during the last few minutes of roasting for an extra cheesy crust.
Reheating: If you need to reheat leftovers, doing so in the oven or on the stove rather than the microwave will help maintain the texture and flavor.
Serving Suggestions
More Side Dish Recipes
ENJOY!
Parmesan Garlic Roasted Carrots
An easy, family favorite roasted carrots recipe tossed with the most flavorful garlicky and buttery parmesan cheese coating.
Ingredients
2

pounds

carrots,

washed, scrubbed, diagonally cut into about 3-inch pieces

4

tablespoons

butter

4

cloves

garlic,

minced

1

teaspoon

Italian Seasoning

¼

teaspoon

salt,

or to taste

¼

teaspoon

fresh ground black pepper

⅓

cup

grated parmesan cheese

¼

cup

chopped fresh parsley
Instructions
Grease a rimmed baking sheet with cooking spray or line it with foil and set aside.

Place prepared carrots in a large mixing bowl; set aside.

Melt the butter in the microwave. Once melted, add minced garlic, Italian Seasoning, salt, and pepper to the melted butter and whisk until thoroughly combined.

Pour the butter mixture over the carrots and toss to coat. Add in the grated parmesan cheese and mix until combined.

Transfer carrots to the baking sheet and arrange them in a single layer.

Bake for 20 to 25 minutes or until tender. Mix them around halfway through cooking.

Remove from oven. Taste for seasonings and adjust accordingly.

Sprinkle with fresh parsley and serve.
Notes
Cut Evenly: Try to cut the carrots into uniform sizes so they cook evenly.
Coat Well: Generously coat the carrots with garlic, butter, and parmesan for full flavor.
Space Out: Arrange the carrots in a single layer, allowing space on the baking sheet to avoid steaming.
Watch Time: Monitor roasting to avoid overcooking; times may vary.
Season to Taste: Adjust seasonings as needed, or add herbs and spices that you like.
Use Fresh Ingredients: Opt for fresh garlic and freshly grated parmesan.
Reheat Properly: Use the oven or stove to reheat so as to maintain texture and flavor.
Prepare Carrots Ahead Of Time: Roast the carrots in the oven a day before you need them, then store them in an airtight container in the fridge. When you're ready to serve them, spread the carrots out on a rimmed baking sheet and reheat them in a 425°F oven for 5 minutes.
Storing Leftovers: You can keep any leftover carrots in the fridge in an airtight container for up to 2 days.
Nutrition
Calories:
157
kcal
|
Carbohydrates:
15
g
|
Protein:
3
g
|
Fat:
9
g
|
Saturated Fat:
5
g
|
Cholesterol:
24
mg
|
Sodium:
354
mg
|
Potassium:
512
mg
|
Fiber:
4
g
|
Sugar:
7
g
|
Vitamin A:
25750
IU
|
Vitamin C:
12.9
mg
|
Calcium:
123
mg
|
Iron:
0.8
mg
|
Net Carbs:
11
g
Nutritional info is an estimate and provided as courtesy. Values may vary according to the ingredients and tools used. Please use your preferred nutritional calculator for more detailed info.
Categories: