Garlic Parmesan Sugar Snap Peas are quick and crunchy roasted snap peas tossed in a crispy, flavorful mixture of parmesan cheese, panko crumbs, and garlic.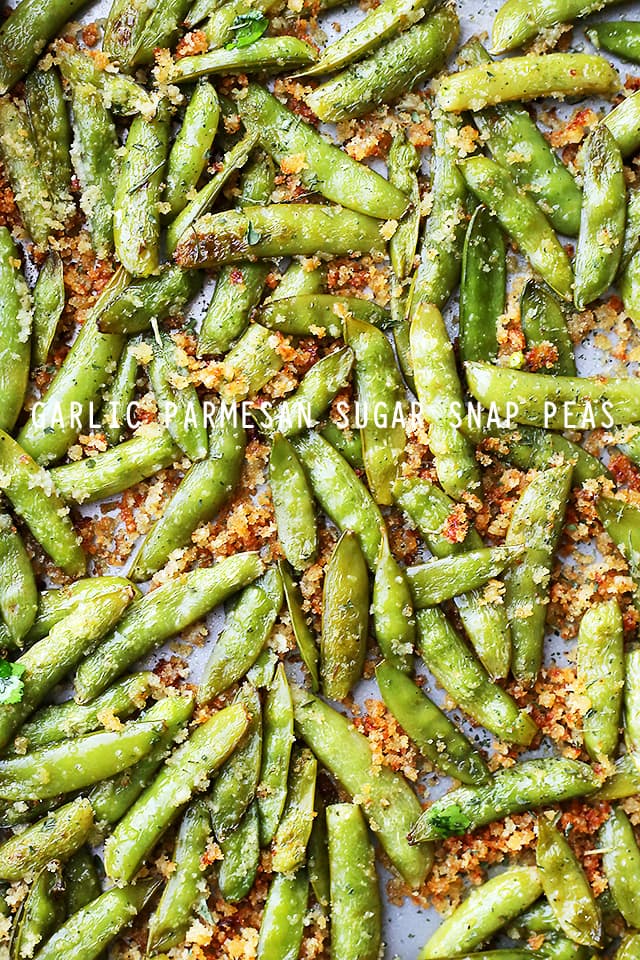 Delicious Sugar Snap Peas Recipe
Let's uncover the simple secret to a super tasty side dish that is these sugar snap peas. They are delicious and quick to make, and get a tasty crunch from a layer of parmesan, making them even tastier. This recipe enhances the snap peas appeal with a subtle hint of salty, buttery panko crumbs and the perfect infusion of garlic. While they're scrumptious as is, feel free to get creative. Spice things up with a dash of Sriracha, add texture with toasted pine nuts, or brighten the flavors with a sprinkle of lemon zest – customize to your heart's content!
Sugar Snap Peas vs Snow Peas
While both are types of peas and have similar flavor profiles, sugar snaps are thicker and rounder with a more pronounced sweet flavor, whereas snow peas are flatter and typically used whole in stir-fries and salads.
Why You Should Make This Recipe
Sugar Snap Peas are a nutritional powerhouse loaded with vitamins, fiber, and antioxidants that support overall health. They are simple and easy to prepare, and their inherent sweetness pairs well with various main dishes. Moreover, the speed of this recipe enables you to create a delicious side dish instantly.
How To Cook Sugar Snap Peas
We all know that green vegetables are great for us and that we need to eat more, but many vegetables lack flavor, so people tend to ignore them. But these snap peas are our solution!
Ingredients
Sugar Snap Peas: Trimmed, rinsed, and dried before roasting to tender perfection.
Olive Oil: Coats the snap peas, ensures the seasonings adhere, and aids in roasting the peas to a crispy texture.
Minced Garlic: Pairs beautifully with the sweetness of the peas.
Panko Crumbs: These breadcrumbs offer an extra layer of crispy texture.
Grated Parmesan Cheese: Parmesan adds a salty flavor and a cheesy crust.
Directions
Begin with rinsing and drying the sugar snap peas.
Combine the panko crumbs with finely grated parmesan to create a flavorful mixture.
Next, toss your peas with olive oil and minced garlic, then roll them in the parmesan mixture.
Spread them out on a baking sheet and roast for about 15 to 20 minutes at 400˚F.
Tips and Variations
Trimming: Ensure the snap peas are trimmed to remove the strings and stems for a better texture.
Drying: After rinsing, dry the peas thoroughly to ensure the oil and seasonings stick.
Resting Time: Let the mixed peas sit for a few minutes before baking to meld the flavors together.
Single Layer: Spread the peas in a single layer on the baking sheet to ensure even roasting.
Spice: For added heat, sprinkle some chili flakes or drizzle a dash of hot sauce over the peas.
Crunch Factor: Toss in some slivered almonds or toasted pine nuts for an extra crunch.
Finish: Introduce a hint of tanginess by squeezing some fresh lemon juice on top after roasting.
Serving Suggestions
Storing Leftovers
Store the leftover roasted peas in an airtight container in the refrigerator for up to 4 days. For the best flavor and texture, reheat in the oven or in a pan on the stove.
More Veggie Side Dish Recipes
ENJOY!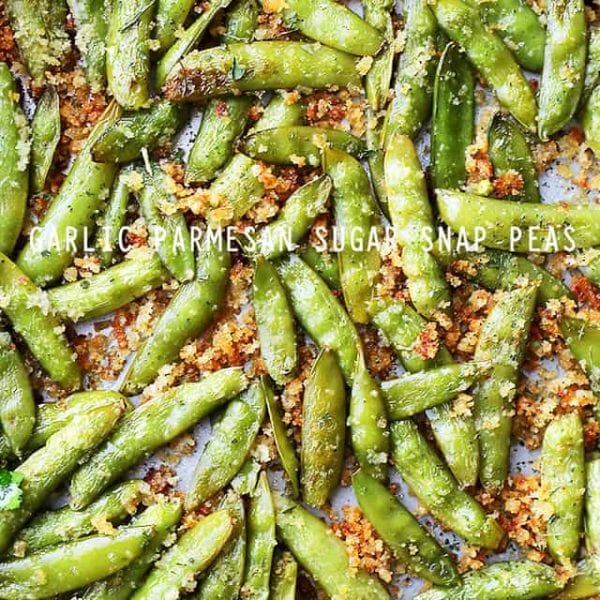 Garlic Parmesan Sugar Snap Peas
Garlic Parmesan Sugar Snap Peas – Healthy, delicious and quick to make roasted sugar snap peas tossed in a crunchy and flavorful parmesan cheese mixture.
Ingredients
3 to 4

cups

sugar snap peas,

trimmed, rinsed, dried

3

tablespoons

olive oil

1

tablespoon

minced garlic

½

cup

panko crumbs

¼

cup

grated Parmesan cheese

2

tablespoons

finely chopped fresh parsley

salt and fresh ground black pepper,

to taste
Instructions
Grease a baking sheet with cooking spray or line it with parchment paper and set aside.

Combine sugar snap peas, olive oil, and minced garlic in a mixing bowl and toss to coat.

Mix the panko crumbs, grated parmesan cheese, parsley, salt, and pepper in a separate bowl.

Add the panko mixture to the sugar snap peas and toss until well combined.

Arrange the sugar snap peas on the baking sheet in a single layer. Gently press the crumbs onto the surface of the peas.

Roast for 15 to 20 minutes or until crispy.

Remove from oven and serve.
Notes
Pat dry the snap peas: Moisture on the snap peas could prevent the crumb mixture from sticking properly. Pat the peas dry thoroughly after rinsing them.
Press the crumbs onto the peas: After you've tossed the peas in the crumb mixture, take a moment to gently press the crumbs onto the surface of the peas. This can help to ensure the crumbs adhere better.
Refrigerate before cooking: If you have time, refrigerate the coated snap peas for 15 to 30 minutes before roasting. This can help set the crumb coating.
If you want to spice up the peas, add some red pepper flakes or hot sauce before popping them in the oven.
Give them a spritz of fresh lemon juice for a slight tangy kick after roasting.
Throw in some chopped almonds or toasted pine nuts for that extra bit of crunch.
Nutrition
Serving:
0.75
cup
|
Calories:
187
kcal
|
Carbohydrates:
18
g
|
Protein:
4
g
|
Fat:
11
g
|
Saturated Fat:
2
g
|
Polyunsaturated Fat:
1
g
|
Monounsaturated Fat:
6
g
|
Cholesterol:
10
mg
|
Sodium:
155
mg
|
Potassium:
142
mg
|
Fiber:
2
g
|
Sugar:
2
g
|
Vitamin A:
817
IU
|
Vitamin C:
38
mg
|
Calcium:
75
mg
|
Iron:
1
mg
Nutritional info is an estimate and provided as courtesy. Values may vary according to the ingredients and tools used. Please use your preferred nutritional calculator for more detailed info.
Categories: