Crock Pot Honey Lemon Chicken Recipe – Rubbed with lemon-pepper butter and a sweet honey sauce, this is the easiest, most delicious whole chicken prepared in the crock pot!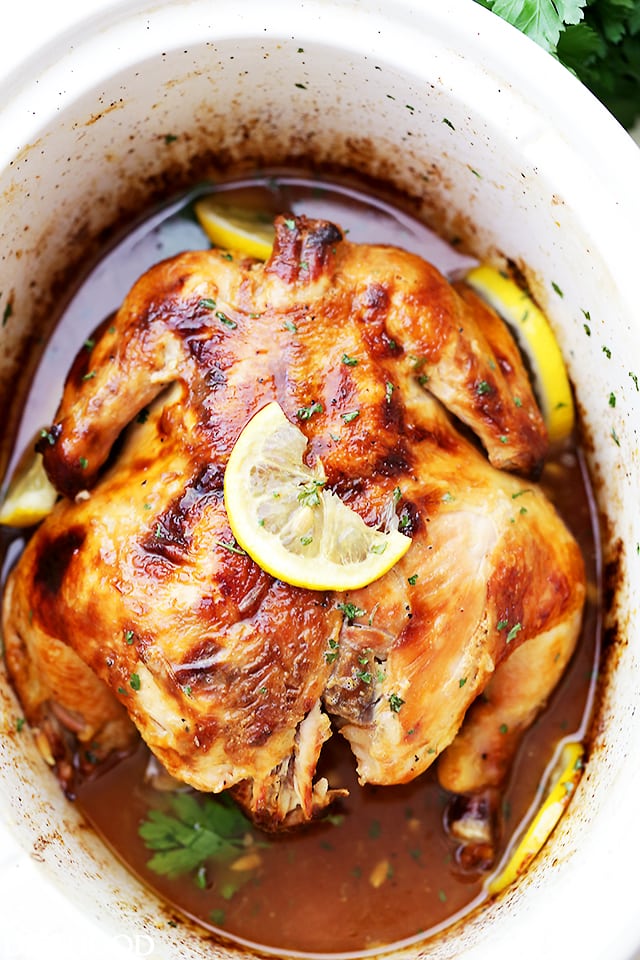 The day I made this, all I really wanted was a fall-off-the-bone chicken thigh and Coconut Lime Cauliflower Rice on the side.
My wishes are my commands… I made it all happen and I love myself for it. 
But HEEEY! Having a great Sunday, yet? Ain't it glorious? I love these Summer Sundays! BBQs, friends, and wasp-stinging-screaming-kids. UGH… Life is grand. Equal parts delicious, fun, and scary. And if you're anything like me, you're like OMG-I'm-just-going-to-eat-cookies-for-dinner every single freaking night until they grow up and I stay 21-years old. Add another 17 to that, but who's counting?! 
Besides, cookies make it all better. AND honey lemon chicken. 
But really, are you dying for crock pot dinner ideas right about now? Because I sure am. All I can think about is back-to-school schedules and my anxiety levels start to crawl up super fast. More so because of all the after school EXTRACURRICULAR activities. Keyword: extracurricular. Growing up, I didn't like that word nor the practice. Like, seriously? ON top of geometry and chemistry and physics, did I REALLY NEED extracurricular activities?! Good Lawwwd.  
SO yeah. I have two kids and 4 activities between the two, and I can't keep up.   
And I am pretty sure there's many of you out there with more kids and 15 activities between all of them, and to that I say, "I'm not worthy!", Wayne & Garth style. ROCK ON, Super Mom.  Super Dad, too! 
About our bird here. It was a toss up between my Honey Garlic Chicken OR something new and delicious with more honey + lemon. And, since I rarely make the same thing twice, the latter won. Obvi. 
This is good stuff. Really good. I rubbed some lemon pepper butter all underneath the skin and gave honey lemon chicken a little time in the frying pan just to get a bit of that brown on the skin. In the meantime, I whisked some honey and OJ together, stuck a whole lemon in the cavity and tah-dahm! 6 hours later, we had a whole chicken cooked in the crock pot. I LOVES IT! Hope you will, too!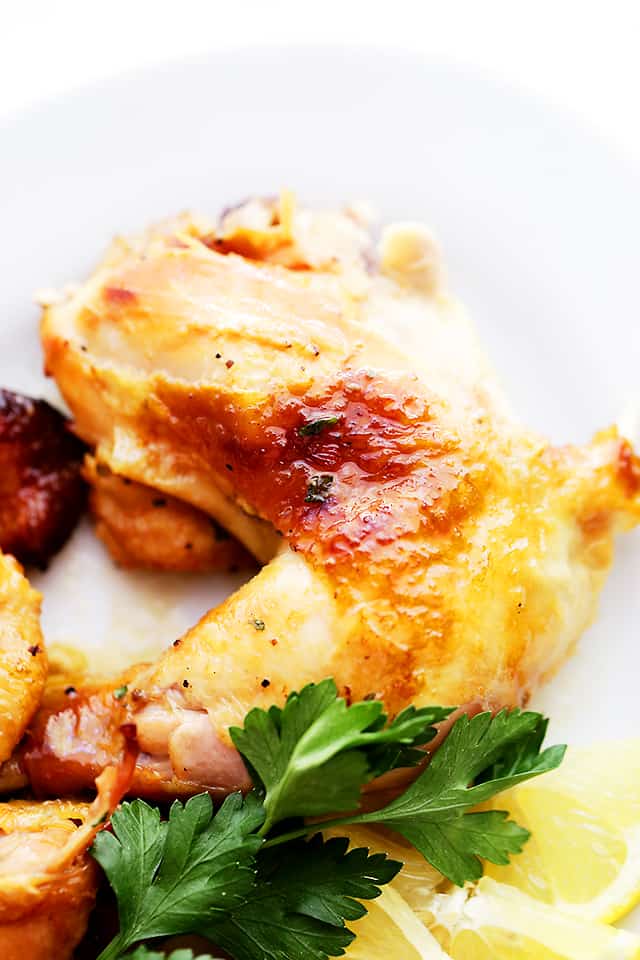 ENJOY!

CRAVING MORE? SIGN UP FOR THE DIETHOOD NEWSLETTER FOR FRESH NEW RECIPES DELIVERED TO YOUR INBOX!
FOLLOW DIETHOOD ON FACEBOOK, TWITTER, PINTEREST AND INSTAGRAM FOR ALL OF THE LATEST CONTENT, RECIPES AND UPDATES.
TOOLS AND INGREDIENTS USED IN THIS RECIPE
Crock Pot Honey Lemon Chicken Recipe
Crock Pot Honey Lemon Chicken Recipe - Rubbed with lemon-pepper butter and a sweet honey sauce, this is the easiest, most delicious whole chicken prepared in the crock pot!
Ingredients
2

tablespoons

olive oil

1

whole roast chicken

4

tablespoons

butter

, softened

1

to 2 teaspoons lemon pepper

1

whole lemon

2

tablespoons

lemon juice

1/2

cup

honey

1/2

cup

lite orange juice

salt

, to taste
Instructions
Heat olive oil in a large nonstick skillet over medium-high heat.

Rinse chicken and dry thoroughly.

Clean out the chicken cavity.

Using the handle of a wooden spoon, carefully insert it underneath the skin, beginning at the neck. Slowly separate the skin from the meat without tearing through the skin. Set aside.

In a small bowl, combine butter and lemon pepper; mash and mix with a fork until completely incorporated.

Rub the prepared butter under the skin, around the entire bird, out to the thighs and legs, and on top of the skin. I find it easier to spoon a large chunk of the butter under the skin; then I use my fingers to spread it around by rubbing the chicken on top.

Add chicken to the skillet and cook 8 minutes per side.

Remove from heat.

Pierce the lemon all over with a fork and place it inside the cleaned out cavity.

Combine lemon juice, honey and orange juice in a small bowl; whisk well.

Transfer chicken to the crock pot, pour the prepared honey sauce over it, and cook on LOW for 6 to 7 hours, or on HIGH for 4 to 5 hours.

Carefully remove the lemon from the cavity and squeeze the juice out all over the chicken.

Serve.
Recipe Notes
FYI: Servings are based on chicken without skin.
1 whole chicken is, on average, about 1200 calories
1 whole chicken with skin removed is, on average, about 750 calories.
WW Points with Skin:
Drumstick = 2 points
Wing = 3 points
Thigh = 4 points
4-oz breast = 5 points
Nutrition Facts
Crock Pot Honey Lemon Chicken Recipe
Amount Per Serving (1 g)
Calories 330
Calories from Fat 108
% Daily Value*
Total Fat 12g 18%
Cholesterol 110mg 37%
Sodium 100.5mg 4%
Total Carbohydrates 27.5g 9%
Protein 29.3g 59%
* Percent Daily Values are based on a 2000 calorie diet.
Roast Chicken Stuffed with Garlic and Rosemary Cream Cheese
Crock Pot Honey Garlic Chicken
SUBSCRIBE TO GET FREE UPDATES & A FREE ECOOKBOOK!
GET AN EMAIL WHEN THERE'S A NEW RECIPE