Perfect Spatchcock Grilled Chicken makes an easy, healthy, family-friendly meal. Everyone will love this crispy chicken, coated in herbs and spices.
No grill?! NO problem! Just grab this recipe for Roasted Spatchcock Chicken and cook it in the oven.
Grilling a Whole Chicken? Easy Peasy!
You may be familiar with roasting a whole chicken, but what about grilling one!? No, I haven't lost my mind – and I'm not saying you should plop a whole chicken straight from the grocery store and onto those grill grates, either. That is not this.
But it is totally possible, and totally scrumptious, to grill a whole spatchcocked chicken! When "butterflied" in this way, a whole chicken is perfect for seasoning and grilling to juicy, tasty perfection.
When chicken is spatchcocked, the entire breast, along with the wings and legs, can be arranged in a single layer on your grill, along with plenty of your favorite seasonings. Then, you're just about forty minutes away from crispy, juicy chicken. This recipe will give you all the details.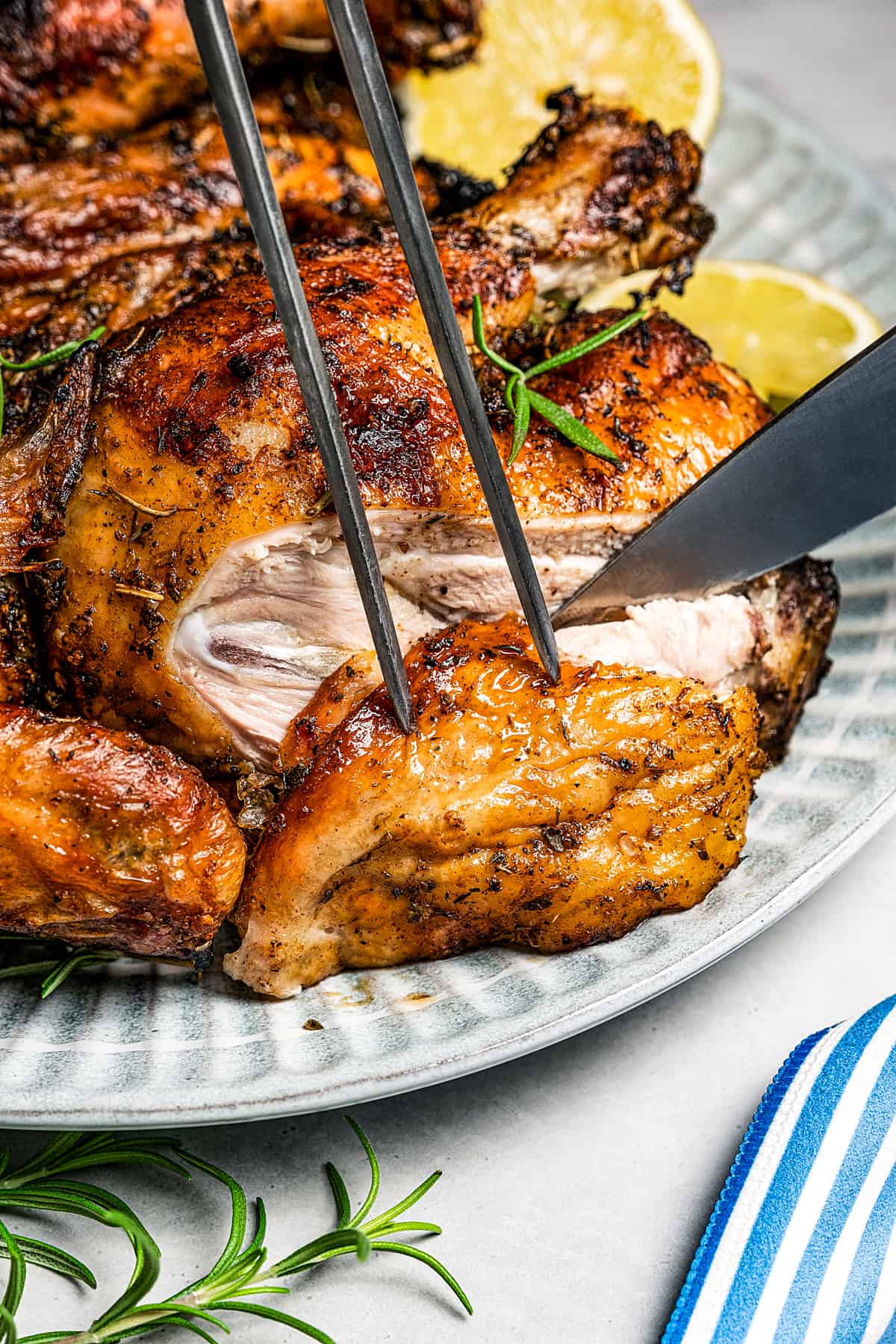 What Are the Benefits of Spatchcocking a Chicken?
"Spatchcock" is an unusual term that may be rooted in an older term for killing a rooster, or in an old expression for broiling meat. Either way, this simple technique is great for cooking a whole chicken, whether on the grill, in the oven, or under the broiler.
Essentially, spatchcocking is about removing the backbone of the chicken, usually with kitchen shears, and then opening the chicken out like a book. The breast is pressed down flat to your work surface, with a thigh and wing to either side. It's an easy technique that even beginning cooks can quickly master.
Ingredients
This recipe is very easy – no bells and whistles, just tons of flavor. Here's what you'll need to make it.
One Whole Chicken: I use a 3-to-4-pound broiler/fryer.
Olive Oil: Few tablespoons.
Lemon Juice: You could also use lime juice, or even some dry white wine.
Garlic: Fresh minced garlic is great, or you could take a shortcut and substitute garlic powder.
Vinegar: Apple cider vinegar, white vinegar, rice vinegar, or whatever you have on hand.
Herbs and Spices: I use a mix of paprika, thyme, oregano, and rosemary.
Salt and Pepper
How to Make Spatchcock Grilled Chicken
Okay, let's talk turkey – er, I mean chicken. Just how do you make this chicken recipe? It all starts with spatchcocking the bird, as described above, and then adding a bold, savory seasoning mixture. Here's how to do it, step by step.
Remove the Chicken's Backbone. To start, unwrap your whole chicken and discard any giblets (or, if you prefer, freeze them in a freezer bag for making stock at some point). Place the chicken, breast-side-down, on a cutting board so you can cut away the backbone. Do this by using kitchen shears to cut right through the ribs, starting at the lower cavity and cutting toward the neck cavity, on both sides of the backbone. Remove the backbone and save it for stock as well, if you like.
Flatten Out the Chicken. Next, turn the chicken over, pulling the legs and wings out to the sides. Press down firmly in the center of the breasts to flatten the chicken out (you will probably hear and feel the breastbone pop a bit).
Make the Seasoning Mixture. Set the spatchcocked chicken aside, and wash your hands. Then mix together your seasoning ingredients in a bowl (olive oil, lemon juice, garlic, vinegar, paprika, thyme, oregano, rosemary, salt, and pepper).
Season the Chicken. Pat your chicken dry all over with paper towels so that the seasoning will stick. Loosen the skin over the breast, and thighs. Rub the seasoning mixture generously all over the skin and underneath it, too.
Grill! Heat your grill to medium-high heat, and brush the grates with neutral, high-heat oil (such as vegetable oil). Lay the chicken skin-side down on the preheated grill over direct heat. It will need to cook for 5 to 6 minutes this way, or until the skin is golden-brown and a little charred here and there.
From that point, reduce the grill heat to low, flip the chicken skin-side up, and let it cook for another 40-ish minutes or more – until the internal temperature in the thigh registers at 165˚F. (A larger chicken will take longer, and a smaller chicken will take less time to cook through.)
Rest and Serve. Transfer the chicken carefully to a large platter or heat-proof tray, and cover loosely with foil. Let it sit for about 10 minutes before you carve and serve.
Tips for Success
This easy recipe is about to get even easier! Here are my favorite tips and hints for safe, easy, and super tasty grilling.
Grill Now, Broth Later: Don't throw away the backbone of the chicken! Instead, freeze it in a freezer bag for making broth. Use it within 3 to 6 months. (If the chicken was already frozen for its maximum freezer storage life before making this recipe, do not refreeze).
Flavor Options: Grilled chicken is also great with salsa verde, barbecue sauce, taco seasoning, ranch seasoning, and more! Feel free to change it up.
Careful, It's Hot: Keep in mind that flipping and serving the heavy chicken safely is key. Use oven mitts (on both hands) and sturdy metal utensils. If you're using a baking sheet, use a strong one that won't bend or warp. It's a good idea to keep little ones safely out of the way for these steps.
Sides for Serving
To serve your chicken, I recommend having one or two simple side dishes on the table. Here are a few favorites that go perfectly with grilled chicken:
A Colorful Salad: Creamy, crisp, crunchy, and fresh, this Roasted Sweet Corn Mediterranean Salad is everything! It's simply gorgeous with a piece of hot grilled chicken.
Biscuits: Chicken and biscuits are a classic combo, and these Skillet Biscuits with Garlic-Basil Olives are more delicious than any biscuit has a right to be. Don't love olives? No biggie! Substitute sun-dried tomatoes, patted with paper towels to remove excess oil. Either way, these will not disappoint.
Mashed Potatoes: At my house, mashed potatoes are basically always a winner, no matter what. Creamy, dreamy, and full of buttery flavor, they're pure comfort food. If you'd like to make things really easy, try making my Slow Cooker Country Style Garlic Mashed Potatoes. ?
How to Store and Reheat Leftovers
To store, take the chicken meat off of the bones, and place it in an airtight storage container or bag. Refrigerate for up to 3 days.
To reheat, place the chicken in a covered skillet on low heat, until heated through. You may want to add a splash of water or broth if it is a bit dry.
Can I Freeze This?
Sure! Just remove the chicken meat from the bones, pack into a freezer bag, and press out as much air as possible before sealing. Freeze for up to 3 months.
ENJOY!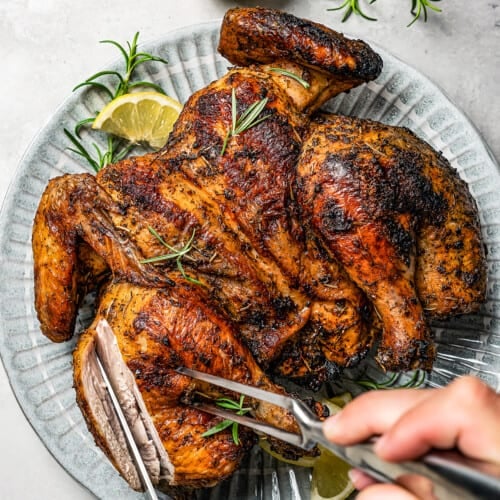 Spatchcock Grilled Chicken
Perfectly seasoned with herbs, garlic, and a bit of lemon juice for brightness, this spatchcock grilled chicken is a delicious, healthy, and low carb dinner!
Ingredients
3 to 4

pounds

broiler/fryer chicken,

spatchcocked

3

tablespoons

olive oil

3

tablespoons

lemon juice

3

cloves

garlic,

minced

1

tablespoon

white vinegar

½

tablespoon

paprika

2

teaspoons

dried thyme

2

teaspoons

dried oregano

1

teaspoon

dried rosemary

1

teaspoon

salt

½

teaspoon

fresh ground black pepper
Instructions
Preheat grill to medium-high heat.

Place the chicken on a cutting board, breast-side-down.

Using sharp kitchen shears, cut out the backbone of the chicken, cutting right through the ribs along each side.

Cut out the backbone all the way up each side and through the neck cavity. Remove the bone and save it for making homemade chicken stock, or discard.

With the backbone removed, turn the chicken over and press down firmly in the center of the breasts to flatten it. Set aside.

In a bowl, mix together the olive oil, lemon juice, garlic, vinegar, paprika, thyme, oregano, rosemary, salt and pepper.

Pat dry the chicken with paper towels.

Carefully loosen skin from chicken; rub the seasoning mixture under and over the skin.

Brush the grill grates with vegetable oil.

Grill the chicken, skin-side down, over direct heat for about 5 to 6 minutes, or until golden brown and a bit charred.

Reduce heat to low; flip the chicken and continue to grill for about 35 to 45 minutes, or until an instant read meat thermometer inserted into the thickest part of the meat registers at 165˚F. Cooking time will depend on the size of the chicken.

Remove chicken from grill and tent with foil; let stand for 10 minutes before carving and serving.
Notes
Keep it clean: Don't rinse the whole chicken, but DO wash your hands before and after handling raw chicken/meat.
Cook thoroughly: Always use an Instant Read Meat Thermometer to check that the chicken has reached an internal temperature of 165˚F before you pull it off the grill, or out of the oven.
For Charcoal Grill: Start with cooking the spatchcocked chicken over direct heat for those first several minutes, just until the chicken is a bit charred. Then, flip and move the chicken to continue cooking over indirect heat.
Nutrition
Calories:
458
kcal
|
Carbohydrates:
3
g
|
Protein:
31
g
|
Fat:
35
g
|
Saturated Fat:
9
g
|
Polyunsaturated Fat:
6
g
|
Monounsaturated Fat:
18
g
|
Trans Fat:
0.2
g
|
Cholesterol:
122
mg
|
Sodium:
698
mg
|
Potassium:
370
mg
|
Fiber:
1
g
|
Sugar:
0.4
g
|
Vitamin A:
699
IU
|
Vitamin C:
8
mg
|
Calcium:
52
mg
|
Iron:
3
mg
Nutritional info is an estimate and provided as courtesy. Values may vary according to the ingredients and tools used. Please use your preferred nutritional calculator for more detailed info.
Categories:
More Ways to Cook a Whole Chicken