Crock Pot Honey Garlic Chicken
Easy crock pot recipe for chicken thighs cooked in an incredibly delicious honey garlic sauce.
Honey Garlic Chicken, be still my heart. 💝
The chicken dish otherwise known as, that one time, at that reallllyyy nice Asian restaurant when I picked up my plate and slurped up all the sauce. No shame.
Before I continue with that story, let me just wish you a very Happy Sunday! I hope you are enjoying the long weekend!
Enjoy the sun and that grill all while you can because, guess what happens after this weekend? All the pumpkin-things will come out, your crafty neighbor's door is about to get a brown/orange wreath, and you can't wear white again until Memorial Day weekend. Which, by the way, I'm totally breaking that rule. White looks good on me, damn it!
One more thing tells me Fall is approaching… like how I'm slowly gravitating towards my slow cooker/crock pot, again. I used it twice this past week to make this Crock Pot Orange Chicken and Crock Pot Balsamic Chicken, and will pretty much use it thrice a week from hereon.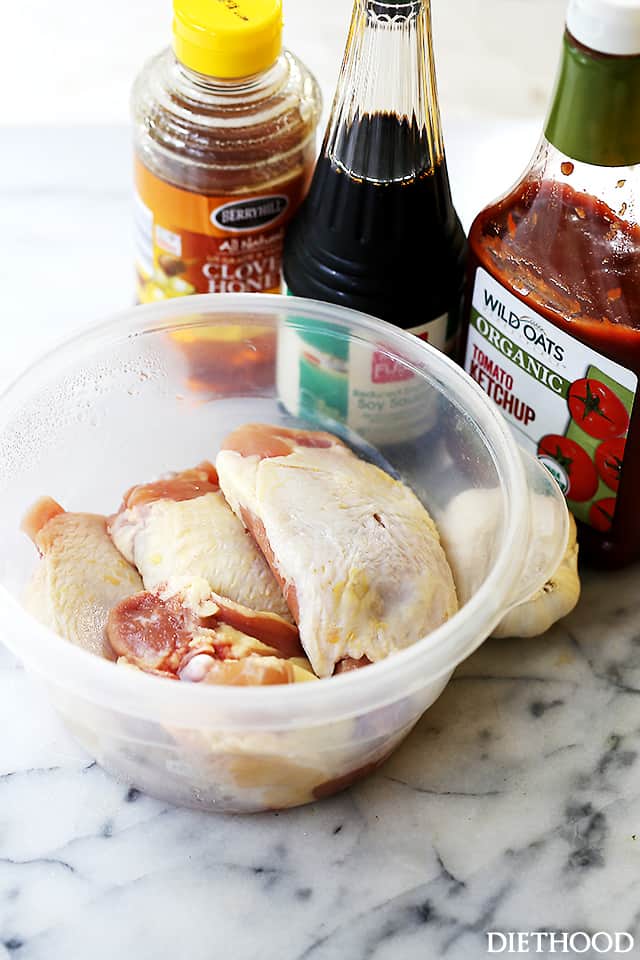 So about my story and this Honey Garlic Chicken.
This one time at dinner, I had a HOT date at one of Chicago's best Asian restaurants, and because I knew the owner, I felt like, hey anything goes! The staff was super nice to me because I had that connection with their big boss, and I ended up taking advantage of it all. I was a hot shot, if you will, until I completely made a fool of myself because I could not stop slurping up the honey garlic sauce. I didn't totally pick up the plate, just a little bit, but enough to slurp up everything that was left on that plate.
That reminds me, chopsticks are cool, but I should've been given a spoon.
But the hottie! He was sitting in front of me, going along with it all, laughing with me, not AT me, and I thought we were cool, buuuuut he is still calling me back…
Or maybe I was supposed to call him? Or maybe he never got my text. Nor my voice mail. Whatever. I'll go stalk him on Facebook. KIDDING!
As a result, and after I had that come-to-Jesus meeting with honey garlic sauce, I developed this hangry hunger for Honey Garlic Chicken because it is freaking delicious!
We're only dealing with 5 ingredients here plus a seasoning or two. Super easy, I'm telling you.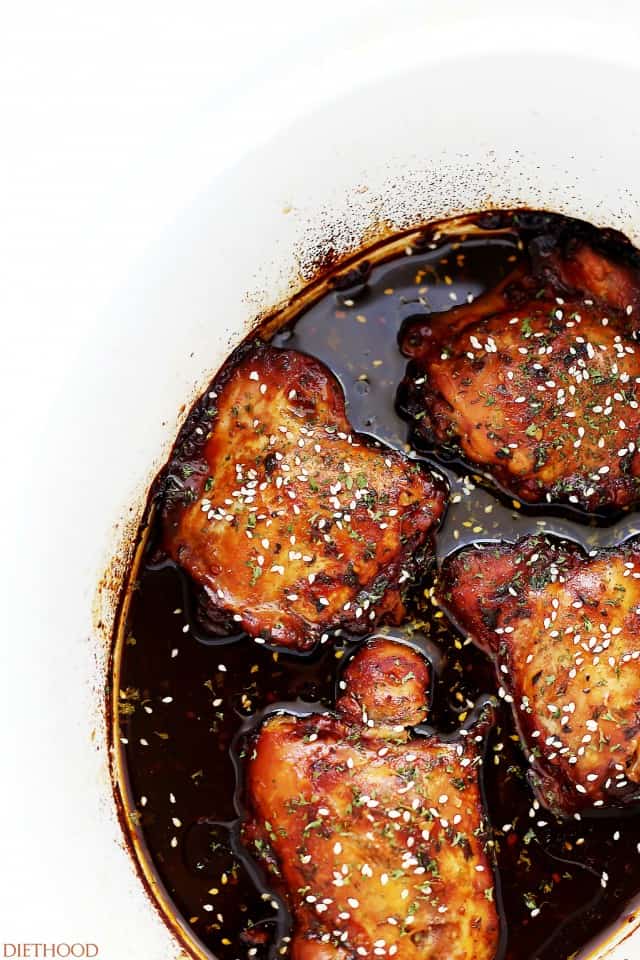 Take out the ketchup, soy sauce, honey, garlic, and chicken thighs – things are about to get amazing!
ENJOY!
P.S. If you make this Honey Garlic Chicken recipe, be sure to snap a photo, share it on your favorite social media channel, and hashtag it #DIETHOOD. I'd love to see it!!!

CRAVING MORE? SIGN UP FOR THE DIETHOOD NEWSLETTER FOR FRESH NEW RECIPES DELIVERED TO YOUR INBOX!
FOLLOW DIETHOOD ON FACEBOOK, TWITTER, PINTEREST AND INSTAGRAM FOR ALL OF THE LATEST CONTENT, RECIPES AND UPDATES.
TOOLS AND INGREDIENTS USED IN RECIPE:
WATCH HOW TO MAKE CROCK POT HONEY GARLIC CHICKEN
Crock Pot Honey Garlic Chicken
Crock Pot Honey Garlic Chicken - Easy crock pot recipe for chicken thighs cooked in an incredibly delicious honey-garlic sauce.
Total Time
5
hours
5
minutes
Ingredients
6

boneless

, skinless chicken thighs*

4

garlic cloves

, minced

1/3

cup

honey

1/2

cup

low sodium ketchup

1/2

cup

low sodium soy sauce

1/2

teaspoon

dried oregano

2

tablespoons

fresh parsley

1/2

tablespoon

toasted sesame seeds
Instructions
Arrange chicken thighs on the bottom of your slow cooker; set aside. (please look at the notes section)

In a mixing bowl, combine garlic, honey, ketchup, soy sauce, oregano and parsley; whisk until thoroughly combined.

Pour the sauce over the chicken thighs.

Close with a lid and cook for 4 to 5 hours on LOW, or 3 to 4 hours on HIGH.** (please look at the notes section)

Remove lid and transfer chicken to a serving plate.

Spoon the sauce over the chicken and sprinkle with toasted sesame seeds.

Serve.
Recipe Notes
*Use enough chicken thighs (bone-in or boneless, skin-on or without) to cover the bottom of your slow cooker. You can also use chicken breasts.
**All crock pots cook at different times and temperatures. Some readers suggest to only cook the chicken for 3 hours, while others said it took 4 hours in their crock pot. More importantly, 165 degrees Fahrenheit is the safe internal temperature for both the white meat of the chicken and dark meat.

WW Smart Points: 7
Nutrition Facts
Crock Pot Honey Garlic Chicken
Amount Per Serving
Calories 227
Calories from Fat 27
% Daily Value*
Total Fat 3g 5%
Cholesterol 72mg 24%
Sodium 1022mg 43%
Potassium 544mg 16%
Total Carbohydrates 23g 8%
Protein 25g 50%
* Percent Daily Values are based on a 2000 calorie diet.