This Slow Cooker Buffalo Chicken recipe is ah-maz-ing! Slow cooked chicken legs simmered in a delicious homemade buffalo sauce. If you love buffalo chicken, then you're doing to devour this recipe!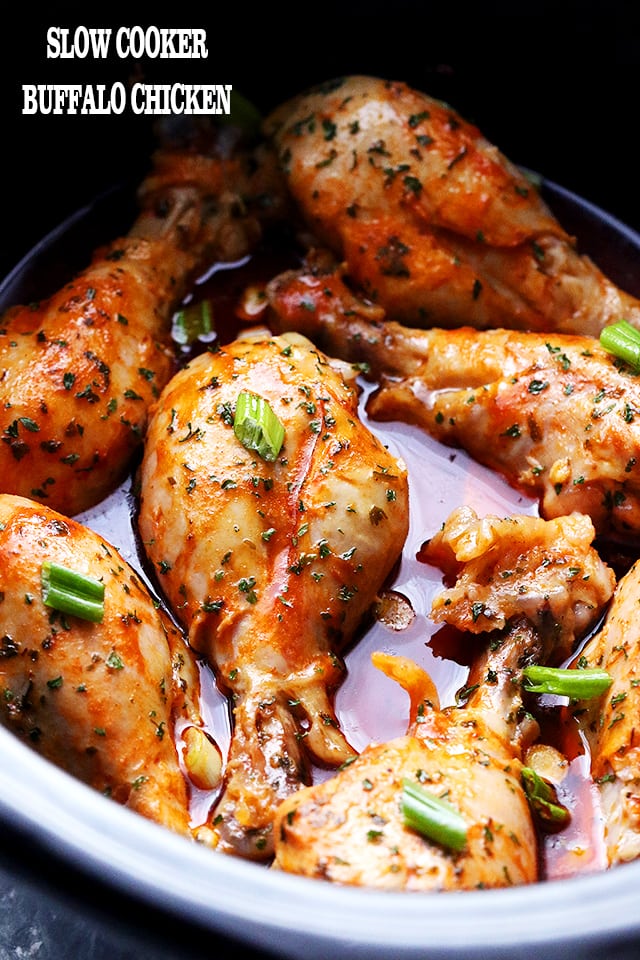 AN EASY SLOW COOKER BUFFALO CHICKEN LEGS RECIPE
HI! What are you doing? (Probably reading the screen…)
What am I doing, you ask? Oh. Not much. Just chomping away on some peanuts and Lucky Charms… When I write, I'm either eating cereal sans milk, or I'm snacking on peanuts. Tonight I decided to eat both at the same time. Not a bad combo. Not.at.all.
I'm also reminiscing about my chicken story…
When I was a little girl my grandma used to take me with her on a weekend getaway (or an entire summer) to the village, Cresnevo, Macedonia, where she was born. This village is far up in the mountains and I am certain that when I get to heaven, that is what I will see. Green fields, wheat fields, cherry trees, apple trees, open blue skies, horses, farm animals, and very happy people.
My grandma had a chicken coup and part of my daily routine was to chase the chickens around the yard. By the way, chickens can be mean. And roosters?! Oh, don't even get me started on them! Wakin' me up at 3 a.m. like it ain't nobody's business! Ugh!
Anywho.
After chasing them around for a while, I would sit down and try to count all the chickens, and every couple of days there would be at least one missing. I'd tell my grandma about it and she'd just ignore me. At the time I didn't put 2 and 2 together, but every night grandma would either serve chicken soup, grilled chicken, or fried chicken.
It wasn't until a few years later when I realized that the chicken running around in the yard with its head cut off WAS NOT A TOY! LIARS!!
I am laughing about it now…I am literally holding my stomach and laughing – you had to be there – but it wasn't so funny back then. It took me FOREVER to start eating chicken again!
Maybe I should not have told you this story while sharing a recipe for this delicious Slow Cooker Buffalo CHICKEN, but I did. 🙂
I mostly use this particular buffalo chicken recipe on game days, with drumsticks or wings, but I have also served it for dinner. Chicken din din almost always pleases my little crowd here. Even if it's a bit spicy. True story – I would not touch spicy food until I met Frank's Red Hot. That sauce reeled me in and I have been in ever since. I use the entire bottle for this recipe, plus I add a bit of wine and some garlic. It's SO good! Finger lickin' good… honestly.
If you're entertaining on game days, this is the recipe you should use. Double it, triple it…it works like a charm each and every time.
ENJOY!


CRAVING MORE? SIGN UP FOR THE DIETHOOD NEWSLETTER FOR FRESH NEW RECIPES DELIVERED TO YOUR INBOX! FOLLOW DIETHOOD ON FACEBOOK, TWITTER, PINTEREST AND INSTAGRAM FOR ALL OF THE LATEST CONTENT, RECIPES AND UPDATES.
Slow Cooker Buffalo Chicken
This Slow Cooker Buffalo Chicken recipe is ah-maz-ing! Slow cooked chicken legs simmered in a delicious homemade buffalo sauce. If you love buffalo chicken, then you're doing to devour this recipe!
Ingredients
8

to 10 chicken drumsticks

, skin removed, optional*

1/2

cup

Frank's Red Hot

(or any other buffalo sauce that you like to use)

1/2

cup

dry wine

1/4

cup

vegetable oil

3

garlic cloves

, minced

3

tablespoons

dried parsley

fresh parsley

, for garnish

green onions

, sliced, for garnish
Instructions
Place drumsticks in a large resealable plastic bag or inside the inner bowl of your crock pot.

Add the rest of the ingredients to the bag; seal bag and turn to coat, or cover the inner bowl with lid.

Cover and refrigerate for at least 3 hours.

Transfer chicken and sauce to slow cooker.

Cover and cook on LOW for 3 to 4 hours, or until chicken is tender. You can also cook them on HIGH for 2 to 2-1/2 hours.

Remove chicken to a serving plate and brush the sauce over the chicken.

Garnish with fresh parsley and green onions.

Serve with a side of bleu cheese dip.
Notes
*One chicken leg with skin removed is 180 calories. A chicken leg with skin on is 260 calories.
Nutrition
Calories:
262
kcal
|
Carbohydrates:
1
g
|
Protein:
18
g
|
Fat:
18
g
|
Saturated Fat:
9
g
|
Cholesterol:
92
mg
|
Sodium:
638
mg
|
Potassium:
286
mg
|
Fiber:
0
g
|
Sugar:
0
g
|
Vitamin A:
100
IU
|
Vitamin C:
16.7
mg
|
Calcium:
24
mg
|
Iron:
1
mg
Nutritional info is an estimate and provided as courtesy. Values may vary according to the ingredients and tools used. Please use your preferred nutritional calculator for more detailed info.