Pan-Seared Steak with Cognac Sauce – Perfectly pan seared Top Sirloin Steaks topped with a deliciously creamy cognac sauce.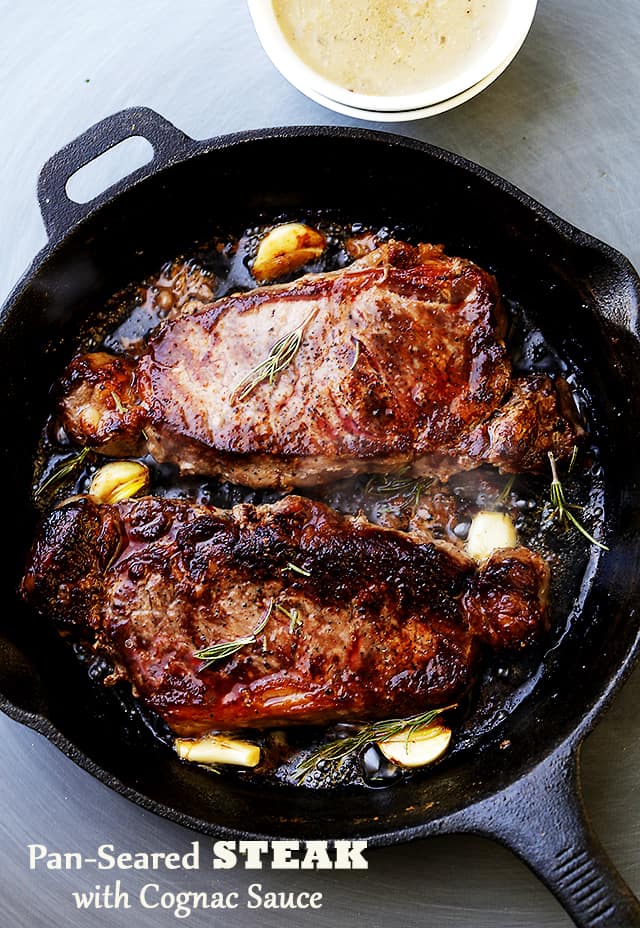 You're only a few ingredients AND minutes from having the best steak dinner of ever. ever. everrrr.
Hello, my dear loves and lovebirds! Happy Sunday! Happy Valentine's Day! What are your plans? Where are you going? Who is proposing? Who is singling? DO tell. I want to know!
Me, myself and I will be at home, chillin' with my handsome Valentine and the kids, enjoying big bites of this wonderful Pan-Seared Steak. Don't be jealous. Also? There's cognac in there.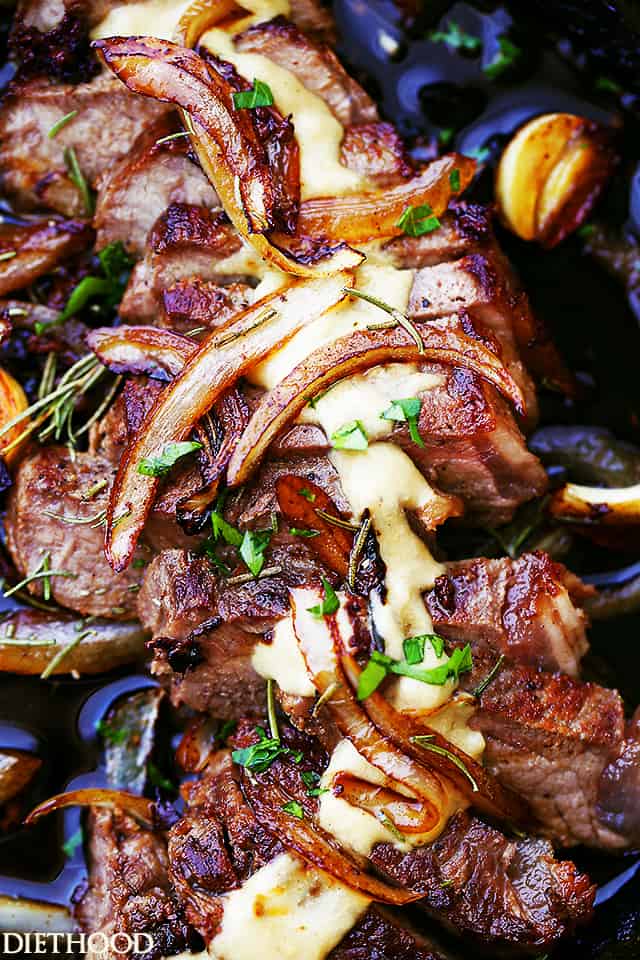 If you've been following me for some time, you know that I'm constantly on a quest to find a new favorite recipe. Or at least keep things interesting and exciting with things other than chicken. This has been a goal for years.
Steak is something I always experiment with; grilling it, ovening it, pan-searing it. Or what I can flavor it with or what can I stick it in… like fajitas. or this Pan Seared Sirloin Steak with Mushroom Sauce, or whatever else I can think of.
Luckily, it's one of the coldest times of the year and it makes cooking steaks indoors more interesting and flavorful because, alcohol. For FLAVOR!! And warmth… ✔
Don't jump to conclusions. (Go ahead and jump – I had a swig or two. It was -30 outside.)
I should also note that, while wine is my number one, cognac in cooking makes it a close second. I absolutely love the flavor that it adds to food.
My key for cooking steak in a cast iron skillet is butter, olive oil AND fairly high heat. I want that skillet to be HOT, and once I throw the steak on there, I don't touch it. I fight my impatience for a few minutes, trying really hard not to flip the steak every second. Also, for the reason that I will not touch steak if it's not overdone – basically, if I see blood, in my head, it's still alive – I have to keep mine on there for several minutes, about 6, before turning it and waiting another 6 minutes.
However, IF you love your steak red and bloody (WHY), give it around 3 to 4 minutes on each side. Please, also know that steak is not safe to eat until it reaches an internal temperature of 145F degrees with 3 minutes rest-time afterwards. Got that? Good.
And about that sauce? Grab the bottle of Courvoisier or Hennessy – things are about to get firey!
Hope you all have the best Valentine's Day of ever!
ENJOY!

CRAVING MORE? SIGN UP FOR THE DIETHOOD NEWSLETTER FOR FRESH NEW RECIPES DELIVERED TO YOUR INBOX!
FOLLOW DIETHOOD ON FACEBOOK, TWITTER, PINTEREST AND INSTAGRAM FOR ALL OF THE LATEST CONTENT, RECIPES AND UPDATES.
Pan-Seared Steak with Cognac Sauce
Perfectly pan seared Top Sirloin Steaks topped with a deliciously creamy cognac sauce.
Ingredients
FOR THE STEAKS
2

(6 to 8 ounces each) top sirloin steaks, room temperature

coarse salt and fresh ground pepper

, to taste

2

tablespoons

butter

1

teaspoon

olive oil

sprig of rosemary

4

garlic cloves

, smashed
FOR THE SAUCE
1/3

cup

cognac

, plus 1 teaspoon

1

cup

heavy cream
OPTIONAL
Balsamic Caramelized Onions

, for garnish
Instructions
Prepare steaks by seasoning with salt and pepper. Liberally salt the steaks on all sides. Set aside.

Add butter, olive oil, rosemary and garlic cloves to a cast iron skillet and melt over medium-high heat.

Add steak to skillet and cook until brown and cooked to desired doneness, about 4 minutes per each side for medium-rare. Transfer steaks and garlic to cutting board and let steak rest for a few minutes. Discard rosemary sprig.

Remove skillet from heat and gently pour the cognac into the hot pan and ignite with a lighter. Shake the pan until the flames die out. DO NOT stand above the pan when lighting up the cognac. Stand back as far as possible, while holding on to the handle.

Return the skillet over medium heat and add the cream to the cognac.

Bring the mixture to a boil and whisk until the sauce thickens.

Taste for seasonings and adjust accordingly.

Remove from heat.

Cut up the steaks (optional) and pour about 2 tablespoons cognac sauce over each steak.

Serve.
Notes
Guide for Steak Doneness:
(please use a meat thermometer) 140F internal temperature for RARE
145F internal temperature for MEDIUM RARE
160F internal temperature for MEDIUM
170F internal temperature for WELL DONE
Nutrition
Calories:
783
kcal
|
Carbohydrates:
5
g
|
Protein:
27
g
|
Fat:
62
g
|
Saturated Fat:
36
g
|
Cholesterol:
262
mg
|
Sodium:
211
mg
|
Potassium:
501
mg
|
Fiber:
0
g
|
Sugar:
0
g
|
Vitamin A:
2100
IU
|
Vitamin C:
2.6
mg
|
Calcium:
120
mg
|
Iron:
1.9
mg
Nutritional info is an estimate and provided as courtesy. Values may vary according to the ingredients and tools used. Please use your preferred nutritional calculator for more detailed info.
Categories:
SIMILAR RECIPES: