Do you love steak, but feel intimidated by traditional cooking methods? This easy Reverse Sear Steak might just change your life! A slow and easy bake is followed by a quick sear in the pan, creating tender, juicy, and perfectly-browned steak, every time.
Perfect Juicy Steak, Made Easy!
If you are looking for the simplest way to make a juicy steak with a great crispy crust on the outside, and a darn juicy inside, this method is for you. Usually, if you are working with a tender steak (like a ribeye, T-bone, or New York strip), the advice you see is to sear it quickly in a super-hot pan, and then maybe give it a few more minutes in the oven or in the skillet at a lower heat. You have to be careful to watch the steak so it doesn't overcook, though. And you know what? This method works really well a lot of the time.
But other times… well, maybe the steak cooks a little too long. Or not long enough. Maybe you had to step away for a minute and that was all it took for the steak to get a little tough, dry, or otherwise disappointing! Sound familiar? If so, don't feel bad – we've all been there. ?‍♀️
That's why I'm a fan of this reverse sear technique for cooking steak. You get that seared steak result, but without the stress of fast, high-heat cooking. It's easy to make a good steak this way, and you can forget all those worries about timing it to the minute. Sounds great, right?
Is It Better to Reverse Sear a Steak?
I would not say it's better to reverse sear a steak (although some people think so), but I would definitely say it is easier to get it right, and the flavor and texture are fantastic. All you have to do is cook the steak at relatively low heat in the oven until it's nearly done, and then give it a quick sear in a hot pan to create that crispy exterior.
The steak will be just as juicy, because it turns out, searing doesn't actually "lock in" the steak's juices like we were taught! That's right, foodies and nutrition scientists have been all abuzz lately over this new finding: searing meat doesn't actually make it any juicier. But since it does add loads of flavor, texture, and color, it's a great step to add at the end of the cooking process.
Pros and Cons of Reverse Searing
So are there any downsides to reverse searing? Not many – but there are a few "cons" to point out along with all of those pros. Here's the scoop:
On the "pro" side, reverse searing is a more gentle cooking method, which can prevent the meat from becoming tough or cooking unevenly. It also helps prevent overcooking, and arguably, steak that is baked will sear up even more crispy than steak that is seared raw. ?
On the other hand, reverse searing does not work well with all steaks. You really need steaks that are about one-and-a-half inches thick, if you plan to bake them. Otherwise, the oven heat is likely to dry them out. Another disadvantage is that reverse searing definitely takes more time, so if you're in a hurry, just throwing the steak in a hot pan may be your best option. Get that recipe right here ? Rib Eye Steak Dinner
What You'll Need
In this steak recipe, we're using some big thick steaks, a few simple seasonings, and a mix of vegetable oil (for searing) and butter (for flavoring). Here's the list:
Ribeye: You'll need one thick-cut ribeye, somewhere around 1.5 to 2 inches thick. Before you cook, take the steak out of the fridge for about 20 minutes and let it come to room temperature.
Salt and Pepper: To taste.
Oil and Butter: Vegetable oil is great for reverse sear steak, but you can use any high-heat oil you prefer. The butter adds a lot of flavor, but if you'd rather leave it out, that's fine too. Just substitute a bit more oil, or use vegan butter or ghee.
Garlic: Peel a few fresh cloves of garlic, and use the side of your knife blade (not the sharp part, only the flat side) to smash each one.
Fresh Herbs: I love thyme and rosemary. You can also use dried herbs, or substitute your favorite herbs.
How Do You Pick a Good Steak?
When you're picking a steak, it's important to go for one that has enough fat running through it. Avoid steaks with uneven, chunky fat, and look for steaks that are evenly and generously marbled with thin streaks of white fat. Finally stick to steakhouse cuts like ribeye, porterhouse, New York strip, and T-bone. They're great for reverse searing!
How to Reverse Sear a Steak
So just how do you reverse sear your steak? Glad you asked! This easy recipe will show you just how it's done. Enjoy!
Prep the Oven, Baking Sheet, and Steak. To start, you'll need to preheat your oven to 250˚F. While it heats, set a wire rack inside a rimmed baking sheet, and sprinkle the steak all over with salt and pepper.
Bake. Next, bake the steak until it's almost done. Place it on the wire rack, and place the steak, rack, and baking sheet into the preheated oven. Let it cook for about half an hour, or until the internal temperature registers at about 120˚F. Adjust the bake time if you like a more well-done steak.
Sear. A few minutes before the steak is done baking, heat up a heavy bottomed skillet with a small amount of oil in it. Heat the oil over high heat, so that the oil actually begins to smoke. Then, add the steak, and cook for one minute. Flip the steak, add the remaining ingredients, and cook for about 1 minute more. Flip once more, and cook for 20 seconds. While the steak sears, baste it with butter.
Rest. Take the steak out of the skillet, and place it on a cutting board to rest for about 5 minutes.
Enjoy! Serve your steak with whatever sides you love, and bon appetit!
Tips for Success
And there you have it – the easiest, most guaranteed way to make a great steak, without the stress and hassle. And reverse searing is even easier when you have a few helpful tricks up your sleeve, so be sure to check these out:
Checking the Temperature: I can't stress this enough ➡️ an instant-read meat thermometer is a priceless tool when it comes to making steak (and lots of other things). You can check it multiple times while it's baking, until you get to the temperature you're looking for.
Resting is Best: Be sure to let the meat rest before you cut it. This gives the juices time to stabilize and absorb into the steak, making each bite even better.
Handle with Care: When you heat oil to a smoking point, it's very important to lower the steaks gently into the pan, away from you. Using tongs is a good way to do this without getting your hands too close! Spatters of hot oil can leave serious burns, so always use caution and smooth, deliberate movements.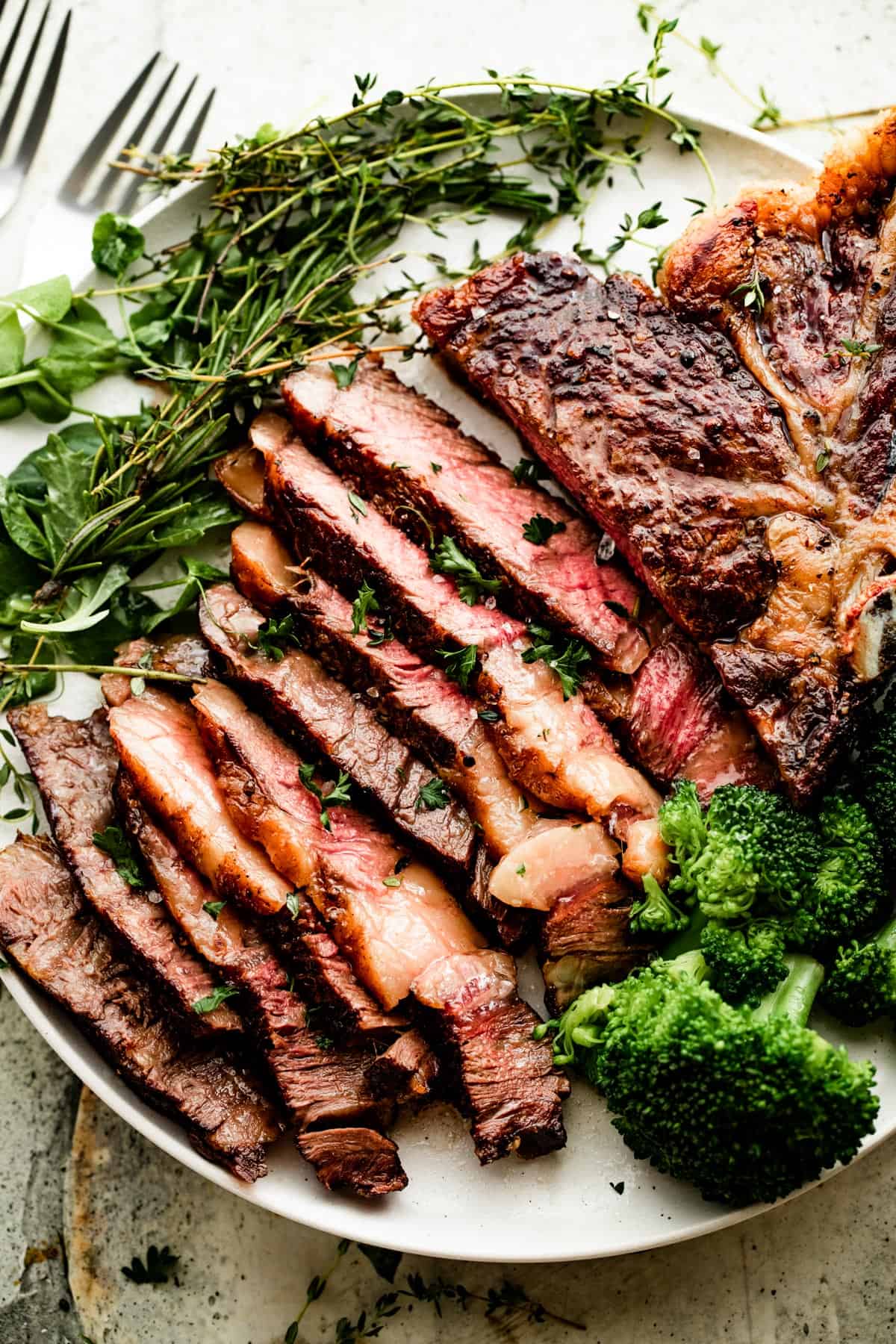 Yummy Serving Suggestions
What should you serve with your perfectly cooked, thick, and hearty steak? I like to keep things simple. Here are some of my favorite sides to serve alongside a good ribeye:
Potatoes: A simple baked potato is a wonderful side dish with reverse sear steak, but if you'd like something a little different, you've got to try these Maple Mustard Roasted Potatoes. They're incredibly simple to make, and have an unforgettable sweet and tangy flavor.
Asparagus: Another classic, Oven Roasted Asparagus with Hollandaise Sauce sounds complicated but is actually really easy. The Hollandaise sauce is a total breeze, thanks to my beloved blender technique, and oven-roasting asparagus is as simple as pie. Simpler, actually!
Salad: Steak and salad is a hearty dinner that's also uber-fresh, especially when the salad is this dreamy Berry Caprese Salad with Light Balsamic Vinaigrette. Loaded with flavor and nutrition, it's one you'll want to make again and again.
Storing and Reheating Leftover Steak
Leftovers can be stored in a sealed container in the refrigerator for up to 3 days. It's best to cool the steak down to room temperature (or thereabouts) before placing it in the refrigerator.
To reheat, take the steak out of the fridge about 20 minutes in advance, and let it come to room temperature. Then bake at 250˚F oven for 20 to 25 minutes, or until heated through.
Can I Freeze Steak?
Yes! Leftover cooked steak can be stored in the freezer for up to 3 months, tightly wrapped, or placed in a freezer bag with most of the air pressed out.
Thaw the steak overnight in the refrigerator before reheating.
ENJOY!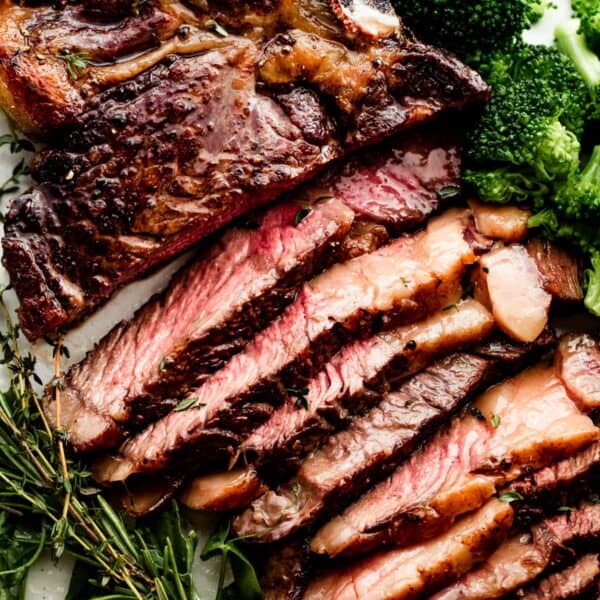 Reverse Sear Steak
This easy Reverse Sear Steak might just change your life! A slow and easy bake is followed by a quick sear in the pan, creating tender, juicy, and perfectly-browned steak, every time.
Ingredients
1

thick-cut ribeye steak,

1.5 to 2 inches thick, at room temperature

¾

teaspoon

salt,

or to taste

1

teaspoon

fresh ground black pepper,

or to taste

2

tablespoons

vegetable oil

2

tablespoons

butter

2

cloves

garlic,

peeled and smashed
Instructions
Preheat oven to 250˚F.

Set a wire rack inside a rimmed baking sheet.

Sprinkle the steak with salt and pepper.

Place steak on the wire rack and bake for about 30 to 35 minutes, or until internal temperature of the steak registers between 120˚F and 125˚F. Adjust the bake time if you like a more well done steak.

*See Notes below for Cooking Temperatures.

About 3 minutes before taking the steak out of the oven, heat the vegetable oil in a large cast iron skillet set over high heat.

Once it starts to smoke, add the steak to the skillet and cook for 1 minute.

Flip it over; add the butter, garlic, thyme, and rosemary.

Using a large spoon, baste the steak with the butter while cooking for about 1 minute.

Flip it over; baste and cook for 20 seconds.

Remove steak from skillet and transfer to a cutting board.

Let rest 5 to 8 minutes before cutting.
Notes
Cooking Temperatures for Steak
Grab an Instant Read Meat Thermometer and follow this guide for help:
125˚F to 130˚F internal temperature for RARE
135˚F to 140˚F internal temperature for MEDIUM RARE
145˚F to 150˚F internal temperature for MEDIUM TO MEDIUM-WELL
160˚F internal temperature for WELL DONE
Nutrition
Calories:
358
kcal
|
Carbohydrates:
1
g
|
Protein:
34
g
|
Fat:
24
g
|
Saturated Fat:
11
g
|
Polyunsaturated Fat:
1
g
|
Monounsaturated Fat:
12
g
|
Cholesterol:
104
mg
|
Sodium:
961
mg
|
Potassium:
478
mg
|
Fiber:
1
g
|
Sugar:
1
g
|
Vitamin A:
102
IU
|
Vitamin C:
2
mg
|
Calcium:
23
mg
|
Iron:
3
mg
Nutritional info is an estimate and provided as courtesy. Values may vary according to the ingredients and tools used. Please use your preferred nutritional calculator for more detailed info.
Categories:
More Mouthwatering Steak Recipes