This post is sponsored by STAR Fine Foods, maker of awesome Olive Oils, Vinegars, glazes, capers, anchovies, onions, and the list goes ON and ON! Thank YOU, friends, for supporting the brands that make Diethood possible!
This is my favorite way to make caramelized onions. Soft, dark and sweet caramelized onions with a splash of tangy balsamic vinegar.
MY FAVORITE CARAMELIZED ONIONS RECIPE
I honestly can eat that entire pan without anyone's help. Just gimme some crusty bread and I'm ready to go to town!
Hi Hi, pals! TGI to the F! Can't complain, though… every day feels like a Friday to me. And a Saturday. Sunday, too.
In all honesty, I have no idea what day it is. Since my arrival to Macedonia, each day I've had to look at the bottom right hand corner on my laptop to see where we stand in as far as the calendar is concerned. Vacations are DA BEST! Note to self: I need to do this more often.
Also? I'm the hungriest person. I can't.stop.eating. Luckily, while in Macedonia I can walk to anywhere and everywhere, thus right after a super big meal, I just put on my high heels and take off on foot. Heels make you work harder! Is that a true statement? I don't even know. But it works for me, so that's that. Blisters and all.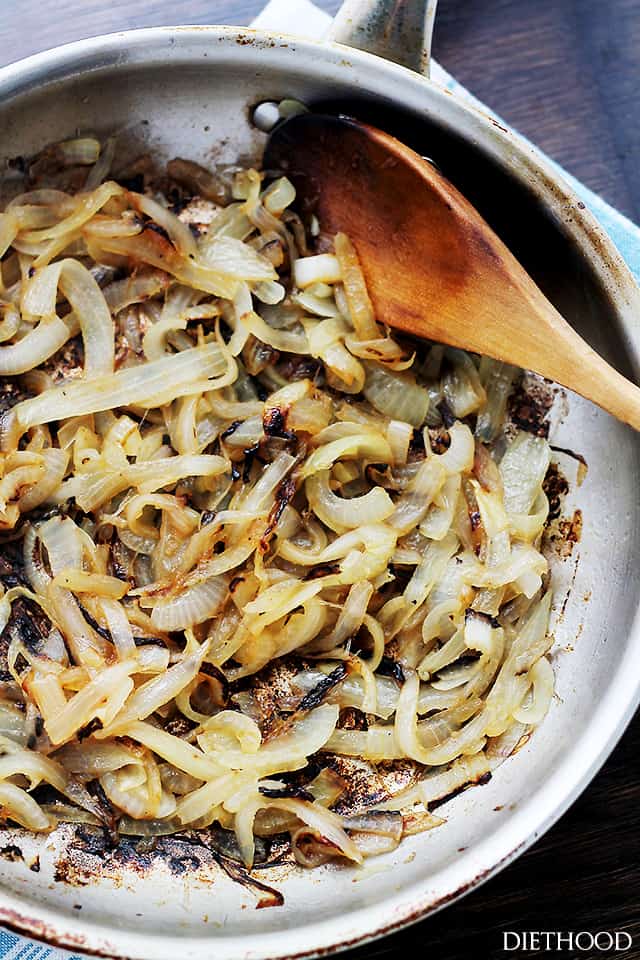 One more thing? This summer I am trying to get creative with my side-dishes. From a Mango Shrimp Salad to a Mushroom Orzo Pilaf and now Balsamic Caramelized Onions. None of this may sound particularly genius, but it's darn good food.
These onions though… yum! Due to my infatuation with STAR's Balsamic Vinegar and my tendency to put it in just about anything that needs a bit of juice, I decided to throw it over my caramelized onions and eat it all with a spoon. No lie. I just went at it. No shame in my game. Although, there was these burgers sitting there, meant to be smothered with the onions, but as you all know, things never go as planned.
Recipes that include just a few ingredients are always my favorite. Here, fresh raw onions are thinly sliced and snacked on before their departure to a slow and long sizzle with Mr. Olive Oil.
We're also going to reach for some veggie broth and balsamic vinegar because we're fancy like that. No room for just plain ol' caramelized onions. Balsamic Vinegar is where it's at. Exclusively from the Modena Region of Italy, its distinct flavor will have your tastebuds dancin'.
And, some 22.8 minutes later, you will end up with these sweet, tart, caramelized onions that are truly, truly wonderful.
I like these best served just as is, with a delicious steak on the side. However, they taste really, realllllly good when served with a big, juicy burger, too. Nyum!
For more information on STAR Fine Foods Products, please check them out on Facebook, Twitter, and Pinterest.
STAR Balsamic Vinegar is available at retailers nationwide including Safeway, Kroger, Vons, Albertsons, Food 4 Less, Save Mart, Walmart, Roundy's, Stater Bros., Raley's, Smart & Final, Schnucks, Bashas, Winco, Randalls, Jewel, Smith's, King Soopers and Ralphs stores and HERE.
STAR Original Olive Oil is available at select Walmart, Target, Safeway, Albertsons, Bashas, Stater Bros., Food 4 Less, Raley's and Save Mart stores and HERE.
ENJOY!
Balsamic Caramelized Onions
This is my favorite way to make caramelized onions. Soft, dark and sweet caramelized onions with a splash of tangy balsamic vinegar.
Ingredients
1

tablespoon

STAR Original Pure Olive Oil

1

pound

(about 3 large) yellow onions, halved lengthwise and thinly sliced

pinch of salt

1/4-

cup

reduced sodium vegetable broth

1

tablespoon

STAR Balsamic Vinegar

1/4

teaspoon

salt

1/8

teaspoon

fresh ground pepper
Instructions
Heat olive oil in a large skillet (use a skillet with a lid).

Add onions to skillet and pinch of salt; cover with a lid and cook over medium-low heat for 12 to 15 minutes, or until tender, stirring occasionally.

Remove lid and continue to cook over medium heat for 3 to 5 minutes, or until golden, stirring frequently.

Slowly add vegetable broth and balsamic vinegar; cook and stir over medium heat until liquid evaporates; about 1 minute.

Season with salt and pepper and remove from heat.

Serve.
Notes
Balsamic Caramelized Onions can be added to steaks, burgers, pizzas, sandwiches, etc...
Nutrition
Calories:
40
kcal
|
Carbohydrates:
5
g
|
Protein:
0
g
|
Fat:
1
g
|
Saturated Fat:
0
g
|
Cholesterol:
0
mg
|
Sodium:
104
mg
|
Potassium:
82
mg
|
Fiber:
0
g
|
Sugar:
2
g
|
Vitamin A:
15
IU
|
Vitamin C:
4.2
mg
|
Calcium:
13
mg
|
Iron:
0.1
mg
|
Net Carbs:
5
g
Nutritional info is an estimate and provided as courtesy. Values may vary according to the ingredients and tools used. Please use your preferred nutritional calculator for more detailed info.
Categories: