Succulent Oven Roasted Tri-Tip is an easy dinner that you can serve up in under an hour. This juicy cut of beef is rubbed with a savory seasoning blend, pan-seared, and then roasted to tender perfection. It's a delicious beef recipe that's fancy without even trying!
A Hearty, Satisfying Beef Dinner That's Oh-So-Easy
Friends, rev your engines! Er… I mean, preheat your ovens. Because we're about to make the most satisfying and hearty beef dinner to take us into fall!
Have you ever had a bite of steak that practically melts in your mouth? Because that's what this is. This totally tender, oven roasted tri-tip is so juicy and delicious that I think I'll make it again week after week. And maybe again after that. Any cozy, yet fancy dinner that I can have on the table in an hour, that tastes THIS GOOD, is 100% worth repeating.
The beef in this recipe is so unbelievably succulent, slow-roasted, and seasoned to perfection with a blend of dry herbs and spices. With a side of mashed potatoes and gravy? Hello, Christmas dinner. SO nice of you to come early!
This is one of those meals that's so enjoyable and easy, I promise you'll come back to it again and again.
What Cut of Meat is Tri Tip?
So, what is tri-tip, anyhow? Well, it's a beef tip found at the very tip of a sirloin. This cut of beef is triangle-shaped and typically super flavorful while being less fatty than other cuts. Tri-tip also happens to roast up to tender, delicious excellence in the oven in just 30 minutes!
Ingredients
This is an easy-peasy dinner recipe that only calls for minimal ingredients. Most of them are in the seasoning rub! Below is a summary of what you'll need to make the perfect oven-roasted tri-tip. But don't skip the recipe card later on with the full amounts!
Beef Tri-Tip: Pay a visit to your local butcher or the meat locker at your nearest grocery store. Choose a cut with some fat marbling for a more tender roast.
Seasoning: I rub the beef with a savory blend of garlic powder, onion powder, dried oregano and rosemary, cayenne pepper, sweet paprika, and dried sage. Plus good old salt and pepper, of course.
Oil: Vegetable oil, or another oil that's good for pan-searing over higher heat, like canola or EVOO.
Parsley: Freshly chopped, for garnish.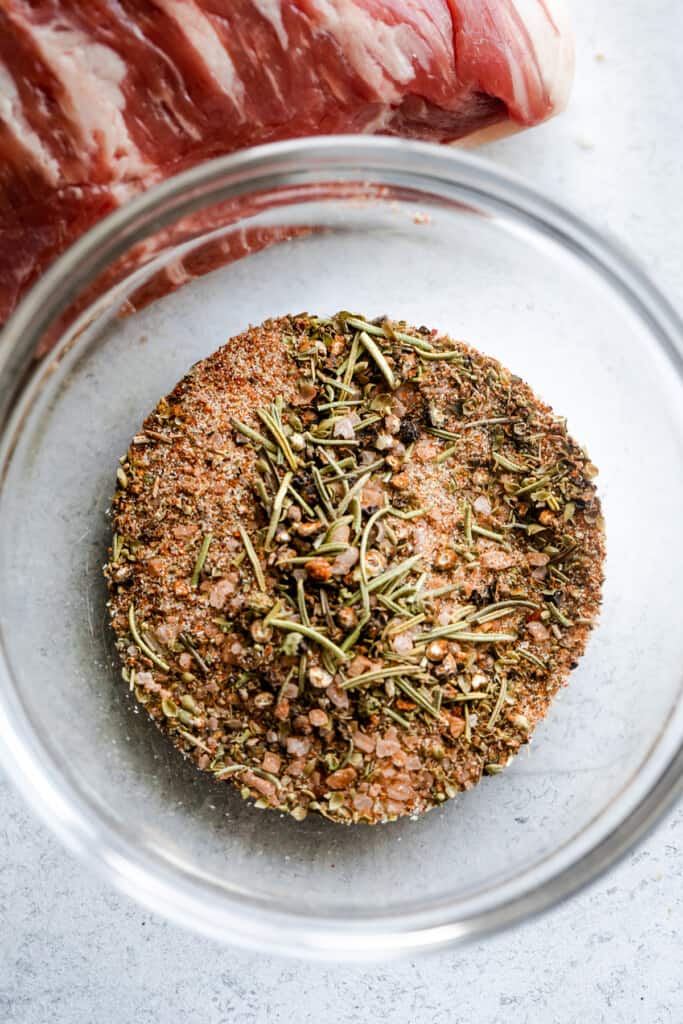 How to Make Oven Roasted Tri Tip
First thing, you'll prep the beef for the seasoning rub. Use paper towels to pat down your tri-tip. Set it aside while you gather the seasonings for the rub. Then, we can get this oven-roasted tri-tip show on the road:
Season: In a bowl, whisk together the seasoning ingredients. Give the entire piece of beef a good rub-down with the mixture and then leave it to rest. Anywhere between 30 minutes to an hour will do the trick. This is also great to do in advance – you can refrigerate the seasoned tri-tip up to a day ahead.
Preheat: Once that beef is good and rested, heat up some oil in an oven-safe skillet. I use my cast iron skillet for this recipe and the results are a *chef's kiss* perfection every time. But, any skillet will do as long as it can go from stovetop to oven. Speaking of, get that oven preheating to 400ºF.
Cook: While the oven preheats, sear the tri-tip in the hot skillet. After about 3 minutes per side, it should look nice and browned. This is when you'll pop the whole skillet into the oven to roast. Your kitchen should start smelling incredible around the 30-minute mark. If an internal temperature reading comes up around 125ºF, that juicy tri-tip is DONE!
Rest and Serve: Plop the roasted tri-tip onto a cutting board, tent it with aluminum foil, and let it rest. Don't skip this part! Resting lets all those savory juices redistribute so the beef cuts like buttah. Give it about 10 minutes, then slice, garnish with parsley, and serve. See further down for beef dinner-worthy side dish ideas!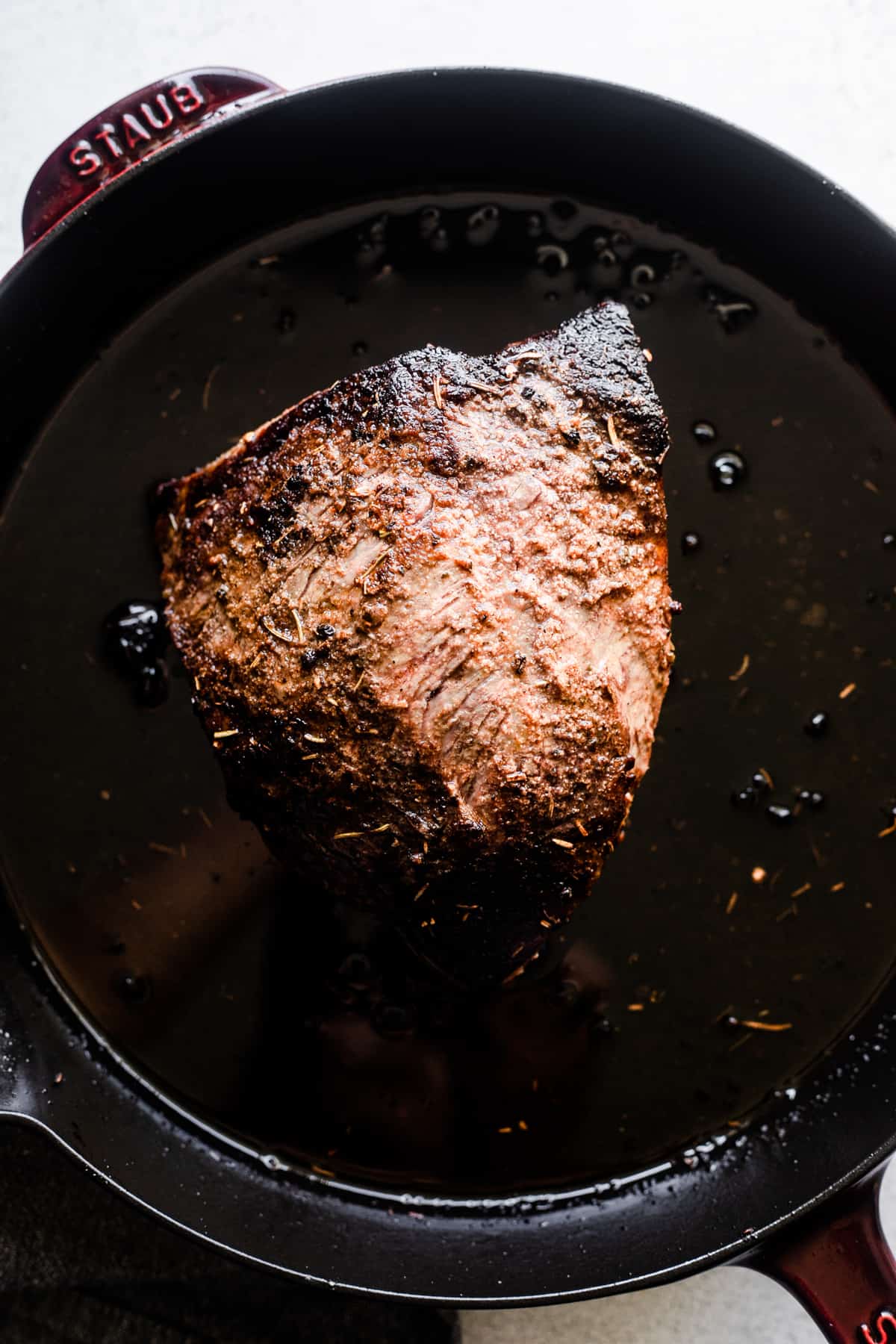 Helpful Hints
This succulent tri-tip recipe is actually pretty hands-off once it's in the pan. But here are some bonus tips (get it?) for achieving oven-roasted perfection:
Let It Rest: Are there any other busy moms out there wishing they could be as well-rested as this beef? Seriously. But jokes aside, make sure you budget enough time to let the tri-tip sit after it's seasoned, and also after it's roasted. It does make a difference. The utmost flavor and juiciness depend on it!
Don't Overcook: Be careful to not leave your roast in the oven too long, as this can dry it out. Once the internal temp reaches 125ºF, take it out and let it rest. For the reasons above, and also because the beef will continue to cook a little even after it's away from the heat. I highly recommend investing in an inexpensive meat thermometer to take the guesswork out of knowing when your oven-roasted tri-tip is ready!
Slicing Tri-Tip: Make note of the direction of the grain on your beef tip when you go to slice it. Slicing against the grain will yield the tenderest slices of meat! The grain on the tri-tip often fans out from the curved edge opposite the "crook" of the beef. For this reason, it's easiest to first cut the beef in two crosswise where the crook is. Then slice both chunks of meat separately for best results.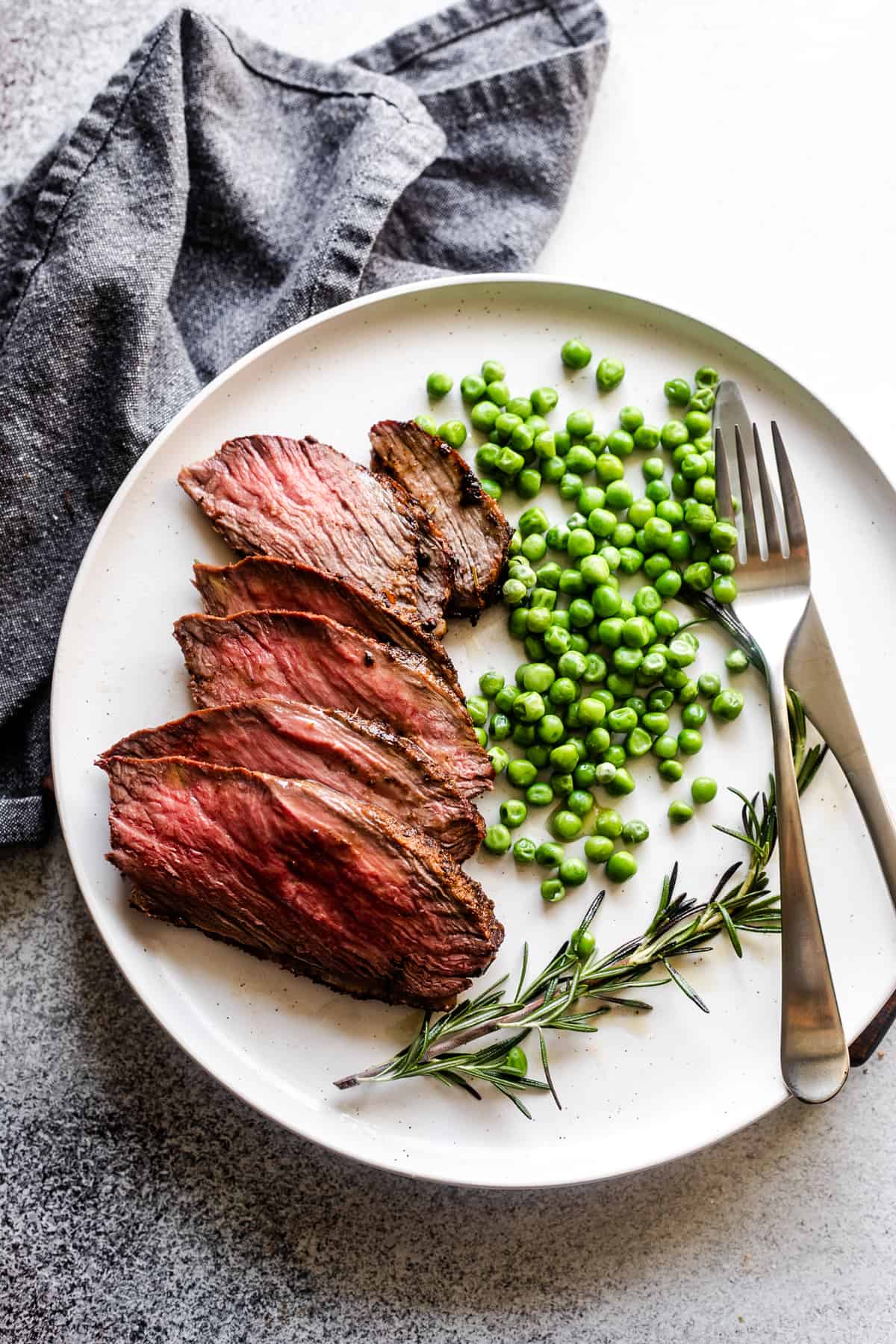 Side Dish Ideas
This roast recipe makes 6 servings. This means you can comfortably feed a family of four and still have leftovers! Tri-tip is also impressive enough to serve up for a special occasion, or when I'm entertaining. Honestly, the pros of this recipe just keep coming. And I haven't even started on the side dish possibilities!
When it comes to what to serve with your tri-tip, you really can't go wrong. Here are some of my favorite easy side dish ideas: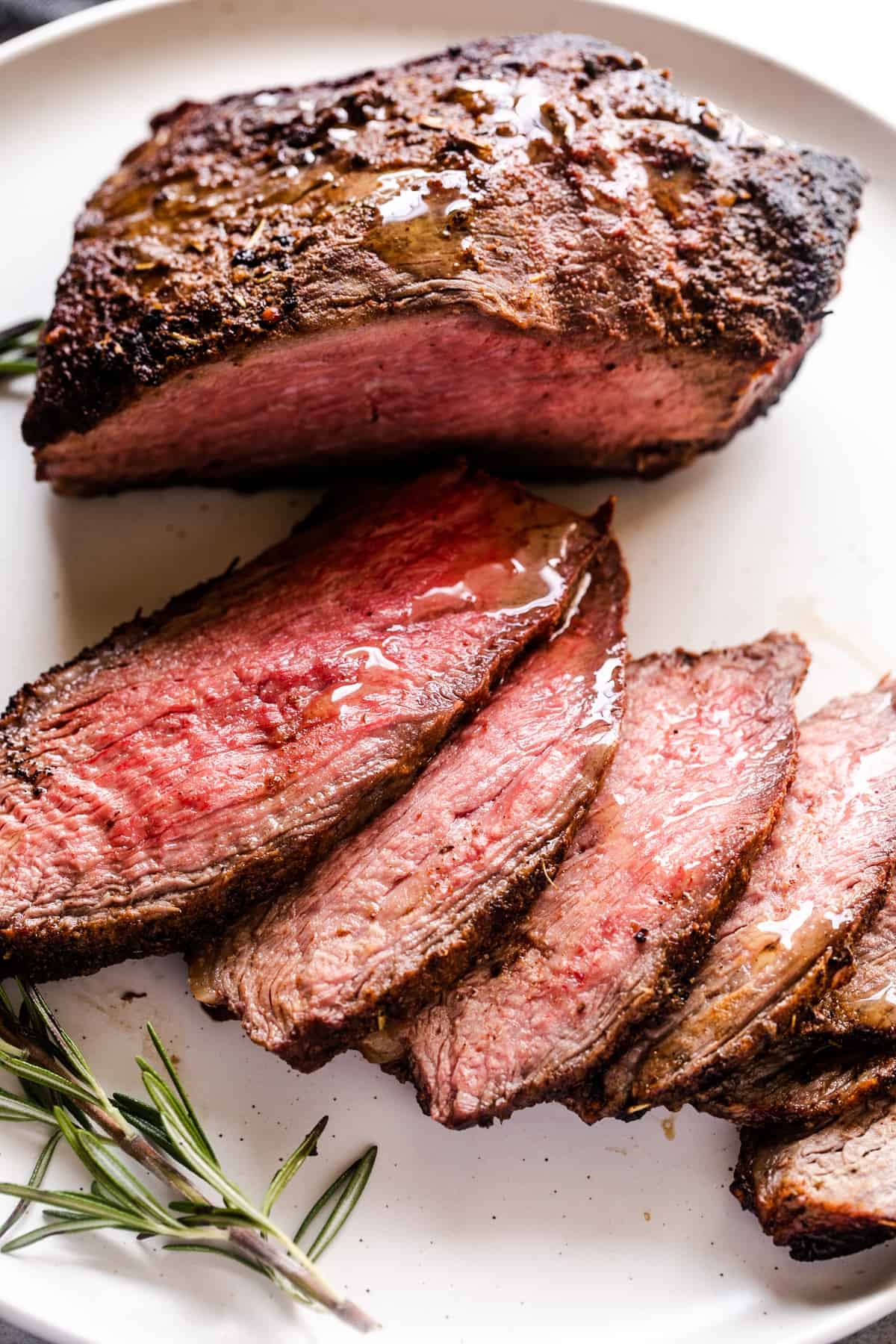 How to Store and Reheat Leftovers
Store any leftover oven-roasted tri-tip airtight in the fridge for up to 3 to 4 days, either in a container or wrapped tightly in plastic wrap.
I've found that the best way to reheat tri-tip while keeping the meat nice and moist is to wrap it in foil first. Wrap the beef in a double layer with a sprinkle of water or beef broth. Next, place the foil packet in the oven at 250ºF, for about 20-30 minutes or until warmed through.
Can I Freeze Leftover Tri Tip Roast?
Yes! This tri-tip can be frozen in a sealed freezer-safe container or bag, or wrapped in plastic wrap or foil.
To avoid freezer burn over the longer term, it's best to reheat your frozen beef within 6 months. Simply thaw it in the fridge and reheat as directed above.
ENJOY!
Sirloin Tip Roast
This succulent sirloin tip roast is rubbed with savory spices, pan-seared, and then roasted in a hot oven until meltingly tender. It's an easy beef dinner that's fancy without trying!
Instructions
Pat dry the beef with paper towels.

In a small mixing bowl whisk together the salt, garlic powder, onion powder, oregano, rosemary, cayenne pepper, paprika, black pepper, and dried sage.

Rub the seasoning all over the beef; set aside and let it rest for 30 minutes to 1 hour. You can also cover and refrigerate it for up to 24 hours before cooking. Make sure to take it out of the fridge at least 30 minutes before you intend to cook the meat.

*Note that if your sirloin tip is under 3 pounds, you may want to use less seasoning.

Preheat the oven to 400˚F.

Heat vegetable oil in a large cast iron skillet (or any other oven-safe skillet) set over medium-high heat.

Add the sirloin tip to the heated skillet, smooth side down; cook for about 3 minutes on both sides, or until nicely browned.

Remove skillet from burner and transfer to the oven; roast for 25 to 35 minutes, or until internal temperature registers at 125˚F to 130˚F.

Cooking time will depend on the weight/size of the sirloin tip.

Remove from the oven and transfer the roast to a cutting board; cover loosely with aluminum foil and let rest for 10 to 15 minutes.

Slice the roast thin, garnish with parsley, and serve.
Nutrition
Calories:
232
kcal
|
Carbohydrates:
2
g
|
Protein:
33
g
|
Fat:
10
g
|
Saturated Fat:
2
g
|
Polyunsaturated Fat:
3
g
|
Monounsaturated Fat:
3
g
|
Trans Fat:
0.03
g
|
Cholesterol:
83
mg
|
Sodium:
864
mg
|
Potassium:
542
mg
|
Fiber:
0.5
g
|
Sugar:
0.1
g
|
Vitamin A:
159
IU
|
Vitamin C:
0.3
mg
|
Calcium:
41
mg
|
Iron:
3
mg
|
Net Carbs:
2
g
Nutritional info is an estimate and provided as courtesy. Values may vary according to the ingredients and tools used. Please use your preferred nutritional calculator for more detailed info.
Categories:
More Wholesome Beef Recipes