Enjoy this delicious Roasted Beef Tenderloin recipe, easy to make with a delectable garlic and herb crust. It's so tasty and juicy that it practically melts in your mouth!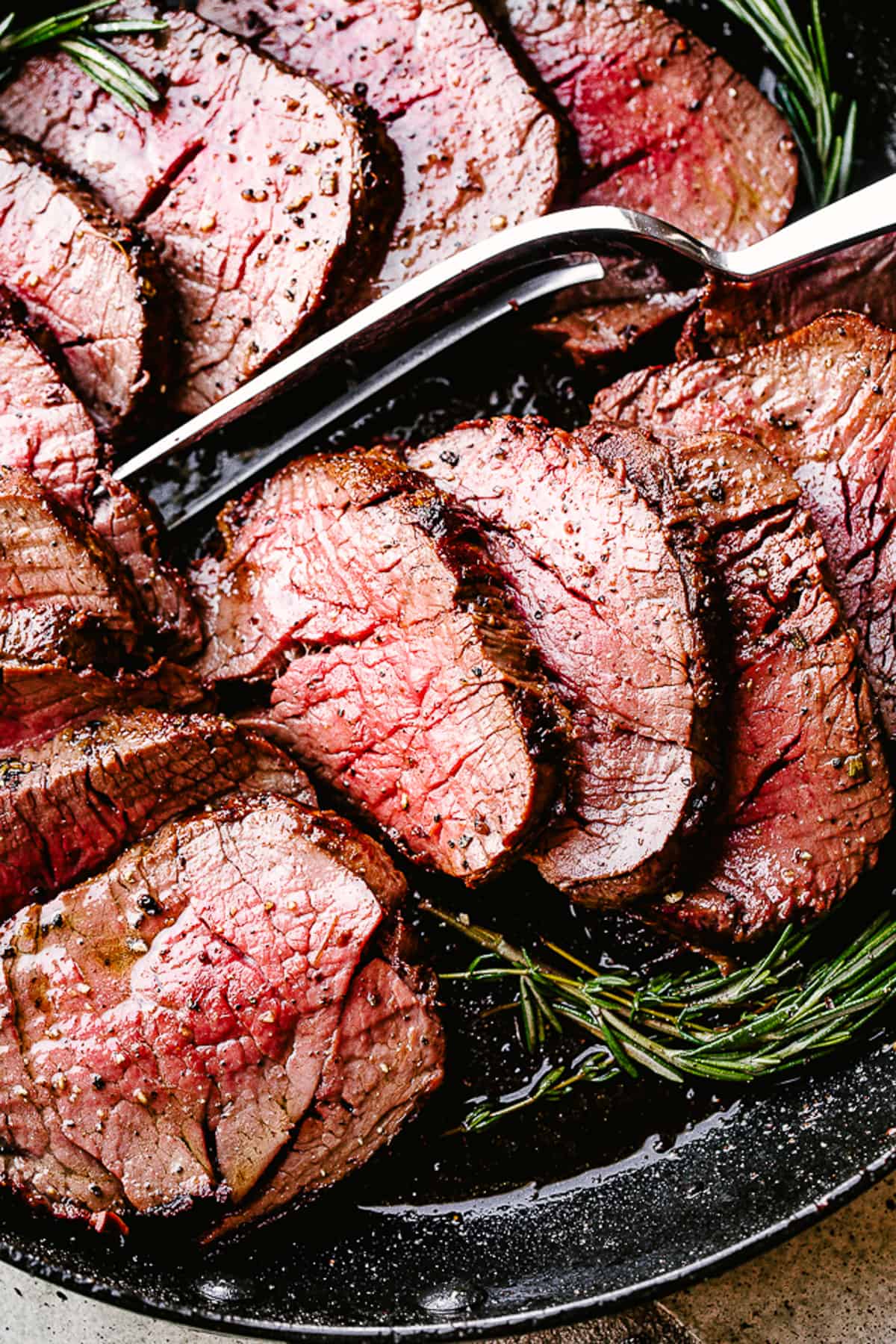 Looking to make a lasting impression at your next fancy dinner gathering? Roast Beef Tenderloin is the timeless choice for a special centerpiece dish. With this easy and flawless recipe, you'll have everything you need for the Holiday Season or any other special occasion. My tried-and-true method guarantees a gorgeously caramelized exterior and a tender, succulent center. The blend of rosemary and garlic enhances this beef tenderloin, creating a phenomenal main dish that will be the star of all your dinner parties!
What is Beef Tenderloin
Beef Tenderloin is the most tender cut of beef. It's cut from the loin of a cow, and when cut into steaks, it is what we know as "filet mignon". There is not a lot of fat in the tenderloin, making it a lean meat cut. When cooked properly, tenderloin will literally melt in your mouth!
Tips For Preparing Roast Beef Tenderloin
Bring the beef to room temperature: Before roasting, I highly advise taking the tenderloin out of the fridge at least one hour and up to two hours before cooking. Letting the meat come to room temperature will produce juicier and evenly cooked meat.
Dry and trim: Pat your tenderloin dry with a paper towel. Then remove the "silverskin" that runs down the length of the tenderloin by running a sharp knife underneath it and gently pulling it off. You can also trim any excess fat on the meat.
Oil and season: Grab some olive oil and rub it all around the meat. Generously season with salt and fresh ground pepper. In a small bowl, mash together the minced garlic with a couple of tablespoons of freshly chopped rosemary leaves. Rub the tenderloin with the prepared garlic mixture.
Tie with twine: This is an important step – don't skip it! Place the tenderloin over pieces of precut kitchen twine spaced one-inch apart and tie them closed. You can also ask the butcher to tie it for you (trim it, too!) when buying the tenderloin.
Ingredients You'll Need
4-pound trimmed center-cut beef tenderloin
½ tablespoon olive oil
2 teaspoons salt
1½ teaspoons fresh ground black pepper
6 cloves garlic, minced
1 to 2 tablespoons fresh rosemary leaves, chopped
1 tablespoon vegetable oil
How To Make A Roasted Beef Tenderloin
The total cooking time for beef tenderloin is about 40 minutes. Searing the tenderloin takes about 4 to 5 minutes per side, and roasting the tenderloin takes about 25 minutes. You'll also let the beef rest for 10 to 15 minutes before slicing.
Heat the oil: Heat a tablespoon of vegetable oil in a cast iron skillet.
Sear: Add the tenderloin to the hot oil and sear on all sides until browned.
Roast: Transfer the skillet to a preheated oven and continue to cook for 25 minutes at 450˚F or until the internal temperature of the roast reaches 125˚F to 130˚F. Do not overcook because that will result in chewy and dry beef. It's important to use a meat thermometer to check for doneness.
Allow to rest: Remove from oven, tent a piece of foil over the tenderloin and let rest for 10 to 15 minutes before cutting.
Temperature Doneness Guide For Cooked Beef
RARE: 120˚F TO 125˚F
MEDIUM RARE: 130˚F TO 135˚F
MEDIUM TO MEDIUM-WELL: 140˚F TO 145˚F
WELL: 150˚F+
Serving Suggestions
Beef tenderloin pairs beautifully with various sides, and a classic choice is always these Freezer Mashed Potatoes or my Creamy Mashed Cauliflower, as well as these Crock Pot Mashed Potatoes. For a lighter option, consider Roasted Green Beans and a side of Easy Oven Roasted Vegetables. And don't forget this elegant Chocolate Mousse Cake or a simple Peach Cobbler.
Storing Leftovers
To store, allow the roast beef tenderloin to cool to room temperature, then wrap it tightly in plastic or aluminum foil. Place the beef in an airtight container or sealable plastic bag and keep it refrigerated for up to 4 days or frozen for up to 2 months.
To reheat, preheat your oven to 300˚F. Wrap the beef tenderloin portions in foil to keep them moist. Place in the oven and heat it for about 10 minutes, or until heated through.
More Beef Tenderloin Recipes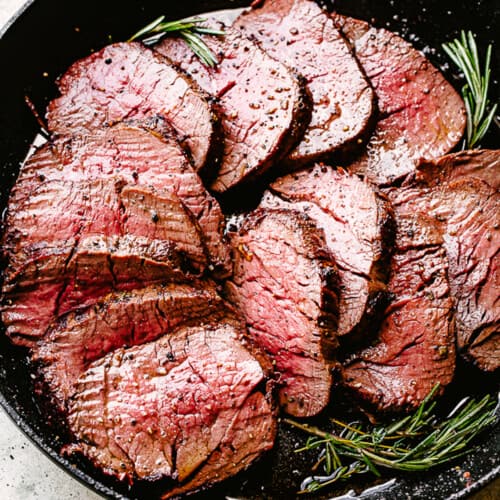 Roasted Beef Tenderloin Recipe
Easy to prepare Beef Tenderloin with the most delicious garlic and herb crust. With this recipe, you will make juicy roasted beef tenderloin that melts in your mouth.
Ingredients
4

pound

trimmed center-cut beef tenderloin

½

tablespoon

olive oil

2

teaspoons

salt

1½

teaspoons

fresh ground black pepper

6

cloves

garlic,

minced

1 to 2

tablespoons

fresh rosemary leaves,

chopped

1

tablespoon

vegetable oil
Instructions
Let tenderloin sit at room temperature for 1 hour before cooking. When ready, preheat the oven to 450˚F.

Pat dry the tenderloin with paper towels. Rub the beef tenderloin with olive oil and generously season with salt and fresh ground black pepper.

In a small bowl mix together minced garlic and chopped rosemary; rub this mixture all around the tenderloin.

Place tenderloin over pieces of precut kitchen twine spaced one-inch apart and tie them closed. You can also ask the butcher to tie the tenderloin for you.

Heat vegetable oil in a 12-inch cast iron skillet over medium-high heat. When oil is hot, add the beef tenderloin and sear for about 3 to 4 minutes per side, or until browned all around.

Transfer the skillet to the oven and continue to cook for 25 to 30 minutes, or until internal temperature reaches 130˚F. Cooking time can vary depending on your oven and the thickness of your tenderloin; always check for desired doneness using a meat thermometer.

Remove skillet from oven and transfer the meat to a cutting board. Tent a piece of foil over the tenderloin and let rest for 10 to 15 minutes before cutting.

Cut into ½-inch slices and serve.
Notes
Beef: Choose a high-quality beef tenderloin for the best results. Look for well-marbled meat and ensure it is trimmed properly for even cooking.
Bring to Room Temperature: Allow the beef tenderloin to come to room temperature before cooking. This ensures more even cooking throughout the meat.
Seasoning: Season the beef generously with salt and pepper, or use your preferred seasoning blend. You can also add herbs like rosemary or thyme for extra flavor.
Preheat the Oven: Make sure your oven is preheated to the desired temperature before putting the beef in. This ensures a consistent cooking environment.
Use a Meat Thermometer: Invest in a reliable meat thermometer to accurately gauge the internal temperature of the beef. This helps you achieve the desired level of doneness (e.g., rare, medium-rare, medium).
Resting Time: Allow the roast beef tenderloin to rest for about 10-15 minutes after cooking. This allows the juices to redistribute throughout the meat, resulting in a juicier and more tender final product.
Slicing: When ready to serve, slice the roast beef against the grain into thin, even slices. This ensures maximum tenderness.
Customizing: Feel free to experiment with additional flavors and ingredients. You can add a crust, such as a herb or a breadcrumb crust, or baste the beef with a flavorful sauce during cooking.
Store beef tenderloin in an airtight container and keep it in the fridge for 3 to 4 days.
Nutrition
Serving:
5
ounces
|
Calories:
507
kcal
|
Carbohydrates:
1
g
|
Protein:
33
g
|
Fat:
40
g
|
Saturated Fat:
16
g
|
Polyunsaturated Fat:
2
g
|
Monounsaturated Fat:
17
g
|
Cholesterol:
127
mg
|
Sodium:
554
mg
|
Potassium:
564
mg
|
Fiber:
0.1
g
|
Sugar:
0.02
g
|
Vitamin A:
8
IU
|
Vitamin C:
1
mg
|
Calcium:
18
mg
|
Iron:
4
mg
Nutritional info is an estimate and provided as courtesy. Values may vary according to the ingredients and tools used. Please use your preferred nutritional calculator for more detailed info.