Zesty Lemon Shrimp and Spaghetti is a flavorful and easy-to-make dish perfect for busy weeknights. Loaded with fresh shrimp, vibrant spinach, and juicy tomatoes, it's a refreshing meal that's both healthy and delicious. With just the right hint of lemon, this spaghetti recipe will become a staple in your dinner rotation.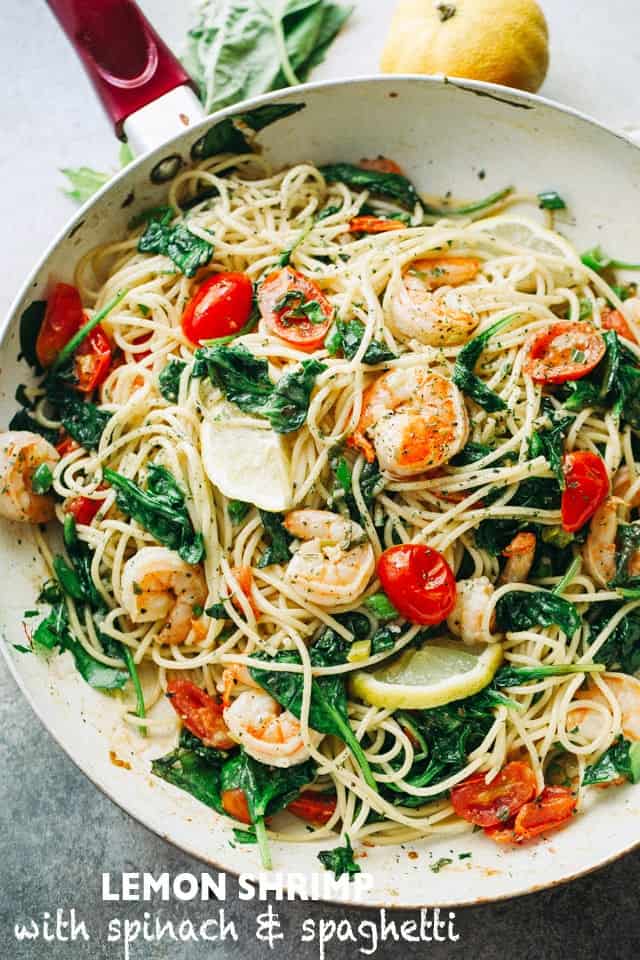 Lemon Shrimp Spaghetti Recipe
I'm about to unleash the flavors of summer with this light and invigorating spaghetti dish. Brimming with succulent shrimp, tender spinach, juicy tomatoes, and a tang of lemon, it's your ticket to a Mediterranean vacation right at your dinner table.
Why am I so enamored with shrimp spaghetti? It's simple yet sophisticated, super speedy to make, and allows for endless creativity. Plus, if you're watching your waistline, this dish is a perfect ally. Opt for whole-grain spaghetti, and you've added an extra punch of protein and fiber to your plate.
Why You'll Love This Shrimp Spaghetti Recipe
Quick and Easy: It's a straightforward recipe for whipping up on busy weeknights.
Nutrient-Rich: With ingredients like shrimp, spinach, and tomatoes, you get a good mix of protein, iron, vitamins, and minerals.
Versatile: It's easy to adjust based on personal preferences or what's available in the kitchen. Consider using whole-grain pasta for an added health boost.
Bursting with Flavor: The combination of lemon, fresh basil, and garlic brings a delicious zestiness to the dish.
Elegant Presentation: The colorful array of ingredients makes for an aesthetically pleasing dish, suitable for both casual family dinners and dinner guests.
How To Make Lemon Shrimp Spaghetti
A quick, flavorful dinner with pasta and fresh shrimp, tomatoes, and lemon – this is going to be your next favorite meal!
Ingredients For Shrimp Spaghetti
Spaghetti: Provides the base for the dish; its tender strands soak up the flavors and give the meal substance.
Olive Oil: Imparts a subtle fruity note, ensuring the dish remains moist and tasty.
Butter: Adds a creamy, rich dimension, helping to bind flavors together and coat the pasta evenly.
Raw Shrimp: Introduces a succulent, slightly sweet taste that contrasts with the tangy lemon and vegetables.
Garlic: Gives a depth of flavor and aroma.
Green Onions: Offer a mild oniony zest that provides taste without overpowering the dish.
Grape Tomatoes: Add bursts of juiciness, sweetness, and a slight tang.
Baby Spinach: Contributes a mild earthiness and texture, plus a touch of green freshness.
Basil Leaves: Provides a fresh herbal contrast to the savory ingredients.
Lemon: Brings brightness and acidity to the dish, lifting up other flavors and adding a refreshing citrus twist.
Directions
Prepare Spaghetti: Follow package instructions and cook until al dente.
Heat Olive Oil & Butter: In a large skillet, warm up the olive oil and melt the butter.
Add Seafood & Veggies: Stir in the shrimp, garlic, green onions, tomatoes, and basil to the skillet.
Seasoning Time: Season with salt and pepper, and drizzle in half of the lemon juice.
Shrimp Cooking: Let everything sizzle until the shrimp turns pink and the tomatoes are tender.
Spinach Addition: Add in the spinach and the remaining lemon juice. Keep stirring until the spinach just starts to wilt.
Final Toss: Integrate the cooked spaghetti into the skillet, and give it a good mix so the pasta is well coated.
Tips For The Best Shrimp Pasta Dinner
Pasta Perfection: Cooking pasta just until it's al dente ensures it doesn't become too soft when added to the skillet.
Freshness First: Using fresh, quality ingredients, especially for the shrimp and produce, makes a world of difference in flavor and texture.
Avoid Overcooking: Be cautious not to overcook the shrimp; they cook quickly and can become rubbery if left too long on the heat.
Variations For Lemon Shrimp Pasta
Whole Grain Option: Use whole grain spaghetti for added fiber and nutrition.
Spice It Up: Add red pepper flakes for a little heat or consider incorporating a splash of white wine for depth.
Protein Swap: Instead of shrimp, you could use diced chicken, tofu, or even chunks of firm fish like salmon or halibut.
Veggie Variations: Broccoli florets, snap peas, or asparagus are good additions or substitutions for spinach.
Creamy Version: Introduce a splash of light cream or half-and-half for a creamier texture.
Storing Leftovers
The zesty flavors of this lemon shrimp pasta improve with time, making it a fantastic dish to revisit the day after! To store leftovers, keep the pasta and shrimp sealed in an airtight container and refrigerate for 3 to 4 days.
More Pasta Recipes
Lemon Shrimp Spaghetti
Lemon Shrimp Spaghetti is a quick and absolutely delicious pasta dinner tossed with shrimp, spinach, tomatoes, garlic, and lemon juice.
Ingredients
8 to 10

ounces

spaghetti pasta

2

tablespoons

olive oil

1

tablespoon

butter

1

pound

fresh shrimp,

peeled and deveined

3

cloves

garlic,

finely chopped

2

green onions,

finely chopped

1

pint

grape tomatoes,

halved

3 to 4

basil leaves,

thinly sliced

1

whole

lemon,

juiced

¼

teaspoon

salt,

or to taste

fresh ground black pepper,

to taste

8 to 10

ounces

baby spinach

grated parmesan,

for garnish, optional
Instructions
Cook the spaghetti according to the directions on the package; drain and set aside.

Meanwhile, heat olive oil and butter in a large non-stick skillet. Add shrimp, garlic, green onions, tomatoes, and basil. Season with salt and pepper, and add half of the lemon juice.

Continue to cook for 4 minutes or until the shrimp is pink and the tomatoes are tender. Add spinach and the rest of the lemon juice.

Continue to cook for 1 more minute, stirring frequently, or until the spinach is wilted. Add in the cooked spaghetti and toss to coat. Taste for salt and pepper and adjust.

Garnish with parmesan and serve immediately.
Notes
Pasta Choice: Opt for whole-grain spaghetti for added fiber, or you can also use low-carb or gluten-free pasta.
Enhance the Lemon Flavor: Add grated lemon zest for a deeper citrus note.
Cooking the Shrimp: Do not overcook the shrimp because they turn rubbery if overdone.
Add Heat: Consider adding red pepper flakes for spice.
Swap Proteins: Use chicken or salmon instead of shrimp.
Additional Veggies: Add chopped broccoli, snap peas, or asparagus.
Creamy Twist: Add light cream or coconut milk for a creamier texture.
Nutrition
Serving:
1.5
cups
|
Calories:
337
kcal
|
Carbohydrates:
50
g
|
Protein:
10
g
|
Fat:
11
g
|
Saturated Fat:
3
g
|
Polyunsaturated Fat:
1
g
|
Monounsaturated Fat:
6
g
|
Trans Fat:
0.1
g
|
Cholesterol:
8
mg
|
Sodium:
223
mg
|
Potassium:
751
mg
|
Fiber:
5
g
|
Sugar:
5
g
|
Vitamin A:
6465
IU
|
Vitamin C:
34
mg
|
Calcium:
90
mg
|
Iron:
3
mg
Nutritional info is an estimate and provided as courtesy. Values may vary according to the ingredients and tools used. Please use your preferred nutritional calculator for more detailed info.
Categories: