Coconut Lime Shrimp – Deliciously creamy shrimp cooked in an amazing coconut lime sauce with tomatoes and peppers, and served over noodles or rice.
Hi ya! I've got a super simple, healthy, and ridiculously flavorful dinner for you riiiight here! What are YOU up to? Dyeing some eggs? I gotta get on that today. I just keep pushing it to "tomorrow"… and we all know how that turns out.
Problem though. I'm dyeing the eggs au naturelle – boiling water with veggie scraps, another pot with boiling wine, all of that until water turns colors. Then comes the overnight dyeing part before you get a good, deep colored egg. It's gonna take some time and that's the problem; time! Where can I buy me some of that time?
But yeah, you probably came here to read about coconut lime shrimp… ‍♀️ Let's get on that before I get a comment about, "who gives a bleeeeep about your egg dye!!! gimme the recipe!!!".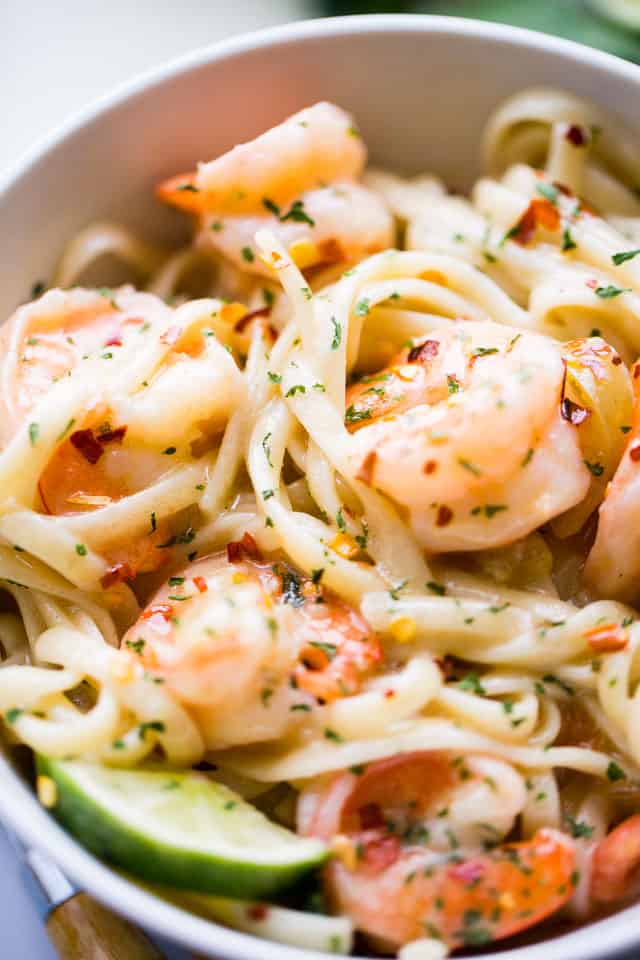 Pretty shrimp, I ❤️ you!
One of our absolute favorite comfort meals is this Creamy Lemon Shrimp Pasta, a meal we could probably eat every week and never get tired of it. Thus a version of that, but with lime and coconut, shouldn't surprise anyone as to why we love-love-love it.
As well as:
Grilled Coconut Lime Shrimp
and
Lemon Shrimp and Spinach Spaghetti ❤️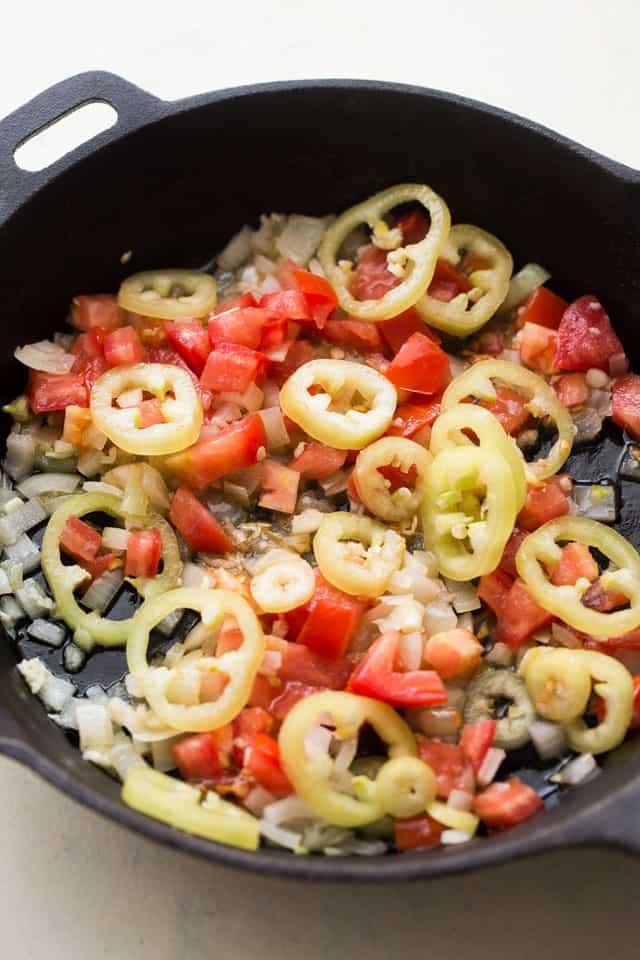 This is how it all starts – with onions, garlic, tomatoes and hot peppers. I use a banana-type chili pepper that's packed with a bit of heat, but you can definitely reach for the poblanos or jalapenos. Of course for those that can't handle the heat, use a sweet pepper, please.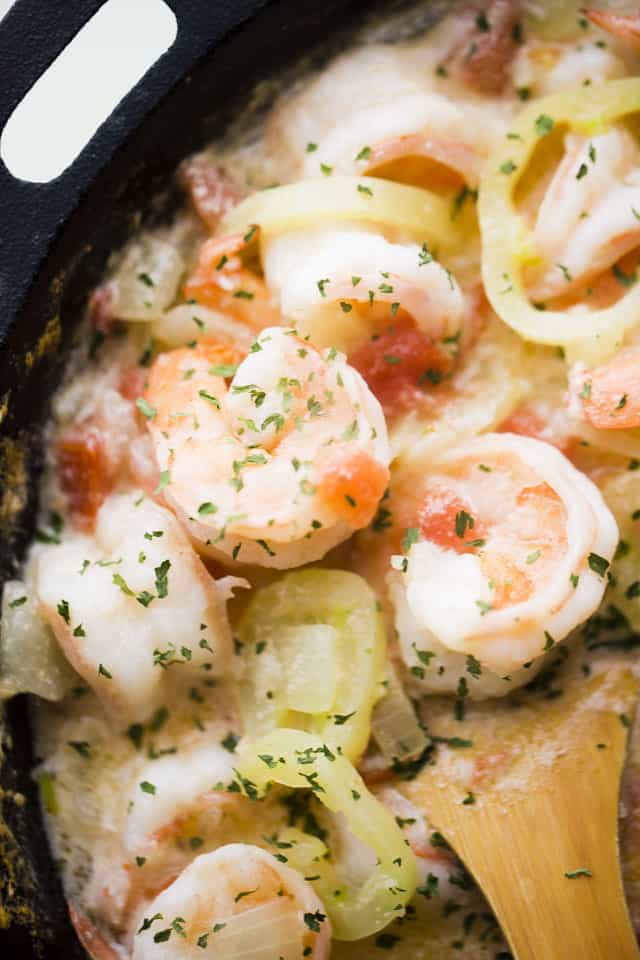 The only thing left to do is add coconut milk and shrimp to the mix, boil 'em up, squeeze out all the lime juice possible, and ta-dahm! Like, seriously, so quick! 15 to 25 minutes with prep time and cook time.
ENJOY!

CRAVING MORE? SIGN UP FOR THE DIETHOOD NEWSLETTER FOR FRESH NEW RECIPES DELIVERED TO YOUR INBOX!
FOLLOW DIETHOOD ON FACEBOOK, TWITTER, PINTEREST AND INSTAGRAM FOR ALL OF THE LATEST CONTENT, RECIPES AND UPDATES.
TOOLS AND INGREDIENTS USED IN THIS RECIPE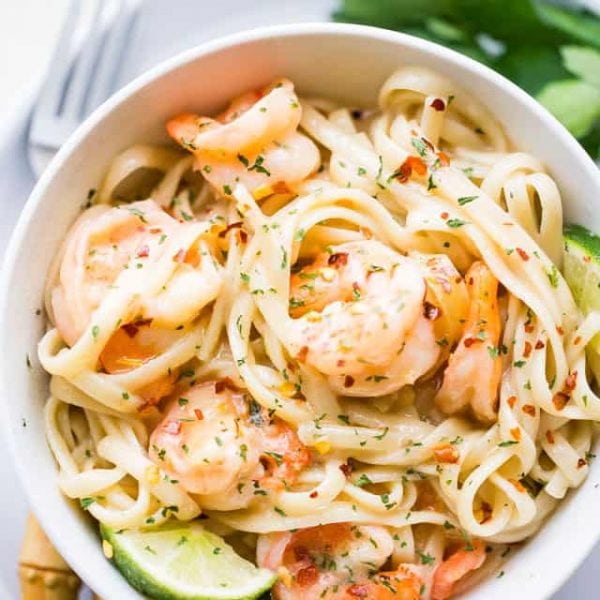 Coconut Lime Shrimp
Coconut Lime Shrimp - Deliciously creamy shrimp cooked in an amazing coconut lime sauce with tomatoes and peppers, and served over noodles or rice.
Ingredients
2

tablespoons

vegetable oil

1

onion

, diced

3

garlic cloves

, minced

1

tomato

, diced

1

green pepper

(poblano, jalapeno, etc...), cut into thin rounds

salt and fresh ground pepper

, to taste

1

cup

coconut milk

1

bag

(16-ounces) medium shrimp, thawed, peeled and deveined

1

lime

, juiced + lime wedges for serving

1/4

cup

chopped cilantro or parsley

, for serving

prepared pasta or rice

, for serving

crushed red pepper

, for garnish (optional)

grated parmesan cheese

, for garnish (optional)
Instructions
Heat oil in a large frying pan over medium-high heat.

Cook onion for 1 to 2 minutes, or until it begins to soften.

Stir in garlic and cook until fragrant, about 30 seconds.

Add tomatoes and peppers; season with salt and ground pepper, and continue to cook for 2 to 3 minutes, or until tomatoes begin to soften.

Pour in the coconut milk and bring to a boil.

Add shrimp and continue to cook until shrimp are pink, about 4 minutes.

Remove from heat and stir in lime juice.

Spoon shrimp mixture over pasta or rice and sprinkle with cilantro.

Serve with lime wedges and a sprinkle of crushed red pepper OR grated parmesan cheese.
Nutrition
Nutritional info is an estimate and provided as courtesy. Values may vary according to the ingredients and tools used. Please use your preferred nutritional calculator for more detailed info.
Categories: