Marry Me Chicken is a wonderful skillet dinner of seasoned, breaded chicken cutlets in a creamy parmesan and sundried tomato sauce. Quick and easy to make, and low carb, too!
Tender, Juicy Chicken Cutlets in Creamy Sundried Tomato Sauce
As you can probably imagine, this dish hits all the right notes for me. I'm all about chicken skillet recipes, and who doesn't love a sundried tomato sauce? This creamy, dreamy chicken recipe has all of that and more. Plus, it's super easy to make, even on a busy weeknight.
If you're looking for something cozy, yet refreshing, Marry Me Chicken is it. The sun-dried tomatoes give the chicken plenty of zesty, tangy flavor, while the heavy cream and parmesan cheese make it an Italian-style dish that'll warm your soul. Tender chicken cutlets are breaded and cooked until juicy, and then go right into all that creamy saucy goodness!
Why Is It Called "Marry Me Chicken?"
I know, I know, it's kind of a crazy name. But rest assured, no one is proposing to poultry! 😄 The joke is that this recipe is so good that whoever you serve it to might just fall in love! That's right, this recipe is so good it could even spark a marriage proposal, in theory. I mean, stranger things have happened! Whatever the case, this is one amazing chicken recipe – with or without a wedding. 👰‍♀️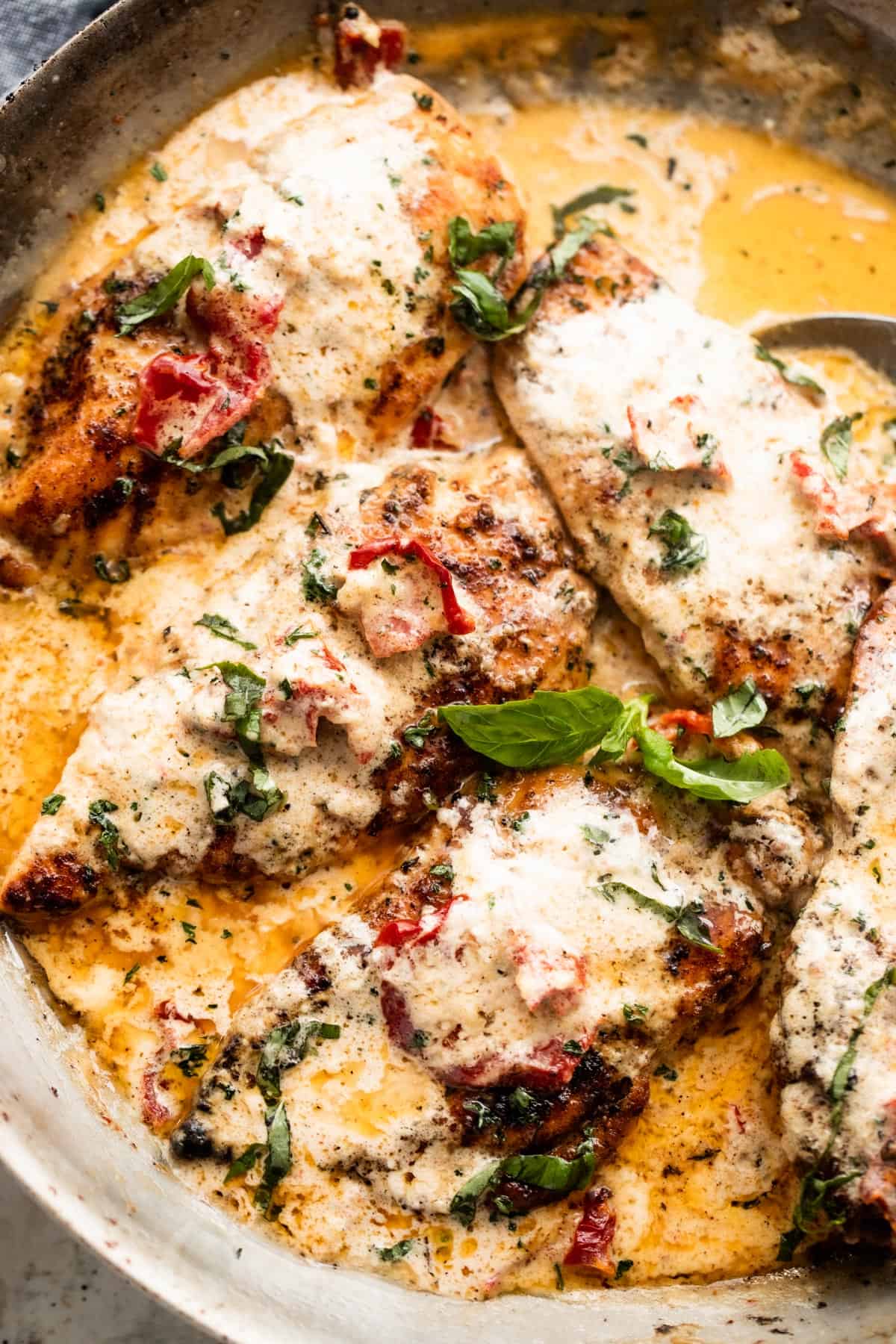 What You'll Need
Just what ingredients are in Marry Me Chicken? Um, just the tastiest ingredients there are!? Seriously, all you need to add to this list is chocolate. (For dessert, of course.)
Chicken: This recipe uses chicken breast cutlets. If you can't find those, see below for instructions on how to cut chicken breasts into cutlets. It's easy!
Salt and Pepper: To taste.
All-Purpose Flour: Coconut flour works great, too. I use it all the time in place of all-purpose flour.
Spices: Sweet paprika and onion powder give the chicken a wonderful earthy sweetness.
Herbs: Dried thyme and basil give a punch of herbal freshness.
Butter and Olive Oil: For sauteing.
Garlic: Press or mince four cloves of fresh garlic.
Broth: Low-sodium chicken broth is my favorite, but you could also use vegetable broth, homemade broth, etc.
Cream: Heavy cream enriches and thickens the sauce to velvety perfection.
Parmesan: Freshly grated parmesan cheese adds the perfect finishing touch to this flavorful recipe.
Crushed Red Pepper: For a tiny hint of spice, a teaspoon or so of crushed red pepper flakes is just the thing. You can omit this, if you prefer.
Sun-dried Tomatoes: Chop up a small amount of sun-dried tomatoes in oil to give the dish its pretty color and warm, sunny flavor.
Chopped Fresh Basil: For garnish (optional).
How Do You Cut Chicken Breast into Cutlets?
Good question! Making your own chicken cutlets is an easy option, if you can't find them in the grocery store (or if you can find a better price on regular chicken breast!). Just lay the chicken breast flat on your cutting board, and gently slice it into two thin halves, one top and one bottom half. Separate the halves, and pound each one to a ¼ inch thickness using a meat mallet or heavy skillet. Done! ✅
How To Make Marry Me Chicken
This easy recipe is so flavorful, and it only takes a few minutes to pull together! Put this one on your weekly menu rotation – it's that good, and that fast.
Bread the Chicken Cutlets. To begin, season the chicken cutlets with salt and pepper. Next, mix the flour, paprika, onion powder, thyme, and basil together in a small bowl. Dredge the cutlets in the seasoned flour, and gently shake off any excess.
Saute the Chicken. To cook the chicken cutlets, melt the butter with the olive oil in a large skillet over medium heat. Once the oil and butter are hot, add the chicken pieces, and cook for about 5 minutes per side, until browned and cooked through. Place the cooked chicken on a plate and cover. Set aside while you make the sauce.
Make the Sauce. Wipe down the skillet. Add some oil to it and stir in the garlic; let it cook for about 15 seconds, to release the fragrance. Then pour the chicken broth into the skillet. Stir in the cream, parmesan, red pepper flakes, salt, and pepper. Reduce the heat to medium-low and simmer the sauce for a couple of minutes.
Add Sundried Tomatoes and Chicken. Last, add the sundried tomatoes to the skillet, and let them cook for about 30 seconds before adding the chicken cutlets. Simmer everything for a few minutes, until the sauce is thickened and the chicken is heated through.
Enjoy! Remove from the heat, garnish the chicken with basil, and serve warm.
Tips for the Best-Ever Marry Me Chicken
So there you have it! A perfect weeknight dinner recipe that takes regular chicken breast and turns it into a mouthwatering, Italian-style delight. Especially when you also have a few helpful tips up your sleeve! Here are my top hacks for this recipe.
Heavy Cream: I really recommend heavy cream here! Half and half would work, but don't go lighter on the dairy than that. You want plenty of richness to make the sauce thick and flavorful.
Parmesan: The best parmesan is usually freshly grated, so if you have time, grab a block or wedge at the store and grate it right before you add it to the dish.
Chicken: Boneless, skinless chicken thighs can be substituted for the cutlets, but in that case, you will need to cook them for slightly longer.
Veggies: For an extra boost of nutrition, feel free to stir in a half-cup or so of frozen peas, fresh green beans, mushrooms, spinach, or whatever veggies you like!
Easy Serving Suggestions
What should you serve with this creamy, sundried tomato chicken? The possibilities are practically endless! A green salad is always nice, or you could steam just about any seasonal vegetable with some butter and salt. Here are a couple of extra side dish ideas, just for inspiration!
Pasta: It probably goes without saying, but one of my favorite ways to serve Marry Me Chicken is with a hearty pasta side. Olive Pesto Pasta is a great option!
Breadsticks: Any store-bought or homemade breadstick recipe would be great – or, if you'd like to skip the carbs, try this easy Cheesy Keto Zucchini Breadsticks recipe. Mmmm. 👌
Cauliflower Rice: Another low-carb staple, cauliflower rice doesn't have to be boring! Just make a batch of Garlic Asiago Cauliflower Rice with Mushrooms – it's a savory, satisfying side you'll crave.
How to Store and Reheat Your Leftovers
To store, place leftover Marry Me Chicken in an airtight container or food storage bag. Refrigerate for up to 3 days.
To reheat, place in a covered skillet over low heat and cook until the chicken is fully heated through. Do not overcook, or the chicken will become dry. If the dish seems dry, you can add a splash of milk or broth.
Can You Freeze Marry Me Chicken?
While chicken often freezes well, in this case, I recommend enjoying it without freezing. The creamy sauce is likely to separate after freezing and thawing, spoiling the texture and taste.
ENJOY!
Marry Me Chicken
Marry Me Chicken is a skillet dinner prepared with breaded chicken cutlets in a creamy parmesan and sundried tomato sauce.
Instructions
Season chicken cutlets with salt and pepper.

In a shallow mixing bowl combine flour, sweet paprika, onion powder, dried thyme, and basil.

Dredge the chicken cutlets in the flour mixture and shake off any excess.

Melt butter and heat 1 tablespoon olive oil in a large skillet set over medium heat.

Add the chicken cutlets to the hot skillet and cook for about 5 minutes per side, or until browned and cooked through.

Remove chicken from the skillet and transfer to a plate; keep covered.

Return skillet to the heat; add a tablespoon of olive oil and stir in the garlic; cook for 15 seconds, or until fragrant.

Stir in the chicken broth and, using a wooden spoon, scrape up any browned bits from the bottom of the skillet. Cook for a minute.

Stir in the heavy cream, grated parmesan cheese, red pepper flakes, salt, and pepper.

Decrease heat to medium-low and let sauce simmer for 2 minutes.

Add in the sundried tomatoes and cook for 30 seconds.

Return chicken cutlets to the skillet and let simmer for about 2 minutes, or until sauce is thickened and chicken is heated through.

Remove from heat.

Serve.
Nutrition
Calories:
471
kcal
|
Carbohydrates:
10
g
|
Protein:
37
g
|
Fat:
31
g
|
Saturated Fat:
15
g
|
Polyunsaturated Fat:
2
g
|
Monounsaturated Fat:
11
g
|
Trans Fat:
1
g
|
Cholesterol:
161
mg
|
Sodium:
362
mg
|
Potassium:
767
mg
|
Fiber:
1
g
|
Sugar:
1
g
|
Vitamin A:
1115
IU
|
Vitamin C:
9
mg
|
Calcium:
99
mg
|
Iron:
2
mg
|
Net Carbs:
9
g
Nutritional info is an estimate and provided as courtesy. Values may vary according to the ingredients and tools used. Please use your preferred nutritional calculator for more detailed info.
More Easy Chicken Dinner Ideas