Creamy Crab and Wild Rice Soup – Creamy, hearty and extremely flavorful soup filled with crab meat, wild rice and colorful veggies.
*slurrrrrp*
Thank you, Louis Kemp Crab Delights®, for sponsoring this post!
Hey Hi, friends! Happy Tuesday! I haven't talked to you in days, and it feels like an eternity. But, I brought soup (and what a darn good soup it is!) to help us get back into the groove.
Today's post is sponsored by Louis Kemp Crab Delights®! We are huge fans of their Crab Delights, and when I made this Creamy Crab and Wild Rice Soup with their crab meat, we cozied up to the soup-pot and devoured all that was in it.
Tender carrots, peas, and wild rice are also making an appearance in this delicious recipe that resembles a creamy chicken noodle soup – but it isn't, obviously – and can be made with minimal prep in very little time. Did I hear an Amen?!
I think what I'm trying to tell you is that this recipe is so simple, it's almost funny. But it's gonna become a classic! I can feel it.
Get this. So my plan here was to use up some leftover chicken, buuuuut my deli-drawer (I love my fridge!) decided otherwise – Crab Delights or else! I chose the former and ate half of the crab meat while standing there, thinking of what I could make with it for dinner.
Did you know that Louis Kemp Crab Delights are made from Alaska Pollock and real snow crab? Alaskan Pollock is a highly sustainable Alaskan (maaaaade in the USAaaaa!) caught whitefish and it's what they use in fish sticks.
Also, it's a delicious healthy snack, it's gluten free, low calorie, and the best part? It's ready-to-eat! open mouth ➡ insert.
It can also be found in my oh-so-darn-good Bacon, Crab and Avocado Salad.
THE MOST important, crucial part of this meal is obviously…the veggies. KIDDING! It's the missing crackers.
Okay, so, uhm, kidding again, BUT I have to tell you that my other half does not like crackers in his soup… weirdo!
I'm all like, heeeey, crackers and soup! It's like Rachel and Ross!
And he's all like, nooooo, it's all in your head.
I'm done arguing.
Annnnyways… this is so good, you guyz. Just like that *snapping fingers*, you will forever and ever be in love and wedded to this bowl of gorgeous and soul warming, crab soup.
!!ONE MORE IMPORTANT THING!! You can receive $1 off on any one Louis Kemp product by going to http://bit.ly/1VWSj82
ENJOY!
CRAVING MORE? SIGN UP FOR THE DIETHOOD NEWSLETTER FOR FRESH NEW RECIPES DELIVERED TO YOUR INBOX!
FOLLOW DIETHOOD ON FACEBOOK, TWITTER, PINTEREST AND INSTAGRAM FOR ALL OF THE LATEST CONTENT, RECIPES AND UPDATES.
Creamy Crab and Wild Rice Soup
Creamy, hearty and extremely flavorful soup filled with crab meat, wild rice and colorful veggies.
Ingredients
1

cup

uncooked wild rice

3

tablespoons

butter

1

yellow onion

, diced

pinch salt

2

garlic cloves

, minced

2

cups

frozen carrots and peas mix

4

cups

low-sodium vegetable broth

1/2

teaspoon

dried thyme

1/4

teaspoon

dried rosemary

salt and fresh ground pepper

, to taste

1

bag

(8 ounces) Louis Kemp Crab Delights®, roughly chopped

4

tablespoons

butter

4

tablespoons

all-purpose flour

1-1/4

cups

milk

1/4

cup

heavy cream

1

tablespoon

chopped fresh parsley

, for garnish
Instructions
Prepare rice according to directions listed on the package.

In the meantime, melt 3 tablespoons butter in a soup pot.

Add onion and pinch of salt; continue to cook over medium heat for 2 to 3 minutes, or until tender.

Stir in garlic and continue to cook for 30 seconds.

Stir in frozen carrots and peas and cook for 2 minutes.

Add vegetable broth; increase heat to medium-high, add crab meat and rice, and bring mixture to a boil.

Lower heat to a simmer and continue to cook for about 5 minutes.

In the meantime, melt 4 tablespoons butter in a saucepan; add flour and whisk continually for 1 minute.

Continue to whisk and add the milk; continue to cook, stirring constantly until it thickens.

Add the milk mixture to the soup and cook about 5 minutes longer, or until soup is thickened.

Stir in heavy cream.

Garnish with chopped parsley.

Serve.
Nutrition
Calories:
312
kcal
|
Carbohydrates:
33
g
|
Protein:
6
g
|
Fat:
17
g
|
Saturated Fat:
10
g
|
Cholesterol:
49
mg
|
Sodium:
791
mg
|
Potassium:
252
mg
|
Fiber:
3
g
|
Sugar:
3
g
|
Vitamin A:
5410
IU
|
Vitamin C:
7.8
mg
|
Calcium:
46
mg
|
Iron:
1.4
mg
|
Net Carbs:
30
g
Nutritional info is an estimate and provided as courtesy. Values may vary according to the ingredients and tools used. Please use your preferred nutritional calculator for more detailed info.
Categories:
This is a sponsored post written by me on behalf of Louis Kemp Crab Delights®. All opinions are always 100% my own.
SIMILAR RECIPES: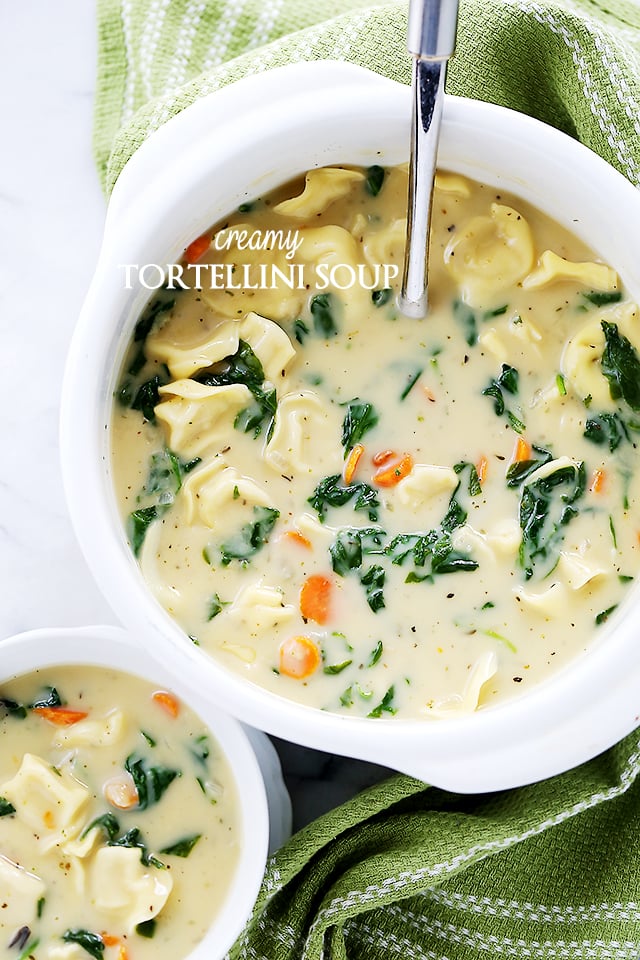 Cream of Broccoli and Potato Soup