These Easy Shrimp Recipes make eating your favorite shellfish even more fun! Each recipe is simple to make, packed with flavor, and brings out the best in this succulent seafood favorite.
A Healthy, Versatile Protein
When it comes to seafood, shrimp are probably one of the most popular options out there, and it's easy to see why! Like lobster and scallops, shrimp have a pleasing texture and mild, sweet flavor. They go beautifully with a simple seasoning of salt and pepper, but can also stand up to powerful flavors like garlicky, tomato-based cocktail sauce.
You can bake, fry, or saute shrimp very quickly, and they let you know when they're done by turning a pretty shade of pink! How cool is that?
So, if you're looking for a way to get more fish and shellfish in your diet, try some of these easy shrimp recipes. You'll get all those important omega-3s with ease! And your tastebuds will thank you, too!
Are Shrimp Considered Low-Carb?
Yes! Like other meats and fish, shrimp are very low in carbs! In a serving of shrimp, you will literally find less than one gram of carbs (the actual number is 0.2!). That makes them a very good option for anyone on the keto diet or any other low-carb diet, or for those just looking to add a lighter meal to the menu here and there.
How to Choose the Best Shrimp
When it comes to choosing good shrimp at the supermarket, your best bet is probably in the freezer case. Look for wild-caught shrimp, for the freshest, most appealing flavor. If you can't find wild-caught, look for responsibly produced shrimp from reputable farms.
What about fresh shrimp? Well, if you live in an area where you can verify that the shrimp really are freshly caught, those can be wonderful! However, most shrimp that are "fresh" in the grocery store are actually shrimp that were frozen, but are now thawed out and waiting on ice for someone to buy. You are almost certainly going to be better off buying directly from the freezer, and thawing them yourself at home.
And always, whether you are dealing with fresh or frozen shrimp, avoid any shrimp that have a strong odor. There should be a "sea-like" scent, but no ammonia or fishy smells. Shrimp that is mushy, slimy, or soft should also be avoided! Instead, look for firm, clean-smelling shrimp.
Finally, when you choose shrimp, take the size of the shrimp into account. Shrimp size goes by the number of shrimp per pound, so if there are a lot (say 50) per pound, those shrimp will be very small. If there are fewer per pound (like 10), those shrimp will be much larger. For some dishes, tiny shrimp are just right – shrimp salad, for example! For others, you may want to go with medium to large shrimp.
17 Easy Shrimp Recipes
In this tasty collection of shrimp-tasting favorites, you'll find everything from classic shrimp scampi to coconut lime grilled shrimp, creamy shrimp pasta to a shrimp lover's corn chowder. Each of these shrimp recipes is easy, healthy, and well-balanced. Let's dive in!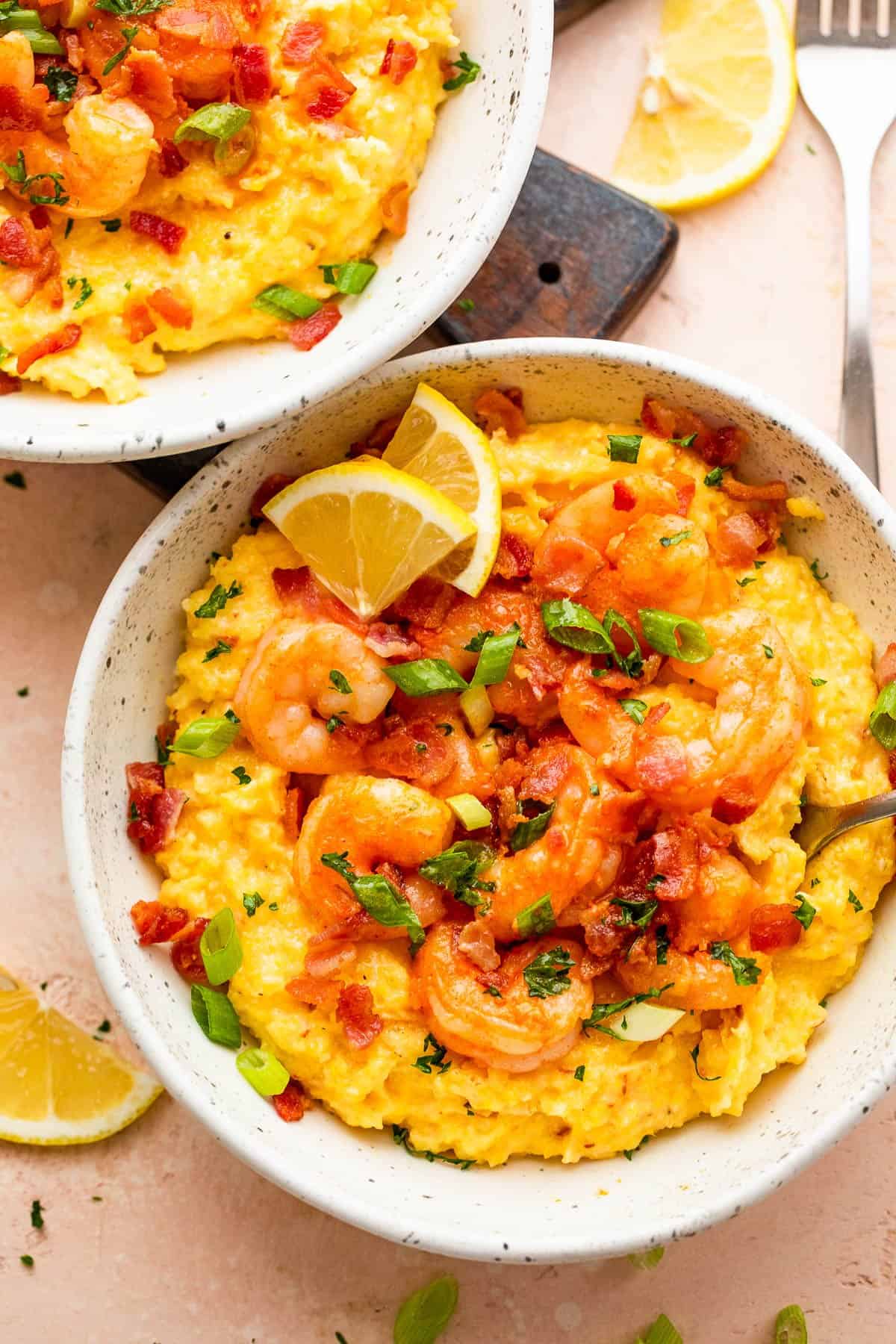 Indulge in a beloved Southern favorite, shrimp and grits! This recipe takes advantage of crockpot cooking to make the creamiest stone-ground grits ever, cooked in milk, and then dressed with plenty of butter and cheddar cheese. These creamy grits are topped with fresh sauteed shrimp in a lemon-garlic sauce, with a trio of crispy bacon bits, green onions, and parsley. Amazing and so simple to make!
Bright green broccoli, crispy potato wedges, succulent shrimp, and tender steak… all in one pan? You've got it! This unbelievably easy and completely satisfying sheet pan dinner takes the hassle out of surf & turf. Now you can make your steakhouse favorite in the comfort of your own kitchen, the easy way!
Who doesn't love General Tso's? The iconic sauce is a little bit sweet, a little bit spicy, and completely mouthwatering! And when you pair it with juicy shrimp, you've got a crave-able dish that's perfect with steamed jasmine rice, spiralized veggies, or whatever side you love. This is one of those classic takeout-style shrimp recipes everyone devours.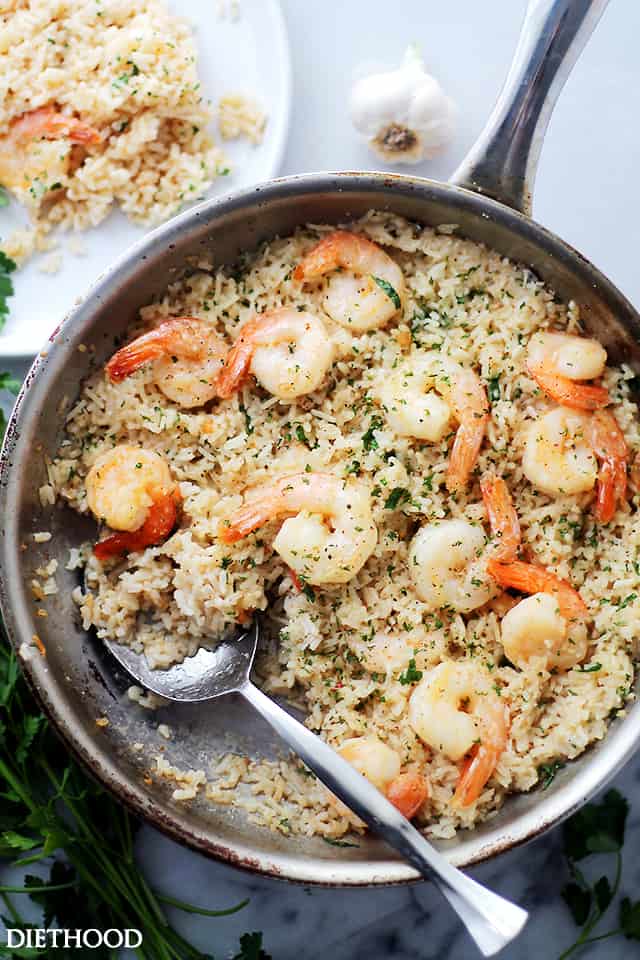 Perfect for those times you have leftover rice, this recipe is made with freshly cooked shrimp in garlic and butter, combined with cooked rice and a little Parmesan to make a super-fast, nutritious, and easy meal. A lifesaver for busy cooks and busy families, Garlic Butter Shrimp and Rice should be a recipe you keep up your sleeve at all times!
You. Game Day. This dip. It's meant to be! Made in just one dish, this addictively cheesy hot dip is an appetizer that's sure to please. It's loaded with juicy shrimp, melted cheese, garlic, and a blend of savory seasonings, then baked until bubbly. You'll love the combination of Old Bay, hot sauce, and perfectly cooked shrimp.
If there were ever a competition for the perfect low-carb shrimp dish, this would definitely be in the top three! Tender shrimp are cooked in a simple butter and garlic pan sauce, with fresh herbs and a blast of lemon. Serve this with a salad, pile of zoodles, or with basic buttered toast if you're not cutting carbs.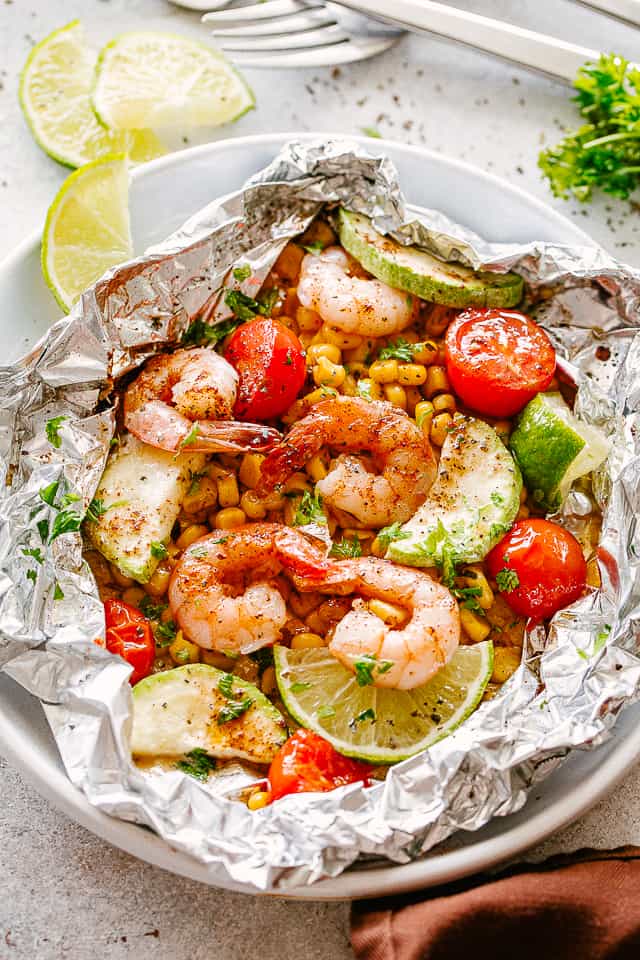 Tender, fresh zucchini and corn make a bead for zesty shrimp marinated in coconut and lime, and it all gets thrown on the grill in foil packets for an ultra-easy, perfectly balanced meal. No grill? No problem! You can also bake the foil packets, or cook them on a grill pan. One of my easiest shrimp recipes!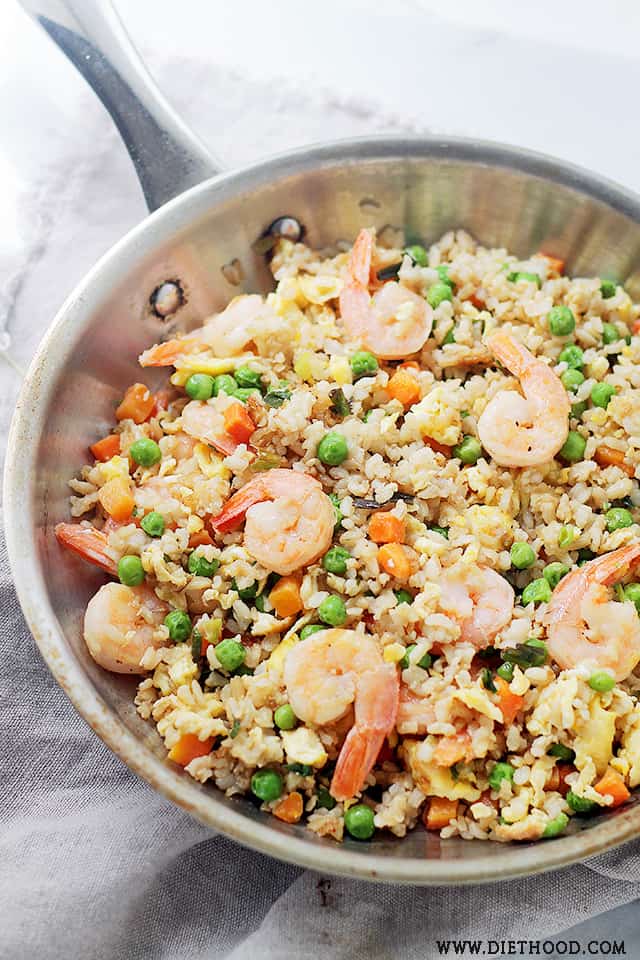 An easy, basic fried rice recipe that uses Success rice for the ultimate quick and simple meal. Sweet peas and carrots, lightly scrambled eggs, shrimp, and soy sauce make this takeout-style favorite a family-friendly dinner in one pan!
Goodbye, Taco Tuesday. Hello, Fajita Friday! Just kidding, I would never say goodbye to Taco Tuesday. But these fresh and spicy shrimp fajitas are so sizzlingly good, you'll want to make them once per week, minimum! Colorful bell peppers, flavorful onions, lime, and spices take skillet shrimp to the next level.
Jumbo shrimp cooked with lemon, olive oil, salt, and pepper? Check. An ocean of crisp romaine? Check! Big garlic croutons and a healthy, homemade dressing? CHECK! This perfect, refreshing salad has it all, and it's so simple to make. Ladies and gentlemen, we have a winner!
This colorful saute of tomatoes and shrimp is a flavorful, spicy, saucy skillet dish, perfect for serving over rice or orzo. It cooks up super quickly and is a flavor explosion! Using lite-salt saves everyone some sodium, making this a good choice for those watching their sodium intake.
Sounds fancy, doesn't it? But in reality, it's a simple weeknight meal you can make easily. Just cook your pasta shells and shrimp, make the simple cheese sauce, and mix everything together. A kid-friendly, all-in-one dish the whole family will love.
A sweet and simple 30-minute chowder made with sweet corn, bacon, and of course, shrimp. It's a light dinner option that becomes a hearty meal with the addition of bread and ham steaks. You've got to try this one!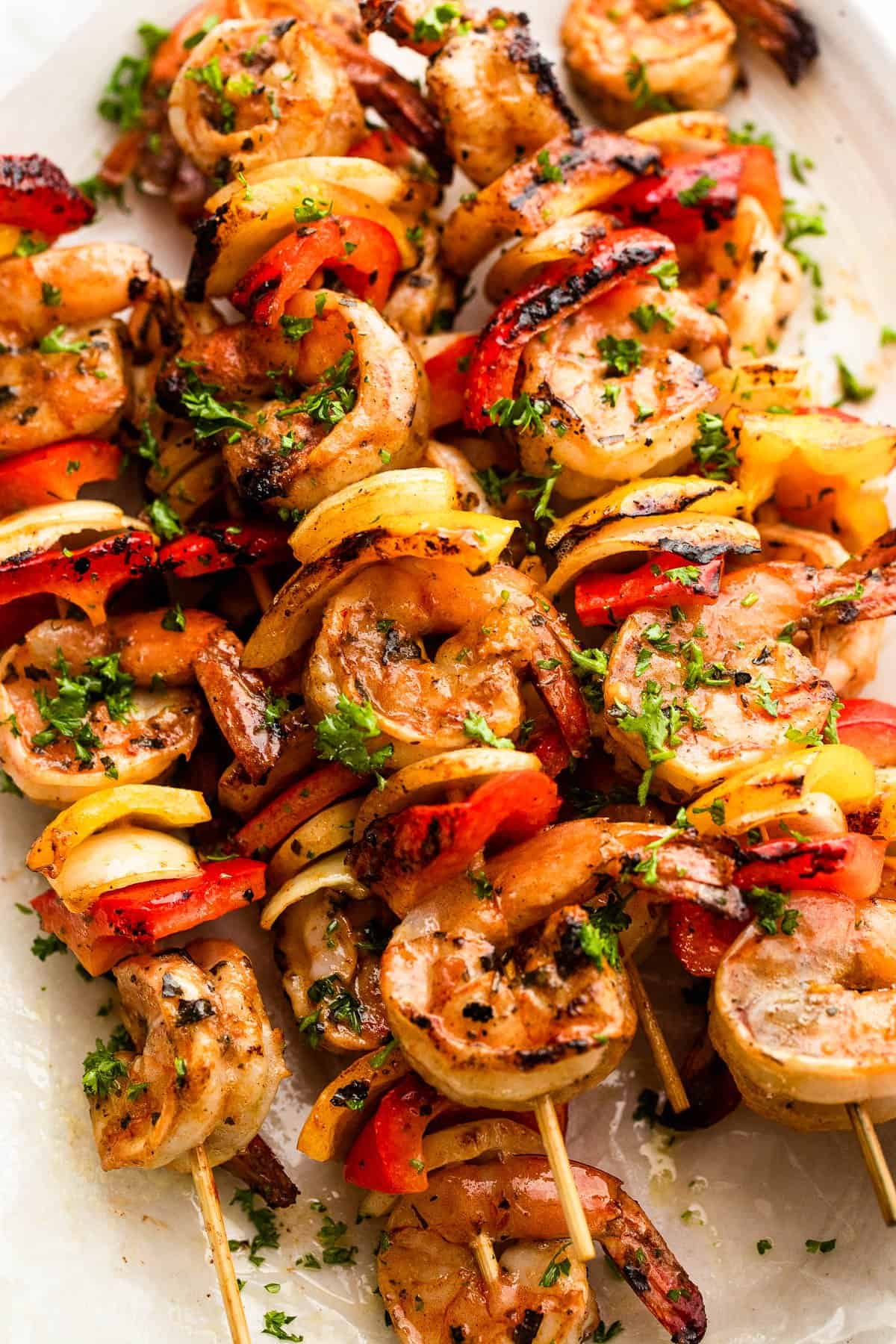 Smoky shrimp and peppers "on the barbie?" Yes, please! These get a boost from a seasoned tomato marinade before hitting the grill, for a perfect dinner that's low in calories, low in carbs, and full of flavor!
Are you a sucker for pasta Alfredo? I know I am! But velvety alfredo sauce doesn't have to come with a scary set of nutrition facts – this lightened-up version delivers all the "wow" factor, with fewer calories and less fat. You'll love the combination of tender shrimp and veggies in a silky Parmesan sauce.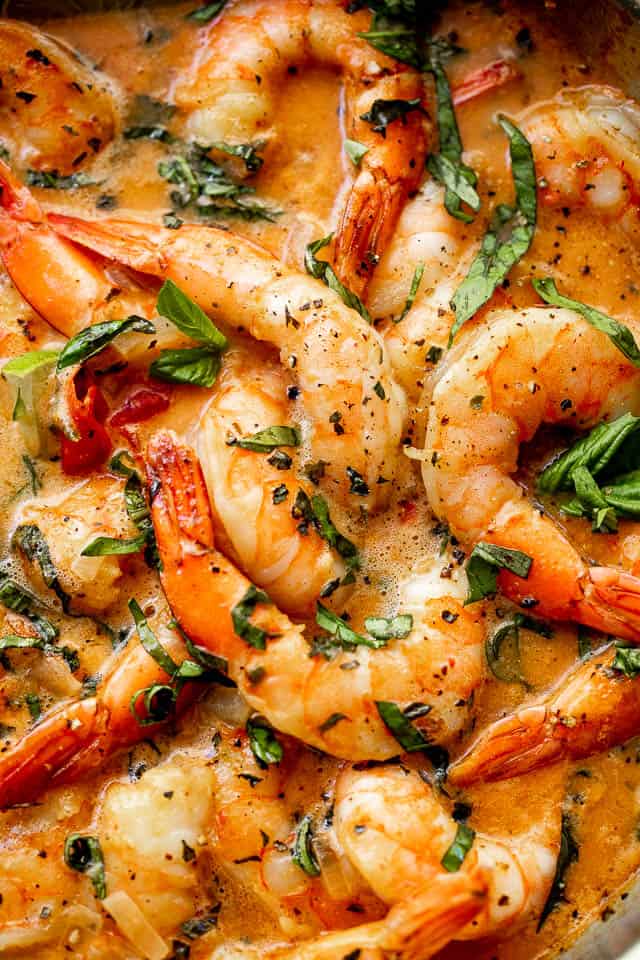 A beautiful Pan-Asian-style shrimp skillet, your one features luscious coconut milk, plenty of ginger and fresh garlic, tangy tomatoes, cilantro, basil, and shrimp. It's a quick and saucy dinner that's loaded with flavor, perfect for serving over rice or noodles.
Ultra-crispy and perfect for dipping, these juicy shrimp are cooked in just minutes in the air fryer. Get all that fried, crispy crunch without the oil and fat! Plus, the easy, homemade buffalo sauce is out of this world!