Yeast-Free Pizza Dough – Fast and simple recipe for P

izza Dough

made without

yeast

that is delicious and SO easy to make! Besides,

ain't nobody got time for that dough to rise. 😉
Oh, look at that! It's Monday. Already!
Wish it was still Sunday… 'Cause that's my fun daaaaay…
Ahem…
Happy start to the week, friends!
I worked super hard these past few days.
Over the weekend we worked on our backyard…
Okay, that's a lie. My husband worked. I watched. I dislike (read: hate) yard work. It's too, um, dirty. And hot. And there's bugs out there.
My punishment for not helping? Sunburn! I thought I was all in the shade, but somehow, those rays went straight through the tree branches and decided to take up space on my lovely shoulders.
Thus, to make Monday-matters a bit awesome, I thought we should bring a little Friday to our Monday. Like, serve pizza for dinner. Homemade pizza. Like, completely from scratch…like.
This is the yeast free pizza dough that made those Grilled BBQ Chicken Pizzas crazy-delicious! This, by far, is the best pizza dough I've made to date. True story.
YEAST FREE PIZZA DOUGH
I'm always trying new ways to improve on basic things. Things such as gluten free cakes and BLT sandwiches. You know… the basics. And in all those attempts, there's one thing that I will never stop trying to make better: Pizza Dough.
That's my husband's fault: this pizza crust is too thin, this one is too thick, this is too crunchy, this is too soft… Lawd, shush up!
Surprisingly, he found nothing wrong with this yeast free pizza dough. Nah.thing. The guy just ate his pizza, commented that the dough was awesome, and there were zero complaints. Hallelujah!
HOW TO MAKE NO-YEAST PIZZA DOUGH
In case you didn't know, flour seems like a simple and obvious addition to any pizza dough.
As does water. Also add in some salt, baking powder, and canola oil. That is all.
If you feel inclined to add a bit of garlic powder or herbs, I understand. Just do it.
Just let this happen. I swear it will be the best pizza you've ever had. Pile everything delicious on top of the dough and call it dinner.
PIZZA DOUGH NOTES
To add toppings, pre-bake crust for 8 minutes; add tomato sauce, cheese, pepperoni, and continue to bake for 10 to 12 more minutes.
ENJOY!
Print
Yeast-Free Pizza Dough
Fast and simple recipe for Pizza Dough made without yeast that is delicious and SO easy to make!
Ingredients
2-1/2

cups

all-purpose flour

3

teaspoons

baking powder

1

teaspoon

salt

3/4-

cup

+ 2 tablespoons water

1

tablespoon

canola oil
Instructions
In a mixing bowl, combine flour, baking powder and salt; whisk until thoroughly combined and set aside.

Combine water and oil in a separate bowl or cup; stir to combine.

Slowly add water mixture to the flour mixture.

Using a wooden spoon, or your hands, gently stir and mix until dough forms a ball; dough should be soft, but not sticky. Add more water if it's too dry, 1 tablespoon at a time. If it's too sticky, add more flour.

Lightly flour your work area and knead dough for 5 minutes.

Line a baking sheet or a pizza pan with foil and lightly spray it with cooking spray.

Spread pizza dough on the prepared pan, using the palm of your hands and fingers to stretch it out to about a 1-inch thickness.

Grill

or bake in a 400-degree oven for 15 to 20 minutes, or until lightly browned.
Nutrition Facts
Yeast-Free Pizza Dough
Amount Per Serving
Calories 147
Calories from Fat 27
% Daily Value*
Fat 3g5%
Cholesterol 0mg0%
Sodium 584mg24%
Potassium 336mg10%
Carbohydrates 25g8%
Protein 3g6%
Calcium 135mg14%
Iron 1.7mg9%
* Percent Daily Values are based on a 2000 calorie diet.
Keywords:
pizza dough, pizza recipes, yeast
Want To Save This Recipe?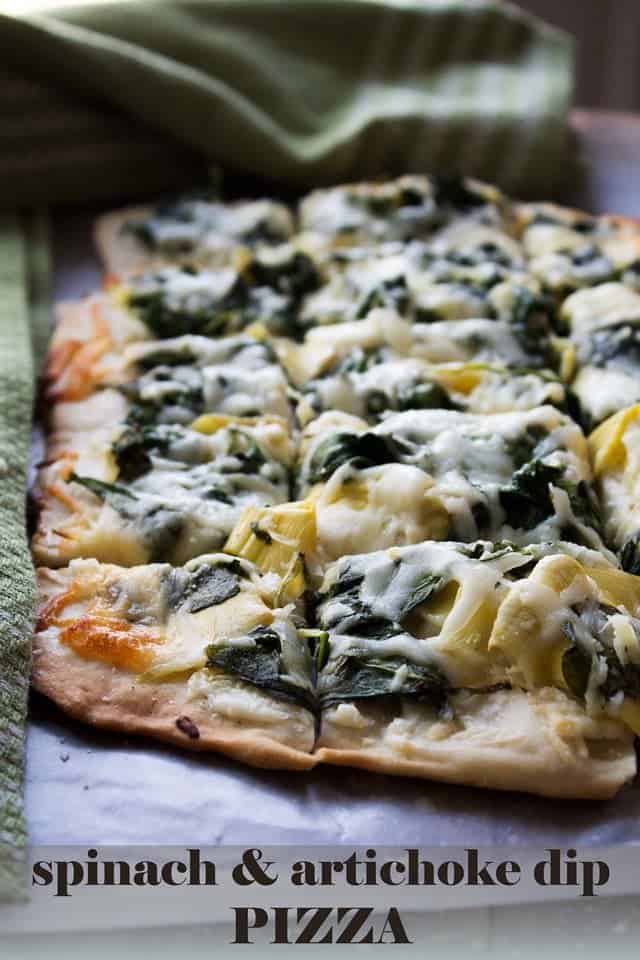 Spinach and Artichoke Dip Pizza