Soda Bread Recipe – Super easy, quick and traditional Irish Soda Bread made with just 5 ingredients!
Irish Week continues, aaaaaand for the next 2 days, my name is Katherine McPetrovska. I like Green Beer, Irish Martinis, and Bailey's Buttercream Brownies to wash it all down. ☘☘☘Nice to meet you!
Heeey, shams! How goes the battle? <<< Irish slang for "how are you", and it makes sense! Battle = life!
It's pretty awesome, I'd say! Especially when there's soda bread to be celebrated. 🍞
Any excuse to snack on bread, know whadda mean?
I have a plan for you for St. Paddy's Day tomorrow: make yourself some Soda Bread and never look back. ☘
There is just something so… comforting… about homemade bread. Right? I have had this particular recipe on the blog for years, but I had to reintroduce it to ya again for the reason that everyone needs a simple go-to recipe for bread, and not just because it's St. Patrick's Day. I mean, it helps, but it doesn't have to be made only for the Holiday.
Also, sidenote, but can I get a round of applause for providing a recipe today without chicken in a pan?! WHAT IS GOING ON.
That's another reason I'm a soda bread fan. No chopping, no sauteeing, and I still crave it. It's like, bread has magic powers, and I believe they're called carbs. 😄😄😄
This bread is for the bread lover and not necessarily for the bread-maker, which is perfect because, there's no kneading, no time waiting around to rise, no not much of anything. Just a stir, a bit of shaping, and done. 5 minutes of work for a fresh loaf! GIMME!
Also?!? I made you some homemade buttermilk to use IN it! Yeah, completely homemade. Like, you take milk and vinegar, stir it all together and BAM! That's how homemade buttermilk is done. Now, if I only had a cow in my backyard, then it'd be completely homemade.
Anyhew.
I wanted to mention that I added raisins to this, but you really don't have to. According to some articles I read, the raisins are the "Americanized" version of the bread so to make it sweeter. For when I want to snack on it, I add raisins, but when it's to be paired up with warm soup or a Dublin Coddle, I ditch the raisins and go straight-up authentic. It's SO worth it!
If you're looking for something simple, but fun to make in the kitchen for tomorrow's Holiday, this should be IT. It's easy, quick, very simple, but the results are dawg gone good! Git 'er done!
ENJOY!

CRAVING MORE? SIGN UP FOR THE DIETHOOD NEWSLETTER FOR FRESH NEW RECIPES DELIVERED TO YOUR INBOX!
FOLLOW DIETHOOD ON FACEBOOK, TWITTER, PINTEREST AND INSTAGRAM FOR ALL OF THE LATEST CONTENT, RECIPES AND UPDATES.
TOOLS USED IN THIS RECIPE
Soda Bread Recipe
Soda Bread Recipe - Super easy, quick and traditional Irish Soda Bread made with just 5 ingredients!
Ingredients
4

cups

all purpose flour

1

teaspoon

sugar

1

teaspoon

salt

1

teaspoon

baking soda

1-3/4

to 2 cups buttermilk

1

cup

raisins

(optional)
Instructions
Preheat oven to 425F.

Sprinkle a baking sheet with a little bit of flour and set aside.

Combine 4 cups flour, sugar, baking soda, and salt in a large mixing bowl; whisk until thoroughly combined.

Stir in the raisins. (optional)

Make a well in the center of the flour mixture and pour in 1-3/4 cups buttermilk; using your fingers, mix the flour and liquid together, adding more buttermilk, if necessary.

Mix until the dough is soft, but not sticky. If too wet or sticky, add more flour; if dry, add a bit more buttermilk.

When the dough begins to come together, turn it over onto a lightly floured work surface; continue to shape it into a ball.

Pat the dough down into a circle, about 2 inches thick and cut a cross across the top with a floured knife

Transfer to previously prepared baking sheet.

Bake for 15 minutes; turn temperature down to 375F and continue to bake for 30 minutes, or until a toothpick inserted in the center comes out clean.

Remove from oven; let bread sit in baking sheet for 5 minutes.

Remove to a rack to cool briefly.

Serve warm.
Recipe Notes
WW SmartPoints: 7
SIMILAR RECIPES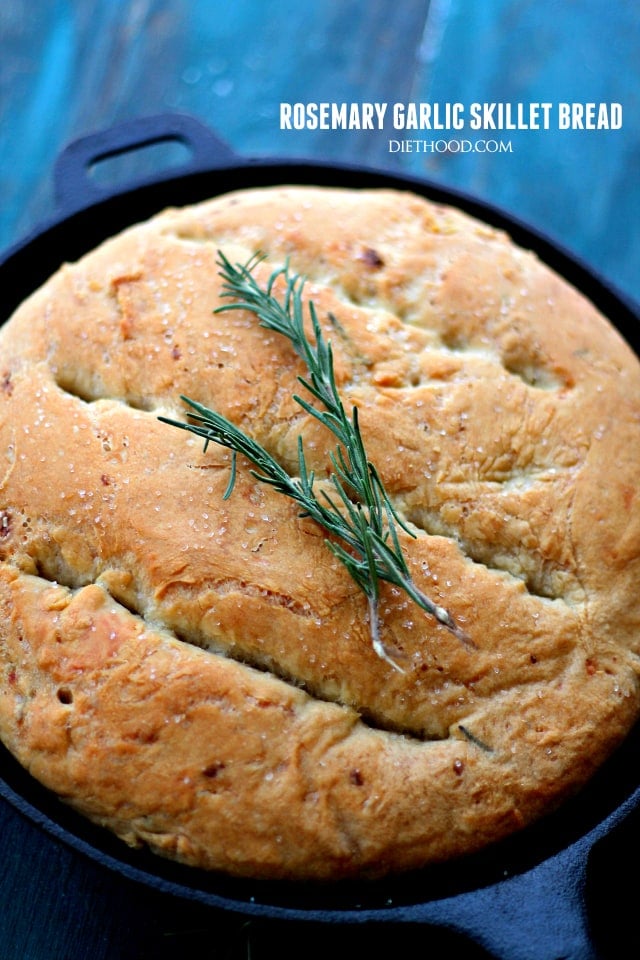 Rosemary and Garlic No-Knead Skillet Bread