Enjoy a burst of flavor with this Keto pizza, a low-carb treat topped with rich tomato sauce, creamy mozzarella, and fresh basil leaves. It's a simple yet delicious way to satisfy your pizza cravings without the guilt!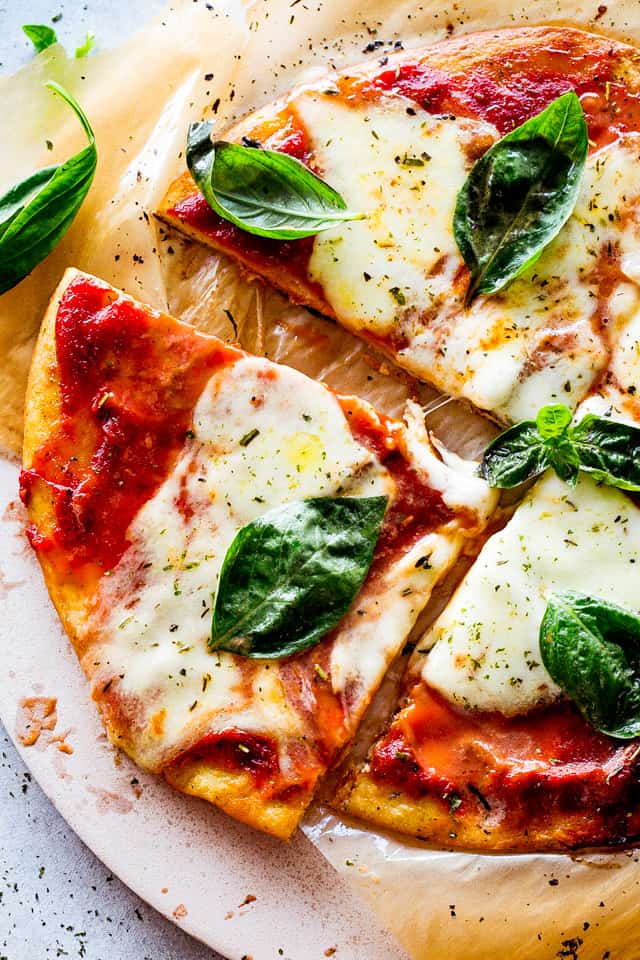 Delicious Keto Pizza Recipe
You guys, KETO PIZZA! Say what?! So cheesy and full of wonderful toppings, this pizza is kind of incredible. Going Keto or low carb doesn't seem so hard, after all, because Keto Pizza elevates the pizza experience with a flavorful crust and classic toppings of tomato sauce, fresh mozzarella, and basil leaves. This delightfully simple yet gourmet pizza merges the iconic Italian flavors of Margherita Pizza with dietary consciousness, making it a favorite for those following keto guidelines. This pizza promises all the indulgence without the guilt!
Why You'll Love This Pizza Recipe
Low-Carb Indulgence: Satisfy your pizza cravings without deviating from your diet. This pizza offers all the flavors of a classic pizza while keeping the carb content minimal.
Easy to Make: This pizza is as simple to put together as it is delicious. The use of a non-stick skillet and oven makes the process hassle-free.
Versatile Crust: The keto crust is not just for pizza; it can be adapted for other recipes like calzones or breadsticks, making it a versatile addition to your keto cooking repertoire.
Quick Preparation: In just 30 minutes, you can have a delicious, homemade pizza on the table, making it a perfect choice for busy nights.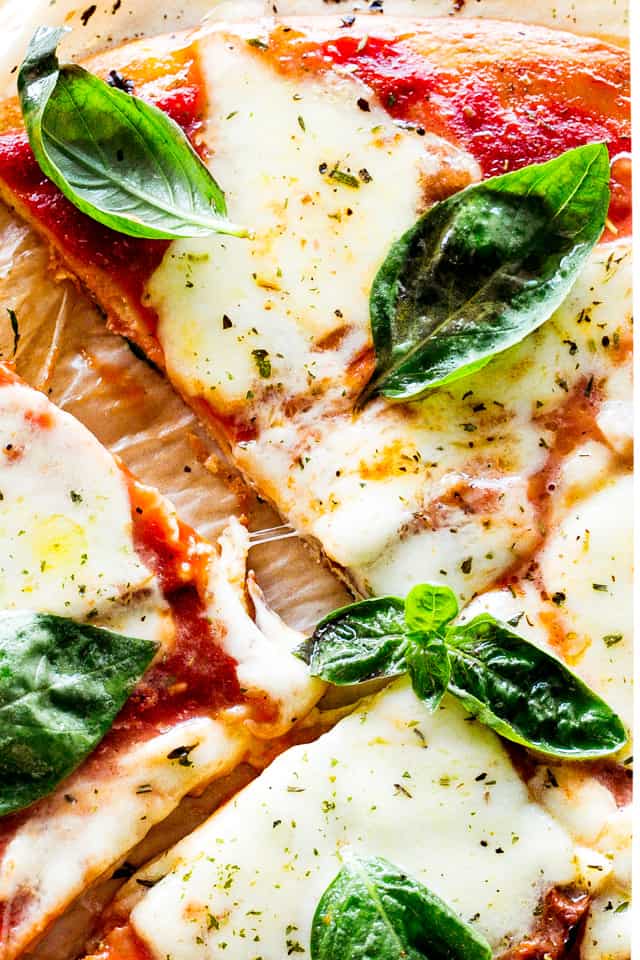 Ingredients For Keto Pizza
Dive into a pizza experience that's both delicious and keto-friendly. With the following ingredients, we will make a golden and crispy crust made with a blend of mozzarella, cream cheese, and almond flour, coming together to create a base that's rich in flavor.
Shredded Mozzarella Cheese: Acts as a base for the crust, giving it structure and cheesy flavor.
Cream Cheese: Adds creaminess and helps bind the crust ingredients together.
Almond Flour: Low-carb flour alternative that provides texture to the crust.
Egg: Binds the crust ingredients, aiding in structure and stability.
Dried Seasonings: Enhance the flavor of the crust.
Tomato Sauce: Offers a rich, tangy base for the toppings.
Fresh Mozzarella Cheese: Melts beautifully, adding a creamy texture.
Basil Leaves: Provides a fresh, aromatic finishing touch.
How To Make Keto Pizza
We are going to quickly make our fathead pizza dough and then top that with a few favorites like, tomato sauce, melty cheese, and fresh basil.
Melt the cheeses: Melt mozzarella and cream cheese in a non-stick skillet over medium heat.
Add flour, egg, and seasonings: Stir in almond flour, egg, and dried seasonings until well combined.
Shape the dough: Transfer dough to parchment paper, cover with another piece of parchment, and roll into a 9-10 inch circle.
Bake: Remove the top parchment and transfer the dough to a baking sheet; bake at 400˚F for 10 minutes. If you see any bubbles forming on top of the pizza crust, remove it from the oven, poke it down with a fork, and continue to bake.
Pizza Toppings: Spread tomato sauce over baked crust and top with mozzarella slices; bake until cheese is bubbly.
Finish: Top with fresh basil leaves before serving.
Tips For Success
Allow the melted cheese to cool slightly before adding the egg to avoid scrambling.
Coconut flour can replace almond flour; if you choose to go with coconut flour, use two eggs and reduce the amount to 1/3 cup of flour.
The thinner the crust, the crispier it will be; use a rolling pin or hands to spread it evenly.
Always prick the dough with a fork to prevent bubbling during baking.
How To Serve Keto Pizza Margherita
Serve the keto pizza hot from the oven to enjoy its crispy crust and melted cheese at its best. It pairs wonderfully with a fresh salad or low-carb sides, making it a complete meal. Here are some of my favorite pairings for pizza:
Storing Leftovers
Fridge: Keto pizza is best enjoyed fresh, but leftovers can be stored in an airtight container in the refrigerator for up to 3 days. Reheat in the oven to retain the crust's crispiness and revive the flavors.
Freezer: Freeze the fathead dough for up to 2 months, or keep it in the fridge for 1 week.
More Keto Recipes
ENJOY!
Keto Pizza
Delicious low-carb Keto pizza topped with tomato sauce, fresh mozzarella, and basil leaves. You're going to love this easy, guilt-free Keto pizza recipe!
Ingredients
For the Fathead Dough
1½

cups

part skim shredded mozzarella cheese

¾

cup

almond flour

2

tablespoons

cream cheese

1

large

egg

½

teaspoon

garlic powder

½

teaspoon

dried oregano,

you can also use dried rosemary, thyme, etc.

½

teaspoon

salt

¼

teaspoon

fresh ground black pepper
For the Keto Pizza
¼ to ⅓

cup

tomato sauce or pizza sauce

4

ounces

fresh mozzarella,

cut into 4 slices

4

fresh basil leaves,

you can use less or more

grated parmesan cheese,

for garnish, optional,

dried oregano,

or other seasonings, for garnish, optional
Instructions
For the Fathead Dough:
Preheat the oven to 400°F

Add shredded mozzarella cheese and cream cheese to a non-stick skillet; heat over medium heat and stir until melted. Remove from heat and let stand 30 seconds.

Stir in the almond flour, egg, garlic powder, dried seasonings, salt, and pepper; continue to stir until thoroughly combined.

Transfer the dough to a parchment paper-lined surface. I used my kitchen counter.

Add another piece of parchment paper over the dough. Take a rolling pin and place over the top parchment paper; start rolling into a circle until the dough is thin and spread out to about 9 to 10 inches.

If you do not have a rolling pin, wet the palms of your hands with cooking spray and press out the dough into a thin round.

Remove the top parchment paper and slide the dough (with the bottom parchment paper) onto a baking sheet.

Prick the dough all over with a fork and then bake it in the oven for 10 minutes. If you see any bubbles forming on top of the pizza crust, remove it from the oven, poke it down with a fork, and continue to bake.

When the pizza crust is done baking, remove it from the oven and let it rest for a minute.
Prepare the Keto Pizza:
Spread a thin layer of tomato sauce over the pizza crust and top it with slices of mozzarella cheese.

Bake for an additional 7 to 8 minutes or until the cheese is melted and pizza is bubbly.

Remove from oven, top with fresh basil leaves, sprinkle with parmesan cheese and oregano (if using) and serve.
Notes
To prevent a scrambled egg, please let the cheeses cool for a bit before stirring in the egg.
If you want to use coconut flour in place of almond flour, add in 2 eggs instead of 1, and use just 1/3 cup coconut flour.
When rolling out the dough, know that the thinner you roll it out, the crispier the crust will get.
If you do not have a rolling pin, wet your hands with cooking spray and press out the dough into a thin round.
Do not forget to poke holes in the dough; otherwise it will bubble up.
Lastly, this pizza is best straight out of the oven. However, the unbaked fathead dough can be kept in the fridge for a week. You can also freeze it for up to 2 months.
Nutrition
Serving:
1
slice
|
Calories:
237
kcal
|
Carbohydrates:
5
g
|
Protein:
15
g
|
Fat:
17
g
|
Saturated Fat:
6
g
|
Cholesterol:
65
mg
|
Sodium:
565
mg
|
Potassium:
88
mg
|
Fiber:
1
g
|
Sugar:
1
g
|
Vitamin A:
410
IU
|
Vitamin C:
0.7
mg
|
Calcium:
355
mg
|
Iron:
1
mg
Nutritional info is an estimate and provided as courtesy. Values may vary according to the ingredients and tools used. Please use your preferred nutritional calculator for more detailed info.