This juicy stuffed pork loin filled with smoky bacon, mushrooms, spinach, and cream cheese is full of flavor and slow roasted until it cuts like butter. It's a delicious dinner recipe that's easier than it looks!
Why You'll Love This Stuffed Pork Loin Recipe
This recipe for Stuffed Pork Loin is unbelievably easy and SO tasty. A simple pork loin transforms into a gourmet masterpiece filled with savory ingredients, seasoned with a simple blend of spices, and roasted to perfection. Here's why you'll love it:
Easy to make. Don't you just love a main dish that looks this good, but takes the smallest amount of effort? 'Cause we sure do. This delectable stuffed pork loin roast is ready for the oven in 15 minutes.
Full of Flavor (and Stuffing!). With its mouth-watering filling prepared with bacon, tender veggies, and cream cheese, this stuffed pork loin is guaranteed to be irresistible, even to picky eaters.
Versatile. Served with mashed potatoes, a green salad, or your favorite pasta, stuffed pork loin makes a wonderful, hearty meal that's fancy enough for a special occasion, and easy enough for a weeknight dinner. Just make sure to make plenty because everyone will be asking for seconds!
Pork loin is a versatile cut that's perfect for cooking low and slow cooking. Try my other pork loin roast recipe, this Instant Pot pork loin, or my crock pot pork loin for more delicious ways to cook pork.
Is Pork Loin an Inexpensive Cut?
While tender cuts of beef can sometimes be a little pricey, pork loin, on the other hand, is ultra-tender and flavorful for a lot less money. Pork loin, also called a center loin roast, is a lean cut with a fat cap that makes it perfect for slow roasting. It's relatively inexpensive and you'll find it readily available in most butcheries and grocery stores.
What You'll Need
This stuffed pork loin recipe is as simple as can be to assemble, and has even simpler ingredients! Here are some quick notes on the important ones. Be sure to scroll to the recipe card for the full ingredient amounts and recipe instructions.
Bacon – Diced bacon adds some smoky, salty flavor to the stuffing.
Onion – I use a diced yellow onion, but you can use sweet, red, or white onions if you prefer.
Mushrooms – Chopped baby bella mushrooms give the filling a meaty, satisfying taste and texture.
Garlic – Mince or press fresh garlic cloves for the best flavor. If you need to, you can substitute garlic granules or dried garlic in a pinch.
Baby Spinach – A hint of green and some extra nutrition! You can't go wrong with a bit of baby spinach, or chopped up Swiss chard.
Herbs and Spices – Salt and pepper, of course, but the real stars of the spice blend are rosemary, garlic powder, and sweet paprika. If you prefer, switch out the sweet paprika for smoked to get some extra depth of flavor.
Cream Cheese – You'll want it softened to room temperature before you start.
Pork Loin Roast – Make sure to pick out a good cut, as this is the main part of the dish. Also make sure you're buying pork loin and not pork tenderloin. See below for more info.
Olive Oil – You can switch it out for any other mild oil, if desired.
Is a Pork Loin the Same as a Tenderloin?
No, pork loin and pork tenderloin, while sounding similar, are not the same thing. Pork loin is larger with more marbling, and a fat cap running along the top. Meanwhile, pork tenderloin is a smaller, narrower, and more delicate cut that's very lean, but also very tender and quick-cooking (see my pan seared pork medallions). Pork loin takes longer to cook.
When choosing a pork loin, look for one that is pinkish red, not pale, and not spotted with dark coloring. There should be some fat and marbling, but not an excessive amount. I used a four-pound loin for this recipe.
How to Butterfly a Pork Loin
Before you can stuff it, you'll need to butterfly your pork loin roast and pound it thin. This is easy to do using a sharp knife, a cutting board, and a meat mallet. Follow these steps to butterfly your pork:
Place the pork roast fat side up, with the short end toward you.
Position your knife about ¾" from the bottom of the roast, and cut through the pork loin horizontally, leaving about an inch uncut at the bottom.
Open the pork like a book, cover it with plastic wrap, and pound it with a meat mallet until it is about 1″ thick all over.
How to Make Stuffed Pork Loin
Okay, so let's talk about the cooking method! This simple process for stuffing and roasting pork is guaranteed to turn out tender and juicy, every time. Here's how it's done:
Prepare the stuffing. Sauté the diced bacon, followed by the onions and mushrooms until the veggies are cooked through and tender. Next, add the garlic and wilt in the spinach.
Stuff the pork loin. Follow the directions for butterflying your pork loin (detailed above and in the recipe card). Afterward, season with salt and pepper and spread the pork evenly with cream cheese, followed by a layer of the prepared filling. When you're ready, roll the pork up tightly, and secure it with kitchen twine.
Season the pork. Rub the outside of the roast with olive oil, and season it with the garlic powder, rosemary, and paprika.
Bake. Transfer the stuffed pork loin to a roasting pan and place it into the oven at 400ºF. Immediately turn the temperature down to 325ºF, and leave the pork to roast for about 1 hour and 20 minutes. Baste the roast a few times with the pan juices while it cooks.
Enjoy! Remove the roasted stuffed pork loin from the oven and let it rest on a clean cutting board for 15 minutes before slicing and serving. This lets the juices redistribute for the most succulent pork ever.
How Do I Cook a Pork Loin So It Doesn't Dry Out?
Lean pork loin can become tough, dry, and chewy when it's overcooked. I recommend roasting your loin with the fat side up, allowing the roast to baste in its own juices while it cooks. Sprinkling pork generously with salt prior to cooking can also help to break down the proteins and make it more tender.
Lastly, and most importantly IMO, please use an instant read meat thermometer to check for doneness as your roast nears the end of its cooking time. Pork is done when the internal temperature reaches 145ºF. Overcooking your meat is a surefire way to end up with a dry pork loin. See the next section for more recipe tips.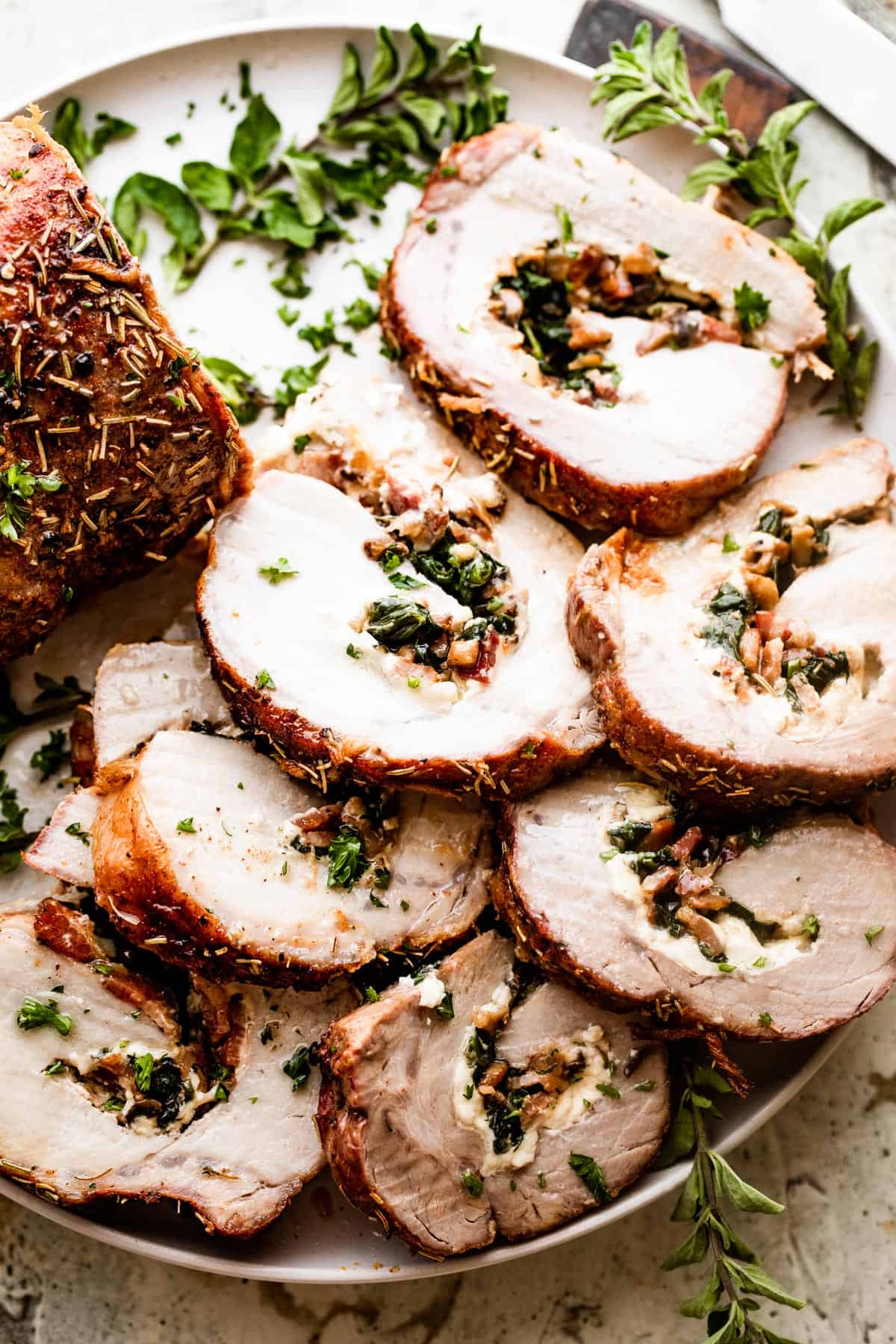 Tips for the Best Stuffed Pork Loin
Here are a few easy tips and tricks for success when making this absolutely delicious stuffed pork loin recipe:
Don't overcooking. One more reminder to be super careful not to overcook your pork, or it will become dry, chewy, and difficult to enjoy. Using a meat thermometer to check the temperature of your meat is the easiest way to avoid overcooking.
Cooking times may vary. Keep in mind that the cook time will vary depending on the size of your pork loin.
Change up the veggies. Feel free to replace the mushrooms and spinach in this recipe with your choice of fresh vegetables. Other good options are diced zucchini, chopped kale, bell peppers, or eggplant. Make it your own!
Serving Suggestions
Pork loin is a versatile dish that can be served with a wide variety of sides. If you're into carbs, you can't go wrong with rice, pasta, or potatoes. Low-carb sides are also great, however – especially flavorful and sweet veggies. Here are a few of my favorites!
How to Store and Reheat Leftovers
Fridge. For easy storage, wrap your leftover stuffed pork loin in aluminum foil or plastic wrap, or put it in an airtight container. Refrigerate for 3 to 4 days.
To Reheat. Bake the pork in a covered baking dish at 350˚F, until it is heated through. If you don't have a baking dish with a lid, cover with foil.
Freezer. Store the pork loin in an airtight container or freezer bag, and freeze it for up to three months. Thaw in the refrigerator before reheating in the oven.
ENJOY!
More Tasty Pork Recipes
Stuffed Pork Loin
Juicy, slow-roasted stuffed pork loin filled with bacon, mushrooms, spinach, and cream cheese is a flavor-filled dinner that's easier than it looks!
Instructions
Preheat oven to 400°F.

In a large skillet set over medium heat, cook the diced bacon for 2 minutes, stirring frequently.

Stir in the diced onions and cook for 3 minutes.

Add the chopped mushrooms and continue to cook for 5 more minutes.

Stir in the garlic; cook for 15 seconds.

Add baby spinach, season with salt and pepper, and cook for 2 minutes, or until spinach is wilted.

Remove from heat and set aside.

Butterfly the pork loin:

Place the pork roast fat side up, with the short end toward you.

Grab a sharp knife and position knife about ¾-inch from the bottom of the roast; cut through the pork loin horizontally, cutting toward the center of the pork, and leaving about 1-inch uncut. Spread the pork open like a book.

Cover pork with plastic wrap and pound with a meat mallet until it is about 1-inch thick.

Season the pork with salt and pepper.

Spread cream cheese all over the top of the pork.

Top with prepared spinach filling.

Roll up pork loin tightly, and secure with kitchen twine in two-inch increments.

Rub the outside of the roast with oil and season with garlic powder, rosemary, and paprika. Sprinkle with salt, if desired.

Transfer pork to a roasting pan.

Place in the oven and reduce temperature to 325˚F.

Roast for about 1 hour and 20 minutes, or until internal temperature of the pork registers at 145˚F. Baste a few times with the pan juices while it cooks. Start checking for doneness at around the 1-hour mark.

Remove from oven and transfer pork to a cutting board.

Let stand for 15 minutes before slicing.
Nutrition
Serving:
6
ounces
|
Calories:
360
kcal
|
Carbohydrates:
3
g
|
Protein:
44
g
|
Fat:
18
g
|
Saturated Fat:
7
g
|
Polyunsaturated Fat:
2
g
|
Monounsaturated Fat:
7
g
|
Trans Fat:
1
g
|
Cholesterol:
137
mg
|
Sodium:
209
mg
|
Potassium:
844
mg
|
Fiber:
1
g
|
Sugar:
1
g
|
Vitamin A:
1125
IU
|
Vitamin C:
4
mg
|
Calcium:
42
mg
|
Iron:
1
mg
Nutritional info is an estimate and provided as courtesy. Values may vary according to the ingredients and tools used. Please use your preferred nutritional calculator for more detailed info.
Categories: