If you can't get the Strawberry Acai Refresher from Starbucks off your mind, now you can make it at home! This easy copycat recipe blends refreshing strawberry flavors with hints of acai and passion fruit, perfect for summertime sipping.
Strawberry Acai Refresher Recipe | Starbucks Copycat
I cannot wait for you all to try this homemade Strawberry Acai Refresher. It's totally… well, refreshing! It's easy to make, bursting with sweet strawberry flavor, layered with hints of acai and passion fruit, and so delicious. Along with my hibiscus iced tea sparkler, this copycat recipe has been my go-to for poolside sipping all summer long. It just might be as close to the real Starbucks Strawberry Acai Refresher as it gets. I won't even tell you the amount of test runs it took to get it perfect (#bloggerlife), but it definitely paid off! I think you're gonna love it.
Why You'll Love a Homemade Strawberry Acai Refresher
Better than Starbucks. If you love Starbucks' Strawberry Acai Refreshers, you're going to love how easy it is to whip up your own at home. This copycat recipe tastes just as good.
Fresh flavors. One sip of this icy blend of sweet strawberry flavor with hints of acai and passion fruit, and you'll be hooked. They don't call it a "Refresher" for nothing! It's perfect for summertime sipping.
Healthy. A Strawberry Acai Refresher is big on flavor and light on calories! It's a fresh, tasty drink that's packed with antioxidants and zero fat. A bonus of making this iced drink at home is that you control exactly what goes into it.
What Are Starbucks Refreshers?
In a word? Awesome. Starbucks Refreshers are caffeinated cold drinks made from fruit juice, fruit purée, and green coffee extract. They're my favorite fruity alternative to my usual iced Americano in the summertime, that's still low in calories. Refreshers come in different flavors, and the base of the drink ranges from water to lemonade, and even coconut milk, as in the famous Starbucks Pink Drink. With just a few ingredients, you can make your very own versions of your favorite Refreshers at home! Color me obsessed.
Is a Strawberry Acai Refresher Healthy?
The Strawberry Acai Refresher is considered one of the healthier options on the menu at Starbucks, with no fat and 80-190 calories, depending on the size. It's also high in vitamin C thanks to the strawberries, with a "super fruit" kick from acai. Acai berries are a "super fruit" high in healthy fats and fiber, with 3x the amount of antioxidants as blueberries, per Healthline. Freeze-dried strawberry powder and acai powder, like the kind used in this recipe, retains most, if not all, of those healthy benefits.
Ingredients You'll Need
What's in a Strawberry Acai Refresher? Here's the short list of what you'll need to make a batch whenever a craving strikes. Be sure to scroll down to the recipe card for the full ingredient list and detailed instructions.
Strawberry Powder: Freeze-dried strawberry powder gives this refreshing cold drink its sweet strawberry flavor. I love using powders made from freeze-dried fruit that retain the berries' natural healthy vitamins and antioxidants.
Açai Powder: You'll also need acai powder for that delicious note of earthy acai berry flavor. Acai is a type of berry grown in South America that's jam-packed with good-for-you antioxidants.
Green Coffee Bean Powder: Also called green coffee bean extract, added to give your Refresher a caffeine kick. Green coffee powder is made from unroasted coffee beans and is rich in antioxidants. If you'd prefer to make your Refresher without caffeine, leaving it out won't impact the flavor.
Water and White Grape Juice: I make the base of my Refresher with grape juice and water. You can swap water for lemonade or coconut milk.
Passion Fruit Puree: For a burst of sweet, tropical flavor. I love having passion fruit purée on hand, it's also great to add to smoothies and cocktails, too.
Freeze-dried Strawberries: For serving.
How Much Caffeine Is in an Acai Refresher?
There are about 45mg of caffeine in a Strawberry Acai Refresher (give or take, depending on the size of the drink). When making yours at home, you can leave out the green coffee bean powder for a caffeine-free version.
How to Make a Strawberry Acai Refresher
You can make your Strawberry Acai Refresher in a large pitcher or bowl, or you can use a jar with a lid, which is perfect for shaking.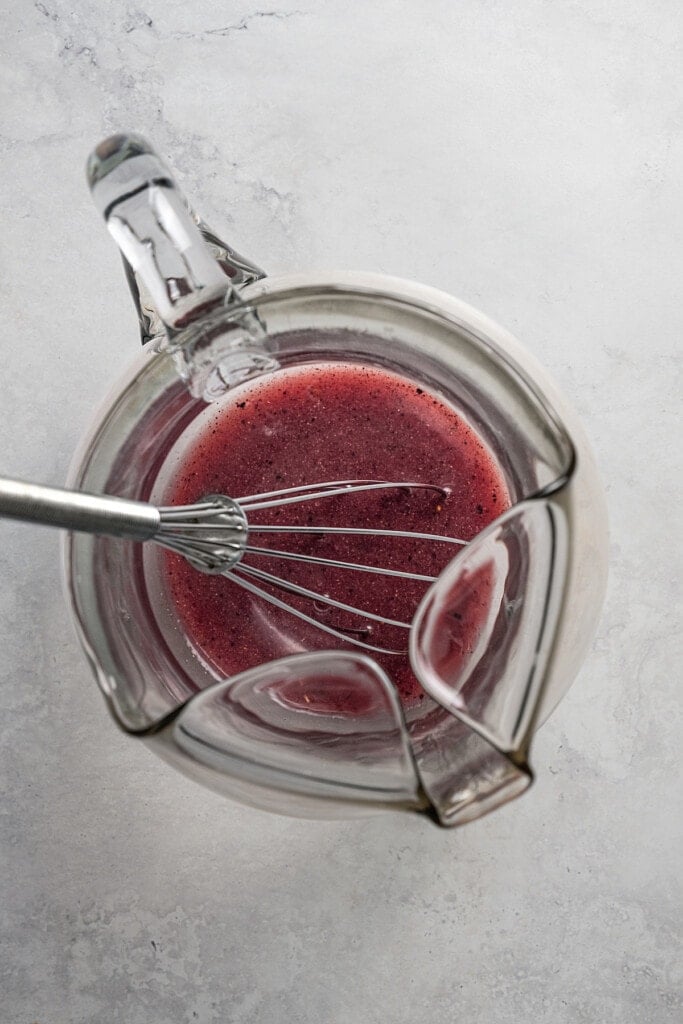 Make the base. First, whisk a bit of water into the strawberry powder, acai powder, and green coffee powder until smooth.
Combine the ingredients. Next, whisk in more water, along with white grape juice and passion fruit purée. Give everything a good final stir.
Serve over ice. Pour your Refresher over ice and garnish with freeze-dried strawberries, and get sipping!
Variation Ideas
Pink Drink. Turn this Strawberry Acai Refresher into a homemade Pink Drink by replacing the water in the recipe with coconut milk. Add a little coconut milk to start, and adjust the amount to taste.
Lemonade. To make a Strawberry Acai Lemonade Refresher, swap the water for lemonade.
Sparkling. Add some sparkle and fizz, and trade out regular water for sparkling water.
Frozen. For a frozen treat, combine your ingredients and add them to a blender with ice.
Sugar-free. Make your Strawberry Acai Refresher with sugar-free white grape juice, and use passion fruit concentrate in place of passion fruit purée. Note that using concentrate in place of purée will change the flavor of the drink.
Fresh Strawberries. In place of freeze-dried strawberries, slice up fresh strawberries when they're in season to add to the drink instead.
Sweetener. If you'd prefer your Refresher to be a bit sweeter, stir in sugar or a natural sweetener like honey or agave nectar.
What to Serve With an Acai Refresher
Canapés. Make homemade bruschetta by topping toasted baguette slices with fresh summer tomatoes, basil, and a drizzle of olive oil and balsamic vinegar.
Appetizers. What refreshing drink doesn't pair well with some tasty snacks? Try easy appetizers like these wonton chips with corn salsa or crispy Southwest egg rolls.
Grilling. We love sipping on a tall Refresher next to our favorite grilling recipes, like these Macedonian-style grilled chicken skewers.
Veggie Platter. Assemble a spread of your favorite crudités, like carrots and celery sticks, cucumber slices, cherry tomatoes, sliced bell peppers, and radishes. Serve with a bowl of taratur, hummus, or ranch dressing for dipping.
Salad. For a cold meal on a hot day, enjoy a satisfying chef salad washed down with a fruity Refresher! The famous La Scala chopped salad is another recipe I've been loving lately.
How to Store
Fridge: Store any leftover Refresher in the refrigerator for up to 2 weeks. I recommend keeping this drink covered in an airtight container, like a glass jar, and giving it a shake before serving. I wouldn't recommend storing Pink Drink versions with coconut milk added.
Freeze: If you'd like to freeze your Strawberry Acai Refresher for later, store it airtight in a freezer-safe container. It can be frozen for up to 3 months. Defrost the frozen juice in the fridge and give it a good shake or stir before sipping.
ENJOY!
More Summer Drink Recipes
Strawberry Acai Refresher
Enjoy this copycat Starbucks Strawberry Acai Refresher right at home! Our easy-to-follow DIY recipe ensures you can make this fruity, antioxidant-packed drink whenever possible.
Instructions
In a mixing bowl or a pitcher, combine the strawberry powder, acai powder, and green coffee powder; pour in a little bit of water and whisk to make a smooth slurry.

Slowly whisk in the remaining water, grape juice, and passion fruit puree. You can also use a glass jar with a lid and shake it well until completely combined.

Serve the Refresher in a drinking glass filled with ice and garnish with freeze-dried strawberries.
Notes
To Make A Pink Drink: If you want to make a Pink Drink, replace the water with coconut milk.
To Make A Lemonade Acai Refresher: If you want to make the Acai Refresher with lemonade, replace the water with lemonade.
Acai Powder: Acai is a berry from Brazil known for its antioxidant properties. The key ingredient in this drink is acai powder, which can be found in health food stores or online.
Adjust to Taste: One of the benefits of making this drink at home is that you can adjust the sweetness and flavor intensity to your liking. You might need a couple of tries to get it just right.
Add-ins: Feel free to get creative. Add fruits like blueberries, raspberries, or even some lemon or lime slices to switch things up.
Ice: For a more authentic feel, fill your glass with ice before pouring the refresher over it. This ensures a cool, crisp drink, just like at Starbucks.
Serving: Serve it in a large glass with a straw to get that Starbucks experience.
Storage: If you've made a large batch, cover it and store it in the refrigerator. When you're ready to enjoy, just pour the desired amount over ice and dilute with water or white grape juice as needed.
Cost-Effective: Making this drink at home can save you money in the long run, especially if it's a beverage you find yourself buying frequently.
Nutrition
Serving:
8
ounces
|
Calories:
112
kcal
|
Carbohydrates:
27
g
|
Protein:
1
g
|
Fat:
1
g
|
Saturated Fat:
0.04
g
|
Polyunsaturated Fat:
0.04
g
|
Monounsaturated Fat:
0.01
g
|
Sodium:
22
mg
|
Potassium:
184
mg
|
Fiber:
1
g
|
Sugar:
23
g
|
Vitamin A:
39
IU
|
Vitamin C:
1
mg
|
Calcium:
23
mg
|
Iron:
0.5
mg
Nutritional info is an estimate and provided as courtesy. Values may vary according to the ingredients and tools used. Please use your preferred nutritional calculator for more detailed info.