Iced Americano is a bold and refreshing iced coffee drink that you can make at home. All it takes is espresso and ice!
Homemade Iced Americano – Just Like Starbucks!
The peak of summer is here, and it's sweltering hot. I've been pouring my morning espresso shots over ice for weeks, so I thought I'd share this super-simple recipe with you! This type of iced coffee has a name: the Iced Americano. It's bold and refreshing, and you might recognize it from the menu at your local coffee house. However, before you make a run to Starbucks, why not give your barista skills a chance? With just two ingredients, an iced Americano is one of the easiest espresso drinks that you can make at home. The Iced Americano is a testament to simplicity and flavor fusion. It's the ideal coffee drink for those who prefer their coffee black but are looking for a cooler, lighter option.
Why You'll Love This Iced Americano Recipe
So easy! I love my coffee house iced coffees, but why wait in line and pay the extra money when an iced Americano is this easy to make at home?!
Bold flavor. This simple drink is as refreshing as it is bold, with the rich bitterness of espresso. If you love black coffee, you're going to LOVE this iced version.
Customizable. Take the edge off with a little sweetener or syrup, add a splash of milk or cream, or add a little flavoring to make your iced Americano exactly how you like it.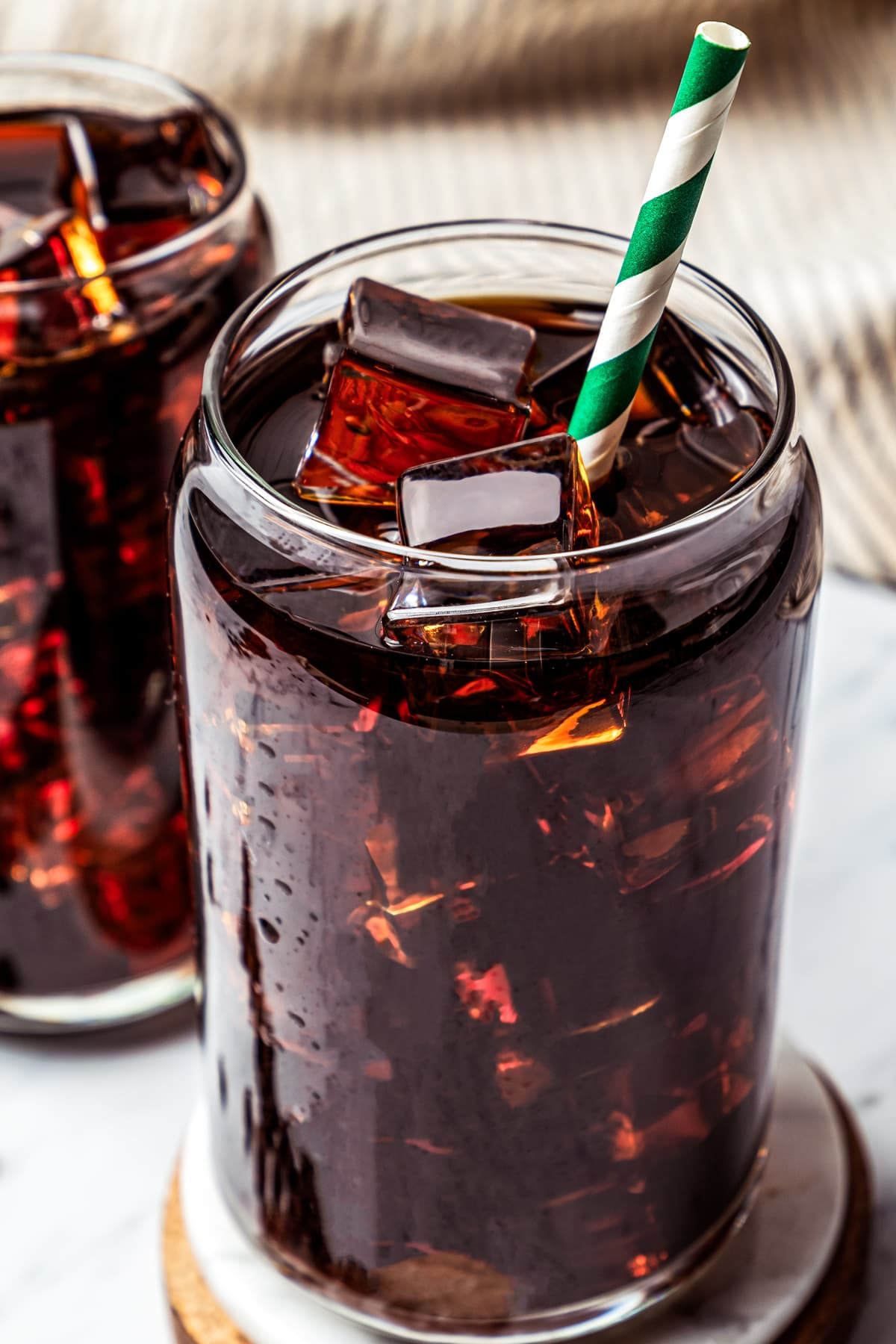 What Is an Americano Coffee?
A classic Caffè Americano is a hot coffee drink made from a shot or two of espresso diluted with hot water. It's similar to black coffee in that it doesn't include milk (this would make it more like a latte). An iced Americano is simply a regular Americano served over ice. Fun fact: Americano is Italian for "American coffee" and dates back to WW2. American soldiers found traditional Italian espresso too strong and would ask cafes for a watered-down version!
What Does It Taste Like?
An iced Americano tastes similar to regular iced coffee, served black. Espresso gives it a strong kick and a slightly bitter taste (nothing a bit of sweetener can't fix, though). Iced Americano is a cold, refreshing iced coffee that's perfect for the summer months. If you aren't a fan of strong coffee, however, you might prefer my coffee frappe recipe instead.
How to Make Espresso
The most important part of an iced Americano is the brewed espresso. To make proper espresso, you'll need espresso roast coffee. You won't get that bold, rich flavor without it. Good options are the roasts from Starbucks or Illy. Once you have your coffee grinds, you can choose your espresso brewing method.
What if I Don't Have an Espresso Machine?
Obviously, an espresso machine is the first choice, and it's the method I use. But there are plenty of ways to prepare espresso without a machine. Check-it:
Moka Pot: Bialetti is the popular brand name for a stovetop moka pot. It's a classic Italian design that's easy to use and makes good, strong espresso.
French Press: Making French Press espresso is quick and easy, or you can also try this new cold brew French Press.
Manual: A portable, manual mini espresso maker is much more affordable than a big countertop machine, and it's easy to use.
Instant Espresso: If you don't have an espresso machine or any of the above tools, you can also make this recipe using instant espresso.
How to Make an Iced Americano
Using an espresso machine or one of the methods above, brew your espresso according to the manufacturer's directions for the method you're using. Afterward, divide the ice between two glasses and pour the espresso over the ice. It's as easy as that! You can then top up your espresso with cold water to your taste or leave it as is. See below for more serving ideas.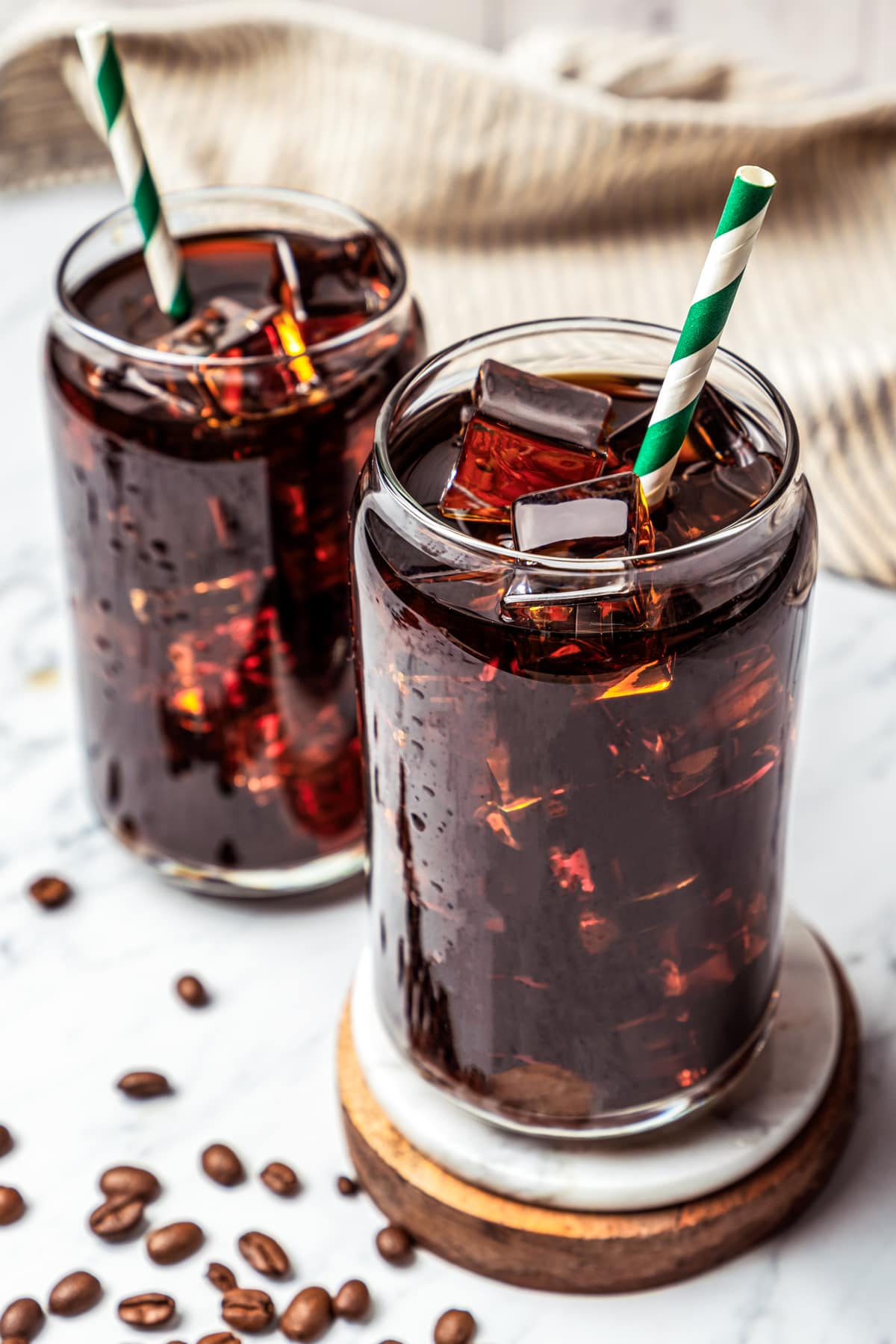 Tips for Success
Use freshly made espresso. It's fine to use hot espresso, as it cools down quickly once it hits the ice.
Adapt the strength. Since an iced Americano is stronger than regular iced coffee, I recommend starting with 2 ounces of espresso and adding more to your preference. You can also add water to dilute the espresso to taste. FYI, a standard shot of espresso is typically about 1 ounce, and a double shot is 2 ounces.
Don't water it down too much. Keep in mind that the ice will water down the espresso as it melts. Avoid adding too much water to the iced espresso right away so that you don't end up with watered-down coffee. I personally never add water – just extra ice.
Common Questions
Do you put milk in an Americano?
Traditionally, caffè Americano comes without milk or additives. That being said many people will add milk or sugar to preference.
Is an iced Americano stronger than iced coffee?
Yes, espresso is higher in caffeine with a more robust coffee taste than regular coffee, so an iced Americano is stronger as a result.
What's the difference between an iced Americano and cold brew?
Iced Americano is made by pouring hot espresso over ice, while cold brew is prepared by steeping ground coffee in cold water.
Serving Suggestions
Traditionally, an iced Americano is served black, but it's totally up to you to add any extras you'd like. Try these easy serving suggestions:
Milk. Serve your iced Americano with a little bit of milk, or your choice of dairy-free alternative, like almond or oat milk. If you add too much milk you'll wind up with an iced latte, but don't let that stop you!
Sweetener. Stir in a little sugar to taste, or use your favorite sugar-free sweetener to take away some of the bitterness.
Syrup. Recreate your favorite Starbucks flavors at home. Most major grocery stores carry ready-made coffee syrups, like hazelnut, vanilla, or caramel syrup, that you can add to your iced coffee.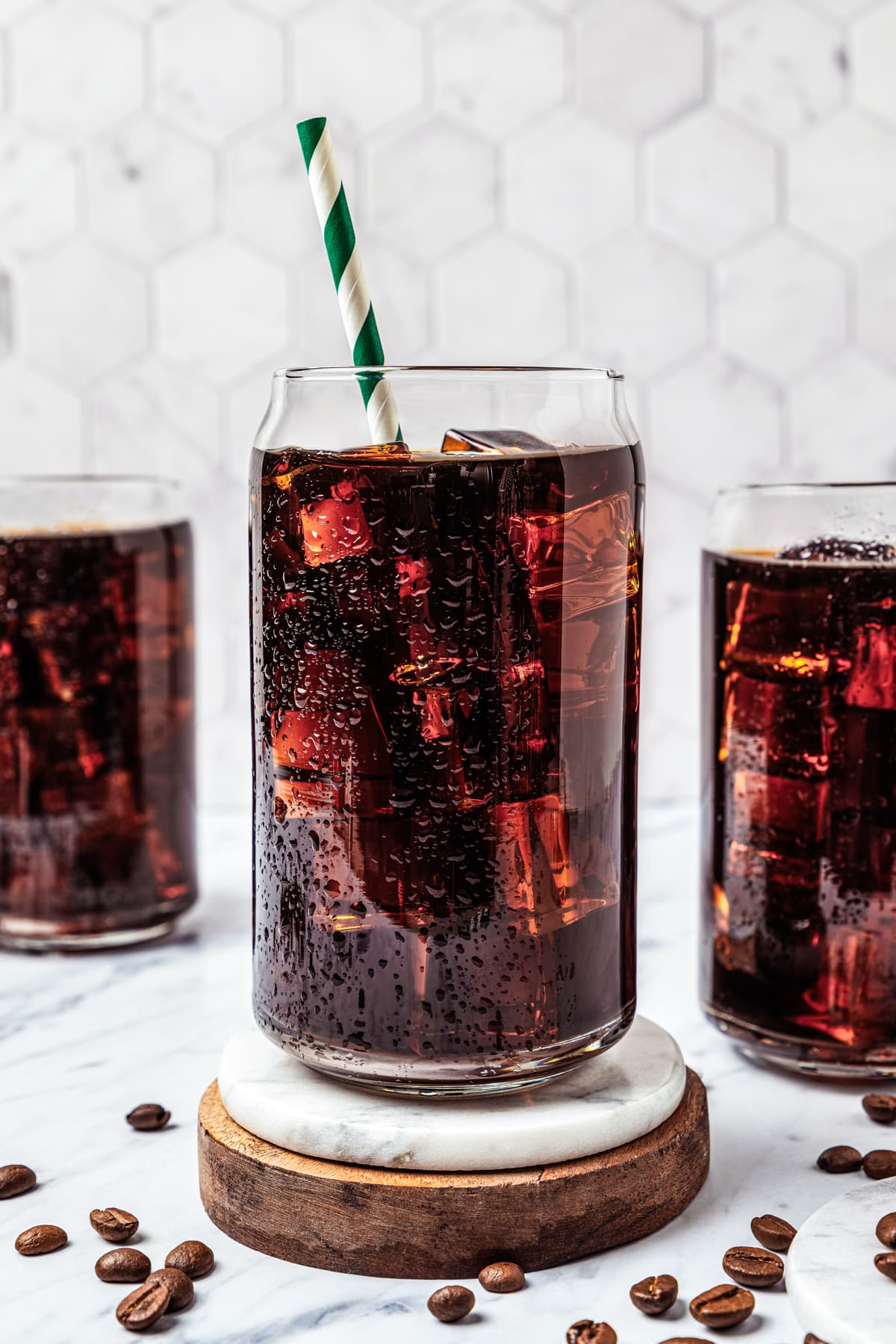 How to Store Leftover Coffee
Fridge. If you have leftover espresso, store it covered in the fridge cold brew-style. It will still taste fresh for 2-3 days, ready to use in more iced coffee drinks!
Freezer. I don't usually recommend freezing espresso once it's brewed. Espresso tastes best when it's fresh, so go ahead and brew a quick batch for the best possible flavor.
More Homemade Coffee Drinks to Try
Iced Americano
Iced Americano is a bold and refreshing iced coffee drink that you can make at home. All it takes is espresso and ice!
Ingredients
1

cup

ice,

divided

4

ounces

brewed espresso,

divided

6 to 12

ounces

cold water,

divided
Instructions
Divide up the ice between two glass coffee mugs.

Make the espresso in an espresso machine, and pour it over the ice.

Top with cold water and stir to mix everything together.
Notes
If you don't have an espresso machine, you can make Instant Espresso with instant espresso granules.
A classic Iced Americano does not include milk – that's a latte. An Americano is just an espresso made with water.
Add cold water. The amount is up to you, but typically, it's about 6 to 12 ounces (or more if you prefer a milder taste). I mostly stick with the ice, but if I add water, it's about 3 to 4 ounces because I like a strong coffee. The amount of water you add will depend on how diluted you want your drink to be.
Espresso Strength: You can make it as strong as you want, but I suggest starting with 2 ounces of espresso per serving and then moving up if you want to.

A single shot of espresso is about 1 ounce (30 ml). A double shot (often referred to as a "doppio") is roughly 2 ounces (60 ml).
Nutrition
Calories:
5
kcal
|
Carbohydrates:
1
g
|
Protein:
0.1
g
|
Fat:
0.1
g
|
Saturated Fat:
0.1
g
|
Polyunsaturated Fat:
0.1
g
|
Sodium:
14
mg
|
Potassium:
65
mg
|
Vitamin C:
0.1
mg
|
Calcium:
5
mg
|
Iron:
0.1
mg
|
Net Carbs:
1
g
Nutritional info is an estimate and provided as courtesy. Values may vary according to the ingredients and tools used. Please use your preferred nutritional calculator for more detailed info.