Steak Fajita Roll-Ups – Ditch the flour tortillas and make this amazing low-carb version of your favorite steak fajitas!

Isn't this the perfect Superbowl food, too? I think so. Put it on your food-to-do list.
Hey ya! Happy Fridaaaay! I am gearing up for a festive weekend. Unlike the rest of you, we're just getting started with Christmas as today we celebrate Christmas Eve! Some Christian Orthodox Churches still follow the old Julian Calendar, and for that reason we are always two weeks behind (if you will) with the Holidays. 🎇🎄
If this is something you have never heard of, I am happy to have contributed to that good ol' saying, "we learn something NEW every day".  😉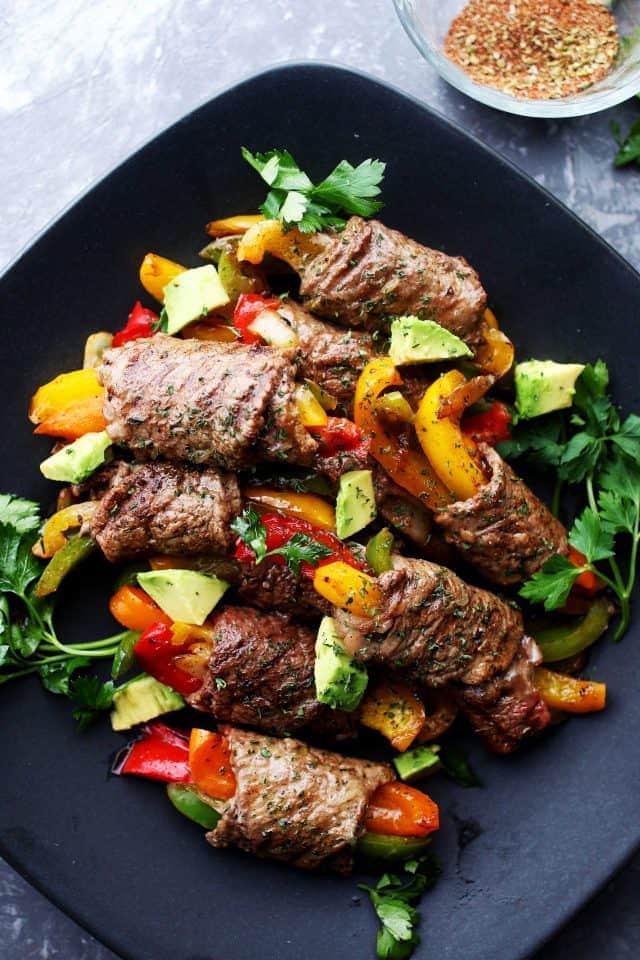 And on that note, please say HELLO to my favorite little appetizer, or sometimes a full on dinner, Steak Fajita Roll-Ups. This might even trump those perfect bites of Loaded Baked Potato Rounds. EEP!
So, like, a very very long time ago – seriously, like 20 years ago – I was on this low-carb kick for months and months. I avoided bread and starches at all costs and created all my faves low-carb-style, which is how THESE steak fajita roll-ups came to be. And trust me, if there was ever a time to get into steak, this is it!

I ate every kind of meat and chicken and fish under the sun, day in and day out, thus I had to come up with fun, enjoyable ways to prepare my food, including placing vegetables inside my steak and rollin' it up.
Before we get into the step by steps, I will need you to hop on over to my recipe for Homemade Fajita Seasoning and print it out, m'kay? Takes all of a minute to make it, assuming you have chili powder, cumin, paprika, oregano, salt, etc., on hand?
Once you've got that whole seasoning mix prepared, bust out the thinly sliced Sirloin Tip Steak (Carne Asada) and cut it into about 2-inches wide and 6-ish inches long strips. Season the strips with that fajita seasoning mix, set it aside and start slicing the bell peppers and onions. When you're done with that, please take out your grill pan, heat it up and cook the veg for a few minutes. Once that is finished, either let the peppers cool down a bit or use tongs to transfer them to the prepared steak strips. Roll up the steak, secure it with a toothpick, put it all back in the grill pan and cook it for about 2 minutes per side, or to desired degree doneness.

Next: plate it and serve! 🍴
P.S. Double the recipe if serving it as a complete meal.
ENJOY!

CRAVING MORE? SIGN UP FOR THE DIETHOOD NEWSLETTER FOR FRESH NEW RECIPES DELIVERED TO YOUR INBOX!
FOLLOW DIETHOOD ON FACEBOOK, TWITTER, PINTEREST AND INSTAGRAM FOR ALL OF THE LATEST CONTENT, RECIPES AND UPDATES.
TOOLS AND INGREDIENTS USED IN THIS RECIPE
Steak Fajita Roll-Ups
Steak Fajita Roll-Ups - Ditch the flour tortillas and make this amazing low-carb version of your favorite steak fajitas!
Ingredients
1

pound

thinly sliced sirloin tip steak

(carne asada)*

1/2

tablespoon

olive oil

3

colored bell peppers cut into thin strips

1

large yellow onion

, sliced

1

lime

, juiced

chopped fresh parsley or cilantro

prepared Guacamole for serving

, optional
Instructions
Prepare the fajitas seasoning mix and set aside.

Cut the steak into 2-inch wide by 6-inch long strips.

Rub the steak strips with some of the prepared seasoning mix and set aside.**

Heat olive oil in a grill pan over medium-high heat and add pepper strips and sliced onions to the grill pan; season with salt, pepper, and a sprinkle of the fajitas seasoning mix.

Cook for about 4 to 5 minutes, or until tender.

Remove from heat and let cool for a minute.

Top each slice of steak with the vegetables; roll up and secure with a toothpick.

Heat up the grill pan again and add the roll-ups to the pan.

Cook until browned, about 2 to 3 minutes per side.

Remove from heat, remove toothpicks, and transfer to a serving plate.

Squeeze lime juice over the roll ups and garnish with chopped parsley or cilantro.

Serve with prepared guacamole.
Recipe Notes
*If preparing as a complete meal for 4, please double the entire recipe. **Use the seasoning mix according to your taste. I always end up using about 1-tablespoon of it for this entire dish. WW SMART POINTS: 7