This post is sponsored by STAR FINE FOODS, maker of awesome Olive Oils, Vinegars, glazes, capers, anchovies, onions, and the list goes ON and ON! Thank YOU, friends, for supporting the brands that make Diethood possible!
These Mediterranean Spaghetti Squash Boats are an easy spaghetti squash recipe you'll love! Delicious & healthy spaghetti squash boats loaded with ground turkey, tomatoes, kale and feta cheese.
AN EASY LOW CARB DINNER IDEA WITH SPAGHETTI SQUASH
If you're wondering about my dinner game plan, again… like, you're curious if I just open up my fridge, pull out a bunch of ingredients and throw them into a pan/pot/spaghetti squash boats, you wouldn't be wrong. You know me so darn well!
Hi Hi! Happiest Wednesday to you all! I'm crossing my fingers that it will be a good one. I have been up all night cleaning because, the youngest little girl in this house decided it was way too long since the last time she had the stomach bug. Ugh. And, going forward, if I stutter or skip a word, don't mind me. I'm sleeping at my desk.
Also, yesterday I got through the day with Enrique Iglesias pandora station. I hadn't… uhm…bailé? Is that how you say it? Probably not. But yeah. I hadn't danced like that in ages, all by myself, in the middle of the living room. My husband doesn't know it, yet, but Enrique is my Hall Pass. 😉
Oh yes, of course. We're here for the food. Okay.
That right there is a big boat of wonderful that is going to change your eating-better life.
I can handle a dish like this because… let's be honest – if you know me at all, then YOU know that I can live on Mediterranean foods, or Mediterranean-inspired foods, day in and day out.
One of the main things that attracted me to STAR Fine Foods was their support of, and focus on the Mediterranean Diet. Olive oil has a well-deserved reputation for helping to reduce the risk of heart disease. Most of that reputation is from research into the Mediterranean Diet, so named because it is a collection of dietary habits followed by those in the region of the Mediterranean Sea.
Another Mediterranean favorite, Grapeseed Oil, is a great source of essential fatty acids and vitamin E, among other things. STAR Grapeseed Oil is mild and a good choice when cooking foods with subtle flavors, selecting a base for salad dressings or baking, but also frying and sauteing. If you are not a fan of the stronger flavor of Olive Oils, Grapeseed Oil should be your new bestie.
Now that I've edumacated us a bit about healthy cooking oils, thanks for coming!! mmkkay baiyyyy!
Kidding!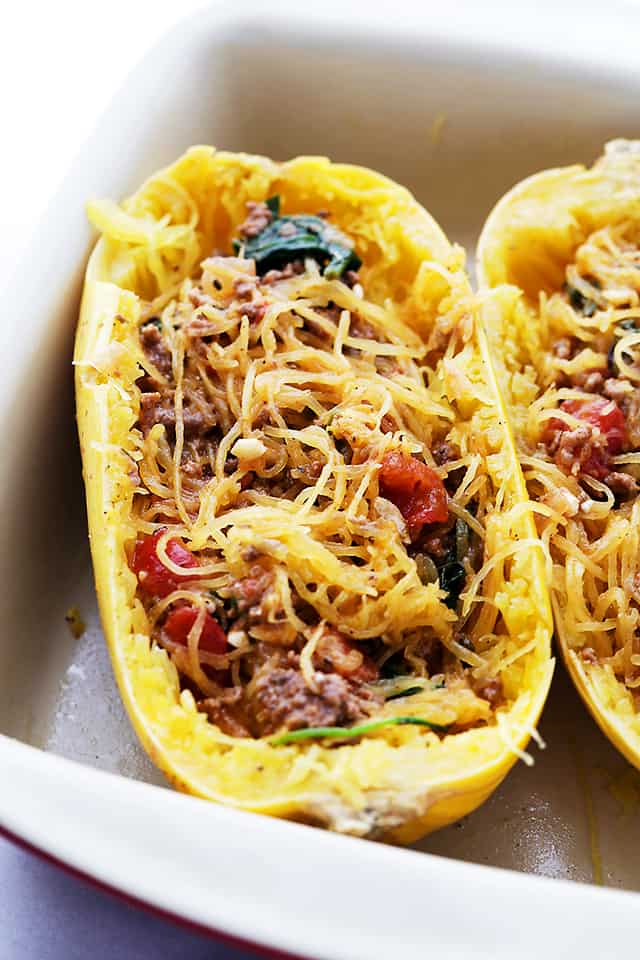 I'm not saying that you should fall in love with Spaghetti Squash Boats and Grapeseed oil. All I'm saying is that you WILL fall in love with 'em. For sure. No doubt.
My husband, the one that prays to pasta, especially spaghetti, wanted seconds and thirds after finishing up one of these boats. Filled with a fantastic mixture of ground turkey with tomatoes and KALE – *casually flips hair over shoulder* – this is like, the most perfect healthy dinner to ever exist. Best part is that even my picky 6 year old hadn't a clue about all the veg-wonders happening around her.
I'm telling you, this needs to be your dinner.
Tryyyyy it. Puhlease.
The End.
ENJOY!
For more information on STAR Fine Foods Products, please check them out on Facebook, Twitter,and Pinterest.
STAR Grapeseed Oil is available at select Walmart, Safeway, Albertsons, Save Mart, Vons and Food 4 Less stores and ONLINE.

CRAVING MORE? SIGN UP FOR THE DIETHOOD NEWSLETTER FOR FRESH NEW RECIPES DELIVERED TO YOUR INBOX!
FOLLOW DIETHOOD ON FACEBOOK, TWITTER, PINTEREST AND INSTAGRAM FOR ALL OF THE LATEST CONTENT, RECIPES AND UPDATES.
Mediterranean Spaghetti Squash Boats Recipe with Ground Turkey, Tomatoes, Kale and Feta
Low carb, healthy, easy to make Spaghetti Squash boats loaded with ground turkey, tomatoes, kale and feta cheese.
Ingredients
2

(about 1.5 pounds each) Spaghetti Squash

1/2

tablespoon

+ 2 teaspoons STAR Grapeseed Oil

, divided

1

yellow onion

, diced

3

garlic cloves

, minced

1-

pound

Extra Lean 99% Fat Free Ground Turkey

2

sprigs of fresh thyme leaves

(don't add the entire sprig - just the leaves)

salt and fresh ground pepper

, to taste

1

can

(14.5-ounces) Diced Tomatoes with Basil, Garlic & Oregano, undrained.

1

bag

(5 ounces) baby kale leaves

3/4-

cup

crumbled Feta

3/4-

cup

Shredded Low Moisture Part Skim mozzarella cheese

chopped fresh parsley

, for garnish
Instructions
Preheat oven to 400F.

Wash the outside of the squash, then slice it lengthwise and scrape out the seeds.

Brush the squash boats with 2 teaspoons Grapeseed oil and season with salt and pepper.

Transfer the squash boats to a microwave safe 9x13 baking dish, placing the squash face down.

Fill the dish with about an inch of water.

Remove from microwave and let stand 10 minutes, or until cool enough to handle.

In the meantime, prepare the filling.

Heat 1/2 tablespoon grapeseed oil in a nonstick frying pan; add onions, garlic, and ground turkey.

Using a wooden spoon, break up the meat, add thyme leaves and season with salt and pepper.

Continue to cook for 4 to 5 minutes, or until meat is browned and cooked through.

Stir in tomatoes and cook for 2 minutes.

Add kale leaves and continue to cook for 2 more minutes, or until kale is wilted.

Remove from heat and stir in crumbled feta cheese.

Taste for seasonings; adjust accordingly, and set aside.

Flip the spaghetti squash boats, take a fork and peel the spaghetti strands.

Add the spaghetti strands to the ground turkey mixture and gently mix until well combined.

Transfer squash mixture into the scraped out squash bowls and top with mozzarella cheese.

Place squash boats in a 9x13 baking dish (I use the same one that I used to microwave the squash).

Bake for 15 minutes, or until cheese is melted.

Remove from oven.

Garnish with chopped fresh parsley.

Serve.
Nutrition
Calories:
433
kcal
|
Carbohydrates:
29
g
|
Protein:
38
g
|
Fat:
19
g
|
Saturated Fat:
9
g
|
Cholesterol:
106
mg
|
Sodium:
724
mg
|
Potassium:
1100
mg
|
Fiber:
5
g
|
Sugar:
11
g
|
Vitamin A:
4215
IU
|
Vitamin C:
60.4
mg
|
Calcium:
454
mg
|
Iron:
5.3
mg
|
Net Carbs:
24
g
Nutritional info is an estimate and provided as courtesy. Values may vary according to the ingredients and tools used. Please use your preferred nutritional calculator for more detailed info.
Categories:
SIMILAR RECIPES:
How to Cook Spaghetti Squash in the Microwave