Traditional Scotch pancakes, also known as Drop Scones, are tender and fluffy, sturdy and sweet, and so easy to make! Drizzled with syrup or topped with butter and jam, they're a breakfast (literally) fit for a queen!
A Sweet and Simple Breakfast Idea
Nothing says comfort like a stack of pancakes. But, sometimes, instead of making regular pancakes, I like to make this classic drop scone recipe, passed down to the world by Queen Elizabeth herself! That's right, this classic recipe was literally given by the Queen of England to President Eisenhower during a visit between the two parties, and now it's been handed down to the rest of us (thanks, Internet!).
There's a good reason this simple little recipe has taken off! Like a good biscuit recipe, or a great butter cookie recipe, this drop scone recipe is made with the simplest of ingredients and an ultra-easy cooking method. But the results are heavenly!
No one can resist these cute little flapjacks, light and firm, and perfect for stacking, topping, and devouring!
What's the Difference Between a Drop Scone and a Pancake?
So what's the difference between drop scones and regular American pancakes? It kind of depends on who you ask! For one thing, pancake recipes can vary a lot, according to the cook. So can drop scone recipes. But in general, drop scones are sturdier than pancakes, firm enough to butter like an English muffin half.
They are also a bit smaller than a typical pancake – somewhere between normal pancake and silver dollar pancake size. Finally, drop scones usually include some sugar, while pancake recipes often skip that, making drop scones lightly sweet even without toppings.
What You'll Need
To make drop scones, you only need a few basic items. This is an easy recipe that's old-fashioned and wholesome. Here's the list:
Flour: All-purpose flour is fine in this recipe. Don't use self-rising flour, which will over-leaven the batter.
Cream of Tartar: Cream of tartar will react with the baking soda to make the drop scones light.
Baking Soda: Make sure to use baking soda, not baking powder.
Salt: Just a pinch.
Eggs: Two large, whole eggs bind the batter together.
Sugar: Granulated sugar is fine. It is said that Queen Elizabeth recommended substituting treacle (a thick, sticky syrup) in place of the sugar, though, so you could definitely try that! I also make these with this sugar substitute and they work out perfectly.
Milk: Whole milk is recommended for this recipe.
Butter: A little bit of melted unsalted butter helps keep the drop scones moist. You will also need a bit of butter (or oil) for cooking the drop scones.
Let's Make Drop Scones!
Making these cute little pancakes is a fun activity for a relaxed weekend morning. It does take some time to make the pancakes and flip them, so be sure to set aside more time than you think you'll need! That way you won't feel rushed.
Whisk the Dry Ingredients Together. In a big mixing bowl, whisk together the flour, the cream of tartar, the baking soda, and the salt.
Combine the Wet Ingredients. In a second mixing bowl, whisk together the eggs and the sugar, along with a cup of milk.
Mix Together the Wet and Dry Ingredients. Now, slowly pour the milk mixture into the dry ingredients, whisking them together until the batter is thick and smooth. (If the batter seems too dry, you can add more milk.) Finally, fold in the butter. The batter should be thick, smooth, and without lumps.
Cook the Drop Scones. Heat a small amount of butter (or oil) in a nonstick pan set over medium heat. I use my favorite 👉 griddle pan 👈 Once the pan is hot, drop the batter by the spoonfuls onto it. Cook them for 2 to 3 minutes, or until bubbles begin to appear on the surface of the cakes. Flip the drop scones and cook for 1 more minute, or until they are browned and done.
Keep the Drop Scones Warm. As you finish cooking each batch, place them on a plate and keep them covered with a clean tea towel while you cook the rest of the scones.
Tips for Successful Drop Scones
So there you have it! Old-fashioned drop scones, easy to make and so satisfying to eat. Be sure to check out these helpful tips, and happy cooking!
Butter and Oil: Use a little of both, at the same time, for cooking your drop scones. The butter adds flavor to the drop scones as they cook, while the oil allows the butter to cook at a high temperature without scorching.
To Beat or Not to Beat: If you are making small drop scones, you can beat the batter generously to remove any lumps. For larger pancakes, American-style, sift the dry ingredients to remove lumps and beat the batter briefly to avoid activating too much gluten.
Optional Mix-Ins: Mini chocolate chips, blueberries, chopped nuts, and other favorite mix-ins go perfectly in these drop scones, just like in regular pancakes!
Delicious Ideas for Serving
To serve, just add your favorite toppings! Butter is a favorite, and these little pancakes are delicious with nothing more than a bit of butter lightly spread on top. You can also do maple syrup, whipped cream, sliced fruit… whatever you like! If you feel like making something a little special, you could make one or more of these: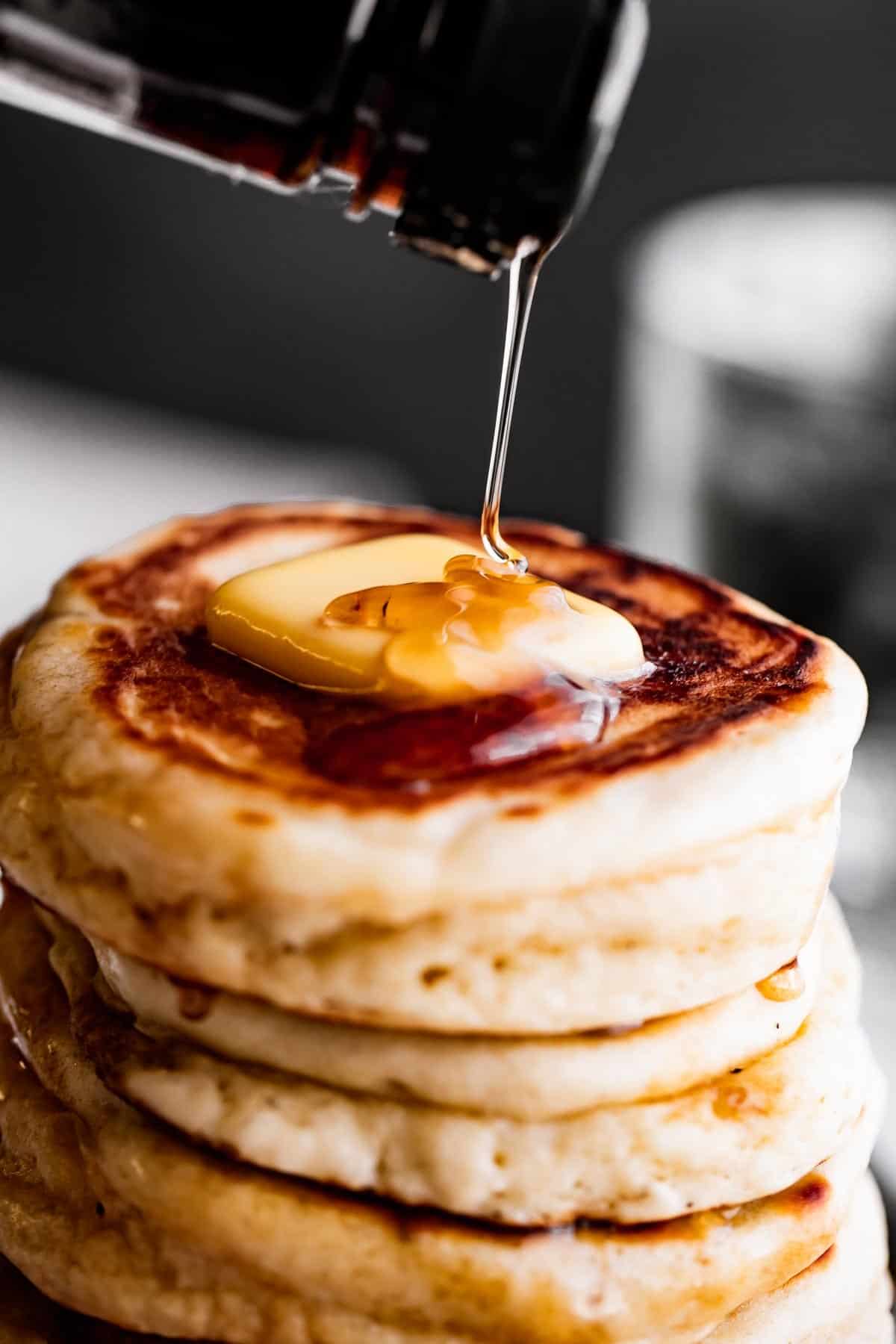 How to Store and Reheat Leftovers
Drop scones can be covered tightly and stored in the fridge for several hours.
Reheat in the oven at 350F for several minutes, until hot.
To store them longer than that, freeze them!
Can I Freeze Drop Scones?
Yes, these little pancakes freeze well! Just stack them in an airtight container with wax paper or parchment in between the layers, to prevent sticking.
Reheat from frozen.
ENJOY!
Drop Scones
Traditional Scotch pancakes, also known as Drop Scones, are tender and fluffy, sturdy and sweet, and so easy to make!
Servings :
18
drop scones
Instructions
In a large mixing bowl combine flour, cream of tartar, baking soda, and salt; whisk until incorporated.

In a separate bowl whisk together the eggs and sugar; add in 1 cup milk and whisk to combine.

Slowly pour the milk mixture into the flour mixture and whisk until combined and smooth.

The consistency of the batter should be thick and smooth; if it's too dry add more milk.

Fold in the butter. Batter should be thick, but smooth.

Add butter or oil to a nonstick pan and set over medium heat.

Drop spoonfuls of the batter onto the pan and cook for 2 to 3 minutes, or until bubbles begin to appear on the surface.

Flip, press them down lightly, and continue to cook for 1 more minute, or until browned.

Transfer to a plate and keep covered while cooking the rest of the scones.

Serve with jam, butter, berries, and/or syrup.
Nutrition
Serving:
1
drop scone
|
Calories:
115
kcal
|
Carbohydrates:
19
g
|
Protein:
3
g
|
Fat:
3
g
|
Saturated Fat:
1
g
|
Polyunsaturated Fat:
1
g
|
Monounsaturated Fat:
1
g
|
Trans Fat:
1
g
|
Cholesterol:
24
mg
|
Sodium:
138
mg
|
Potassium:
139
mg
|
Fiber:
1
g
|
Sugar:
3
g
|
Vitamin A:
98
IU
|
Calcium:
29
mg
|
Iron:
1
mg
|
Net Carbs:
18
g
Nutritional info is an estimate and provided as courtesy. Values may vary according to the ingredients and tools used. Please use your preferred nutritional calculator for more detailed info.
More Easy Breakfast Recipes