Chicken and Rice Fajitas in Foil – Incredibly delicious and easy to prepare fajitas with chicken, peppers, onions and rice all cooked in foil packets. Easy, quick and SO GOOD!
Hi YA! Happy Superbowl Sundaaaaay! I'm now leaning towards the Falcons… where are you at? I'm also leaning towards eating cake for breakfast, lunch, dinner and the rest of forever, but hey. we're all dreamers… 😉 Kidding! I'm sure they're all great!
I'm just looking forward to the Patriots' eye candy of a quarterback – that is what's going to make me watch. AND it's his 7th Superbowl?!? DAYYYY-um! Good on him.
In all honesty, though, you will most likely find me at the buffet table, trying each and every dish that was brought to the party. It's just how I roll, and it's what I call "research". In the end, it will benefit you and me, both.
This post is sponsored by STAR FINE FOODS, maker of awesome Olive Oils, Vinegars, glazes, capers, anchovies, onions, and the list goes ON and ON!
Thank YOU, friends, for supporting the brands that make Diethood possible!
Superbowl shmuperbowl, believe it or not, there's more important things to discuss. Like, the fact that February is Heart Health Month and our STAR Fine Foods' Extra Virgin Olive Oil is going to aid us in making those heart-healthy food choices.
EXTRA VIRGIN OLIVE OIL AND YOUR HEART
Extra Virgin Olive Oil is loaded with antioxidants, some of which have powerful health benefits. According to studies, a diet rich in olive oil could improve the arterial function in individuals and possibly reduce the risk of a stroke.*
Studies have also confirmed that a Mediterranean diet is healthy and cuts the risk of heart disease. This is mostly contributed to the exclusive use of olive oil in their diet because, monounsaturated fats found in Olive Oil help lower "bad" LDL cholesterol.**
Doesn't all that info make you want to drink a bottle of Star Fine Foods Olive Oil? Worked on me!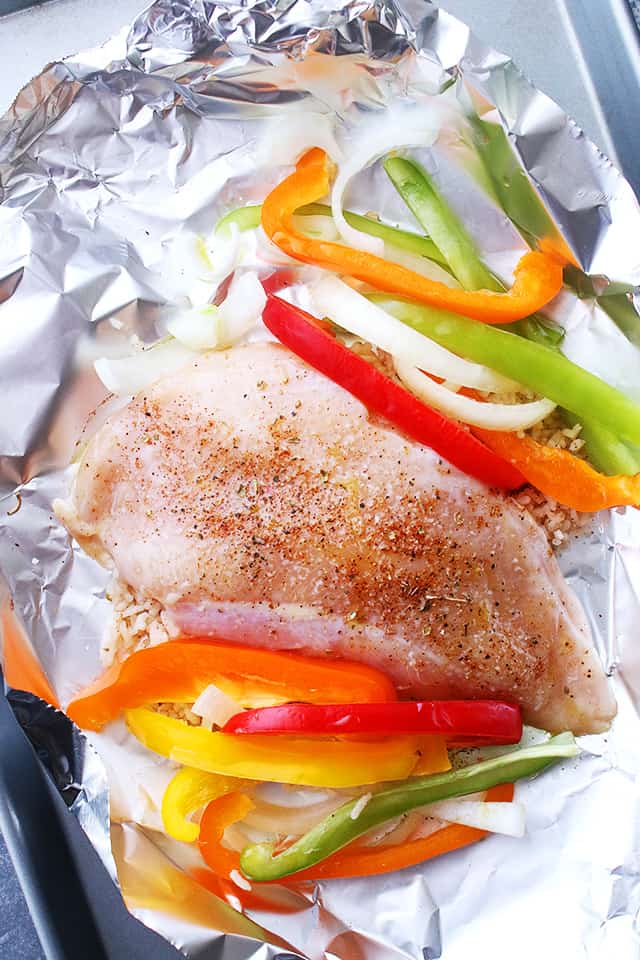 Speaking of Mediterranean: please welcome bell peppers, chicken, rice and EVOO to our fajitas in foil prep table! Cheese will also make an appearance…
Last year we celebrated this day with Tomato Pesto Salmon and Rice Recipe Baked in Foil, and today, something similar, but quite different, we're going to kick it off with this delicious recipe for Chicken and Rice Fajitas in Foil.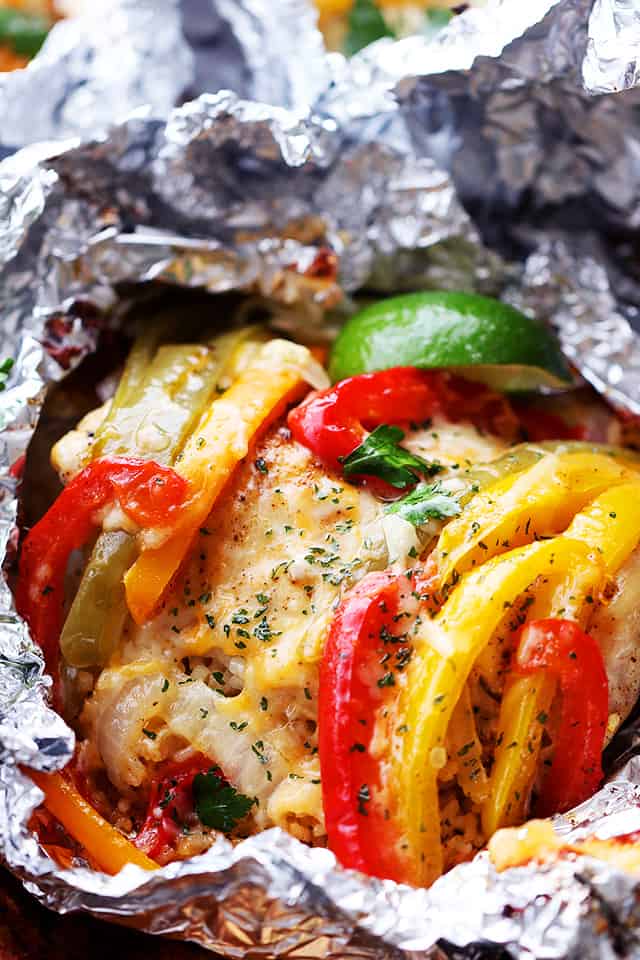 CHICKEN AND RICE FAJITAS IN FOIL
If you've come to my corner of the internet webs on a few occasions, then you definitely know my obsession with food cooked in foil. I love it *thiiiiis* much! It's healthy, it's dang delicious, AND, cleanup is a breeze. Which, in all honesty, is probably the best part. And the fact that it's healthy.
This nice fajitas in foil dinner calls for a few minutes of slicing which is my equivalent of kitchen therapy. No one is allowed to bother me during my time of focus while singing, "Don't wanna know know know know…"
I'm also going to have you make that Homemade Fajitas Seasoning Mix – it only takes a minute. If you don't want to use that one, any taco seasoning packet will do.
What I am mostly proud of here is the rice. Yep, the rice. It cooks together with the chicken. To me, this is magic. You just combine the rice with water + seasonings, and then transfer it to the foil. Chicken goes on top of the rice, followed up by the peppers and onions. 38-ish minutes later, this is what you're going to end up with: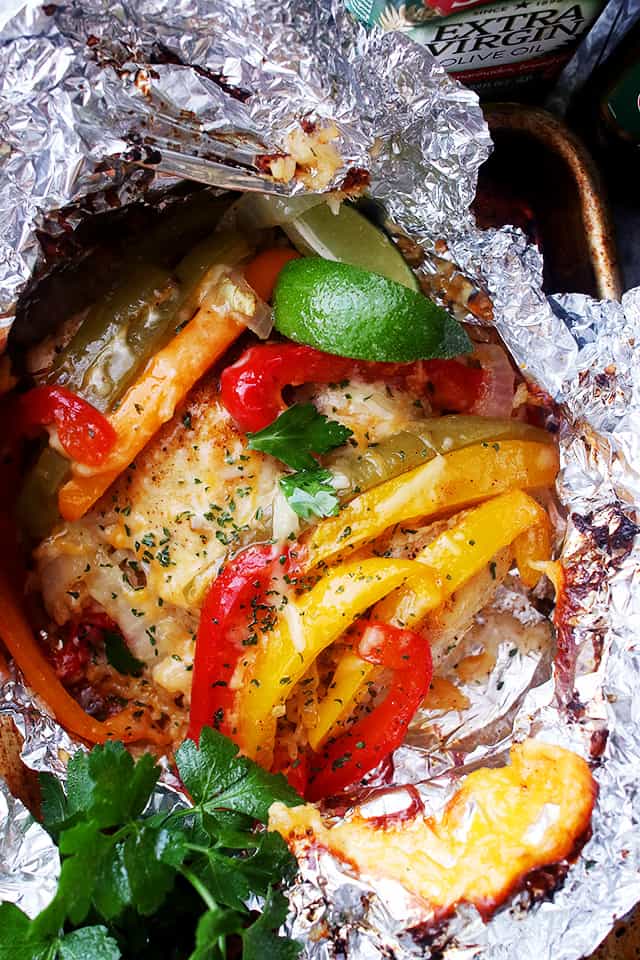 NOT BAD, eh?! This is a great dinner, friends. Get on it, stat!
For more information on STAR Fine Foods Products, please check them out on Facebook, Twitter, and Pinterest.
STAR Extra Virgin Olive Oil is available at retailers nationwide including Safeway, Kroger, Vons, Albertsons, Food 4 Less, Save Mart, Target, Walmart, Schnucks, Food Lion, Stater Bros., Raley's, Smart & Final, Bashas, King Soopers, Vallarta, Jewel, Smith's, Dierbergs, HEB and Ralphs and ONLINE.
ENJOY!

CRAVING MORE? SIGN UP FOR THE DIETHOOD NEWSLETTER FOR FRESH NEW RECIPES DELIVERED TO YOUR INBOX!
FOLLOW DIETHOOD ON FACEBOOK, TWITTER, PINTEREST AND INSTAGRAM FOR ALL OF THE LATEST CONTENT, RECIPES AND UPDATES.
TOOLS AND INGREDIENTS USED IN THIS RECIPE
WATCH HOW TO MAKE CHICKEN RICE FAJITAS IN FOIL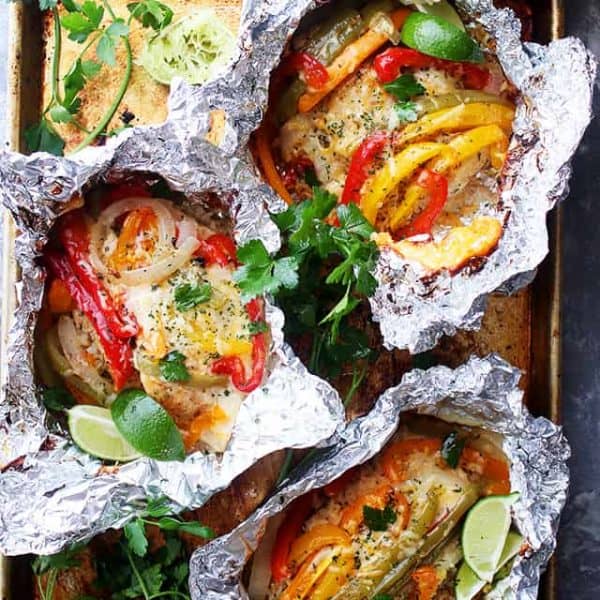 Chicken and Rice Fajitas in Foil
Incredibly delicious and easy to prepare fajitas with chicken, peppers, onions and rice all cooked in foil packets. Easy, quick and SO GOOD!
Ingredients
4

large sheets of foil

cooking spray

1

cup

white minute rice

1

cup

warm water

4

boneless

, skinless chicken breasts

salt and fresh ground pepper

, to taste

1

red bell pepper

, sliced

1

green bell pepper

, sliced

1

orange bell pepper

, sliced

1

onion

, sliced

1

tablespoons

STAR Extra Virgin Olive Oil

1/4

cup

shredded mild cheddar cheese

1/4

cup

shredded part skim mozzarella cheese

lime juice
OPTIONAL GARNISHES
sliced avocados

sour cream

cilantro
Instructions
Preheat oven to 400F.

Spray foil sheets with cooking spray and set aside.

Prepare the Fajitas Seasoning Mix.

Combine rice, water, and 1 tablespoons fajitas seasoning mix in a bowl; stir until well incorporated.

Using a slotted spoon, divide the rice mixture evenly over each foil.

Season chicken breasts with salt, pepper, and rub with some of the fajitas seasoning mix.

Place chicken over rice.

Arrange peppers and onions on the sides of each chicken breast.

Drizzle extra virgin olive oil over all the ingredients.

Combine shredded cheeses and divide the cheese mixture evenly over each chicken breast.

Fold the sides of the foil over the chicken, covering completely; seal the packets closed.

Transfer the foil packets to a large baking sheet.

Bake for 30 to 33 minutes, or until chicken's internal temperature reaches 165F.

Remove from oven and carefully open up the foils; put the packets under the broiler for 3 to 4 minutes.

Remove from broiler.

Squeeze lime juice over food.

Garnish and serve.
Nutrition
Calories:
324
kcal
|
Carbohydrates:
25
g
|
Protein:
30
g
|
Fat:
10
g
|
Saturated Fat:
3
g
|
Cholesterol:
84
mg
|
Sodium:
275
mg
|
Potassium:
637
mg
|
Fiber:
2
g
|
Sugar:
4
g
|
Vitamin A:
2170
IU
|
Vitamin C:
103.5
mg
|
Calcium:
125
mg
|
Iron:
2.2
mg
|
Net Carbs:
23
g
Nutritional info is an estimate and provided as courtesy. Values may vary according to the ingredients and tools used. Please use your preferred nutritional calculator for more detailed info.
Categories:
References:
*https://www.oliveoiltimes.com/olive-oil-health-benefits
**http://www.health.harvard.edu/staying-healthy/is-extra-virgin-olive-oil-extra-healthy