Cheesy Zucchini Lasagna Rolls: Delicious and cheesy zucchini-mixture rolled up in lasagna noodles! These are insaaaane!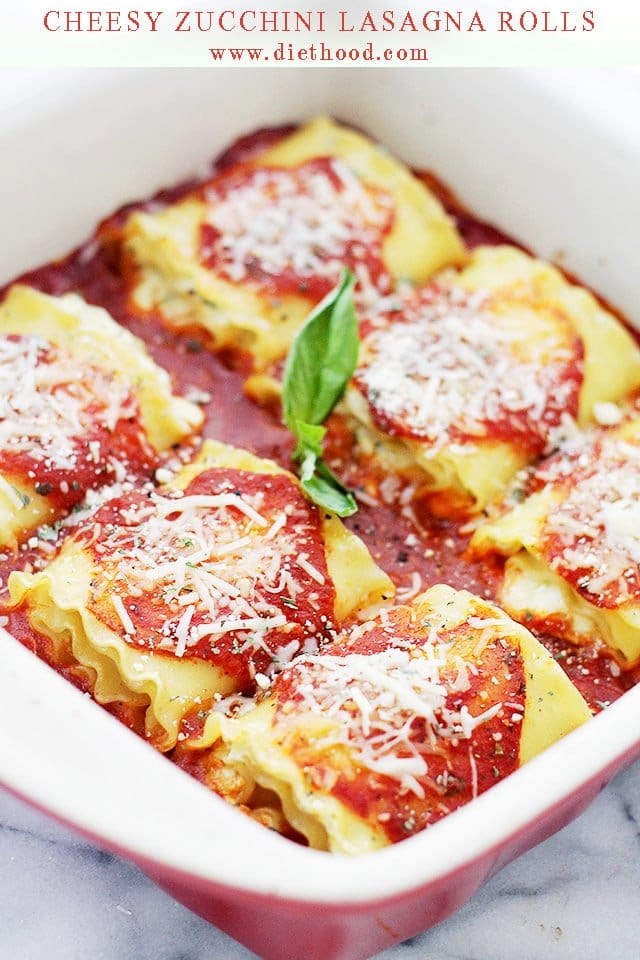 Hey, YOU! Happy Sunday!! How was Church? Synagogue? Temple? The couch??
My Sunday plans include sleeping-in and going to dinner with my besties. Can't WAIT! Not sure what I'm going to do with my time in between, but it will most likely involve zucchini and tomatoes.
Haven't you heard?? My parents' vegetable garden went buck wild and my 'rents think that all those veggies "will be good for MY blog!".
I've got tomatoes, cucumbers and zucchini just chillin' on every counter that you can find in this kitchen of mine.
Also? I peeled one of them cucumbers to make a Simple Cucumber Salad, but I totally forgot about it, so when I finally remembered, I went back and the poor cucumber was fighting an attack by the veg-fruit-flies. I had to pitch it – it kinda grossed me out. Gah!
So are we cool with having zucchini reappear on zee bloggy only 7 days after our last zucchini-recipe?? (I'm inserting YOUR "heck YES!"-comment right here) Thank goodness you agree!! By the way, those Zucchini Fritters are BE.YOND!!
But, look at this. Zucchini in cheese. It's like putting vegetables in cheese. That's, like, a win-win situation. It's like that one time that I spread Nutella all over my WHOLE WHEAT tortillas. You see what I did there? It's called balance.
See, I also have this thing with pasta. No. It's my husband that has this *thing* with pasta. The man could live on spaghetti, alone. And jaaaaaaars of tomato sauce. And, if you've been following me long enough, you know that we, the people at Diethood HQ, eat something-pasta thrice a week. Stuffed Shells, Cheesy Chicken Pasta Bake and Roasted Butternut Squash Lasagna (<—-that stuff is INCREDIBLE!) make their appearance more often than any other.
No lie, though – these Lasagna Rolls are going to reappear like every week until I run out of my zucchini-stash. Holy Mother, they were so good! I made them once, just to test them out, and I literally could not wait to make them again. Two days later, I whipped them up again, took a picture and inhaled 'em. Again. I was one happy clam.
I need to tell you. I think my ricotta-cream cheese mixture is da bomb. I don't like lasagna that is made with just ricotta. It's not creamy enough and it's missing an extra umph, you know?
I'm also a veggie-lasagna lover. I can definitely hang with veggies so long as they are accompanied with lots o' cheese. Noodles in between all of that is BONUS!
I could live off this. For reals.
ENJOY!
Cheesy Zucchini Lasagna Rolls
Delicious and cheesy zucchini-mixture rolled up in lasagna noodles.
Ingredients
1

jar

(28-oz) tomato sauce, divided

14

lasagna noodles

1

package

(8-oz) Fat Free Cream Cheese

1

cup

Light Ricotta Cheese

1

cup

Lasagna 4-cheese blend

2

whole eggs

2

garlic cloves

, minced

1

tablespoon

chopped fresh parsley

salt and fresh ground pepper

, to taste

1

cup

shredded zucchini

(about 1 whole zucchini)

1

cup

part-skim shredded mozzarella cheese
Instructions
Preheat oven to 375.

Spread half the spaghetti sauce over the bottom of a 9x13-inch baking dish; set aside.

Line two baking sheets with foil; set aside.

Cook Lasagna Noodles according to the directions on the package.

In the meantime, prepare the filling.

In a large bowl, combine cream cheese, ricotta cheese, Lasagna 4-cheese Blend, eggs, garlic, parsley, salt and pepper; stir until well blended.

Add shredded zucchini and stir just until incorporated.

Rinse and drain lasagna noodles.

Place lasagna noodles, one next to another, on previously foil-lined baking sheets.

Spoon cheese mixture over lasagna noodles, distributing evenly, and roll up tightly.

Place Lasagna Rolls seam-side down in previously prepared baking dish.

Top Rolls with remaining tomato sauce.

Sprinkle mozzarella cheese over Rolls.

Bake for 35 to 40 minutes, or until heated through.

Remove from oven and let cool 10 minutes.

Serve.
Nutrition
Calories:
286
kcal
|
Carbohydrates:
6
g
|
Protein:
24
g
|
Fat:
18
g
|
Saturated Fat:
7
g
|
Cholesterol:
124
mg
|
Sodium:
340
mg
|
Potassium:
211
mg
|
Fiber:
0
g
|
Sugar:
1
g
|
Vitamin A:
635
IU
|
Vitamin C:
7.3
mg
|
Calcium:
462
mg
|
Iron:
0.9
mg
|
Net Carbs:
6
g
Nutritional info is an estimate and provided as courtesy. Values may vary according to the ingredients and tools used. Please use your preferred nutritional calculator for more detailed info.
Categories: