This easy Bang Bang Shrimp recipe is out of this world delicious! Lightly breaded and fried shrimp are served with a sweet, spicy Asian-inspired sauce with a flavorful kick. You'll love these crispy shrimp as an appetizer or simple dinner idea.
Easy Homemade Bang Bang Shrimp
Certain dishes are just, well, special. The Bonefish Grill's Bang Bang Shrimp is one of them. Think of them as the buffalo wings of seafood: lightly crispy, deliciously spicy, and super-snackable. They make an absolutely killer appetizer – and I also like to make a double batch, paired with fresh fruit and coconut rice, for a special lunch or festive dinner.
What Is Bang Bang Shrimp
Bang Bang Shrimp is an Asian-fusion dish that is similar to buffalo chicken. Shrimp are lightly breaded, fried, and then topped with a creamy, sweet, and spicy sauce. The sauce is the "secret ingredient" that makes these shrimp in demand. But Bang Bang Shrimp is really simple to make at home, using easy-to-find ingredients! My version also uses cornstarch, rather than flour or breadcrumbs, for the breading mixture. This gives a light tempura-style texture to the shrimp, which pairs perfectly with the spicy sauce!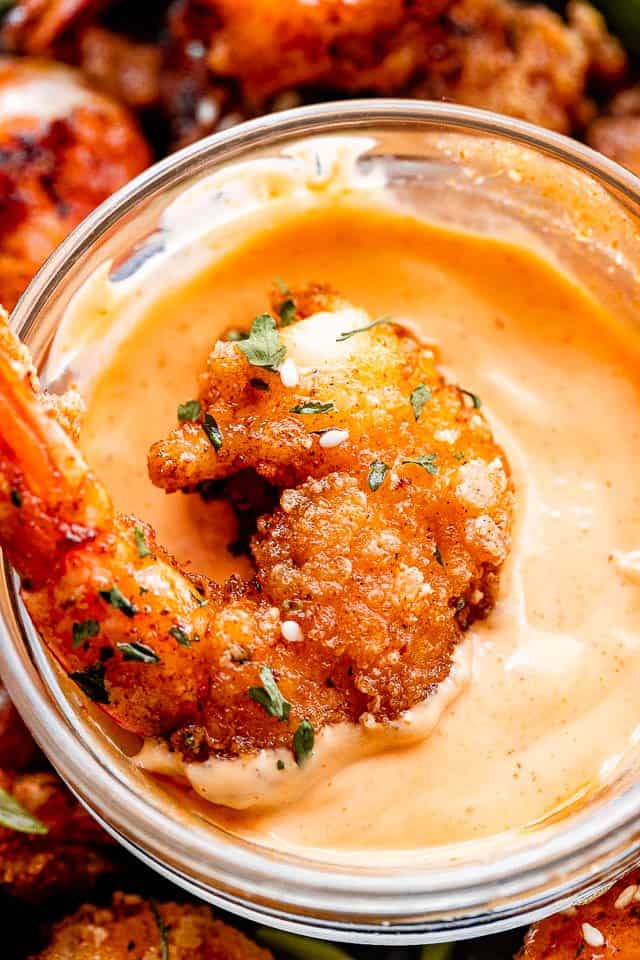 Ingredients For Bang Bang Shrimp
Canola Oil: I like to use this oil for frying, but you can substitute other high-heat oils like coconut oil. Be sure to check the packaging for temperature recommendations, as some oils scorch or degrade at high temps!
Fresh Raw Shrimp: These should be peeled and de-veined.
Kefir or Buttermilk: Rather than egg, Bang Bang Shrimp are coated in buttermilk before frying. I also like to use kefir, a tangy yogurt-like dairy product.
Cornstarch: For breading the shrimp. You can also use coconut flour to cut down on the carbs.
Cayenne Pepper and Garlic Powder: These add a little oomph to the shrimp batter! You can leave out the cayenne if you'd prefer a milder dish.
Salt and Pepper
Mayonnaise
Sweet Chili Sauce: This tasty condiment can usually be found in the ethnic/imported food aisle of your grocery store.
Sriracha Sauce: Spicy and deeply flavorful, this versatile hot sauce is a key ingredient and is usually stocked near the tabasco sauces OR the stir-fry sauces in your grocery store.
Lime Juice: Fresh is good, but bottled will work just fine as well.
How To Make Bang Bang Shrimp
Heat the Oil: Pour about 2 inches of oil (you can use vegetable oil or peanut oil) into a large, heavy skillet or saucepan. Heat the oil to about 375˚F. Use an Instant Read Thermometer to check the temperature.
Batter the Shrimp: Combine the shrimp with the kefir or buttermilk to coat. Mix the cornstarch, cayenne, garlic powder, salt, and pepper in a dish or on a plate. Shake off any excess buttermilk from the shrimp, and coat with the cornstarch mixture one by one.
Fry the Shrimp: As you batter each shrimp, lower gently into the heated oil with a slotted spoon or spider strainer. Fry for about 1 minute on each side, until golden brown. Don't crowd the pan, or the shrimp will not get crispy. Drain shrimp on a cookie sheet or platter lined with paper towels.
Prepare the Sauce: In a separate bowl, combine the mayonnaise, sweet chili sauce, sriracha sauce, and lime juice. Stir well.
Combine Shrimp and Sauce: Place shrimp on a clean platter or in a serving bowl. Top with sauce. If desired, toss gently to coat.
How To Make Air Fryer Bang Bang Shrimp
Preheat the Air Fryer to 385˚F.
Working in batches, place some of the breaded shrimp in a single layer inside the air fryer basket. Lightly spray with cooking spray and cook for 10 minutes, flipping the shrimp halfway through cooking. Do not crowd the basket – cook the shrimp in a couple of batches.
Tips For Success
Use a wide pan rather than a deep one. While it's definitely possible (and sometimes better) to deep-fry food in a large, deep fryer or stockpot, for this dish, I prefer to use a wide skillet or saucepan so that I can add and remove shrimp from the hot oil more easily. The sides of the pan should still be fairly high, however. The pan must comfortably hold two inches of hot oil, with extra room for adding and removing shrimp without spilling the oil.
Remember safety. Any time you fry food, be aware that oil spills can quickly catch fire on a hot stovetop, and cannot be put out with water. An oil-based fire should always be put out safely, either by smothering it with a metal item like a cookie sheet or pot lid, or by using a fire extinguisher. If the fire is very small, it may be possible to smother it with baking soda or salt.
Size 'Em Up. Shrimp are sold in various sizes, from very small salad shrimp to large, juicy "king prawns" or jumbo shrimp. Smaller shrimp will cook much faster, so be aware of that as you fry.
Skip the Prep. If peeling and deveining shrimp doesn't sound like something you want to do, check in with your grocery store fishmonger. They often prep seafood for free or for a very minimal charge per pound.
What Sides Go With Bang Bang Shrimp?
Storing Leftovers
To store leftovers, place in a plastic food storage bag, pushing out as much air as possible before sealing. Refrigerate for up to 3 days, or freeze for up to 6 months.
To reheat, first thaw shrimp in the refrigerator just until defrosted (if reheating from frozen). Then place on a cookie sheet and bake in a preheated, 375°F oven until just heated through, about 10 minutes or so.
More Shrimp Recipes
ENJOY!
Bang Bang Shrimp
A sweet and spicy appetizer of crispy, battered, deep-fried shrimp in a delicious Asian-inspired mayonnaise sauce.
Ingredients
For the Shrimp:
vegetable oil, canola oil, or peanut oil,

for frying

1

pound

raw shrimp,

peeled and de-veined, tails ON or OFF

½

cup

kefir or buttermilk

½

cup

cornstarch

¼

teaspoon

cayenne powder

¼

teaspoon

garlic powder

¼

teaspoon

salt

⅛

teaspoon

freshly ground black pepper
For the Bang Bang Sauce:
¼

cup

mayonnaise

3

tablespoons

sweet chili sauce

1

teaspoon

sriracha sauce

1

teaspoon

lime juice,

or to taste

chopped fresh parsley,

for garnish, optional

sesame seeds,

for garnish, optional

sliced green onions,

for garnish, optional
Instructions
In a large frying pan or deep skillet, add the oil, coming up about 2 inches on the sides. Heat oil to 375˚F.

In the meantime, place the shrimp in kefir or buttermilk to coat.

Combine cornstarch, cayenne, garlic powder, salt, and pepper in a separate bowl or plate.

Remove the shrimp from the liquid, shake off any excess, and coat the shrimp in the cornstarch mixture.

Add the coated shrimp to the hot oil and fry for about 1 to 2 minutes per side or until golden brown.

Remove shrimp to a paper towel-lined plate.

In a mixing bowl, stir together the mayonnaise, sweet chili sauce, sriracha, and lime juice.

Transfer the cooked shrimp to a serving bowl and garnish with parsley and sesame seeds.

Serve with the sauce. You can also drizzle the sauce over the shrimp.
Nutrition
Serving:
4
ounces
|
Calories:
316
kcal
|
Carbohydrates:
23
g
|
Protein:
24
g
|
Fat:
13
g
|
Saturated Fat:
2
g
|
Cholesterol:
295
mg
|
Sodium:
1286
mg
|
Potassium:
91
mg
|
Fiber:
1
g
|
Sugar:
8
g
|
Vitamin A:
62
IU
|
Vitamin C:
6
mg
|
Calcium:
202
mg
|
Iron:
2
mg
|
Net Carbs:
22
g
Nutritional info is an estimate and provided as courtesy. Values may vary according to the ingredients and tools used. Please use your preferred nutritional calculator for more detailed info.
Categories: