Avocado Egg Salad – Mayo-free, chunky and delicious egg salad with avocados, crunchy bacon, green onions, dill, lime juice and yogurt. This egg salad can be served as an appetizer, a side dish, or as a filling for those delicious sandwiches.
Avocado Egg Salad
Avocado Egg Salad is a delicious take on the traditional egg salad with the addition of creamy and buttery avocado. This Egg Salad is what I serve as a big ole entree for me, and me only! Me likey mucho.
Alright Alright Alright! Hallo, Monday! Hallo, my dear friends! Remember when your dad used to answer the phone with, "YELLOW?" Remember that!?
I used to think, "Oh my gosh, stop it dad, you're so ancient!"
The guy was like 38…
Uhm, yah… I'm like a year away from that number. Doesn't seem so ancient anymore, now does it? :-/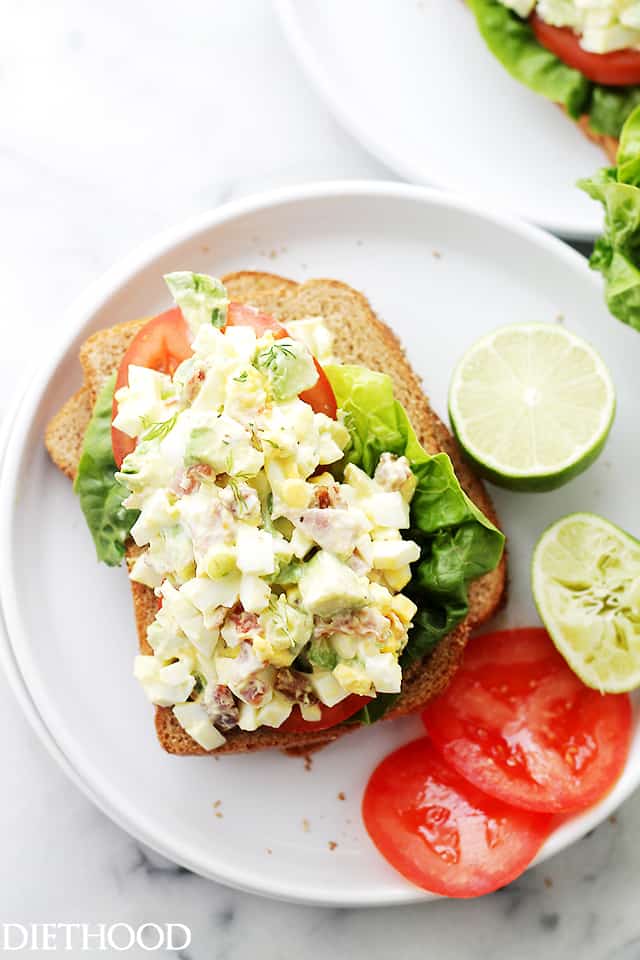 SO! Let's get this week started with:
HOW TO MAKE AVOCADO EGG SALAD
WITH Bacon. BOOM! Suddenly, our food-life seems complete!
We're keeping it simple today. Like, "it's Monday" type-of-simple. Just kick your feet up and enjoy.
Oh no, wait. This does involve a bit of chopping, so get your feet off the table and grab a knife. BUT don't be like me and sharpen thy knife, then forget that you sharpened it, and then go slicing up avocados and fingers all at the same time, m'kay? Don't be like me.
I eat avocados like it's my job. Every day I eat half of an avocado for lunch and sometimes I finish the other half for dinner. A sprinkle of salt and pepper with a squeeze of lime juice is all I need to devour my green and buttery friend.
However, sometimes my breakfast friends, eggs and bacon, love to get up all in that mix and make this girl a very, very happy gourmand.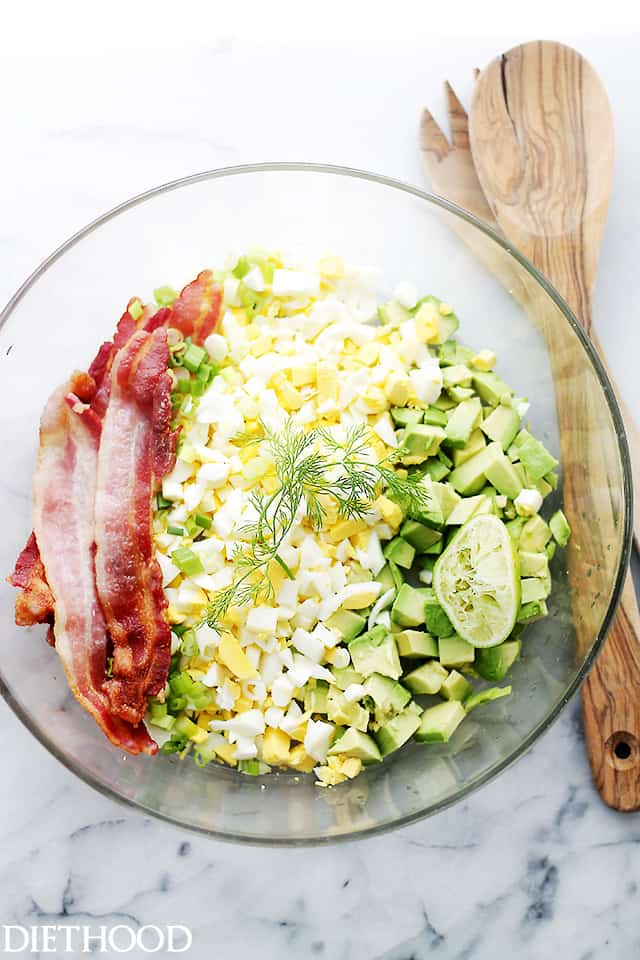 Before I toss the salad, I shake up a yogurt dressing with a little sour cream, some lime juice and dill – so good! Tangy and creamy, just as it should be, but without the mayo.
NOTES
I always think about putting ranch dressing on this salad. Sounds good, right? Ranch could always be the answer to all my foods. Like, french fries. YUM!
You might also consider adding chopped carrots, celery and capers, and take this salad to your aunt's potluck. Just a thought.
What I'm trying to say is that you should also try my Avocado Chicken Egg Salad – goooood stuff!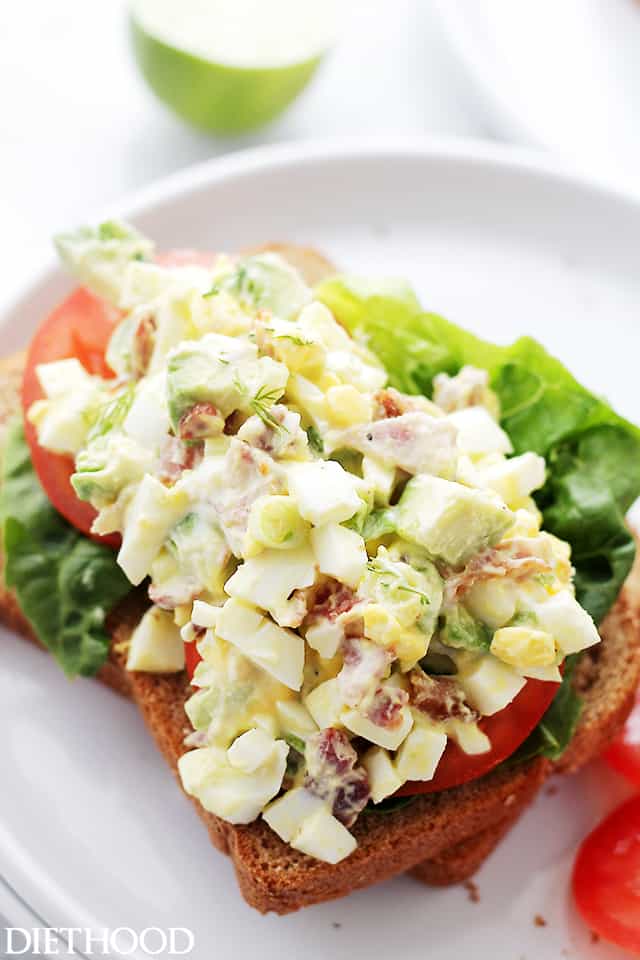 ENJOY!
Craving more? Sign up for the DIETHOOD Newsletter for a fresh serving of content delivered to your inbox! Follow Diethood on Facebook, Twitter, Pinterest and Instagram for all of the latest recipes and updates.
WATCH HOW TO MAKE AVOCADO EGG SALAD
Avocado Egg Salad
Mayo-free, chunky and delicious egg salad with avocados, crunchy bacon, green onions, dill, lime juice and yogurt.
Ingredients
4

large hard boiled eggs

, diced

1

avocado

, diced

2

green onions

, sliced into thin rounds

4

slices

of low-sodium bacon

, cooked to a desired crisp and crumbled

1/4-

cup

nonfat plain yogurt

1

tablespoon

low fat sour cream

1

whole lime

, juiced

1

tablespoon

snipped fresh dill

1/4

teaspoon

salt

1/8

teaspoon

fresh ground pepper

dill and crumbled bacon

, for garnish (optional)
Instructions
To "boil" eggs, place each egg in the cavity of a muffin tin and hard "boil" in the oven for 30 minutes at 325F.

Remove from oven and transfer eggs to ice water; peel and dice.

In a salad bowl, combine diced eggs, avocado, green onions, and bacon; set aside.

In a mixing bowl, whisk together yogurt, sour cream, lime juice, dill, salt and pepper; whisk until well combined.

Add yogurt mixture to the egg salad; stir until combined.

Garnish with dill and crumbled bacon.

Serve.

You can also spread the salad on 4 slices of bread; add tomatoes and lettuce to make a delicious egg salad sandwich.

Keep refrigerated.
Recipe Video
Recipe Notes
This egg salad can be served as an appetizer, a side dish or as a filling for sandwiches.
WW SMART POINTS: 9
Nutrition Facts
Avocado Egg Salad
Amount Per Serving
Calories 269
Calories from Fat 189
% Daily Value*
Fat 21g32%
Cholesterol 202mg67%
Sodium 371mg15%
Potassium 422mg12%
Carbohydrates 8g3%
Protein 11g22%
Vitamin A 395IU8%
Vitamin C 11.1mg13%
Calcium 76mg8%
Iron 1.2mg7%
* Percent Daily Values are based on a 2000 calorie diet.
Want To Save This Recipe?
SIMILAR RECIPES
BLT With Egg Grilled Cheese Sandwich
SUBSCRIBE TO GET FREE UPDATES & A FREE ECOOKBOOK!
GET AN EMAIL WHEN THERE'S A NEW RECIPE