A sweet collection of 8 Juicy Valentine's Day Steak Recipes? Yes, please! Treat yourself to one of these dreamy dinners, each one starring a different style of juicy, tender steak, well-seasoned and full of flavor. Cheers!
Nothing Says Love Like Steak!
When you are looking for the perfect Valentine's Day dinner, what do you think of? There are lots of wonderful recipes out there, from succulent chicken piccata to classic shrimp cocktail. But, for my money, nothing beats a steak dinner for two.
Plus, steak is truly easy and quick to cook! With just a few tips and techniques, you can easily make a restaurant-worthy meal in under half an hour, with no hassle. And, if you've had trouble in the past with your steak turning out tough or dry – no worries! These recipes are super simple and guaranteed to please!
P.S. Just don't forget our trusted steak's BFF, the Instant Read Meat Thermometer!
What Is the Easiest Steak to Cook?
You might think that a cheaper, more basic steak such as a chuck steak is the easiest to cook, but it's actually the opposite! Cheaper cuts like chuck steak can be very flavorful, but are tougher. For that reason, they tend to be a little bit more challenging, especially if you want them grilled or baked.
The easiest, quickest steaks to cook are tender, steakhouse-style cuts like ribeye, New York strip, porterhouse, and T-bone. Because these steaks are tender from the get-go, all you have to do is lightly cook them for a short time in a hot pan, on a grill, or in the oven (or air fryer! More on that in a minute!).
What to Serve on the Side?
If you do make a steak for Valentine's Day, you can't go wrong with a simple side dish or two that really let the flavor of your main dish shine. From crisp salads to satisfying pastas, there are all kinds of easy, healthy recipes you can make, to create the ultimate steak dinner. Here are a few fabulous ideas:
And, those are just the start! Serve what you love – everything goes with steak!
8 Juicy Valentine's Day Steak Recipes
So, without further ado, the recipes! Each one of these easy recipes is guaranteed to turn out juicy, flavorful, and beautiful – a feast for the senses. You'll fall in love with steak all over again. Maybe that's the true Valentine's Day romance!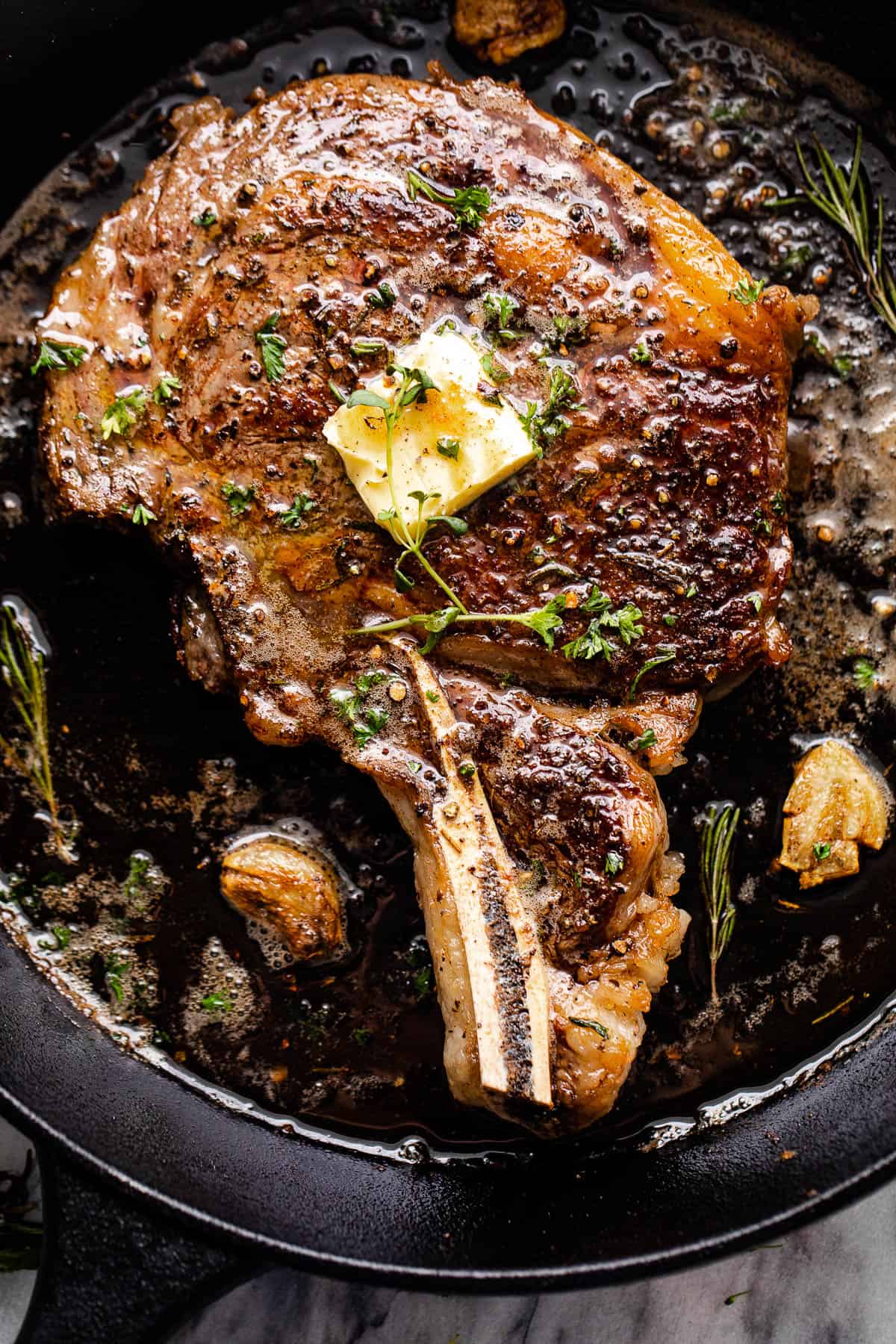 This thick and juicy bone-in ribeye is ready in about 20 minutes, and comes dressed in pan juices, fresh herbs, and crushed cloves of garlic. It's a Valentine's Day classic that's sure to please! A happy belly = a happy heart. ❤️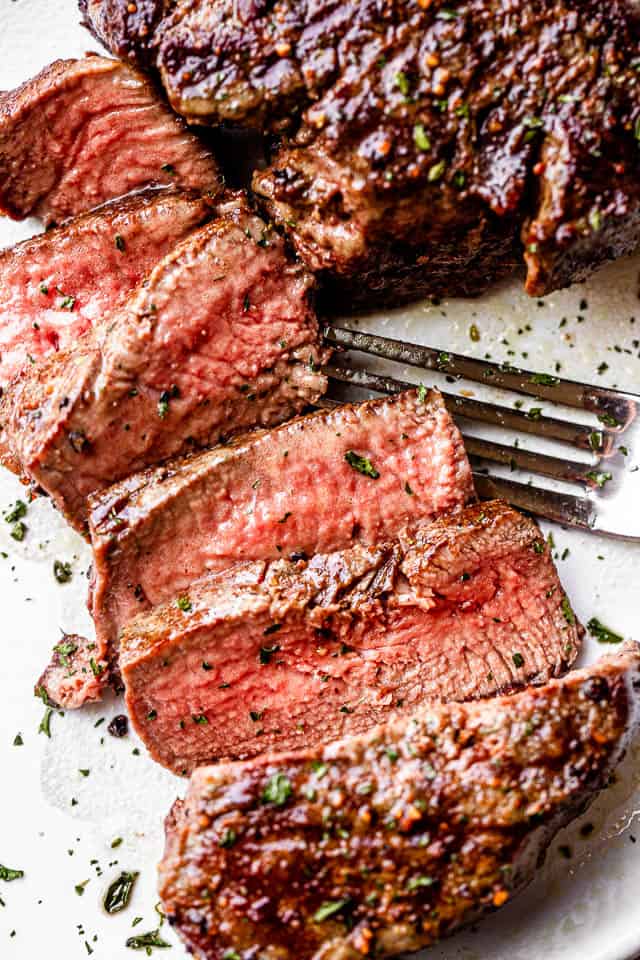 Possibly the most iconic steak of all time, filet mignon is known for being ultra-tender and luxurious. But you don't need to be afraid of cooking filet mignon! It's actually very simple, and this tutorial will show you two foolproof ways to make the most of this beautiful steak.
A beautiful technique for making juicy flank steak! This restaurant-style stuffed steak is made with creamy feta cheese, healthy spinach, and ultra-flavorful sundried tomatoes for a mouthwatering dish. Plus, it's low-carb! The perfect romantic dinner for your Valentine!
Keep it simple with this easy meal, baked on a sheet pan in the oven! Tender fresh asparagus and ripe cherry tomatoes go perfectly with top sirloin. A flavorful herbed butter mixture and some zingy, crushed red pepper bring it all together!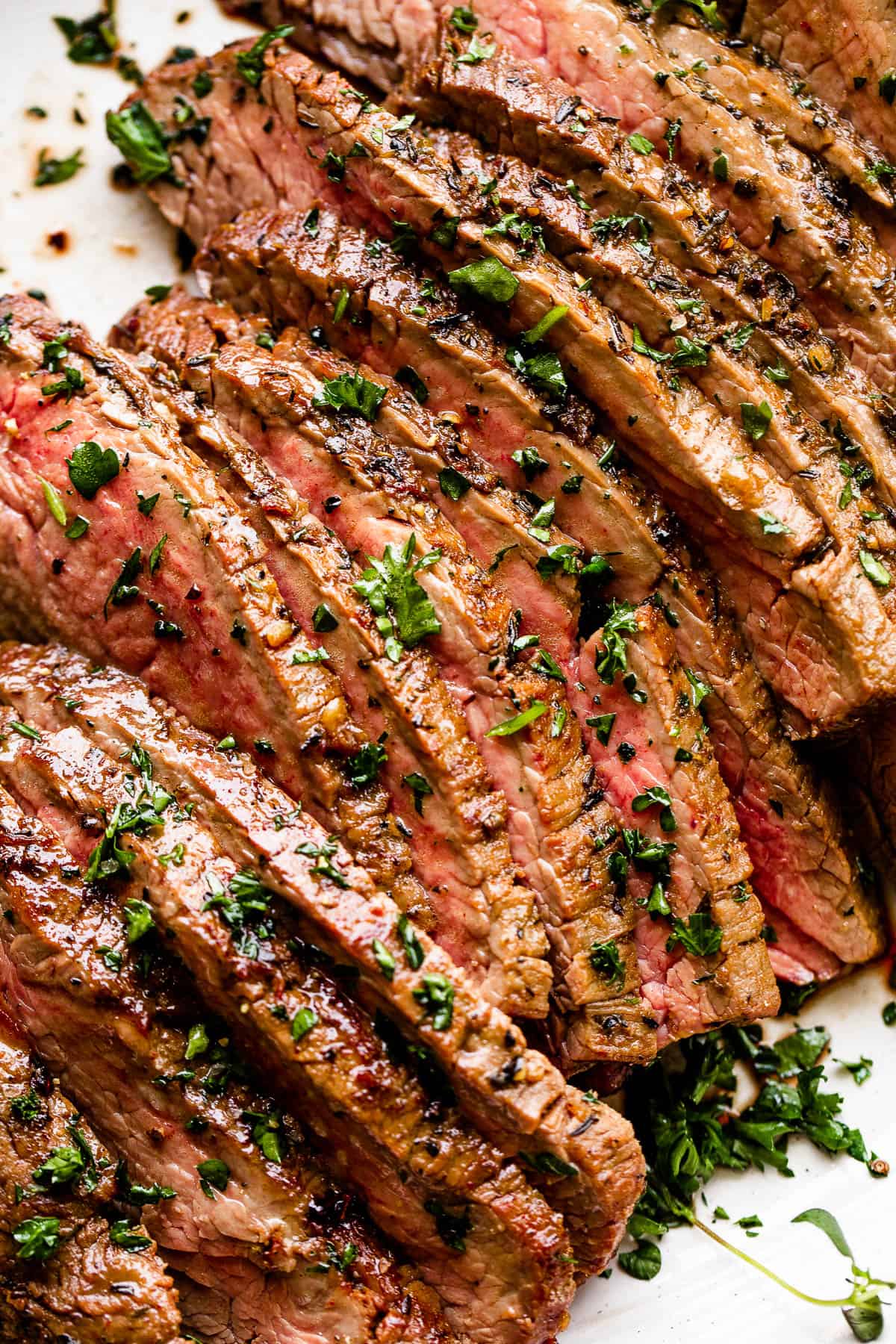 Serve up your tender slices of juicy London broil over mashed potatoes, or over salad – or however you like! You can't go wrong with this thick-cut steak, broiled to tender perfection in a tangy, garlicky marinade. It's so easy, and turns out perfectly every time.
Steak? In the air fryer? You better believe it! Yes, you can make perfectly juicy steak with a beautifully browned exterior without firing up the grill – or even the stove. This easy air-fryer recipe will show you how to make a decadent, buttery ribeye, perfectly seasoned, and just right for a special Valentine's Day dinner.
Pan seared juicy sirloin steaks prepared with a dijon mustard rub and an incredible creamy bourbon sauce. A one pan recipe that is SO simple and SO darn delicious!
Looking for a basic, foolproof recipe for thick, juicy steak made the old-fashioned way? This is it! I like to choose a thick top sirloin for this, and cook it in a cast-iron pan. You'll love how simple it is to make the perfect steakhouse-style meal, right in the comfort of your own kitchen!