Prepare a tender, succulent, and flavorful turkey breast in the Instant Pot in just about 30 minutes! This method delivers juicy and perfectly cooked turkey in a fraction of the usual time. Plus, use the delicious drippings from the cooking process to whip up an amazing gravy.
Serve with a side of smashed potatoes, apple stuffing, or check out all these other delicious Thanksgiving recipes!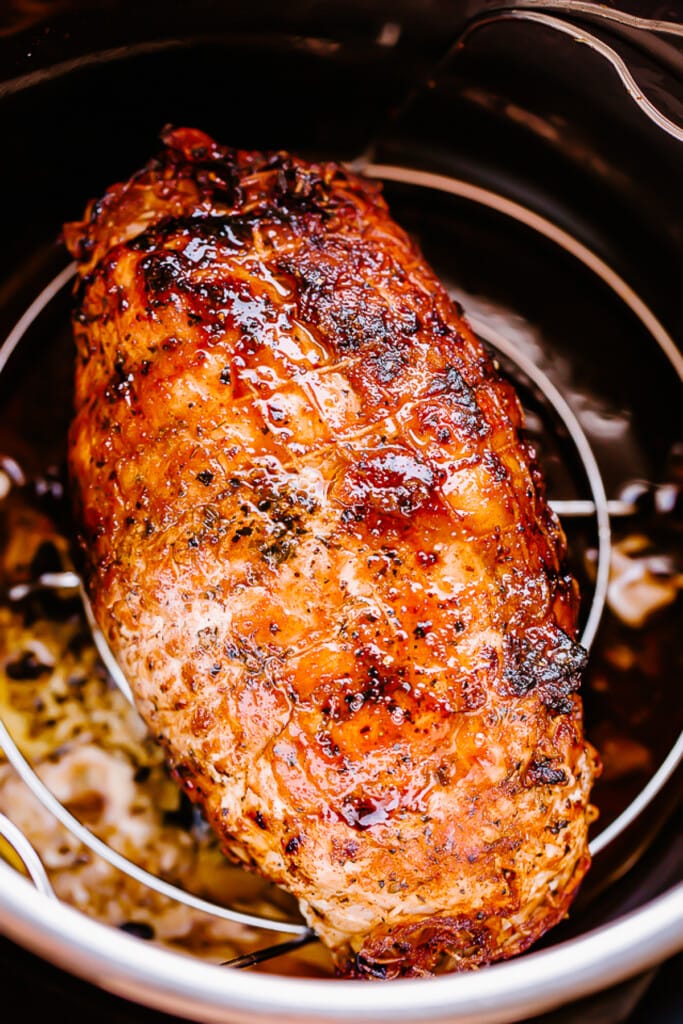 This Instant Pot Turkey Breast recipe is super juicy with a perfectly crispy and seasoned exterior, it is hands down the go-to way to cook up a turkey breast, whether it's for Sunday meals, Thanksgiving, or any occasion! If you're looking to cook a turkey on a smaller scale, this is your recipe.
Why You'll Love This Turkey Breast Recipe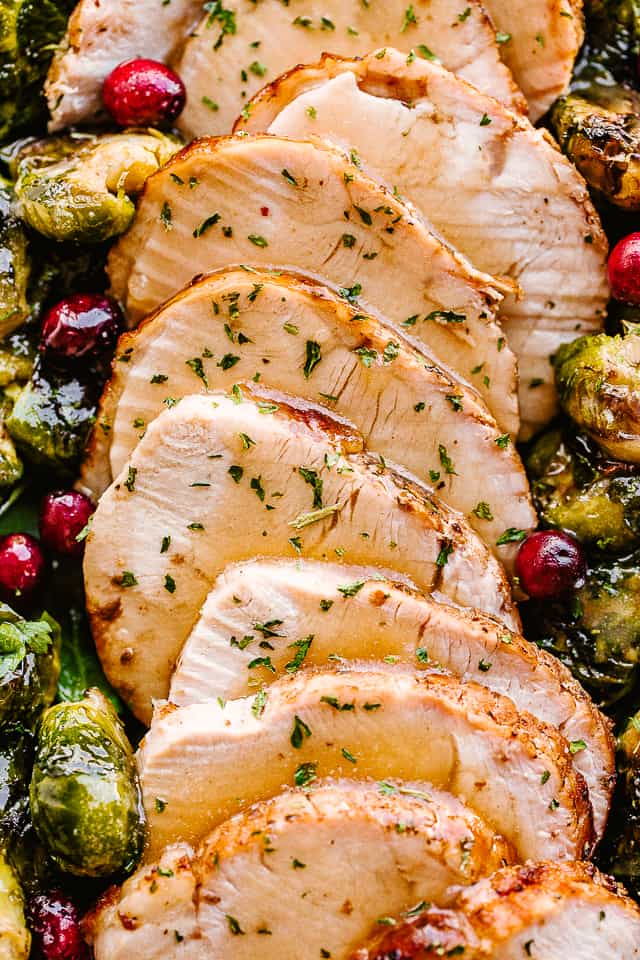 Instant Pot Turkey Breast Ingredients
How To Cook Turkey Breast In The Instant Pot
Prep the Turkey: Rub the turkey breast with olive oil, then season with combined herbs and spices.
Sear: Using the Instant Pot's sauté mode, brown the turkey on all sides.
Add Broth & Aromatics: Remove the turkey, pour in the chicken broth, and add garlic and thyme.
Cook: Place the turkey on a trivet inside the Instant Pot, seal, and set it to manual for 24 minutes on High Pressure.
Natural Release: Let the pot depressurize naturally for 10 minutes, then manually release it. Using an instant read meat thermometer, check the temperature of the turkey breast in its thickest part; it should read 155˚F to 160˚F.
Broil: Transfer the turkey to a baking dish and broil for 6 to 8 minutes for a crispy skin.
Rest & Slice: Remove it from the oven and allow the turkey to rest for 15 minutes before slicing.
Slow Cooker Instructions
Cooking Times For Instant Pot Turkey Breast
When cooking poultry in the Instant Pot, you'll want to allot 6 minutes for every pound, followed by a 10-minute Natural Pressure Release (NPR). For a 4-pound turkey or turkey breast, you'll want to cook it for 24 minutes + 10 minutes NPR. For an 8-pound turkey or turkey breast, you'll have to cook it for 48 minutes + 10 minutes NPR.
Recipe Tips
Thaw: Use a turkey breast that is completely thawed.
Boneless: Stick to boneless cuts, as bone-in turkey requires a longer cooking time.
Herb Freshness: Use fresh herbs when possible. They impart a more vibrant flavor.
Searing: Don't skip the searing step. Browning the turkey adds a depth of flavor.
Natural Release: Allow for a natural pressure release after cooking to help the meat retain its juices.
Crispy Finish: Use the oven's broiler to get that crispy skin.
Gravy: When making gravy, continuously whisk to avoid lumps. If you find your gravy too thick, add more broth; if it is too thin, let it simmer a bit longer.
Size Matters: Make sure the turkey breast fits comfortably in your Instant Pot. Overcrowding can affect the cooking time and results. For larger turkey breasts, know the Instant Pot guidelines: 6 minutes per pound plus a 10-minute NPR.
Check for Doneness: Always use a meat thermometer to ensure the turkey has reached a safe internal temperature of 155°F to 165˚F.
Resting Time: Letting the turkey rest after cooking ensures the juices redistribute.
Serving Suggestions
Clearly, I'm ready! I'm ready for THE Bird, the cranberries and Brussels sprouts, and for a pitcher of Apple Cider Mimosas. This Turkey Breast recipe plus my Roast Turkey and the following side dishes, have me ready for all of it!
More Turkey Recipes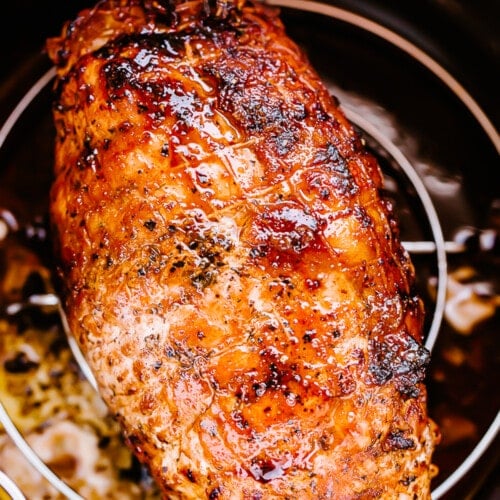 Instant Pot Turkey Breast
Tender, succulent, and flavorful turkey breast cooked in the Instant Pot and ready in just 30 minutes!
Ingredients
For The Turkey Breast
4

pound

boneless turkey breast,

completely thawed

3

tablespoons

olive oil,

divided

1

tablespoon

chopped poultry fresh herb mix of rosemary, sage, and thyme

1

tablespoon

sweet or smoked paprika

1

teaspoon

garlic powder

1

teaspoon

salt

1

teaspoon

fresh ground black pepper

½

teaspoon

chili powder,

or to taste

½

teaspoon

onion powder

1

cup

chicken broth

1

whole

garlic head,

cut in half, crosswise (optional)

2

sprigs

fresh thyme,

optional
For The Gravy
turkey drippings

chicken broth

2

tablespoons

butter

2

tablespoons

all-purpose flour
Instructions
For The Turkey Breast
Drizzle a little olive oil over the turkey breast and rub it all around; set aside.

Combine the herbs, paprika, garlic powder, salt, pepper, chili powder, and onion powder in a small mixing bowl; generously season the turkey breast with the seasoning blend, rubbing it all around.

Set the Instant Pot to Sauté. Add the remaining olive oil to the Instant Pot and heat it up.

Add the turkey breast to the Instant Pot and sear on all sides, about 2 to 3 minutes per side. Remove the turkey from IP and set aside.

Add a cup of chicken broth to the Instant Pot and scrape up all the browned pieces with a wooden spoon.

Add halved head of garlic to the chicken broth, as well as the sprigs of fresh thyme.

Add the Instant Pot's trivet or wire rack to the IP, and place the turkey breast on top of it. Close the lid and follow the manufacturer's guide for instructions on how to seal it closed.

Set your IP to the manual setting and set the timer for 24 minutes on High Pressure.

Let pressure release naturally (NPR) for 10 minutes before releasing the rest of the pressure.

Set your oven Broiler to HIGH.

Remove the lid from the Instant Pot and transfer the turkey breast to a roasting pan or baking dish and let stand for 5 minutes.

Then, put the roasting pan in the oven and Broil for 6 to 8 minutes or until browned on top. Watch it closely so it doesn't burn.

Remove the turkey from the oven and transfer it to a cutting board. Tent with foil and let rest for 15 minutes before cutting. If there's butcher twine or net around the turkey breast, remove it before slicing.
For The Gravy
In the meantime, take the turkey drippings from the Instant Pot and pour them into a measuring cup through a mesh sieve; discard all the large pieces and only keep the liquid. Add chicken broth to the turkey drippings to make 2 cups of liquid.

Return the inner pot to the pressure cooker and set to Sauté.

Add the butter and let it melt. Then whisk in the flour and cook for 1 minute while constantly whisking.

Whisk in the 2 cups of liquid; continue to whisk and cook until the gravy is thickened and smooth, about 2 to 3 minutes.

Taste for seasonings and adjust accordingly.

Transfer the gravy to a gravy boat and serve it with the turkey.
Notes
Turkey Breast: Always start with a fully thawed turkey breast, and for this recipe, opt for a boneless turkey. Bone-in turkey breast will need to cook longer. For every pound of bone-in turkey breast, cook in the Instant Pot for 7 minutes with a 12-minute NPR. So for a 4-pound bone-in turkey breast, set the timer to 28 minutes and then do a 12-minute natural pressure release.
Slow Cooker Method: Place the seasoned turkey breast in the slow cooker. Set to low and cook for 5 to 6 hours. Ensure the turkey reaches an internal temperature of at least 155˚F using a thermometer. Broil the turkey in the oven for 6 to 8 minutes. After removing from the oven, allow the turkey to rest for 15 minutes before slicing.
Rest After Cooking: Always allow the turkey to rest for 15 minutes before slicing.
Storage: Leftover turkey can be refrigerated for up to 5 days if sealed in an airtight container. You can also freeze it for up to 3 months. Thaw it before reheating.
Nutrition
Calories:
424
kcal
|
Carbohydrates:
4
g
|
Protein:
67
g
|
Fat:
16
g
|
Saturated Fat:
4
g
|
Polyunsaturated Fat:
2
g
|
Monounsaturated Fat:
8
g
|
Trans Fat:
0.2
g
|
Cholesterol:
173
mg
|
Sodium:
1057
mg
|
Potassium:
818
mg
|
Fiber:
1
g
|
Sugar:
0.4
g
|
Vitamin A:
875
IU
|
Vitamin C:
2
mg
|
Calcium:
54
mg
|
Iron:
2
mg
Nutritional info is an estimate and provided as courtesy. Values may vary according to the ingredients and tools used. Please use your preferred nutritional calculator for more detailed info.
Categories: