Classic Deviled Eggs are a savory, satisfying favorite! Serve these as an appetizer or side with brunch, lunch, or a festive dinner. They're easy to make ahead, and a guaranteed crowd pleaser!
The Best Deviled Eggs, Perfect Every Time!
Are you a fan of deviled eggs? They are very popular in my family! Literally, no one around here turns down a flavorful deviled egg, made fresh and perfectly seasoned. They're a great low-carb snack option, too! You can even make them keto or paleo, depending on the mayonnaise you use.
Plus, deviled eggs make a great party food! They're easy to make in advance and store in the fridge, and I think they are even better cold than room temperature. All you need to make them are a just a handful of ingredients, and the result is an enticing, appetizing snack, or side, that everyone will enjoy!
What Makes a Deviled Egg a Deviled Egg?
"Deviled" recipes were originally given that name because they involved boiling or frying the ingredients, or adding lots of spices. Deviled eggs qualify because they're not only boiled – they're also combined with mustard, hot sauce, paprika, and/or other "fiery" ingredients depending on the recipe!
But, there's no need to fear – with cool, creamy mayo and mild egg yolks, deviled eggs aren't "hot" at all. Unless you want 'em to be. ?
The Ingredients You'll Need
My recipe for classic deviled eggs is simple, and delivers a balanced, snackable result. Keep in mind that it's also super customizable – there are lots of mix-ins and variations listed below in the Tips and Variations section!
Hard-Boiled Eggs: You can use store-bought boiled eggs for convenience, or make your own – see how to boil eggs for an easy tutorial.
Mayonnaise: Use your favorite mayonnaise here. I don't use sweet "salad dressing" spreads, but you can if that's what you prefer.
Mustard: Dijon is my favorite, but any mustard that you like will be just as delicious.
Hot Sauce: Couple dashes, or to taste. Don't like hot sauce? Feel free to omit it.
Salt and Pepper
Paprika: Smoked or sweet paprika, it's up to you. You'll need some for the filling, and some for garnish.
Let's Make Deviled Eggs!
Making deviled eggs is simple and quick! All you have to do is remove the cooked yolks from the centers of the eggs, and mash them with the other filling ingredients. Spoon or pipe the filling back into the egg whites, and you're done!
Remove the Yolks from the Egg Whites. First, you'll want to cut the eggs in half with a sharp knife. Cut them sideways, so that you get two oval-shaped halves. Don't cut them top and bottom, or the pointed top half will tip over when you try to fill it! Take out the yolks and transfer them to a mixing bowl.
Make the Filling. Mash the yolks with the back of a fork, and then stir in the mayo, mustard, hot sauce, salt, pepper, and paprika. Mash and stir to make a smooth filling. Give it a taste, and adjust the ingredients as needed.
Fill the Eggs. Pipe or spoon the filling into the egg whites, heaping it up a little for a pretty presentation. Garnish with a sprinkle of paprika.
Enjoy! Cover, and refrigerate the deviled eggs until ready to use. You can get special deviled egg trays with lids for this, if you like!
How Do You Get Boiled Eggs to Peel Easily?
It can be tricky to peel a boiled egg, but one of the simplest ways to make sure your eggs peel without tearing or breaking is to use older eggs, which have a little more air and separation than farm-fresh eggs or even fresh grocery store eggs. I suggest buying your eggs a week or two in advance.
Another trick is to peel your eggs under cool running water. The gentle pressure of the water helps peel and wash away the eggshell.
If you don't have older eggs to use, my ultimate tip is to boil fresh eggs in the Instant Pot! Pressure cooking makes eggs easy to peel, even when fresh. Try this tutorial for Instant Pot Hard Boiled Eggs, and see for yourself!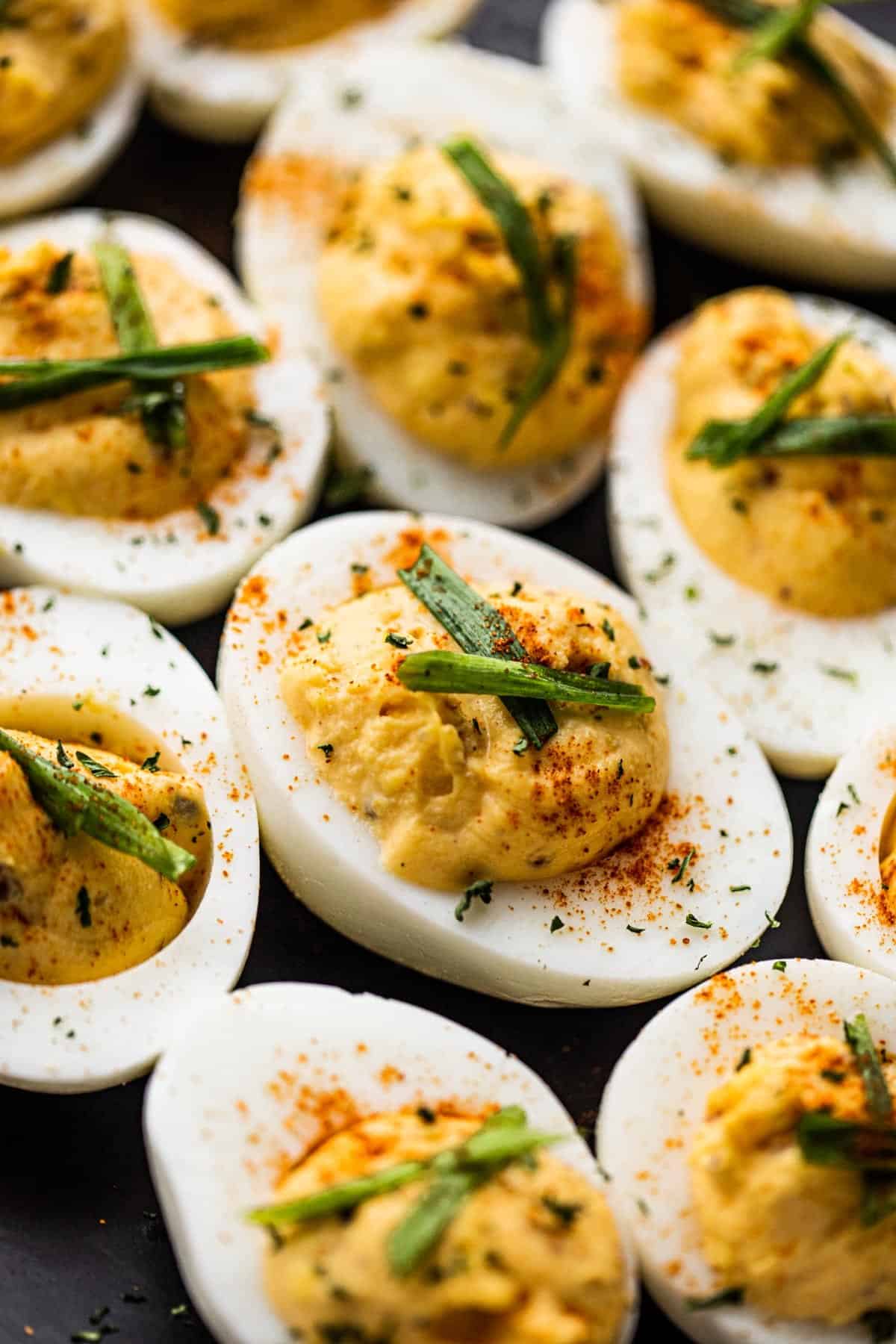 Easy Tips and Variations
So there you have it – perfect deviled eggs for your next party, picnic, or just for an easy low-carb snack. Make these, and they'll disappear faster than you would imagine! And be sure to check out these easy tips for making the perfect deviled eggs even better (is that possible?).
Cutting the Eggs: Always use a sharp knife, so to avoid breaking the egg whites. If you're cutting a lot of eggs, try wiping the knife or dunking it in hot water between eggs.
Removing the Yolks: A teaspoon can help remove stubborn yolks without pulling or breaking the whites.
Imperfect Eggs: If you do accidentally tear or break an egg white, don't despair! The thick filling will help hold small tears or cracks together. You can also boil a couple of spare eggs, just in case. (Snack on the imperfect ones!)
Mix-Ins: The possibilities are endless for fun mix-ins and toppings. Think pickle relish, grated onion, crumbled bacon, crispy-cooked ham, chopped bell pepper or celery, or pickled banana peppers, you name it! Anything flavorful, savory, and finely chopped is up for grabs!
What Should I Serve with Deviled Eggs?
There are so many ways to serve these easy little snacks! But whatever you do, be quick – these have a tendency to get gobbled up before the rest of the meal is even ready.
A Hearty Dinner: Classic American dishes like fried chicken, dinner rolls, Baked Beans, and coleslaw are right at home with deviled eggs.
Simple Sandwiches: Think picnic food with potato chips, fresh fruit, and a sandwich – maybe a Roasted Turkey Sandwich with Cheese and Avocado?
A Cold Breakfast Spread: Deviled eggs work well in a charcuterie-style breakfast – think cold cuts, sliced bread, your favorite spreads, and a Healthy Breakfast Fruit Pizza!
Storing the Leftovers
Deviled eggs should be covered and stored within two hours of making them.
Keep them in the fridge for up to 4 days.
Can I Freeze Deviled Eggs?
The whites of deviled eggs don't freeze well, unfortunately, but you can freeze the filling for up to 3 weeks.
ENJOY!
Classic Deviled Eggs Recipe
Classic Deviled Eggs can be served as an appetizer or side, with brunch, lunch, or a festive dinner. They're easy to make ahead, and a guaranteed crowd pleaser!
Instructions
Cut the boiled eggs in half, lengthwise.

Carefully take out the yolks and transfer them to a mixing bowl; mash the yolks with the back of a fork.

To the mashed yolks, add in the mayonnaise, dijon mustard, hot sauce, salt, pepper, and paprika; mix and stir until thoroughly combined.

Taste for salt and pepper, and adjust accordingly.

Pipe or spoon the egg yolk mixture into the empty egg whites.

Garnish with a sprinkle of paprika and chives, if using.

Cover and refrigerate until ready to use.
Nutrition
Calories:
63
kcal
|
Carbohydrates:
1
g
|
Protein:
3
g
|
Fat:
5
g
|
Saturated Fat:
1
g
|
Polyunsaturated Fat:
2
g
|
Monounsaturated Fat:
2
g
|
Trans Fat:
1
g
|
Cholesterol:
95
mg
|
Sodium:
91
mg
|
Potassium:
34
mg
|
Fiber:
1
g
|
Sugar:
1
g
|
Vitamin A:
133
IU
|
Vitamin C:
1
mg
|
Calcium:
13
mg
|
Iron:
1
mg
|
Net Carbs:
0
g
Nutritional info is an estimate and provided as courtesy. Values may vary according to the ingredients and tools used. Please use your preferred nutritional calculator for more detailed info.
Categories:
More Easy Appetizers