This beer-battered fried chicken recipe makes the most incredibly crisp, tender, and juicy chicken! It's perfect for summer cookouts and picnics – all you need is a side of potato salad and some crunchy coleslaw.
Beer Battered Fried Chicken Recipe
Indulge in the ultimate comfort food with our Beer-Battered Fried Chicken recipe. This crispy, juicy, and flavorful chicken is coated in a rich beer batter, providing an extra layer of crunch and depth of flavor. Clearly, this isn't just your average fried chicken – it's an exciting twist on a beloved classic.
Our recipe uses a unique batter, which adds flavor and an irresistible crunch to the chicken. The carbonation in the beer makes the batter light and airy, while the yeast and malt enhance the golden-brown color and deepen the flavor profile. Perfect for those special summer picnics or just a Tuesday night treat, this Beer-Battered Fried Chicken is the ultimate comfort food!
Why You'll Love This Beer Battered Chicken Recipe
I cannot begin to describe how good these drumsticks are! Oh Lawwwwwd they are fabulous! Here's why:
Juicy + Crunchy. This is the juiciest and crunchiest chicken I have ever had. With every mouthful you can hear that satisfying crunch as you bite through the crispy batter and into the tender chicken meat.
Tender. The yogurt marinade tenderizes the meat and adds incredible flavor.
Flexible. You can make this recipe with chicken wings as well as chicken legs, which is what I used here.
Perfect for summer. There's just something about fried chicken that makes me want to pack up a picnic basket with goodies and head out into nature! This fried chicken recipe is also wonderful at potlucks and BBQs. 🙌
What Kind of Beer Do You Use for Beer Batter?
You can use any kind of light beer to make beer-battered chicken. Avoid dark beers or heavily flavored beers like ginger beer, stout, or porter. If you have a favorite kind of light beer, I recommend using some for the batter, then sipping the rest while you dig into your fried chicken later on. 🙃
Can Kids Eat Chicken Made With Beer?
Yes, children can eat beer battered chicken. Despite the name, there is actually only a small amount of alcohol in this recipe and it will cook off as the chicken is fried. These crispy, tender chicken legs are going to be a big hit with the kiddos!
How to Make Beer Battered Chicken
Are you ready to make the most incredible fried chicken ever? Here's a quick overview. Be sure to scroll down to the recipe card for ingredients and the full instructions.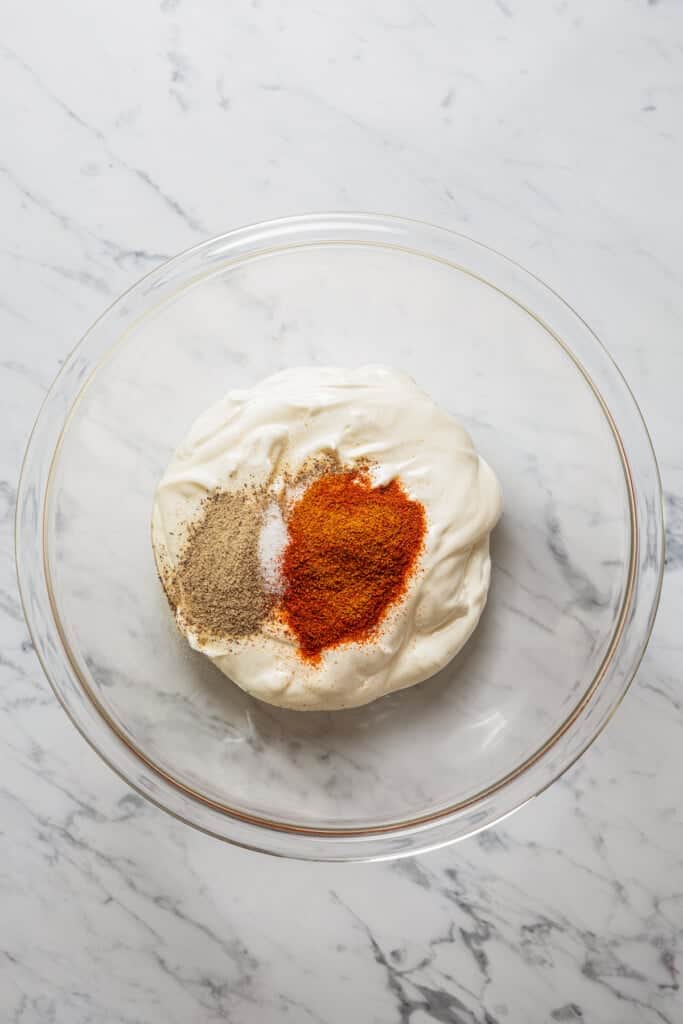 Marinate the chicken. Make a quick yogurt marinade, add the chicken and let it sit on the counter for 4 hours.
Make the beer batter. When the chicken has almost finished its marinating time, make the beer batter and heat up the oil.
Coat the chicken in batter and fry everything up! I recommend frying the chicken in batches, turning once, until they are golden. This will take about 20 minutes.
Drain and serve. Let the chicken drain on paper towels, then dig in.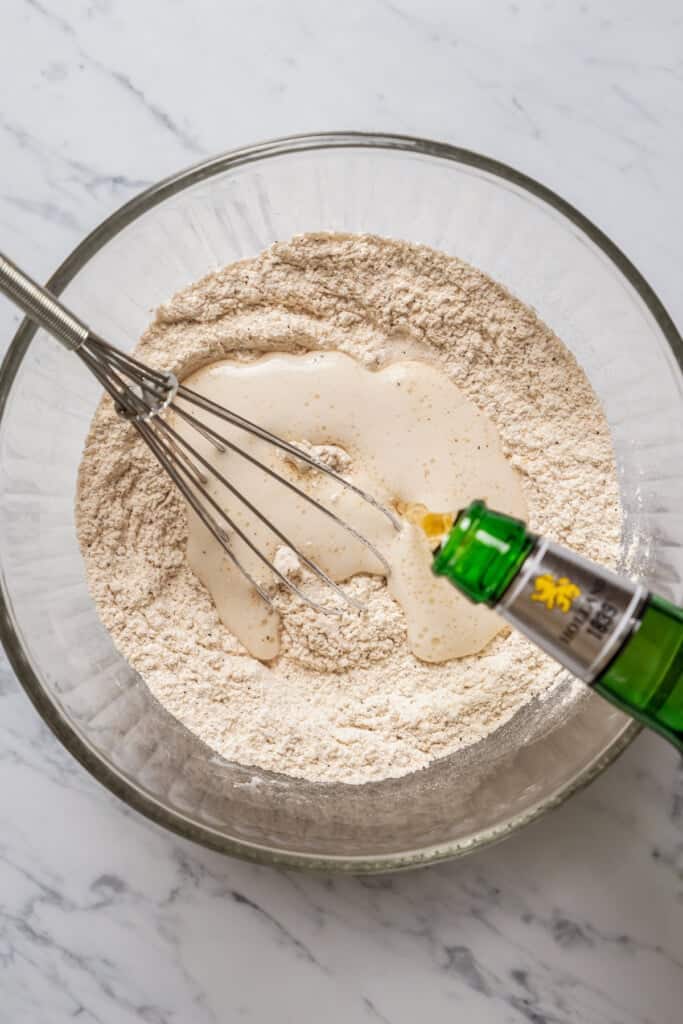 What Does the Yogurt Marinade Do?
Marinating the chicken in yogurt before frying is going to change your life because the yogurt tenderizes the chicken so perfectly that the cooked meat almost falls apart in your mouth. The yogurt also adds flavor because the proteins and sugars in the dairy caramelize as the chicken cooks. I'm telling you, this fried chicken recipe is downright delicious!
What Goes With Fried Chicken?
I love to serve beer battered chicken with a creamy potato salad and crunchy Southern coleslaw. But there are many other tasty sides that are wonderful with fried chicken! Some of my favorites ideas:
I would 100% take this fried chicken and any of those sides to a family gathering. Everyone would love those classic combinations of crispy chicken with potatoes and salad.
More Chicken Recipes to Try
If you like this beer battered chicken recipe, you might also enjoy these easy ways to cook chicken:
How to Store
Fridge: Once the chicken has cooled to room temperature, transfer it to an airtight container and store in in the fridge for up to 4 days.
Freezer: If you want to freeze your beer battered chicken, I recommend first freezing the pieces on a baking sheet lined with parchment paper. Once they are frozen solid, which takes a few hours, transfer them to an airtight, freezer-safe container. Write the date on the outside so you know when you stored the chicken. It will keep in the freezer for up to 3 months. Thaw overnight in the fridge before reheating.
How to Reheat Fried Chicken
You don't have to reheat fried chicken – it is totally delicious cold! In fact, that is my preferred way to eat it when I'm going on that picnic I mentioned earlier. 🙃 But if you want to reheat it, here's how:
Microwave: Pop single servings into the microwave and heat until warm, about 1 minute to 1 minute 30 seconds. Note that the chicken will lose its crispness if you reheat it in the microwave.
Oven: Heat your oven to 400F. Place the chicken on a baking sheet with a wire rack and warm for about 10-12 minutes, until heated through. This will preserve the crispiness of your beer battered chicken.
Air fryer: Want to use your handy dandy air fryer? Good idea! Preheat it to 370˚F, then add the chicken in a single layer and warm it for about 5 minutes. Use tongs to flip the chicken over and cook for another 4 to 5 minutes. The air fryer method will also keep your chicken nice and crispy.
For both the oven and air fryer methods of reheating fried chicken, I recommend letting the chicken warm up for a bit after taking it out of the fridge. I usually let it rest on the counter for about 15 to 20 minutes so that the chicken isn't super cold when it goes into the oven or air fryer. This also lets the proteins in the meat relax and keeps your chicken nice and tender.
ENJOY!
Beer Battered Fried Chicken
This easy beer batter chicken recipe makes the most perfectly crispy, tender chicken.
Ingredients
For the Beer Batter
1½

cups

all-purpose flour

3

teaspoons

onion salt

3

teaspoons

garlic powder

½

tablespoon

cayenne pepper

2

teaspoons

freshly ground black pepper

12

ounces

light beer

2 to 3

cups

vegetable oil,

for frying
Instructions
In a large bowl, combine the yogurt, salt, pepper, and cayenne.

Add the chicken to the yogurt mixture and let stand on the counter for 1 hour or in the fridge for up to 4 hours.

In a large bowl, whisk together the flour, onion salt, garlic powder, cayenne, and ground pepper. Whisk in the beer until smooth and thoroughly combined.

Heat the vegetable oil in a large and deep pot or skillet to a temperature of 350˚F to 375˚F. You should also have enough oil to cover the chicken halfway up.

Cover a serving plate with paper towels and set aside.

Remove the chicken pieces out of the yogurt mixture and pat them dry with paper towels.

If refrigerated, pull out the bowl with the chicken about 20 to 30 minutes before you are ready to cook the chicken.

Place the chicken in the beer batter and coat it all around; drain off any excess and carefully add the chicken to the hot oil.

Fry the chicken in batches, turning once, until golden; about 20 minutes.

Place the fried chicken on the paper towel-covered serving plate; let stand for 7 to 10 minutes before serving.
Notes
Temperature Control: Maintaining the correct oil temperature is crucial. Too low, your chicken will absorb too much oil; too high, and it will burn before the chicken is cooked. The optimal temperature for the oil is usually around 350-375°F.
Don't Overcrowd the Pan: Overcrowding can lower the oil temperature too much, leading to uneven cooking. Fry in batches.
Check for Doneness: Use a meat thermometer to ensure the chicken is cooked through. It should read 165°F (74°C) at the thickest part of the piece.
Season Immediately: Season your fried chicken with a little extra salt (and other seasonings if you wish) immediately after it comes out of the fryer. This is when it will adhere best.
Stay Safe: Always be careful when working with hot oil. Use a long-handled utensil to lower the chicken into the oil and protect yourself from any potential oil splatter.
Nutrition
Calories:
411
kcal
|
Carbohydrates:
37
g
|
Protein:
33
g
|
Fat:
13
g
|
Saturated Fat:
3
g
|
Polyunsaturated Fat:
3
g
|
Monounsaturated Fat:
5
g
|
Trans Fat:
0.1
g
|
Cholesterol:
119
mg
|
Sodium:
1393
mg
|
Potassium:
695
mg
|
Fiber:
2
g
|
Sugar:
10
g
|
Vitamin A:
660
IU
|
Vitamin C:
2
mg
|
Calcium:
270
mg
|
Iron:
3
mg
Nutritional info is an estimate and provided as courtesy. Values may vary according to the ingredients and tools used. Please use your preferred nutritional calculator for more detailed info.
Categories: