This Caprese Stuffed Mushrooms recipe is cheesy, garlicky, savory, and delicious! Portobello mushrooms are stuffed with melty mozzarella cheese, sweet cherry tomatoes, and fresh basil!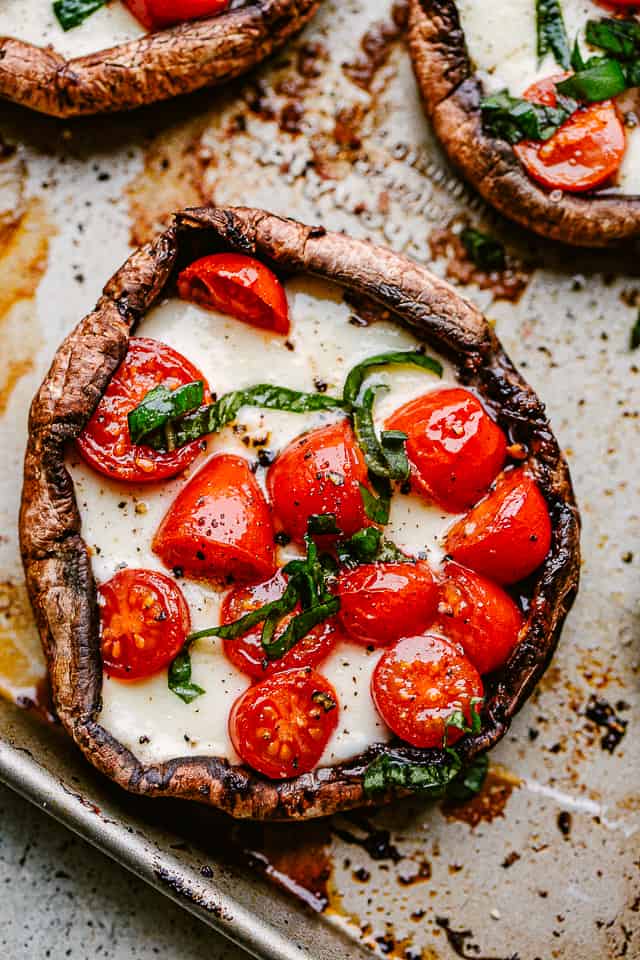 Easy Stuffed Mushrooms
If you're on the hunt for a standout appetizer that combines simplicity, taste, and healthy eating, look no further than these Caprese Stuffed Mushrooms. They're an ingenious spin on the classic Caprese salad, where we've swapped the plate for tender mushroom caps. Bursting with juicy tomatoes, fresh mozzarella, and basil and topped off with a luscious balsamic glaze, they're a flavor fiesta in every bite.
Whether you need a quick appetizer, a unique side, or even a low-carb main course, these Stuffed mushrooms are your go-to. They're also keto-friendly, making them the star attraction at any gathering, including your backyard party. With these stuffed mushrooms, you're not only guaranteed a delicious treat but also a hit with your guests!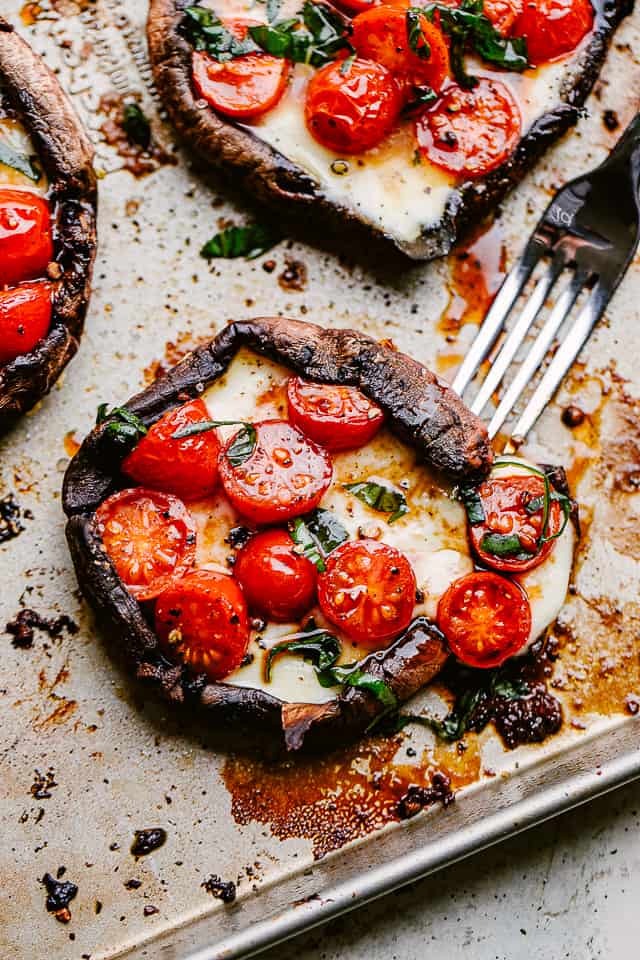 Reason You'll Love This Recipe
Versatile Serving Options: They're wonderful as a starter, side dish, or even as the main course.
Healthy and Delicious: These stuffed mushrooms offer a healthier option that doesn't compromise on taste.
Seasonal and Adaptable: The recipe takes advantage of a summer favorite (Caprese salad), but is equally appealing in colder months.
Party-Friendly: If you're hosting, these stuffed mushrooms are sure to be a hit. They're not only delicious, but also visually appealing.
Compatible with Dietary Restrictions: For those following a low-carb or keto diet, these stuffed mushrooms fit right in.
Make Ahead: These stuffed mushrooms can be made up to 2 days ahead. Just assemble the mushrooms, then cover them with plastic wrap, and refrigerate. Take mushrooms out of the fridge about 20 minutes before you want to bake them.
How To Make Stuffed Mushrooms
Our favorite summer Caprese salad gets a makeover in these stuffed portobello mushrooms. When it comes to parties, my tray of baby portobello mushrooms stuffed with Caprese ingredients is always the first to disappear. But this recipe calls for larger portobellos, perfectly suited for those everyday meals because parties only come around now and then.
Ingredients
4 large portobello mushrooms
butter
garlic
fresh mozzarella balls/pearls
cherry tomatoes
fresh basil
Directions
First, grab 4 large Portobello mushrooms and carefully pop off the stems. Then, using a spoon, remove the brown gills from inside the cap. Wash the mushrooms and pat-dry with paper towels.
Melt butter, then whisk in minced garlic. Brush the mushroom caps all over with the garlic butter and set on a baking sheet; bake for 8 minutes.
In the meantime, cut the mozzarella balls and cherry tomatoes in half, and arrange them close together inside the pre-baked mushroom caps.
Put mushrooms back in the oven and bake for about 12 minutes, or until cheese is fully melted.
Remove from oven; top with fresh basil ribbons and a drizzle of balsamic glaze. Serve.
Tips for Success
These tips should help you prepare the most amazing Caprese Stuffed Mushrooms!
Selecting the Mushrooms: Look for large Portobello mushrooms with firm, intact caps.
Cleaning the Mushrooms: Use a damp paper towel to clean the mushrooms instead of running them under water. Mushrooms are like sponges and absorb water, which can make them soggy.
Removing the Gills: The gills of a Portobello mushroom are entirely edible, but they can give your dish a muddy color, so it's often recommended to remove them. Use a spoon to scrape them out gently.
Pre-Baking the Mushrooms: Don't skip the pre-baking step, as it helps to remove some of the water content from the mushrooms and makes them tender, ensuring they cook evenly.
Using Smaller Mushrooms: We absolutely love a stuffed mushroom appetizer, and if you want to serve these as such, just swap out the larger mushroom caps for smaller creminis and bake until they are tender, the cheese is melted, and the tomatoes are softened.
Arranging the Mozzarella and Tomatoes: Packing the ingredients tightly into the mushroom caps helps to keep everything in place while baking.
Using Fresh Basil and Balsamic Glaze: Adding these right at the end, after baking, preserves the fresh flavor of the basil and the tangy sweetness of the balsamic glaze.
Serving Immediately: Like most stuffed mushrooms, these are best enjoyed immediately while the cheese is still melty and warm.
Storing Leftovers
Please note that the texture of the stuffed mushrooms might change slightly after refrigeration and reheating. The mushrooms might release some liquid, and the cheese could lose some of its creaminess. It's best to enjoy these stuffed mushrooms fresh, if possible.
If you want to refrigerate leftovers, transfer the cooled mushrooms to an airtight container and store them in the refrigerator. They should keep for about 2 to 3 days.
When ready to eat, you can reheat the stuffed mushrooms in the oven at a low temperature until they're heated through. The oven will help to maintain the mushrooms' texture better than a microwave.
More Stuffed Mushrooms Recipes
ENJOY!
Caprese Stuffed Mushrooms
Cheesy, garlicky, savory, and delicious portobello mushrooms stuffed with melty mozzarella cheese, sweet cherry tomatoes, and fresh basil!
Ingredients
4

portobello mushrooms,

stems and gills removed

3

tablespoons

butter,

melted

1

tablespoon

chopped fresh parsley

2

cloves

garlic,

minced

½

teaspoon

salt,

divided

½

teaspoon

freshly ground black pepper,

divided

1½

cups

halved cherry tomatoes

1

cup

fresh mozzarella balls,

drained, patted dry, and cut in half

¼

cup

thinly sliced fresh basil

2

teaspoons

balsamic glaze
Instructions
Preheat oven to 400˚F.

Prepare the mushrooms by gently popping off the stems. Then, using a spoon, remove the brown gills from inside the cap. Clean the mushroom caps with a moist paper towel and then pat them dry with paper towels. Set aside.

Melt the butter in a small bowl and whisk in parsley, garlic, 1/4 teaspoon salt, and 1/4 teaspoon pepper.

Brush the garlic butter mixture all over the mushrooms.

Transfer mushrooms to a rimmed baking sheet and bake for 8 to 10 minutes, or until softened.

Remove mushrooms from oven; arrange halved cheese balls and tomatoes inside each mushroom cap. Place the cheese and tomatoes close together. You can always add more or use less tomatoes and cheese.

Season the cheese and tomatoes with the remaining salt and pepper.

Bake for 12 to 14 minutes or until the mozzarella cheese is melted.

Remove from oven.

Top mushrooms with fresh basil and drizzle with balsamic glaze.

Serve.
Notes
Choosing Mushrooms: Opt for large, firm Portobello mushrooms with a fresh scent.
Gill Removal: Use a spoon to gently scrape out the gills for a better color.
Cleaning: Wipe mushrooms with a damp paper towel to avoid sogginess.
Filling: Pack mozzarella and tomatoes tightly in the mushroom caps for stability while baking.
Fresh Toppings: Add basil and balsamic glaze post-baking to maintain fresh and tangy flavors.
Serving: Enjoy right away.
How To Make Ahead
Assemble the mushrooms, but do not bake. Cover with plastic wrap and refrigerate for 1 to 2 days.
Take mushrooms out of the fridge 20 minutes before you want to bake them.
Nutrition
Serving:
1
stuffed mushroom
|
Calories:
177
kcal
|
Carbohydrates:
8
g
|
Protein:
7
g
|
Fat:
14
g
|
Saturated Fat:
7
g
|
Cholesterol:
32
mg
|
Sodium:
399
mg
|
Potassium:
483
mg
|
Fiber:
2
g
|
Sugar:
4
g
|
Vitamin A:
620
IU
|
Vitamin C:
15
mg
|
Calcium:
104
mg
|
Iron:
1
mg
Nutritional info is an estimate and provided as courtesy. Values may vary according to the ingredients and tools used. Please use your preferred nutritional calculator for more detailed info.