These white chocolate chip cookies are soft, chewy, and decadent. They're loaded with macadamia nuts, take only 25 minutes to make, and are so easy!
Copycat White Chocolate Mrs. Fields Cookies
Like so many people, I grew up eating Mrs. Fields cookies. Yes, at the mall. They were so good! My favorite flavor was always white chocolate macadamia, so I decided I needed to recreate it.
These white chocolate chip cookies remind me of the Mrs. Fields ones, but I think they're even better! Biases aside. They're packed full of white chocolate chips and buttery macadamia nuts, and the texture is perfect. They use baking powder, baking soda, and eggs to get a fluffy and soft consistency while still being chewy.
These cookies are also quite easy to make. They take less than half an hour from start to finish, and you won't make a big mess in the kitchen. If you're anything like me, you'll find yourself making them all the time!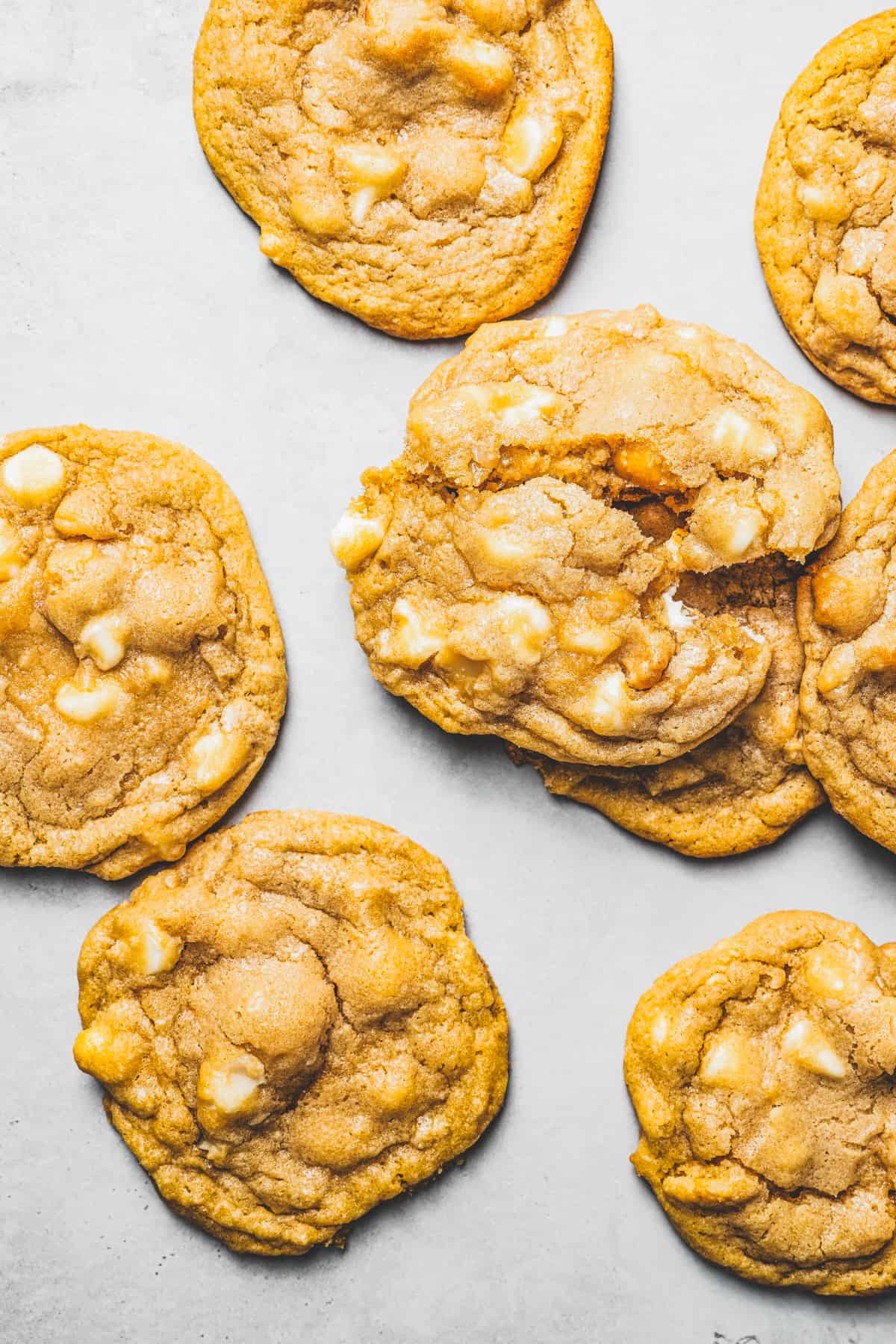 Why These Are the Best White Chocolate Chip Cookies
I'll be honest: I make these cookies very frequently. They're just that good, and I find myself (my kids, too) craving them a lot. Here's why I know you'll love these cookies too.
Easy and convenient. Have you ever craved homemade cookies but didn't think making them was worth the time and effort? That won't happen with this recipe. They only take 25 minutes to make, so you can throw them together in no time. It's a straightforward recipe, even though they taste like they came from a bakery.
Universally loved. White chocolate macadamia is one of the most common and loved cookie flavors around. Everyone from kids to cookie snobs loves a white chocolate chip macadamia nut cookie. These cookies are a great option if you're going to a potluck or hosting a party and are unsure what to make. Everyone will love them.
Freezable dough. This dough lasts for a long time in the freezer. So if you want to really have easy cookies at your fingertips, you can make the dough ahead of time and freeze the cookie dough balls. Then you can just put them in the oven anytime you want some cookies.
What You'll Need
Here are the ingredients that you'll need to make these chewy cookies. Make sure to check out the recipe card at the bottom of the article to see the exact amounts for each of the ingredients.
All-purpose flour
Salt, Baking Powder, & Baking Soda
Butter – Make sure to use unsalted butter.
Granulated Sugar and Dark Brown Sugar
Eggs
Vanilla extract: Always use 100% pure vanilla extract.
White chocolate chips
Macadamia nuts: These are optional, but I strongly recommend them.
How to Make White Chocolate Chip Cookies
Here's how to make these cookies. Wait until you see how easy they are!
Prep. Preheat your oven to 350˚F, and line a baking sheet with parchment paper or a silicone mat.
Mix the dry ingredients. Place the flour, baking soda, baking powder, and salt in a bowl, and mix until well combined.
Cream the butter. In the bowl of a stand mixer, add the butter, eggs, sugar, brown sugar, and vanilla. Use the mixer to cream the mixture until very smooth.
Mix in the dry ingredients. Put the dry ingredients in the bowl with the butter and eggs, and mix until well combined.
Add the white chocolate and nuts. Pour the white chocolate chips and macadamia nuts into the mixture, and stir to combine.
Place on the baking sheet. Spoon large tablespoons of cookie dough onto the cookie sheets, leaving room between each cookie.
Bake. Put the cookies in the oven and bake until the edges are light brown. This should take 8 to 10 minutes.
Chill. Remove the cookies from the oven, let them stand for 2 minutes, then transfer them to a wire rack to cool completely.
Tips for Success
Here are some tricks and tips that I use when I make this cookie dough.
Use room-temperature eggs. You'll always get better cookies when you use room-temperature eggs. When eggs are cold, they don't mix quite as well with other ingredients, and that impacts the texture of the cookies. Take the eggs out of the fridge about half an hour before you plan on making this recipe. That will ensure that your cookies are super smooth and soft.
Nice quality butter. This is a very buttery recipe. One batch of cookies has two sticks of butter, and you can really taste it! For the best results, use a nice quality butter for this recipe. Since the butter is one of the stars of the recipe, the cookies will really benefit if you use a high-quality ingredient.
Cool completely. Eating cookies as soon as they come out of the oven is always tempting because they smell so good. And trust me, these cookies are no exception. But cookies benefit from cooling all the way. That makes the cookies firm up and results in a nicer texture.
Chill the dough. You can bake these cookies as soon as you're done making the dough. But for the best results, you should place the dough in the fridge for at least an hour or two, ideally overnight. That allows the flavors to meld and the ingredients to mix more, making the texture of the cookies much smoother.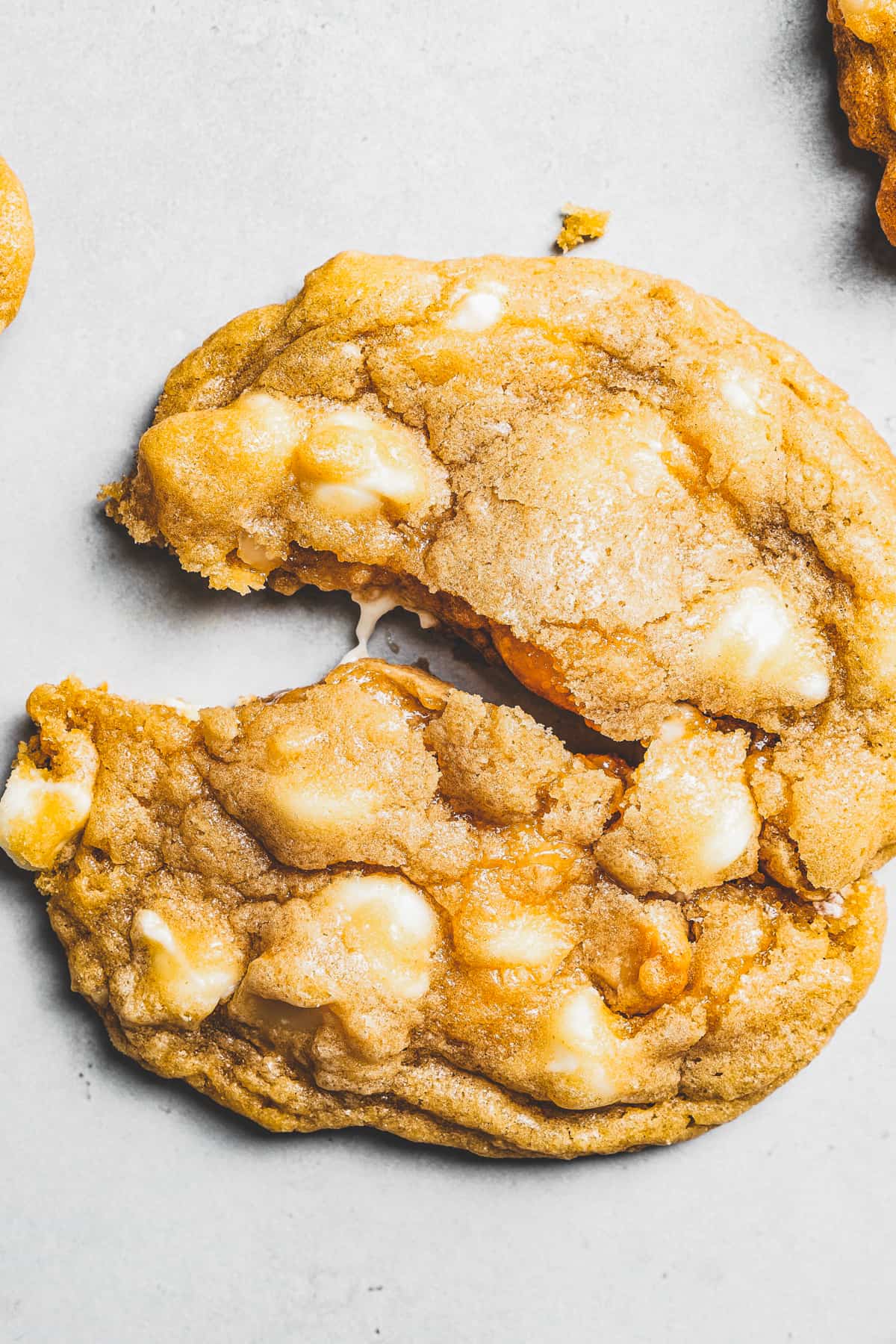 FAQs
Here are a few commonly-asked questions about these cookies.
What do macadamia nuts taste like?
Macadamia nuts taste quite a bit different than most nut varieties. They have a very buttery flavor, and they're a little bit sweet. They're a smooth and rich nut and taste fairly tropical.
What can you substitute for the nuts or chocolate chips?
If you don't like or have macadamia nuts, you can use any other kind of nut, or you can omit the nuts entirely. You can use white chocolate chunks if you don't have chips, and you can even use semi-sweet or dark chocolate if you're not a fan of white chocolate.
Can you freeze the dough?
Absolutely! You can roll the dough into balls and freeze them in an airtight bag for up to 3 months. Then all you have to do is throw them in a 350˚F oven for 12-15 minutes, and you have perfect cookies whenever you want them.
Serving Suggestions
The way I like to eat white chocolate chip cookies is as an afternoon sweet treat with a big cup of coffee. Here are a few of my favorite coffee beverages for drinking with these cookies.
How to Store Cookies
Counter: You can store leftover white chocolate macadamia nut cookies in an airtight container or bag at room temperature for 5 days. Just make sure to keep them out of direct sunlight.
Fridge: They'll also last in the fridge for 10 days.
To Freeze: You can definitely freeze these cookies. I like to store them in a double layer of airtight plastic bags and then place them in the freezer for up to 3 months. You can also store leftover cookie dough in an airtight container in the freezer for 3 months.
More Easy Cookies to Make
It's hard to beat a good cookie. If you loved this recipe, then be sure to check out some of my other favorite cookie recipes.
ENJOY!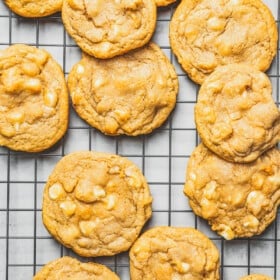 White Chocolate Chip Cookies
These copycat Mrs. Fields cookies are soft, chewy, buttery, and packed with macadamia nuts. Plus, they only take 25 minutes to make, from start to finish!
Instructions
Preheat your oven to 350˚F.

Line a baking sheet with a Silpat or parchment paper. Set aside.

Whisk the flour, salt, baking powder, and baking soda in a mixing bowl until well combined. Set aside.

Combine the butter, sugar, brown sugar, eggs, and vanilla in a stand mixer bowl. Using your mixer, cream the mixture until it's smooth and creamy.

Gently stir the flour mixture into the butter mixture and mix until thoroughly combined. Don't overmix; mix just to combine.

Using a rubber spatula, fold in the white chocolate chips and the nuts, if using.

At this point, you can store the cookie dough in the refrigerator, covered, until ready to bake. Don't wait more than 2 days.

When ready to bake, spoon out heaping tablespoons of batter onto the previously prepared cookie sheets, spacing the cookies 2 inches apart.

Bake for 8 to 10 minutes or until the edges of the cookies are light brown.

Remove from the oven and let the cookies stand for 2 minutes on the baking sheets.

Transfer the cookies from the baking sheet to a wire rack to cool completely.
Notes
Butter: Use 1 cup (16 tablespoons) softened unsalted butter.
Eggs: Have the eggs at room temperature.
Chill the dough. You can bake these cookies right away, but for the best results, you should place the dough in the fridge for at least an hour or two before using.
Leftover cookies can be stored in an airtight bag or container at room temperature for 5 days or in the fridge for 10 days.
You can store leftover cookies, or just the cookie dough, in the freezer for up to 3 months. Reheat from frozen at 350˚F for 12-15 minutes, or until lightly browned.
Nutrition
Serving:
1
Cookie
|
Calories:
178
kcal
|
Carbohydrates:
20
g
|
Protein:
2
g
|
Fat:
10
g
|
Saturated Fat:
5
g
|
Polyunsaturated Fat:
0.4
g
|
Monounsaturated Fat:
4
g
|
Trans Fat:
0.2
g
|
Cholesterol:
24
mg
|
Sodium:
91
mg
|
Potassium:
67
mg
|
Fiber:
1
g
|
Sugar:
13
g
|
Vitamin A:
173
IU
|
Vitamin C:
0.1
mg
|
Calcium:
31
mg
|
Iron:
1
mg
|
Net Carbs:
19
g
Nutritional info is an estimate and provided as courtesy. Values may vary according to the ingredients and tools used. Please use your preferred nutritional calculator for more detailed info.