This sweet and comforting Cinnamon Dolce Latte recipe is a taste of Starbucks at home! This cozy espresso-based drink is perfect for the holidays and cold weather sipping.
Homemade Starbucks Cinnamon Dolce Latte
If, like me, you're a borderline Starbucks-aholic, you'll love today's recipe for a Cinnamon Dolce Latte. It turns out, many Starbucks drinks are pretty easy to make at home. And with fall fast approaching, it's time to kickstart the morning with a pumpkin spice latte, a cozy London fog, or this cinnamon latte that tastes just like the version from your favorite coffee house. This espresso-based drink is rich and creamy, with plenty of warm spice and toasty caramelized flavor from brown sugar. "Dolce" does mean sweet, after all!
Why You'll Love This Cinnamon Dolce Latte Recipe
Sweet and spiced. This latte is the best blend of sugary sweetness and warm fall spices, balanced with the slight bitterness of espresso, wrapped up in a frothy, milky hug.
Wallet-friendly. I have an expensive habit of making a U-turn for a Starbucks every time I see one. Making my favorite lattes right at home is way more affordable, and this cinnamon dolce latte tastes just as delicious as the original!
Quick to make. Have this cinnamon dolce latte ready in under 10 minutes. It's THAT easy to make.
Lower in calories. The Starbucks version has 340 calories, while this homemade cinnamon dolce latte has about half of that. So, really, you're saving calories AND money. Sounds pretty sweet to me.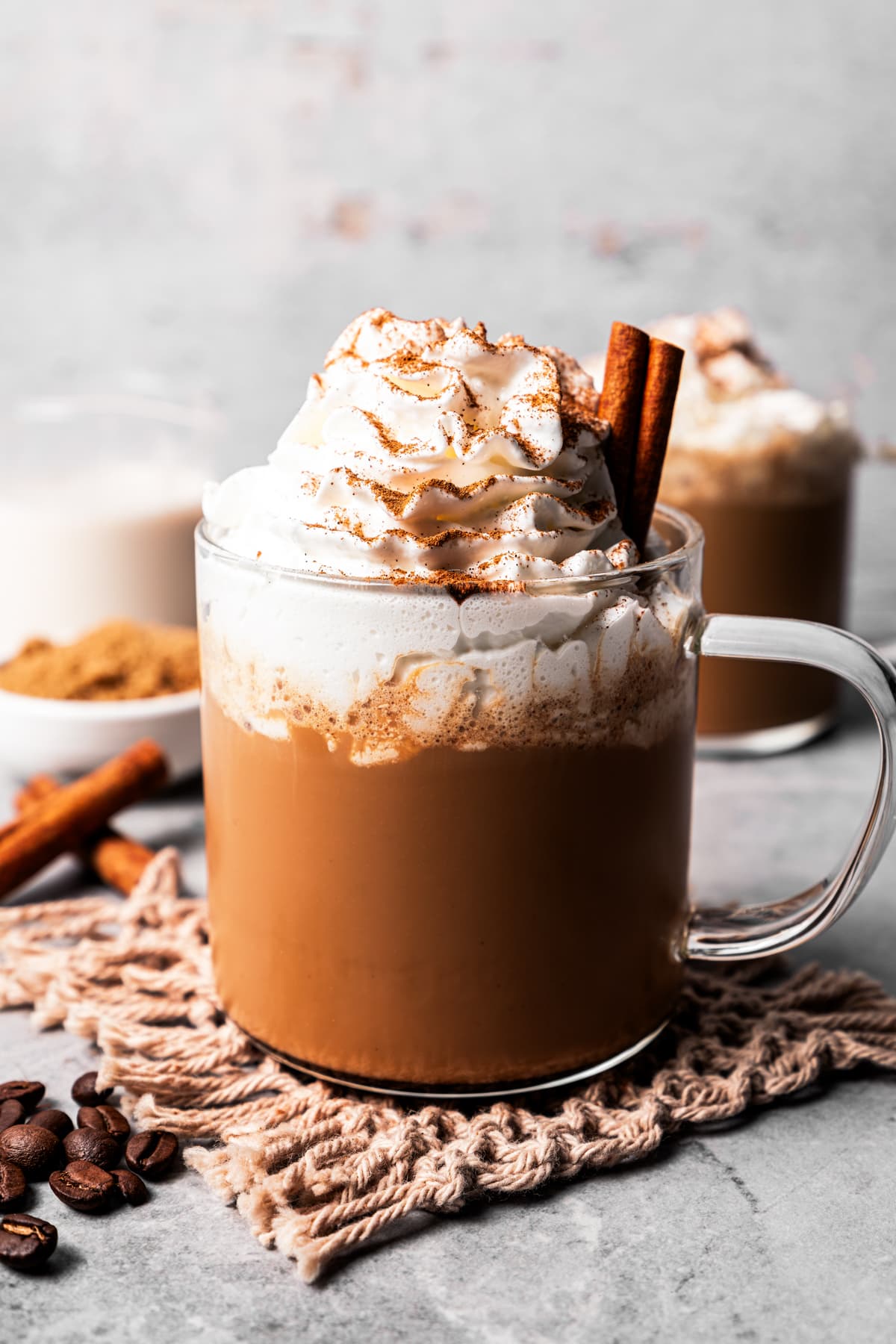 What Is a Cinnamon Dolce Latte?
The Cinnamon Dolce Latte is one of my favorite seasonal drinks from Starbucks. It's made by adding steamed milk to espresso along with the coziest cinnamon dolce syrup, topped with whipped cream. This homemade cinnamon dolce latte is the perfect hot drink to snuggle up with once the leaves start changing! I've made a few tweaks to the recipe to simplify things, but it's just as satisfying.
What Does It Taste Like?
Cinnamon dolce means "cinnamon sweet", and that's exactly what this Starbucks latte tastes like. Every sip is rich and creamy, with a rush of spicy cinnamon and espresso mixed with the sweetness of brown sugar. In a word: DELICIOUS.
Ingredients For Cinnamon Dolce Latte
If you're a coffee drinker, there's a very good chance that you already have what you need to make this latte. Be sure to check the recipe card below the post for the full amounts and details.
Espresso: You can make this recipe with caffeinated or decaffeinated espresso, instant espresso, or even brewed coffee. I have used this Instant Espresso Coffee dissolved in hot water.
Milk: I make my latte with skim milk. Whole milk is creamier, or you can use your preferred dairy or non-dairy milk, like almond or oat milk.
Spices: You will make your own cinnamon dolce flavoring with ground cinnamon, nutmeg, brown sugar, and vanilla extract. In place of brown sugar, feel free to use white sugar or a natural sweetener like maple syrup or agave syrup.
Whipped Cream: For garnish, plus an extra sprinkle of cinnamon.
How to Make a Starbucks Cinnamon Dolce Latte
You're about to become your own barista! Here's how to make a rich and creamy cinnamon dolce latte in minutes: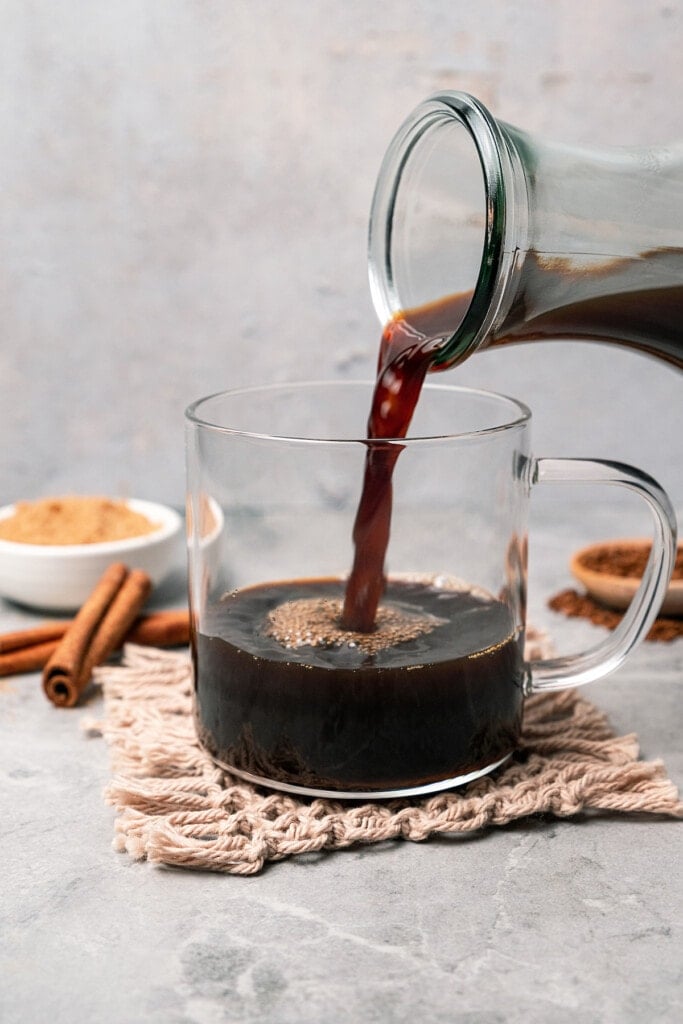 Prepare the espresso. First things first, brew your espresso using your preferred method.
Steam the milk. Next, whisk together the milk along with your cinnamon dolce ingredients including spices, brown sugar, and vanilla. Heat the milk in increments so that it gets steamed and frothy, stirring in between.
Combine. Pour the frothed milk into the espresso while stirring. Give that mug a swirl of whipped cream and a dusting of cinnamon, and enjoy!
Can I Make This Latte Recipe Without Espresso?
Strong coffee balances out the sweetness and creaminess of this drink. If you don't have instant espresso or an espresso maker (or if you'd prefer something less strong), try brewed coffee instead. Your latte will still be amazing, even if the coffee flavor isn't quite the same. I recommend using a dark roast, and it should be brewed extra strong.
Tips for the Best Cinnamon Dolce Latte
This copycat recipe is surprisingly fail-proof. It doesn't take any complicated coffee-making equipment and the ingredients are so simple, you'll be whipping out cinnamon dolce lattes in no time. Follow these final tips for the best results:
When frothing the milk, you don't need any fancy tools, but you do need to heat it gradually. Use the microwave or a saucepan on the stovetop and stir often while it steams, to avoid scorching. Another option is to use a milk frother if you have one.
Use good-quality espresso. Whether you're using instant espresso or otherwise, make sure to make this drink with high-quality coffee. You'll taste the difference!
Recipe Variations
Just like your order at Starbucks, you can make this latte your own with any add-ons and flavors you'd like. Here are some easy ideas:
Iced. Make this drink with cold milk and serve it over ice for an easy DIY iced cinnamon dolce latte.
Caramel. Drizzle the top of your drink with caramel for extra indulgence.
Maple syrup. Use maple syrup as a sweetener in place of brown sugar to really amp up the fall vibes.
Pumpkin Spice. Make a crossover with a pumpkin spice latte and replace the cinnamon and nutmeg with pumpkin pie spice instead.
Dairy-free. Substitute regular milk with your favorite non-dairy milk or a plant-based alternative, like almond or oat milk.
Add Booze. In the spirit of Irish coffee, give your cinnamon dolce latte an adult twist by adding a splash of whiskey, bourbon, or brandy. You could also add Irish cream or Kahlua liqueur.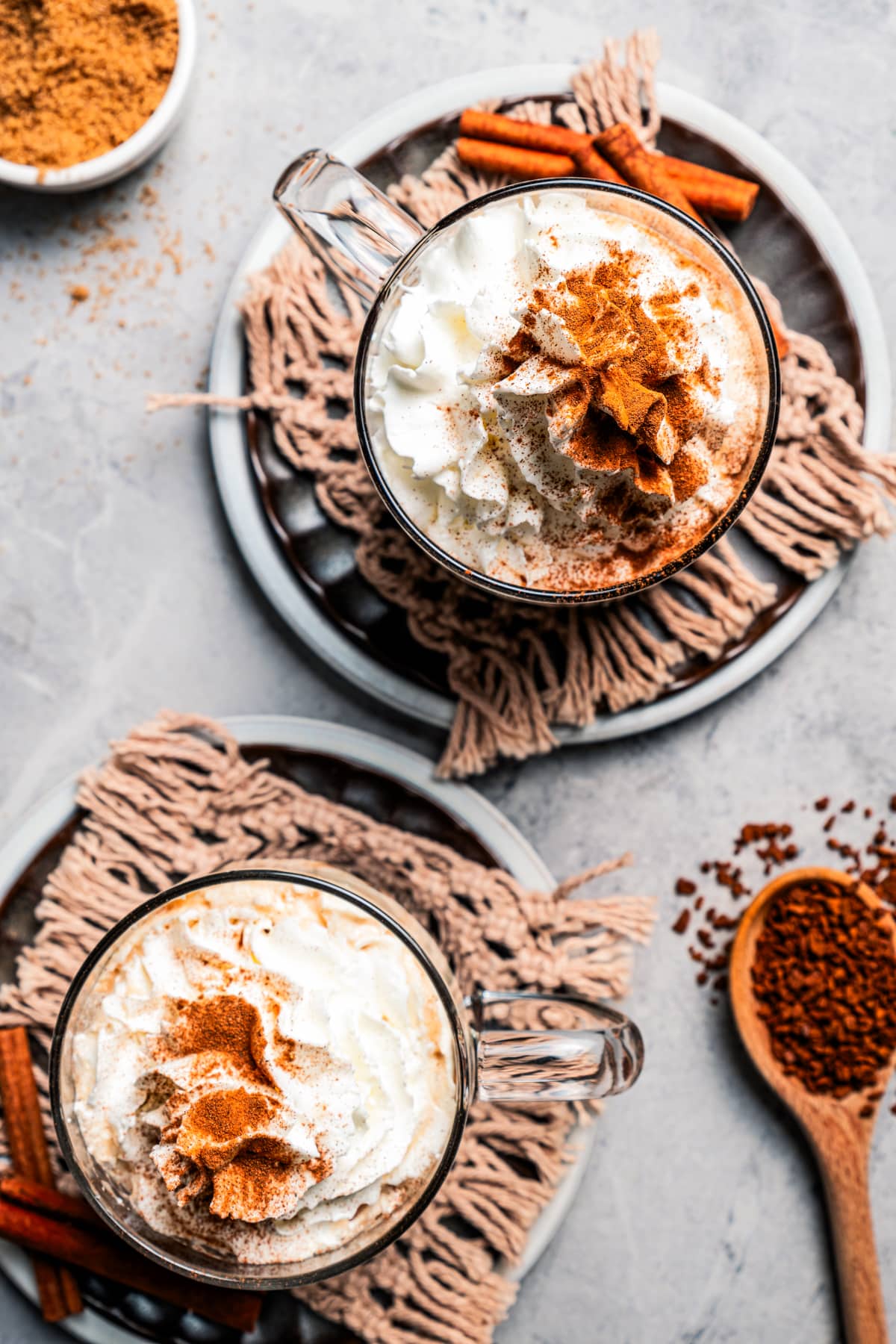 Serving Suggestions
I love this homemade cinnamon dolce latte piled with whipped cream and garnished with cinnamon sticks. It's perfect for dunking cookies! Or, try these serving suggestions:
How to Store Leftovers
Fridge: Since this latte recipe contains dairy, store any leftovers covered in the fridge. The milk will lose its froth over time, but you can still reheat this drink in the microwave within a day or two.
Freeze: Unfortunately, lattes aren't great for freezing. Lucky for us, this cinnamon dolce latte is so irresistible, that it doesn't take much to finish in one sitting!
ENJOY!
More Drink Recipes to Try
Starbucks Cinnamon Dolce Latte
This sweet and comforting cinnamon dolce latte recipe is the best taste of Starbucks at home! It's the perfect cozy drink for the holidays and cold weather sipping.
Ingredients
6

ounces

boiling water

1 to 2

teaspoons

instant espresso powder

½

cup

milk

¼

teaspoon

ground cinnamon

½

tablespoon

light brown sugar

½

teaspoon

pure vanilla extract

pinch of ground nutmeg

whipped cream and ground cinnamon,

for garnish
Instructions
Stir the instant espresso powder into the hot water and set aside.

In a glass measuring cup, combine milk, cinnamon, brown sugar, vanilla, and nutmeg; whisk until thoroughly combined. Place in the microwave and cook for 1 minute and 30 seconds, or until the milk starts to froth up. Watch it closely.

Remove from the microwave and stir again. Place it back in the microwave for an additional 30 seconds or until the milk starts to froth up again.

Remove and, while stirring the espresso, slowly pour the milk mixture into the coffee. Stir until combined.

Top with whipped cream and garnish with cinnamon.
Notes
Brewed Espresso: For this latte, you want a strong cup of coffee like espresso to balance the creaminess and sweetness of the milk mixture. If you are not using instant espresso as per the recipe and are using coffee beans instead, use high-quality coffee beans to brew the espresso. The espresso is the backbone of your latte, so you'll want it to be top-notch. You'll need 6 ounces.
Don't skip the heating of the milk. Heat it slowly, either in the microwave or stovetop, stirring frequently to prevent burning. If available, a milk frother works wonders.
Cinnamon Sprinkle: Don't forget the final touch of ground cinnamon on top of your whipped cream! It adds an extra layer of flavor and makes the drink look professional.
Adjust to Taste: One benefit of making a copycat recipe at home is that you can adjust the sweetness and flavorings to your preference.
Dairy-Free Version: You can easily make a dairy-free version by using almond milk, soy milk, or oat milk.
Storage: If you make a larger batch of cinnamon dolce syrup, store it in the fridge.
Nutrition
Calories:
104
kcal
|
Carbohydrates:
12
g
|
Protein:
3
g
|
Fat:
3
g
|
Saturated Fat:
2
g
|
Cholesterol:
12
mg
|
Sodium:
54
mg
|
Potassium:
161
mg
|
Fiber:
0
g
|
Sugar:
12
g
|
Vitamin A:
200
IU
|
Calcium:
138
mg
|
Net Carbs:
12
g
Nutritional info is an estimate and provided as courtesy. Values may vary according to the ingredients and tools used. Please use your preferred nutritional calculator for more detailed info.