Packed with pumpkin and topped with cinnamon-sugar, these Pumpkin Muffins are soft, fluffy, moist, and absolutely delicious! The best I've ever made.
Easy Homemade Pumpkin Muffins
Oh my gosh, you guys! It's pumpkin season! I'm so excited. All this changing of the seasons gives me renewed inspiration to revisit recipes from my archives. Once again, I've chosen these beauties: fluffy, moist, bursting-with-flavor pumpkin muffins. Clarification: The BEST pumpkin muffins.
I used to make this recipe all the time. Like, not just in the fall, but all year round. There are so many reasons I keep coming back to these muffins! They're so fresh, so homemade… Plus they're pretty and fluffy and lightly sweet, topped with cinnamon sugar.
Trust me, you'll keep going back for "just one more" of these pumpkin muffins until there's no more left to grab.
Without further adieu, let me introduce you to the Best Ever Pumpkin Muffins, in all their orangey goodness.
What You'll Need
As I said before, I make this pumpkin muffin recipe year round, but these are especially great to bake on a fall day when your whole house will smell like one giant, freshly baked muffin. The ingredients are just so cozy and capture everything I love about fall! Below is everything you'll need for the very best pumpkin muffins:
All-purpose flour: Regular flour, alternatively fine-ground oat or almond flour for gluten-free muffins. Bear in mind that some alternatives might cause your muffins to not rise quite as much as with regular all-purpose flour.
Baking Powder: Helps to achieve perfectly fluffy pumpkin muffins.
Pumpkin Puree: 100% pure, and not pumpkin pie filling. Nothing beats the natural pumpkin flavor of either canned – or fresh! – pumpkin puree,

nothing.

Vegetable Oil: Oil brings moisture and richness for deliciously tender muffins. Canola Oil is also a great alternative that doesn't change the taste at all.
Eggs: Large eggs to bind everything together.
Pumpkin Pie Spice: Traditionally a blend of cinnamon, ginger, nutmeg, clove, and allspice. You can find premixed pumpkin pie spice in the spice aisle of your grocery store.
Sugar: For this easy recipe, I use granulated white sugar.
Baking soda: Extra, extra fluffiness!
Salt: Helps balance the sugar content.
Cinnamon: You'll mix some up with sugar for the cinnamon sugar topping.
How to Make Pumpkin Muffins
I vividly remember these being among the BATCHES of muffins I made after arriving home from my trip to North Macedonia. After being away for a month, I was craving good ol' American comfort food like none other!
These super soft pumpkin muffins are just so flawlessly flavored with pumpkin and spices, and so insanely easy to make. Here we go:
Prep & Sift:

After lining your muffin tin and setting this aside, you'll need to first sift your flour and baking powder together into a bowl.

Combine the Ingredients:

In a separate bowl, combine the pumpkin, oil, eggs, spice, sugar, baking soda, and salt and get whisking!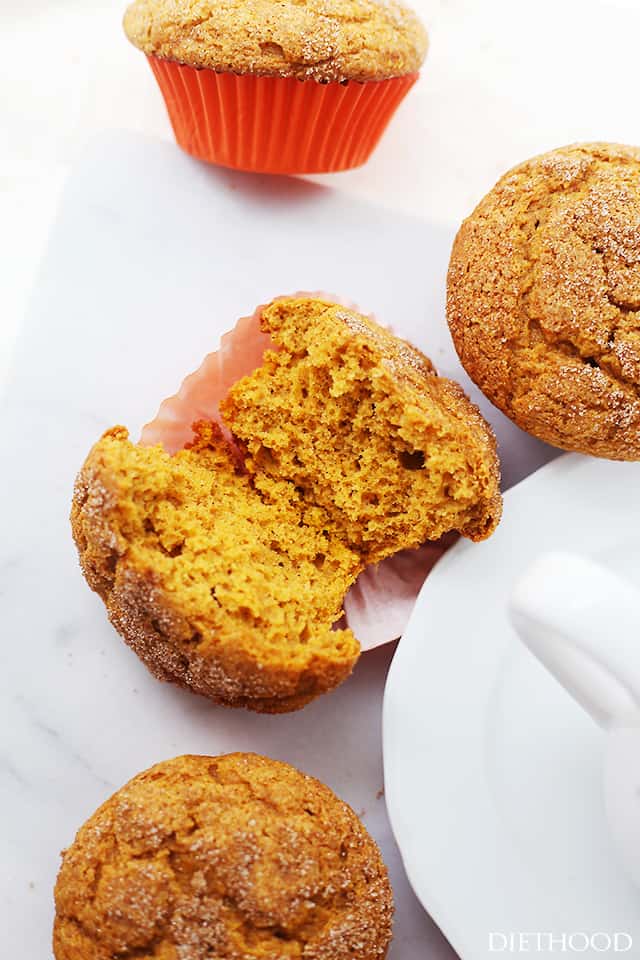 Add the Flour Mixture: Thought you were done whisking? Think again! Once the wet ingredients are smooth, add in the flour mixture until just combined. After all this whisking, it's important to not over mix!
Fill the Muffin Tin: Once the batter has been divided evenly between the muffin cups, give each a sprinkle of cinnamon sugar before the tray goes into the oven to bake.
When a toothpick poked into the center of your muffins comes out clean, they're ready! Be sure to remove your freshly baked muffins from the baking tin and onto a rack as soon as possible and let them cool.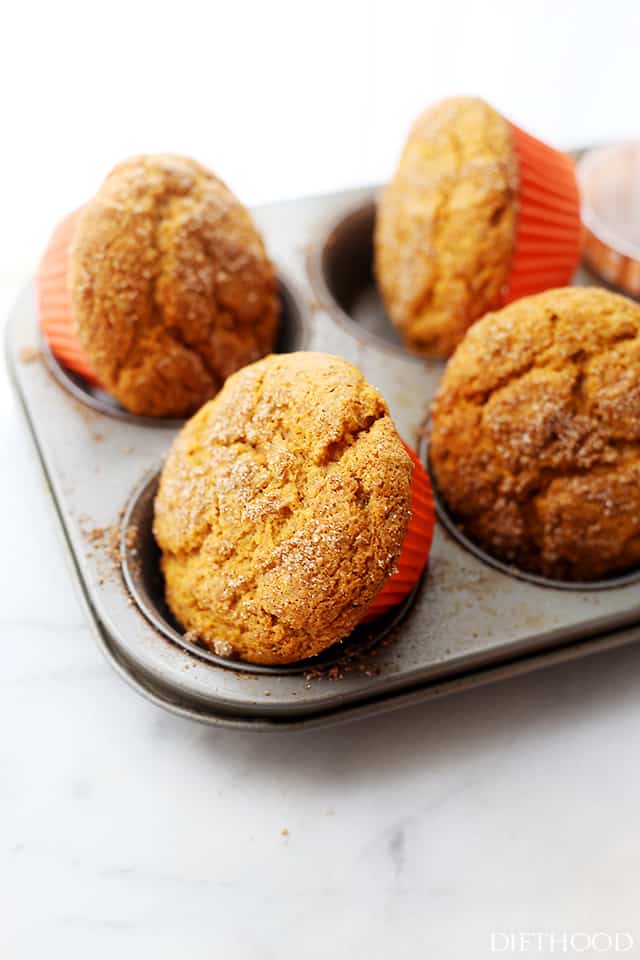 Tips for Success
Use Fresh Pumpkin: If you have some time on your hands, swap out canned pumpkin puree for freshly mashed or pureed pumpkin instead. You can also make your own with my Simple Slow Cooker Pumpkin Puree Recipe for even fresher muffins!
Avoid Over Mixing: Over-whisking your batter can result in muffins that are tough, bake unevenly, create tunnels, or have peaked tops. Tragic, I know. Mix the wet and dry ingredients until they're just combined to avoid any surprises.
Beware of Overflow: Be mindful when filling your muffin cups with batter, and don't fill them too high – 2/3 of the muffin cup is usually enough. We're after explosions of flavor, not explosions of pumpkin muffin batter all over our ovens!
Get Creative: If you like your muffins with a little somethin' extra, play around with adding about 1/2 cup of chocolate chips or crushed up walnuts to the batter. For bonus indulgence, you can also dress them up with toppings like icing sugar (low cal if you prefer) or roasted pumpkin seeds for some extra crunch.
How to Store Muffins
One of the many, many pros of these muffins is that they stay fresh for days! No fridge required.
Keep these Pumpkin Muffins in an airtight container at room temperature for 4 to 5 days for an easy grab-and-go treat.
How to Freeze Muffins
On the other hand, if you're saving a batch for later, you can freeze these Pumpkin Muffins for up to 3 months.
The best method to freeze muffins is to allow your muffins to cool in the tray after removing them from the oven.
Once the muffins have cooled completely, put the whole tray into the freezer until frozen solid, then pop the muffins out and transfer to a freezer bag. Tada!
More Pumpkin Recipes to Try
Here are even more delicious Pumpkin recipes to dig into this season:
Pumpkin Muffins
This easy pumpkin recipe is perfect for Fall baking! Packed with pumpkin & topped with cinnamon-sugar, these muffins are soft, fluffy & so delicious!
Ingredients
For the Muffins
1 1/2

cups

all-purpose flour

1

teaspoon

baking powder

1

cup

canned 100% pumpkin puree

1/3

cup

vegetable oil

2

eggs

1

teaspoon

pumpkin-pie spice

1 1/4

cups

sugar

1/2

teaspoon

baking soda

1/2

teaspoon

salt
For the Topping:
1

tablespoon

sugar

1

teaspoon

cinnamon
Instructions
Preheat oven to 350.

Line a Texas-sized (LARGE) 6-cup muffin tin with 6 paper liners and spray each liner with a nonstick spray. OR you can use a standard 12-cup muffin tin, but you'll get about 10 muffins.

In a medium-sized bowl sift together the flour and the baking powder. Set aside.

In a large bowl whisk together the pumpkin, oil, eggs, spice, sugar, baking soda, and salt. Whisk until smooth.

Whisk in the flour mixture until combined. Do not over-mix.

In a small bowl mix together the sugar and cinnamon.

Divide the batter evenly among the prepared muffin cups, sprinkling the cinnamon-sugar on top of each muffin.

Bake for 25 to 30 minutes, or until a toothpick inserted into the center of a muffin comes out clean.

Cool for 5 minutes before turning them out onto a cooling rack.
Nutrition
Calories:
254
kcal
|
Carbohydrates:
43
g
|
Protein:
3
g
|
Fat:
8
g
|
Saturated Fat:
6
g
|
Cholesterol:
32
mg
|
Sodium:
185
mg
|
Potassium:
123
mg
|
Fiber:
1
g
|
Sugar:
27
g
|
Vitamin A:
3860
IU
|
Vitamin C:
1
mg
|
Calcium:
35
mg
|
Iron:
1.4
mg
|
Net Carbs:
42
g
Nutritional info is an estimate and provided as courtesy. Values may vary according to the ingredients and tools used. Please use your preferred nutritional calculator for more detailed info.
Did you make this recipe?
Take a pic and let us know how it was!
Categories:
MUFFIN RECIPES: