Pumpkin Muffins – Packed with pumpkin and topped with cinnamon-sugar, these Pumpkin Muffins are soft, fluffy, moist, and absolutely delicious! The best I've ever made.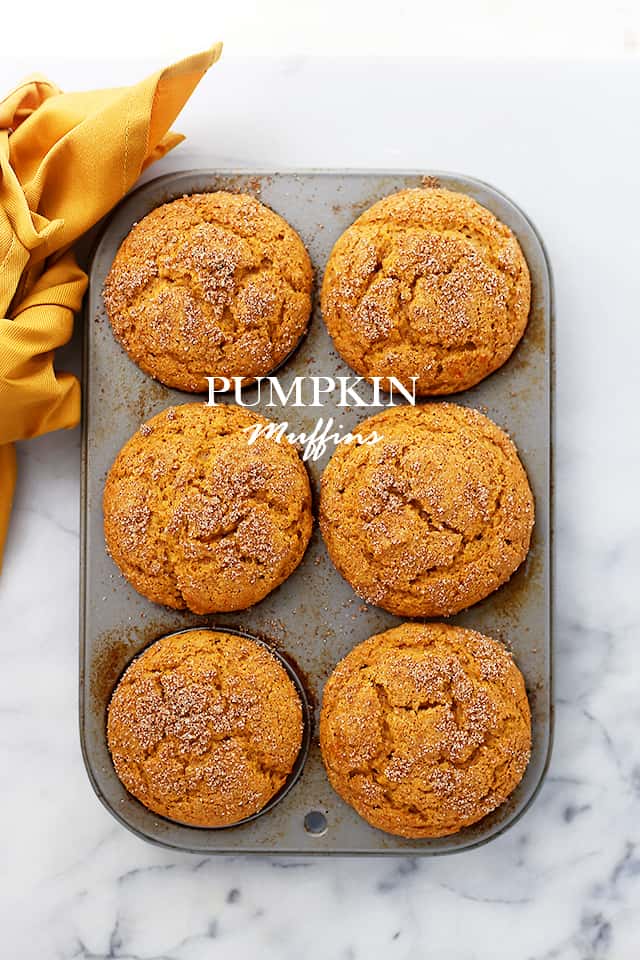 There they are, all orangey and wonderful.
Hi Hello Hey! How are you, friends? Happy Monday!!
This is an older recipe from the Diethood Archives, now updated with fresh content and photos. Original post/recipe published on Oct 5, 2011.
Once in a while, I get the urge to revisit a recipe from the Diethood archives and give it an update. THIS is one of those times because, pumpkin. And muffins. THESE muffins!
I'm almost embarrassed to admit this, but I make these pumpkin muffins all year round. It's my favorite recipe because it's way yummmaaay! So Fall-ish, so fresh, so homemade! Pretty and fluffy and lightly sweet, topped with cinnamon sugar because, why not?!
If you keep these around your house? DANGER ZONE! You'll keep going back for "just one more" until there's no more to grab. They are sneaky – you'll turn around and 3 muffins will be missing. Trust me, I know.
So, being that I was recently in Macedonia for a month, I have to tell you; I baked these muffins as soon as we got back. When you go away for as long as I did, you kinda start to miss the other stuff. You know… burgers, pancakes, muffins. You want to attack all of that at once!
Not that they don't have that stuff out there, they do, but still, it's different – I like to eat my muffins here, in the U.S. of A.
As soon as we arrived, or about 24 hours after we arrived, I made batches of muffins – blueberry, apple, pumpkin – all things that we had on hand I threw into a muffin batter. By the end of the day I was muffined out, but not before I gave all of them a try.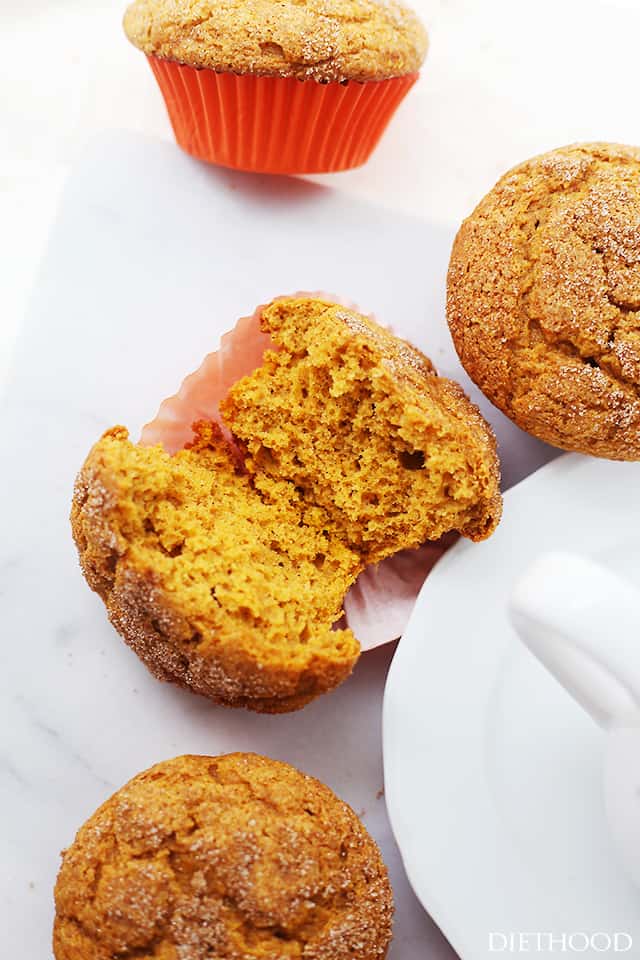 I tried this recipe a few years back, thanks to Smitten Kitchen, and completely forgot about them until I saw that can of pumpkin sitting on the counter in my Mom's kitchen. I attacked that can as if it was Nutella. Never have I been as excited to see a can of pumpkin. Honestly.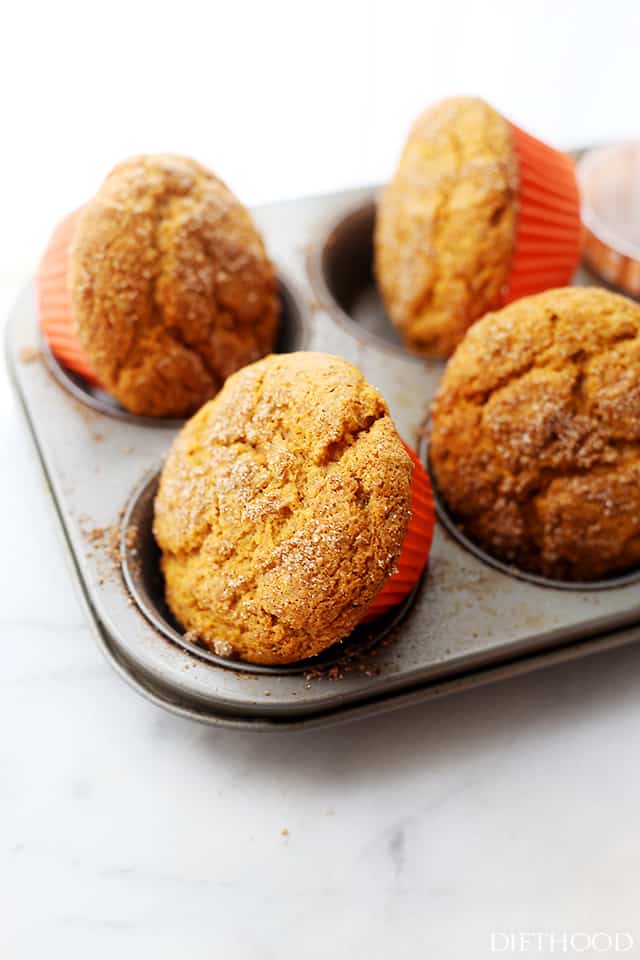 If you need a delicious pumpkin muffin recipe, this is it. Hands.Down.
ENJOY!
CRAVING MORE? SIGN UP FOR THE DIETHOOD NEWSLETTER FOR FRESH NEW RECIPES DELIVERED TO YOUR INBOX!
FOLLOW DIETHOOD ON FACEBOOK, TWITTER, PINTEREST AND INSTAGRAM FOR ALL OF THE LATEST CONTENT, RECIPES AND UPDATES.
Print
Pumpkin Muffins
This easy pumpkin recipe is perfect for Fall baking! Packed with pumpkin & topped with cinnamon-sugar, these muffins are soft, fluffy & so delicious!
Ingredients
For the Muffins
1 1/2

cups

all-purpose flour

1

teaspoon

baking powder

1

cup

canned 100% pumpkin puree

1/3

cup

vegetable oil

2

eggs

1

teaspoon

pumpkin-pie spice

1 1/4

cups

sugar

1/2

teaspoon

baking soda

1/2

teaspoon

salt
For the Topping:
1

tablespoon

sugar

1

teaspoon

cinnamon
Instructions
Preheat oven to 350.

Line a Texas-sized (LARGE) 6-cup muffin tin with 6 paper liners and spray each liner with a nonstick spray. OR you can use a standard 12-cup muffin tin, but you'll get about 10 muffins.

In a medium-sized bowl sift together the flour and the baking powder. Set aside.

In a large bowl whisk together the pumpkin, oil, eggs, spice, sugar, baking soda, and salt. Whisk until smooth.

Whisk in the flour mixture until combined. Do not over-mix.

In a small bowl mix together the sugar and cinnamon.

Divide the batter evenly among the prepared muffin cups, sprinkling the cinnamon-sugar on top of each muffin.

Bake for 25 to 30 minutes, or until a toothpick inserted into the center of a muffin comes out clean.

Cool for 5 minutes before turning them out onto a cooling rack.
Nutrition Facts
Pumpkin Muffins
Amount Per Serving
Calories 254
Calories from Fat 72
% Daily Value*
Fat 8g12%
Cholesterol 32mg11%
Sodium 185mg8%
Potassium 123mg4%
Carbohydrates 43g14%
Protein 3g6%
Vitamin A 3860IU77%
Vitamin C 1mg1%
Calcium 35mg4%
Iron 1.4mg8%
* Percent Daily Values are based on a 2000 calorie diet.
Keywords:
breakfast muffins, Halloween recipes, muffins recipes, pumpkin dessert, pumpkin recipes, thanksgiving recipes
Want To Save This Recipe?
MUFFIN RECIPES: