This easy to prepare, Make Ahead Breakfast Casserole is chock full of hearty bacon, ham, cheeses and spinach. Put this together the night before and just pop it in the oven in the morning. Warm, cheesy and delicious!
Easy Breakfast Casserole with Bacon and Cheese
Ladies and gentlemen, meet my weekend morning winner: a warm and cheesy, hearty and flavor-loaded, make-ahead breakfast casserole! Just look at those colors. And that golden, bubbly top. Can you even?!
Safe to say, I'm obsessed. There's always a perfect time to enjoy this easy casserole, any time of the year. It's chock full of bacon, ham, spinach, feta cheese and eggs… a full breakfast, baked all-in-one. The flavors are delicious while being mild enough for kids.
If calories weren't a thing, I'd eat an entire breakfast casserole every Sunday. Just like if shopping was an Olympic sport, I'd have about five gold medals. A girl can dream!
Tell Me About this Breakfast Casserole!
There's a reason I LOVE making this casserole, especially for holidays, but basically every other morning of the year. It only takes about 10 minutes to put it together the night before. Then I just pop it in the oven when I wake up and let it bake into deliciously cheesy perfection!
Here's why it's simply the best:
You make it ahead. What's not to love about waking up to breakfast that's all set to just bake up into the oven? You could even whip up the casserole in the morning, place it in the fridge and have breakfast-for-dinner ready that night. My favorite meal of the day!
It looks and tastes AMAZING. The healthy ingredients make this one of the best overnight breakfasts around. The egg base is full of flavor and dotted with pops of colorful veggies and proteins, looking and tasting all kinds of delicious.
It's perfect to feed a crowd. This breakfast casserole serves between 6 to 10 people (depending on how hungry your people are), making it ideal for holidays and leftovers! It'll satisfy everyone at the table and then some, trust me.
Next to zero clean-up. One bowl, and one casserole dish means less dishes in the sink, which is winning in my books.
What You'll Need
This breakfast casserole is the perfect excuse to use up leftover ham and other ingredients you may have kicking around the fridge. Here's what you'll need for this recipe:
Eggs: My recipe calls for 8 large eggs, which should be enough to fill the baking dish along with all the other ingredients.
Milk: This girl keeps it light with skim milk. Of course, you can also use whole milk if you prefer.
Bacon: You'll need strips of bacon cooked to your preferred crispiness. I like mine a bit more crispy so that the bacon crumbles easily!
Ham: You'll need cooked ham that's been diced. Did I mention this casserole is great for leftovers?!
French Bread: Or another crusty loaf like ciabatta or sourdough, cubed into chunks.
Spinach: I use fresh baby spinach. You can use frozen, just make sure to thaw the leaves and drain them first!
Cheddar Cheese: I suggest sharp cheddar as it has great flavor that holds up well with the eggs and bacon. You'll need to shred it, or buy pre-shredded cheddar. You can set some aside to toss over top of the casserole as well!
Feta Cheese: I love the pockets of crumbled feta that melt throughout the casserole as it bakes.
Seasoning: Ground nutmeg, salt and a crack of fresh black pepper for added flavor.
How to Make this Overnight Breakfast Bake
Whether you're making this easy casserole in the morning to bake right away, or storing it for the next day, the steps are super simple. Grab a bowl and let's get started!
Combine the Ingredients: First, whisk the eggs and milk. Next you'll stir the meats and veggies into the mix, as well as the cheese and seasonings. Lastly, in go the bread cubes. Toss everything in the egg mixture until all the ingredients are well combined.
Fill the Pan: Pour the casserole filling into a greased baking pan. Go ahead, give it a sprinkle of extra cheese. You know you want to.
Store: Skip this step if you're baking this casserole right away. If not, carefully cover the top of the casserole with foil, and then place it in the fridge overnight for safe keeping!
Bake: Remove the foil and pop the prepared casserole into a preheated oven. Bake the casserole uncovered until the eggs have set and the top is a delicious, puffed up golden brown. Give it a sec to cool off a bit, and then serve!
Tips & Tricks
How Far In Advance Can I Make This?: If you're storing your casserole in the fridge, you can make this breakfast up to 48 hours ahead. Any longer than that and I'd recommend freezing it instead! When you're ready to bake it, leave the casserole to sit out on the counter for about half an hour, or while the oven preheats, to take the chill out.
If My Casserole Is Runny: This could be a sign that the eggs are overcooked. This is likely because the casserole was left in the oven too long or the temperature was too high! Check on the casserole towards the end of the baking time, to make sure you take it out on time. You can also let the casserole cool down a bit before slicing, which helps the filling set up a bit.
How Do I Know It's Done?: The eggs should be set and the top should be puffed up and a nice and golden brown. If you really want to get technical, you can use a thermometer to check that the internal temperature of the casserole is 160 degrees.
Pre-Cook Add-Ins: When it comes to add-ins and variations of this recipe, don't forget to use pre-cooked ingredients! Meats and vegetables should be cooked ahead of being added to the egg mixture for the casserole. This ensures that meats are cooked properly and that vegetables don't water down the casserole!
Variation Ideas
Like an omelette, almost ANYTHING goes when it comes to this breakfast casserole! You can use all the fresh or leftover ingredients your heart desires for tons of easy variations. Here are some ideas:
Proteins: Instead of ham and bacon, load up your casserole with other proteins like chorizo, sausage, chicken, or even ground beef.
Veggies: You can mix up this recipe with all your favorite vegetables! Bell peppers, tomatoes, mushrooms, onions, broccoli, asparagus, and kale are all great ideas. I highly recommend cooking any veggies before adding them into the eggs, to avoid the casserole getting watery.
Hashbrowns: Toss in some shredded or diced potatoes (or leftover roasted potatoes!) for an even heartier breakfast casserole.
Cheese: Try out different kinds of shredded and crumbled cheeses besides cheddar and feta. Toss in grated parmesan, Swiss cheese, or Gruyère. Or make a tex-mex version with Monterey Jack!
What Goes with this Casserole?
This breakfast casserole is crazy versatile, friends. Serve up a slice with your morning coffee(s) or whip out the entire casserole for family brunch.
How to Store and Reheat Extras
Store leftovers of your baked breakfast casserole in the fridge, airtight or covered, for up to 3 to 4 days. Reheat slices in the oven or in the microwave before serving.
Can I Freeze It?
Yes! I wasn't kidding when I said this recipe was make-ahead. You can store this breakfast casserole whole, wrapped tightly in plastic wrap or stored in a freezer-safe container. You can also freeze individual portions separately, also wrapped or in freezer bags! This casserole keeps frozen for up to 3-4 months.
Thaw the casserole in the fridge overnight, and then reheat it in the oven or the microwave.
More Easy Breakfast Ideas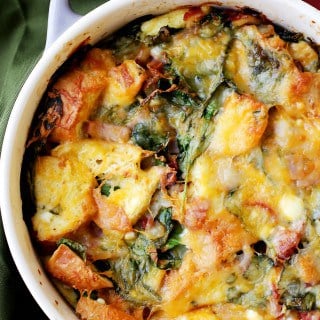 Make Ahead Breakfast Casserole
This easy to prepare, Make Ahead Breakfast Casserole is chock full of hearty bacon, ham, cheeses and spinach. Put this together the night before and just pop it in the oven in the morning. Warm, cheesy and delicious!
Ingredients
8

slices

bacon

, cooked to a desired crispness and crumbled

1

(8-ounce) loaf French bread, cut into 2-inch cubes

8

large eggs

3

cups

skim milk

1/2

cup

diced ham

1

(8-ounce) package fresh baby spinach

1

cup

shredded sharp cheddar cheese

1/2

cup

crumbled feta cheese

1/8

teaspoon

ground nutmeg

Salt and fresh ground pepper to taste

Shredded cheddar cheese

, for topping (optional)
Instructions
Lightly grease a 13 x 9-inch baking dish or a 9-inch springform pan with cooking spray and set aside.

In a large mixing bowl, combine the eggs and milk; whisk the two until well blended.

Stir in the crumbled bacon, ham, spinach, cheeses and ground nutmeg; season the mixture with salt and pepper.

Add the bread; mix it all until thoroughly combined.

Pour the mixture into previously prepared baking dish. Sprinkle with shredded cheese, if you are using the cheese topping.

Cover the casserole with foil and refrigerate it overnight.

Preheat the oven to 350 F.

Bake the casserole uncovered for 50 minutes or until the eggs are cooked and the top is puffed and golden brown.

Let it stand for several minutes before serving.
Notes
The casserole can be made and refrigerated up to 48 hours ahead of baking.
Store leftover baked casserole airtight in the fridge for 3-4 days.
Store frozen for up to 3-4 months.
Nutrition
Calories:
220
kcal
|
Carbohydrates:
4
g
|
Protein:
14
g
|
Fat:
15
g
|
Saturated Fat:
6
g
|
Cholesterol:
165
mg
|
Sodium:
426
mg
|
Potassium:
213
mg
|
Sugar:
4
g
|
Vitamin A:
500
IU
|
Calcium:
228
mg
|
Iron:
0.9
mg
|
Net Carbs:
4
g
Nutritional info is an estimate and provided as courtesy. Values may vary according to the ingredients and tools used. Please use your preferred nutritional calculator for more detailed info.
Categories: